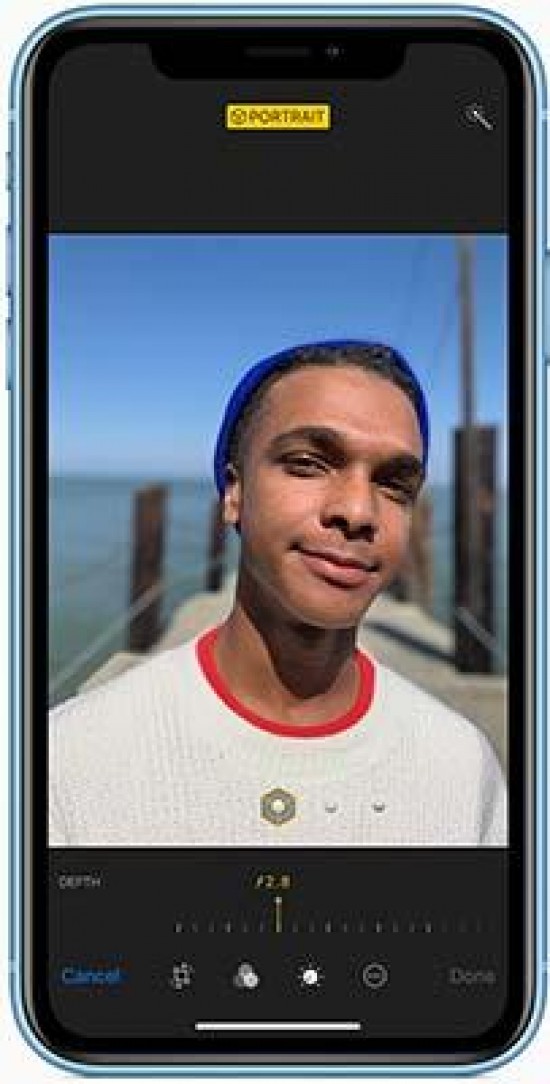 Introduction
Announced at the same time as the iPhone XS, but not made available to the market until a few weeks later, the iPhone XR is intended to be a more affordable option for those who want an iOS device.

In order to make it more budget-friendly, there a number of sacrifices to be made when comparing it to the more expensive iPhone XS.

The biggest differences which are likely to be of interest to photographers come down to the display and the camera. The iPhone XR has a bigger display, however it's a lower resolution LCD screen, compared with the high resolution OLED of the iPhone XS.

Meanwhile, unlike with the iPhone XS, the iPhone XR has just a single camera. It uses a 12-megapixel f/1.8 wide-angle camera, leaving you without the telephoto optic found on the iPhone XS. You do get optical image stabilisation, Portrait Mode, and 4K video recording at up to 60fps, though. On the front of the phone is a TrueDepth 7 megapixel selfie camera.

You can pick up the iPhone XR in three different size capacities (64GB, 128GB and 256GB), while it's available in six different colours. At the time of writing, the iPhone XR retails for £749 for the minimum storage capacity, up to £899 for the largest. You can also buy it as part of a contract, with varying prices.
Ease of Use
The iPhone XR may well be the "budget" offering (for an iPhone), but in its outward design it still feels like a pretty premium offering.
It's available in a range of different colours – including the bright blue model we've been using for this review. One of the cutbacks for this phone is the fact that it uses an LCD, rather than an OLED. It also has a larger bezel around the display, so although the 6.1-inch screen is physically larger than the iPhone XS's 5.8-inch screen, the screen to body ratio is actually worse.
Like the iPhone XS, the iPhone XR has the controversial "notch" at the top of the screen. These days, a notch is a much more common design element, but if you hate them, there's not really a way to get around it with any of the modern iPhones.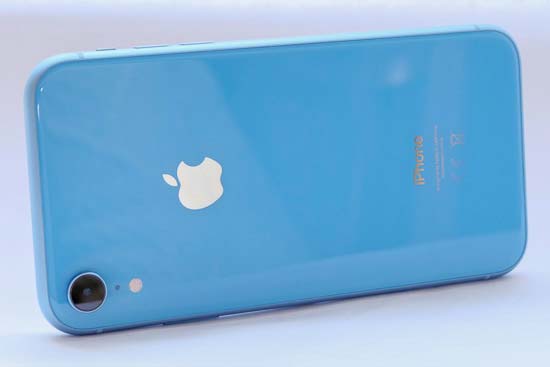 Rear of the Apple iPhone XR
Despite the fact that its an LCD screen, the display is still bright and detailed, and certainly when viewed in isolation, you'll be hard pushed to spot too much of a big difference between it and a standard iPhone XS screen – so you better hope your best mate doesn't leave theirs lying next to yours regularly.
There are several ways to unlock the iPhone XR's screen, including using Face ID or a PIN. There's no fingerprint sensor, as is common for current iPhones. You can access the iPhone XR's camera directly from the lock screen, with a firm press on the camera icon. If accessing the camera this way, you'll only be able to see the images you've taken in your current session, needing to unlock the phone completely to see older pictures. You'll also need to unlock the phone completely to access certain camera settings.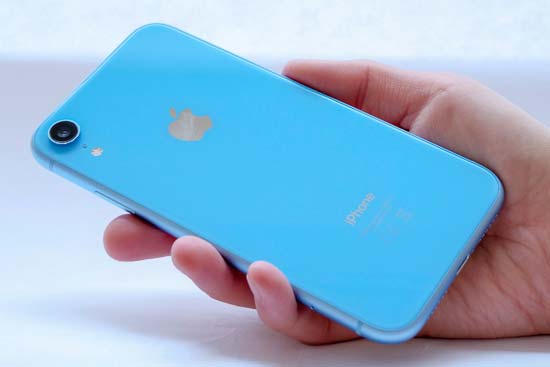 Rear of the Apple iPhone XR
The iPhone's native camera app is extremely simple and straightforward to use. This can be seen as both a positive and a negative, depending on how you look at things. Little has changed in the past few years of iPhone camera apps, so it's also very familiar to anyone coming from an older model.
Launching directly in the standard Photo mode when you start up the camera, there are also a few other modes which can be accessed by swiping left or right on the screen. For stills, in addition to the standard Photo mode, you've got Portrait, Square and Pano. For video, there's standard Video, Slo-Mo and Time-Lapse.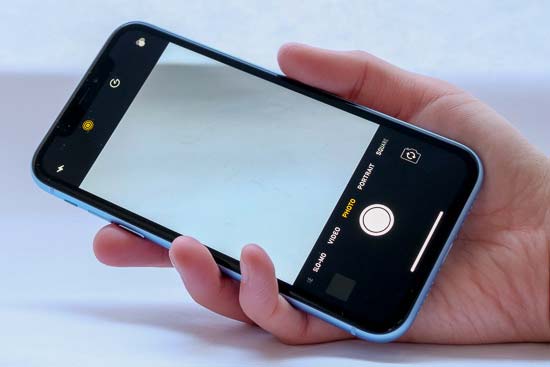 Front of the Apple iPhone XR
In the Standard photo mode, you don't have a whole lot of control over camera settings. Good news for keeping things simple, you can point and shoot and feel assured of getting a good shot most of the time. If you want to adjust exposure compensation, you can tap an area of the screen, wait a split-second for the sun icon to appear, then run your finger up and down the screen to adjust brightness.
The other stils shooting modes are fairly self-explanatory. The Square mode shoots photos in a 1:1 ratio – the only difference being that you can't use Live Photos if you shoot this way. A Live Photo is a short video clip which accompanies an image. Pano requires you to sweep the phone across the scene in order to capture an ultra-wide angle shot.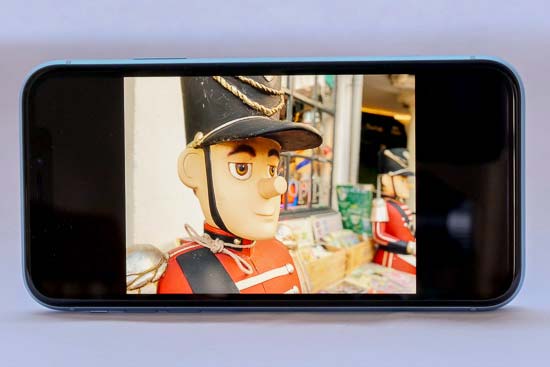 Front of the Apple iPhone XR / Image Displayed
If you want to take greater control over settings, it's possible to download third-party apps. With such apps, you might also be able to shoot in raw format, but you can't do that directly from the native camera. Speaking of image formats, by default, the iPhone XR shoots in the "HEIF" format – High Efficiency Image Format. These days, this is a format which is more widely compatible than ever before, but you might prefer to switch to shooting in JPEG for more confidence that your images can be read by other machines, or via email.
The iPhone XR has the same Portrait mode that the iPhone XS has, but with a couple of crucial differences. As the iPhone XR has just one lens, it will create a shallow depth of field effect using software online. Additionally, while you can use the iPhone XS to create bokeh behind any kind of subject, with the iPhone XR, portrait mode is exactly that – for human subjects only. If you try to use it with non-human subjects, you'll be greeted with a "No person detected" warning – bad news for pet lovers.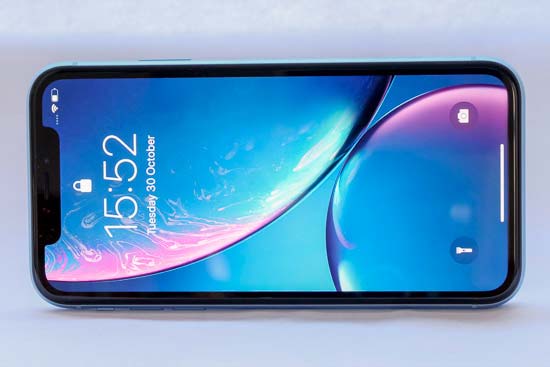 Front of the Apple iPhone XR
It's possible to shoot at a variety of different frame rates and resolutions for video with the iPhone XR. To choose between the different options, you have to head out of the camera app and to the main settings menu in the phone. It's a bit of a long-winded process that's not hugely user friendly, especially if you want to quickly change between options. Although it's possible to shoot at up to 4K at 60fps, bear in mind that the fairly low resolution of the phone's screen means that you can't take advantage of such high resolutions. You may also find that you want to shoot in a lower resolution to save space on your device.
As with all iPhones, it's not possible to expand the storage for the iPhone XR once you've already bought a model. If you're somebody who is going to take a large number of videos and pictures, it's probably a good idea to buy the largest capacity phone that you can afford.