Sony Xperia 1 Review
June 7, 2019
|
Amy Davies
|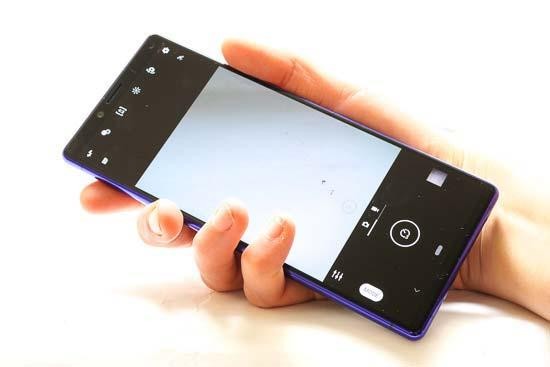 Conclusion
Although Sony seems to be finally waking up to the benefits of sharing its tech between its internal brands, in use the Xperia 1's camera still feels a little way behind the other high-end smartphones which are continuing to dominate the market in 2019 - even if some do have some other problems to contend with.
The long and slim design won't be to everybody's tastes and certainly makes the phone stand out - but if you're somebody who captures and watches a lot of movies, it could be something to consider.
In terms of stills, the images from the Sony Xperia 1 are nice enough, producing some great results in good light. Eye AF is something which is fantastic to see on a mobile phone, especially if you're somebody who photographs a lot of people. Being able to shoot at 10fps also has its uses too, and we can see that being particularly appealing for those with children or pets that they frequently photograph.
During the course of this review, I have also been using a number of other phones, including the Samsung S10+, iPhone XS, Google Pixel 3a and the Huawei P30 Pro - while the Sony has some advantages in terms of fast shooting and Eye AF, in terms of overall image quality it doesn't generally have any of these models beat in most situations.
Not being able to take manual control while in the super wide angle camera is a bit strange, while not including raw format shooting in the native app is also an odd choice. The shooting modes leave a lot to be desired, with old-fashioned filters that feel a little bit outdated in 2019. We'd much prefer to see some kind of night mode here considering low light shooting is better handled by others on the market.
Now that Xperia and Alpha have started to work together, we're keen to see how this relationship develops. Hopefully further iterations of the Xperia camera will become even more refined and include more Alpha technology - perhaps this is just a first step in the right direction.
Just thinking about the on-board camera alone, we'd consider the closest competitor to the Sony Xperia 1 to be the Samsung S10+, which uses a very similar three-lens array and unlike Huawei is not facing tough sanctions from the US which might put off lots of users. Although there's a few things to like about the Xperia 1, it's hard to recommend it too enthusiastically over the Samsung, but if the idea of Eye AF and a 21:9 ratio screen appeal to you, it's worth checking out. Similarly, you may also find it appealing if you're heavily into your videography. Of course, you may be interested in other features of the phone, completely unrelated to the camera, too.
In terms of pricing, at £849 it's not cheap but it competes well in this sector of the market, being cheaper than an iPhone and about on par with the Samsung S10. Overall, the Sony Xperia 1 has some excellent points, but in other areas it's a little underwhelming - but we're excited to see what develops as part of the new relationship with Alpha.
Ratings (out of 5)
Design
3.5
Features
4
Ease-of-use
3.5
Image quality
4
Value for money
4