YI 4K Action Camera Review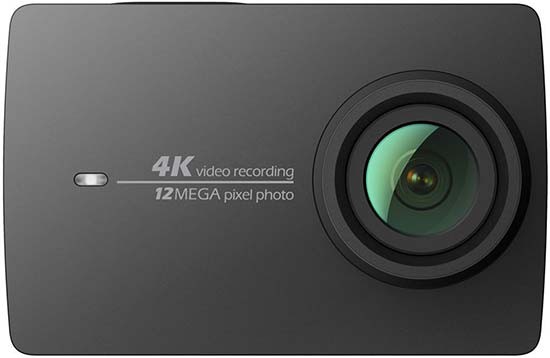 Introduction
The YI 4K Action Camera is a small action camera which boasts a 12 megapixel Sony sensor, coupled with an f/2.8 wide angle lens. YI is bold enough to claim that the camera is "the best action camera ever. period.", with other features including a 2.19-inch Gorilla Glass Retina Screen, inbuilt Wi-Fi and a 2 hour battery life (when recording video constantly). As the name implies, you can record 4K video up to 30p, while there's also Full HD video recording in a variety of frame rates. There are 9 different shooting modes, which includes a mode which allows you to take stills photos. In terms of the competition, probably the closest competitor for the YI 4K Action Camera is the GoPro Hero 4 - the company's second to last flagship camera. The YI 4K Action Camera costs around £175 / $199.
Ease of Use
The YI 4K Action Camera is neat and tidy, and is small enough to fit comfortably in the palm of your hand. As the lens protrudes just a little from the front, it might not fit in a super tight trouser pocket, but looser ones, such as jacket pockets, should be just fine.
It uses a basic rectangular design, and in fact there's only one button on the YI 4K Action Camera. You'll find this on the top and is used to switch on the camera, as well as to start video recording or to take a photo.
On the back of the YI 4K Action Camera is a 2.19-inch screen, which is toughened Gorilla Glass, designed to resist scratches from daily impact. It is a retina display, and is viewable from a 160 degree angle. It's also touch-sensitive, and it's via the screen that you'll make any changes to settings that you need to.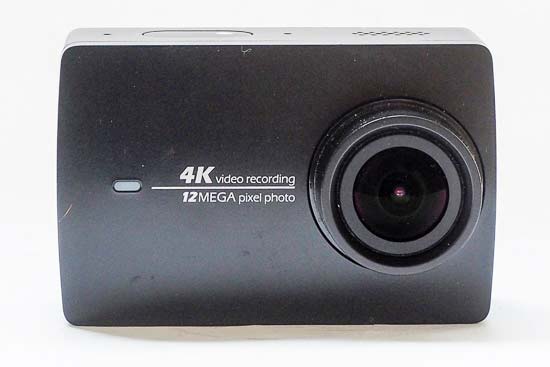 Front of the YI 4K Action Camera
To switch on the YI 4K Action Camera, hold down the power button for a couple of seconds, and you should see the rear screen burst into life. There's not too much cluttering the display, but you've got a good array of information in a small space. You can see how many pictures or video are already stored on the memory card, and how many you have left. You can see the status of the battery, and whether or not Wi-Fi is switched on.
Along the bottom of the screen, you'll see the things that you can touch. There's a playback icon, which allows you to view any images or video that you've already recorded. There's a settings icon (shaped like a cog), which enables you to change the settings of the particular mode you're working in. Finally, in the middle of the bottom is the photo mode. Give this a tap and you can choose between the different options available.
Here you'll find Photo, Timer, Burst for stills shooting, and Video, Time Lapse Video, Slow Motion, Time Lapse Photo, Loop and Video and Photo modes for video recording. It's also worth noting that if you swipe right or left from the main screen you'll be able to switch between different photo modes. This is useful, but it's also quite easy to accidentally do this, while you're just holding the camera. It's worth quickly checking therefore that you're in the mode you want to be before you take a shot or a video.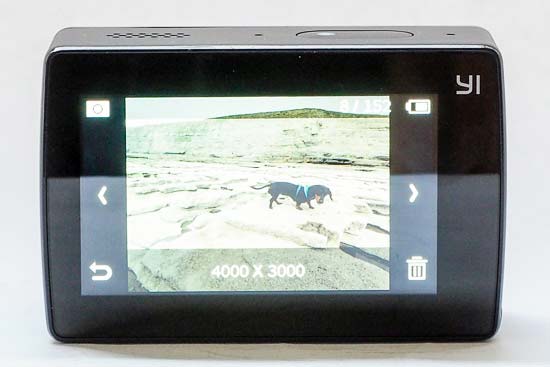 Rear of the YI 4K Action Camera
Swiping down from the top of the main screen will also reveal a few options. You can switch Wi-Fi on and off, search for a bluetooth remote control, lock the camera, or switch it off.
In the Photo mode, you have a good amount of options, considering this is an action camera. If you click the cog icon, you can change resolution (the maximum available is 12MP), shutter speed (from automatic, to lengths starting from 2seconds, going up to 30 seconds), metering mode, white balance, ISO (Auto, 100 - 800 is available), exposure compensation and you can choose to add a time stamp.
There's a second menu page, which contains other options including switching on or off lens distortion, adjusting the Wi-Fi settings, formatting the memory card, whether the camera returns to the same shooting mode when you power it up, screen brightness, volume, and options including setting the date and time and so on. It's a fairly straightforward menu that doesn't take much to get used to. The screen itself is also very responsive when you're tapping it, so it's not particularly difficult to change whichever setting you need.
If you're in the Video mode, you have a similar array of options which you can change. You can set the resolution and frame rate, metering mode, white balance, ISO, exposure compensation, and add the time stamp. It's not possible to turn lens distortion correction on when shooting in video, however.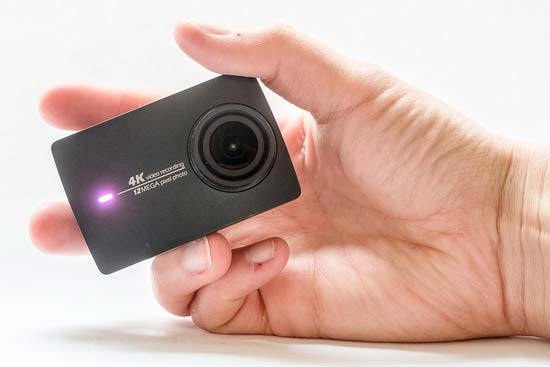 The YI 4K Action Camera In-hand
At the base of the YI 4K Action Camera, there's a door which you need to slide open to reveal the battery and the memory card slot. The camera takes MicroSD cards. The battery door is slightly flimsy, and it can be easy to knock it open when you don't want it to. Luckily the battery and memory card are held in place well, so there's not really a worry that anything is going to fall out, but it's still a little bit of an annoyance. Remember that the YI is not waterproof straight out of the box, but you'll need to add a waterproof case if you want to use it underwater.
Speaking of the waterproof casing, which is available directly from YI - or you can get third-party cases if you prefer, you'll need to take the camera out of the casing any time you want to change a setting. That can obviously be problematic if you're already underwater when you want to change the setting. To get round that, slightly, there's an underwater mode which means you can use the shutter release button to switch between photo and video mode.
You won't find any mounts for using the YI 4K Action Camera with a helmet or handlebars in the box, so while the camera may seem like a value for money proposition - remember you don't get anything in the way of accessories. The good news is that a standard tripod thread is found on the bottom of the camera, which means that you can use mounts which are compatible with such.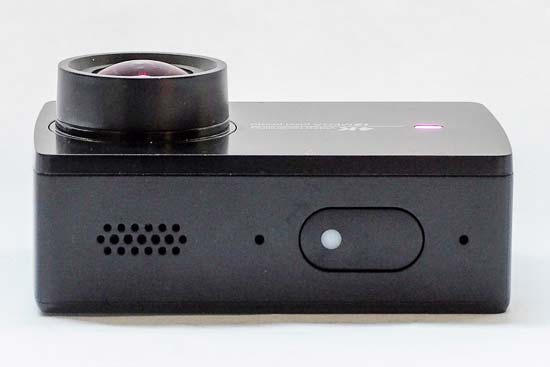 Top of the YI 4K Action Camera
On the front of the YI 4K Action Camera is a small LED light, which is joined by another which is part of the shutter button. These glow different colours depending on what the camera is doing.
Connecting the YI 4K Action Camera to Wi-Fi is quick, easy and reliable. There's a free app which you can download which allows you to control the camera from your phone, or to transfer images and videos across to your phone for social sharing. It's a simple app which is pretty self-explanatory, and is very useful if you need to shoot from afar, or perhaps even from an awkward angle.
In terms of operation speeds, using the YI 4K Action Camera is quick - it's simple to move between the different modes, while scrolling through images in playback is also pretty swift. Battery life is also pretty impressive, being able to last for 2 hours of pure recording, or up to 8 hours of standby time. That should be more than enough to capture a day's worth of short clips.