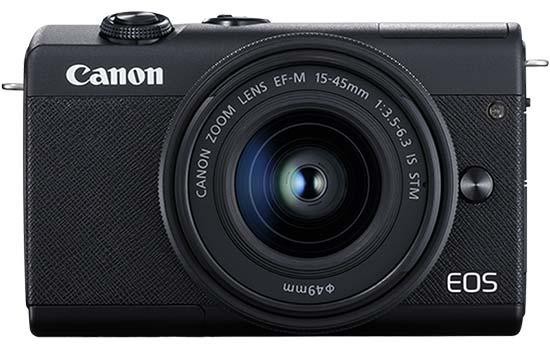 Introduction
The Canon EOS M200 is a new budget, entry-level mirrorless camera that's designed to be easy to use for beginners upgrading from a smartphone.

The Canon M200 has a 24.1 megapixel sensor, wi-fi and Bluetooth connectivity, and a tilting 180˚ flip-out touchscreen.

Other new features that have been added to the Canon EOS M200 include the latest Canon DIGIC 8 processor, Dual Pixel CMOS autofocus system, 4K and 120fps HD movie recording, a guided user interface, new creative functions and vertical movie shooting for social networks.

The Canon M200 is available now in either black or white priced at £499.99 / €569.99 / $549.99 with the Canon EF-M 15-45mm is STM kit lens.
Ease of Use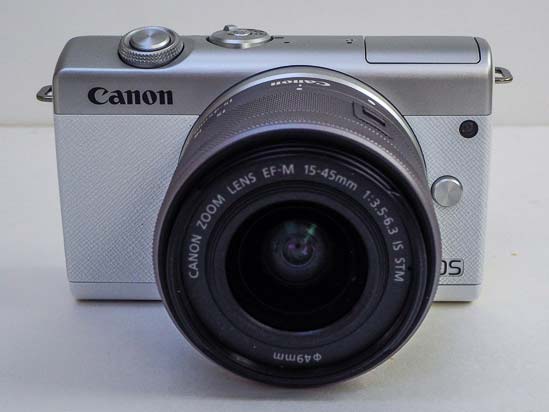 Front of the Canon EOS M200
As we write there's been a flurry of new Canon camera and lens activity in recent weeks, as well as rival unveilings from most competing major photo brands. It all points to the fact that, had we still had big European trade fair Photokina this September just gone (it's instead been scheduled for next May), such launches would have been surely scheduled around it.
With news of the Canon EOS M200 arriving hot on the heels of the EOS M6 Mark II and EOS 90D DSLR a couple of weeks previously, then, it would have been very easy to overlook the M200 in favour of those more noteworthy models; particularly if you're a dyed in the wool photo enthusiast rather than someone looking to make the initial jump from a smartphone to a dedicated interchangeable lens digital camera.
The Canon M200 is very much a mirrorless camera for that first time user market, for those who don't want the bulk of an SLR, for someone young getting into photography for the first time, or even, perhaps, an older relative who trusts the Canon brand doesn't want a camera with a lot of potentially distracting buttons.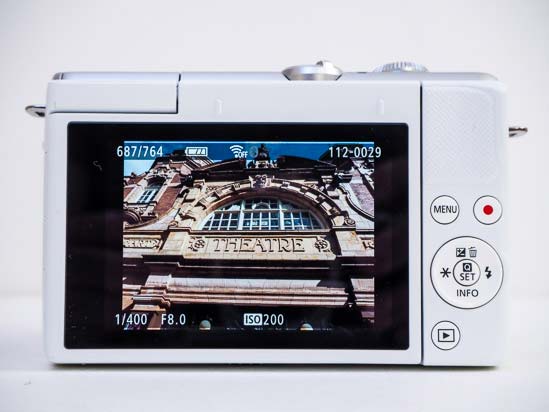 Rear of the Canon EOS M200
Canon has attempted to make the camera as appealing as possible to such an imagined and potentially very broad audience. For starters, in weighing just 299g without lens affixed, the Canon M200 is no heavier than your traditional pocket-sized 1/2.3-inch sensor point and shoot compact, that wouldn't have offered even half of this camera's functionality or versatility. Indeed, Canon's pitch this time around is that the M200 offers DSLR quality – via an incorporated 24.1 effective megapixel APS-C sensor – yet a smartphone's approachability and convenience.
The larger sensor here is coupled with Canon's Digic 8 processor – what this adds it's hard to tell, but the camera is certainly responsive - while its interface has been designed to hold the hands of those new to the idea of manual control.
As we've noted before, Canon's on-screen user interface and menu system is already one of the most straightforward and approachable in the industry, so even first timers will quickly be able to get to grips with the camera's complexities.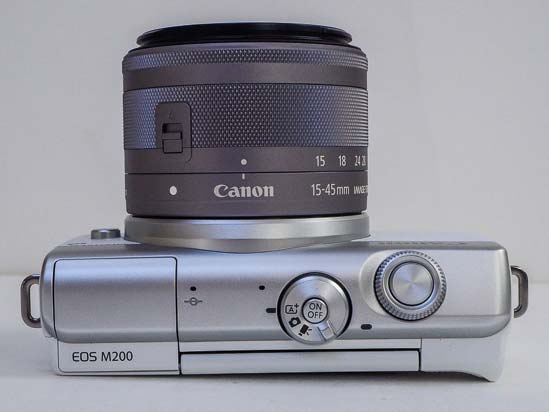 Top of the Canon EOS M200
The Canon EOS M200's LCD screen offers further flexibility in that it's of the flip-up variety; meaning it can be rotated fully through 180° to face the subject and appease selfie addicts, or angled so the photographer is looking down on it, in medium format fashion.
What we don't get here, however, for anyone who may have used a more advanced camera before, is a hotshoe for the attachment of any accessories such as an electronic viewfinder or flashgun.
That said there is a pop-up flash that's otherwise neatly secreted within the top plate when not in use, and which is activated like a projectile via a slider switch on the camera's flank. All images are composed and reviewed via the self-same LCD, which is also, helpfully, a touch screen – furthering the sense of the familiar for anyone more acquainted to shooting on a smartphone and making the camera more intuitive to use.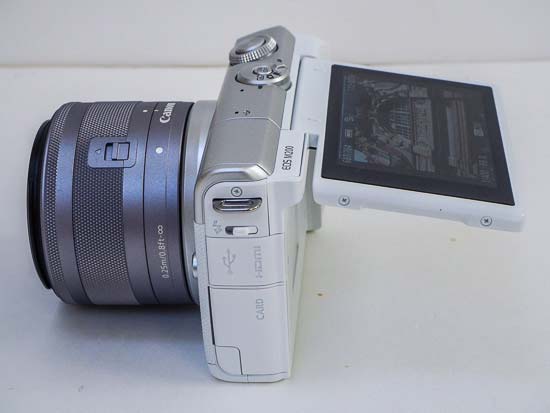 Tilting LCD Screen
While those eyeing up whether to invest in Canon's still not quite fully established EOS M system may grumble there's a paucity of directly compatible EOS M (or EF-M) lenses, help is at hand in the shape of an EF-EOS M mount adapter that can be purchased as an optical extra, thereby providing access to Canon's entire 70+ EF and EF-S lens range.
It seems almost like the manufacturer would prefer this to be the route its users took – starting off with mirrorless and progressing to DSLR perhaps – but there's no denying that having access to such a broad range of optics from the off is a real advantage and selling point here.
Something that Canon was initially slow to adopt on its cameras was 4K video – in wanting to get it right first time, it had previously told us - but, again, we get 4K capture from the off with the EOS M200, with the ability to shoot time lapse 4K videos too.
The Canon EOS M200 In-hand
If you like what you see and read here you'll want to know there are two Canon M200 bodies to choose from, in either a white or black finish. We were sent the former for review, which with its slightly roughened faceplate to make for a tighter grip in the absence of a more rounded handgrip, plus smooth silver top plate, is certainly more striking than the black, in our opinion, though there will be those who prefer the more 'serious photographer' look the darker hue bestows.
Both options cost the same in the UK – a manufacturer's suggested £499.99. This currently includes a manually retractable 15-45mm f/3.5-6.3 IS STM kit zoom lens; manually retractable so as to aid with overall compactness, even if we still found the combined camera and lens a little too much of a squeeze for a jacket pocket.
As with the same kit lens supplied with the previously reviewed EOS M6 Mark II, which sits above this in Canon's range, costing £250 more, the lens has to be first unfurled by hand before a shot can be taken – which obviously adds a few more seconds to the camera being ready to take its first shot from scratch.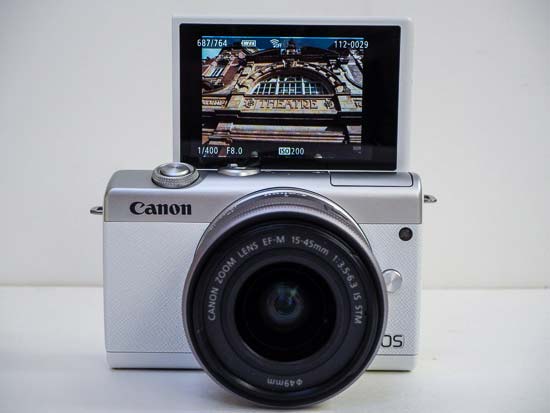 Selfie Screen
Designed so as to be approachable, the Canon EOS M200 looks, and indeed feels, fairly minimalist – much more so than the already approachable EOS M6 Mark II. The top plate buttons of the more obviously pared back M200 feature a much simplified shooting mode dial that locates an obvious on/off power button at its centre. The options presented here are fully auto or program stills capture, or video clip capture, and that's it.
The only other button on the top plate, ergonomically dipped forward, is a large and springy shutter release button, encircled by a control wheel with a comfortably roughened edge. A spin of this allows us to quickly scroll through on-screen menu options in capture mode, or zoom into or out of images in playback mode – so far, so self explanatory.
Delivering both a blink-and-you'll miss it response time and accuracy with it, auto mode here does provide a little more flexibility and bang for our buck than most however, in providing access to a range of creative controls.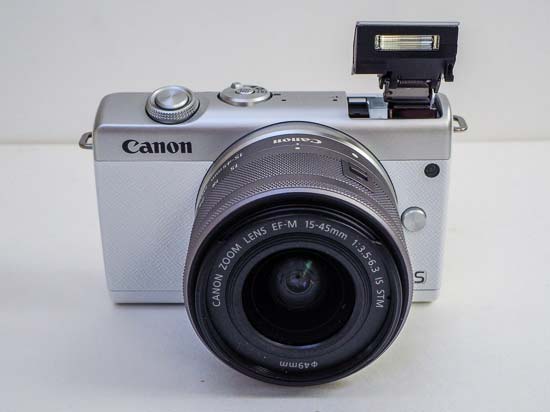 Pop-up Flash
Such options include being able to adjust colour saturation on the fly and see the results in real time on the screen before taking the shot. Background blur and brightness can also be adjusted like one would with a mobile phone camera – i.e with use of an on-screen sliding scale to make gradual adjustments.
Colour tones – to make the image warmer or colder can also be tweaked – while there are several adjustable monochrome options too, allowing for images to be given a sepia, blue or purple tint, for example. Should things get too weird or these settings take the user too far out of their depth, a lozenge shaped 'reset' button is provided for them at the right hand side of the screen.
Alternatively the program mode provided on the dial provides access to yes, program mode, where a greater array of manual adjustments are literally provided at our fingertips, as well as access to shutter priority, aperture priority and manual – as we would normally find physically included on a bottle-top type shooting mode dial.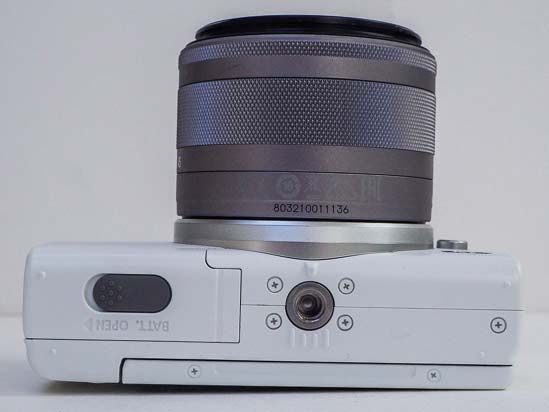 Bottom of the Canon EOS M200
Such settings allow us the ability to adjust ISO light sensitivity settings, which here are impressively comprehensive, mirroring the more expensive EOS M6 Mark II in allowing us to go from auto or ISO100 equivalent setting all the way up to ISO51200 equivalent. Again these are presented on screen via a sliding toolbar which means that a swipe of the finger will quickly get the user from one setting to another.
Apart from said touch screen at the Canon M200's rear, which takes up four-fifths of the available space, there are a few physical buttons alongside. Again these have been pared back to the essentials, so here we find a clearly labeled menu button next to a red dot signifying a video record button.
As mentioned earlier, the maximum selectable video quality is 4K at a respectable 25fps. Press record and after a second or so's pause, video recording begins, with an on-screen counter signifying recording has indeed begun.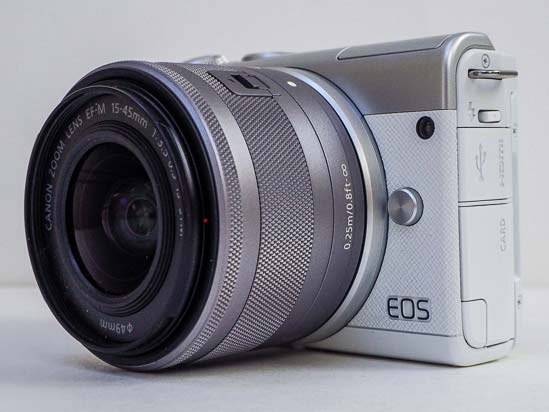 Side of the Canon EOS M200
Just below the menu and video buttons we find a four way control dial with a very familiar quick menu/set button at its centre, located in pretty much the perfect position to be operated via a thumb press.
Ranged around this dial are flash settings – which can, unusually, be accessed even if the pop up flash hasn't been manually raised. Here we get the option to have the flash on or off, or it to be set to auto flash as the camera determines it's needed. There is a red eye reduction setting, but this has to be activated separately via a dig around in the main menu screen.
We also get a setting at 12 o'clock on the dial that provides access to the Canon EOS M200's exposure compensation settings – here a relatively standard +/- 2EV – when in image capture mode, and the essential feature of a delete button when, alternatively, the camera is in playback mode.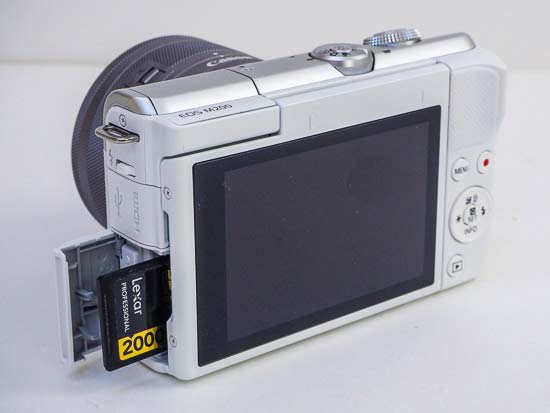 Memory Card Slot
Located at 6 o'clock on the dial meanwhile is an 'info' option, which, as it sound, calls up the various modes and options that have been selected on screen. Further presses bring up a live histogram revealing the areas of brightness across the image and fill the screen entirely with shooting information, as you'd find on a DSLR if using its live view feature.
This does however mean that you can't see what's before the Canon M200's lens until you subsequently half squeeze the shutter release button which then brings us straight back to capture mode. The final button on the camera back is a self-evident playback button. So, as we've indicated, all the essentials are here, although you probably wouldn't want them pared back much further than they have been.
While the right hand flank of the camera – if viewed from the back – features a built-in speaker working in conjunction with the stereo microphones located on the Canon EOS M200's top plate, the opposite end features a flap covering HMDI and USB ports, just above a second larger flap protecting the SD card compartment.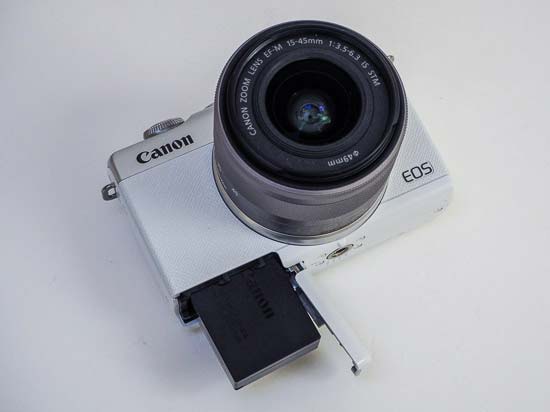 Battery Compartment
The base of the Canon M200 is where we find the battery compartment and a centrally placed screw thread for mounting the camera on a tripod. Helpfully, and unlike an increasing amount of digital cameras these days which let the user rely on a USB lead and mains plug, a standalone mains charger is supplied alongside the camera, so those who choose to invest in a spare battery can avoid having the camera tied up when there's a need for a re-charge.
Battery life incidentally is a relatively modest – although standard for this class of mirrorless camera – 315 images from a full charge in regular shooting mode, though an eco mode option is selectable to extend this up to a more impressive 485 shots.
Talking of which, how does the camera handle when it comes to the images it delivers? Are these on a par with what we'd expect from a physically larger APS-C sensor incorporating camera or, in the race towards miniaturization, has anything been sacrificed to bring the Canon EOS M200 to market? Read on to find out...