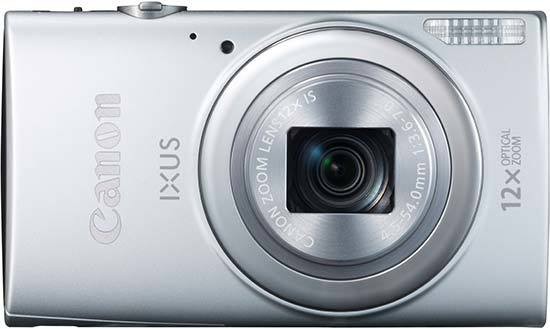 Introduction
The Canon IXUS 265 HS (also known as the Canon PowerShot ELPH 340 HS) is a stylish digital compact camera sporting a 16 megapixel back-illuminated CMOS sensor with a DIGIC 4+ processor and a 12x optical zoom, all housed in a slimline body complete with a 3-inch LCD screen, Full 1080p video at 30fps and built-in wi-fi and NFC connectivity. Priced at a moderate £189.99 / $199.99, the Canon IXUS 265 HS is available in black, silver, purple and pink.
Ease of Use
The Canon IXUS 265 HS is well made, considering its price-point. It has a weight to it that keeps you aware of it's presence while shooting or sitting in your pocket. The tripod bush is metal for added durability and the only thing we'd liked to have seen is a lock on the battery cover. It snaps open, so isn't easily jostled while in a bag or pocket but there's also no metal on it, so it's more flexible than we're comfortable with. The thin lithium ion battery slots in alongside the SD memory card. Up to and including SDXC can be accepted in the 265 HS.
One area of the build we really like is the size and sturdiness of the zoom lens. A 12x optical zoom in a little body such as this one isn't seen a lot, but it's great. There's very little movement in it when waggled from side to side. We also like the screen that Canon have fitted to the IXUS 265 HS. It's a little bit too big for the body and sticks out but it's much better to see a large screen. It's bright, colourful and contrasty.
The curves of the case are only broken up by the occasional button and the 3 inch LCD screen – and only because it's too big for the back. In fact, the same goes for the lens but then it is a 12x optical zoom crammed into the thin plastic shell. It's perhaps a little disappointing that you don't get a touch-sensitive screen, but the standard 3.0" display does the job well. It's bright with decent contrast and great viewing angles. The 461k-dot resolution is nothing to write home about, but it isn't a deal-breaker either.
There are a number of interesting features on the IXUS 265 HS. The HS appendage denotes that the IXUS 265 uses Canon's High Sensitivity system. It's a combination of winning sensor technology and processor to make low light images (usually taken at high ISO with a lot of noise) look better quality. We mentioned previously about how the processor can help with the HS system. The Canon IXUS 265 HS has been fitted with a DIGIC 4+ processor. But what's different in the DIGIC 4+ processor from the older DIGIC 4? Quite a lot, says Canon. The 4+ is a sort of enhanced version of the 4. According to Canon, processing of high ISO shots has been shortened by 60%, allows for the integration of electronic Dynamic IS which compensates for multiple motion types, and also extends battery life.
| | |
| --- | --- |
| | |
| Front | Rear |
The ECO mode is a battery saving system that you have to enable in the Main menu. It's in the setup tab and you simply switch it to the On position to use it. This modest thirst for power is primarily achieved by dimming the display after just a couple of second's inactivity, and turning it off altogether shortly afterwards. Pressing any button will restore life instantly though. The effect is rather like a start/stop system on a modern car and doesn't seem to have any downsides, providing you don't have to wait more than a few seconds to take your shot. Why this isn't a standard feature (ECO all the time) is a bit of a puzzler, but then we'd complain about not having the option to take it out of ECO mode.
On top of the IXUS 265 HS is a 3-position switch that selects between Auto, Creative Shot and Hybrid Auto modes. For normal shooting you'll have this set to Auto mode, but switch to Creative Shot mode and the camera shoots six images in a burst. The first is an unmodified photo, but the remaining five are customised by the camera with different aspect ratios and colour effects so you can pick the funkiest version afterwards. Flick the mode switch up to the Hybrid Auto setting and the SX600 HS operates as normal, but rather than just snapping images, it discretely captures an accompanying 4-second video too. The resulting footage and stills are then merged to form a video and photographic montage of your day. It's a neat trick that's somewhat similar to the Zoe feature on some HTC smartphones and will either be a love-it or forget-it feature.
When you'd like to get creative the Canon IXUS 265 HS delivers a modest but useful range of effects. There's those Creative Shot and Hybrid Auto modes mentioned earlier, but if you delve into the shooting mode menu you'll also find effects like fish-eye and miniaturisation distortions, plus a ubiquitous toy camera retro look. These are mixed in with regular shooting modes which also includes a useful Smart Shutter function which will automatically snap your shot when the camera detects a smiling face. Switch to the My Colours menu and you can set all shots to be automatically recorded with enhanced colour saturation, sepia tones or in monochrome.
More and more digital compact cameras are being produced with wi-fi connectivity, but there's not generally a great deal that can be done with it. Usually, you can only upload your pictures to another device or website. Canon have gone to town though and squeezed every last bit of use from it. For example, you can download the Canon CameraWindow app from App Store or Google Play and connect the camera to your phone for wireless control. You can use your phone as a GPS service to geotag your photographs. You can back-up your photos to a website or computer, print directly with a wi-fi enabled printer as well as the previously mentioned uploading to social media. The IXUS 265 HS also features NFC (Near Field Communication) technology (the same technology that's used for mobile payments), which allows you to connect it to a compatible internet enabled device or another NFC-enabled camera by simply tapping them together.
| | |
| --- | --- |
| | |
| Front | Top |
All Canon digital compact cameras have two menus; one for quick access to frequently used features and one for more in-depth modes. The first is accessed by pressing the FUNC. SET button in the centre of the navigation pad. A small scrolling menu will pop up to the left. The colouring is orange on grey which wouldn't be our first choice, but does look quite nice. Here you can change the ISO, white-balance, resolution and shooting modes among other things.
The main menu is plainly signed on the rear button and pressing it opens up a dedicated window to it. There are only two tabs so that it doesn't overwhelm the beginner. Because of only using two tabs, the menu is extremely easy to use, but we need to cover a few of the features to give an idea of what the camera is capable of for the newcomer to photography. The Camera tab is for features that directly affect the way the Canon IXUS 265 HS takes pictures such as Flash settings, Blink detection and Focusing modes.
There's a nifty feature called iContrast towards the bottom which expands the dynamic range of the photographs. That means that if you're in a situation where there's a lot of contrast, the sensor normally will not be able to cope with the dark shadows and bright light. This will result in no detail in dark areas and burn out on the highlights. iContrast works to reduce the effect of this and balance out the exposure more. Flick over to the Setup menu and these modes will affect the camera in it's day to day operation such as noise control, date & time, power options and wi-fi settings. The previously mentioned ECO mode is found in this menu.
| | |
| --- | --- |
| | |
| Memory Card Slot | Battery Compartment |
Continuous shooting on the Canon IXUS 265 HS is great. Its 3.9fps capture rate is fast for this class of camera, and unlike many a compact it won't throw in the towel after a handful of shots and slow to a snail's pace. Depending on the speed of your memory card the burst rate will eventually deteriorate, but we found the camera kept on shooting at least 2fps. You can also indulge in a more rapid 10.5fps shooting speed, albeit only at 4 megapixel resolution, but again the camera keeps going until the memory card is full. Of course if all this still isn't fast enough to record the action, there's always Full HD video capture.
The Canon IXUS 265 HS can be switched on to review pictures whether it's powered up or not. If it's off, simply hold the Playback button down a bit longer and it will come to life. Pictures are shown full screen as default but pressing the DISP. button will scroll through the options of information you want to have on screen. For instance, you can have no info, basic info such as the resolution, date & time and file number or you can go the whole hog and have all shooting information displayed with a thumbnail of the picture and even a histogram. There's a Function menu in playback and brings up features such as the delete button (for that one image you're on), favourite, lock and rotate. There's also an Image search feature which will look for pictures using their date, favourites – if you have any or people – using face detection among others.
Directly under the box opening is a small card tray which holds the software and manuals. The booklet is only a brief manual with the full manual being stored electronically on the CD. The CD also contains a picture viewing suite which offers basic editing and tagging. Beneath this is the camera with a battery, charger, wrist strap and USB cable.