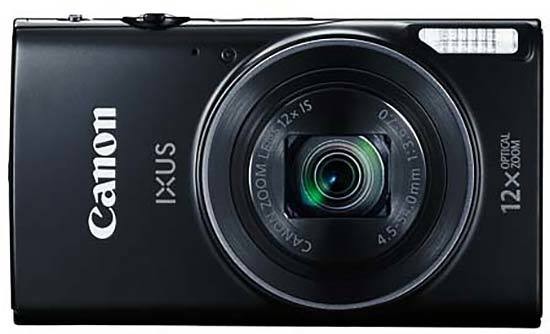 Introduction
The Canon IXUS 275 HS (also known as the PowerShot ELPH 350 HS) is an ultra-slim compact camera which features a 20.2 million pixel high-sensitivity CMOS sensor. That is accompanied by a 12x optical zoom, which gives you an equivalent of 25-300mm in 35mm terms. There's also two types of digital zoom available which boosts that reach to 24x and 48x. Intelligent IS (image stabilisation) is included to help keep blur to a minimum. The IXUS 275 HS has a Digic 4+ processor, and has a number of automatic and scene modes which you can shoot in. There's also Creative Shot, which creates five different images with digital filters and crops (along with a standard, clean image) applied from one press of the shutter release button. Wi-Fi is inbuilt, as is NFC, to allow you to remotely control the camera, or download images which you've already taken with it for quick sharing to social networks and the like. The Canon IXUS 275 HS is capable of recording full HD videos, while there's also Hybrid Auto which creates a montage video to accompany stills you have taken during a given day. The Canon IXUS 275 HS retail for £129 / $210.
Ease of Use
Canon has been using the same sort of design for its stylish and slim IXUS models for a while, so it's no surprise to see the same kind of appearance here in the IXUS 275 HS. It's certainly slim enough to fit into a jeans pocket, making it a good choice as a carry around camera, or something to slip into your bag on a night out.
The 12x optical zoom lens extends from the body of the Canon IXUS 275 HS when you switch it on, while it can be zoomed using a switch around the shutter release on the top of the camera. The switch itself, although small, feels pretty sturdy, and should be able to withstand repeated use. The zoom of the lens is quite smooth and fluid, and you can reach the end of the zoom range fairly quickly.
If you have digital zoom activated, the lens will pause for a moment before it enters into digital zoom territory, and again before it enters the second type of digital zoom - this is handy for ensuring you only stick with optical zoom if that's what you'd prefer to do.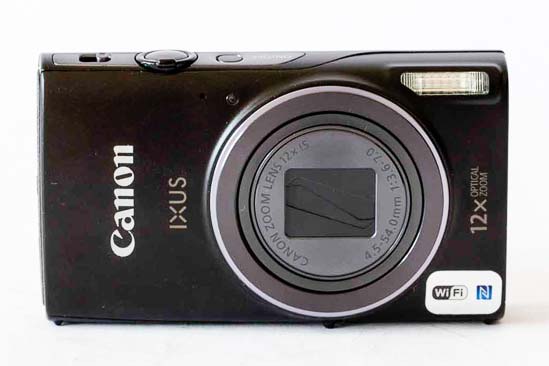 Front of the Canon IXUS 275 HS
On top of the Canon IXUS 275 HS, there's the on/off button, the shutter release and a switch for allowing you to choose between the three different shooting options which the camera offers.
The first option, is "Automatic", but within this, you'll find that you can switch to a Program mode if you want to take greater control over your shots. You'll also be able to select different scene modes and so on here, too.
The second option is "Creative Shot". This allows you to create six different filtered or cropped images all with one press of the shutter release button. You don't have a lot of control over which filters or crops will be applied, but you can choose from different "sets" of filters by pressing the Display button and selecting from options such as "Auto", "Retro", "Special" and "Monochrome". It would be nice if you could choose for yourself some of these filters, but it is still quite fun to experiment with this mode.
Finally, the third option on the switch is Hybrid Auto. This mode is completely automatic and you won't be able to change any shooting settings when you're using it. A two-second video clip will be captured every time a picture is taken - video will start recording from the moment you half press the shutter to focus. At the end of the day, you can view a montage video which has been collated from the videos shot throughout the day, and you will also have each of the still images separately.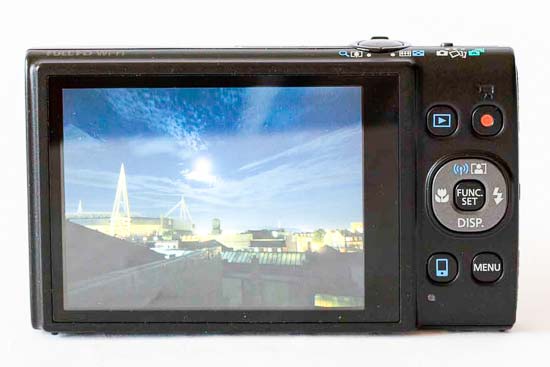 Rear of the Canon IXUS 275 HS
This is a really fun mode and works especially well for events and holidays - birthdays and weddings are a great time to use it. It would be nice though if you could have a little control over which clips make it into the final video - for instance if you take more than one photo of the same thing, the video can be pretty repetitive. It's fuss free though, and perhaps introducing the ability to edit this video would make it more complicated than it needs to be.
Moving to the back of the Canon IXUS 275 HS and you'll find the majority of the camera's buttons are grouped on the right hand side. This makes it easy to make changes to all of the settings when you're using the camera with just one hand.
Again, if you've ever used a Canon IXUS camera before, you should be perfectly at home with the button layout here, with the company not straying from its usual design for compact cameras.
The top two buttons are a playback button for viewing images and movies that you've already taken, and a dedicated video record button. This latter button is slightly recessed into the body of the camera, making it pretty unlikely that you'll accidentally push it and create videos you don't want.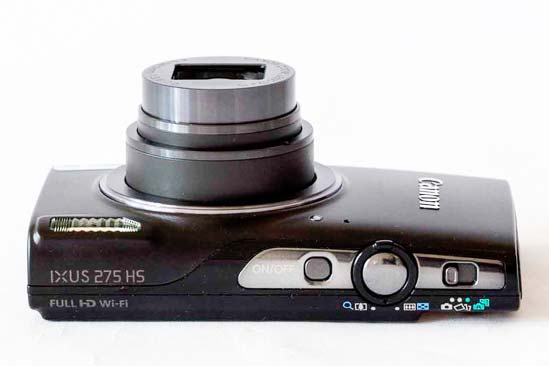 Top of the Canon IXUS 275 HS
Just underneath these two buttons you'll find a four way navigational pad, with a button in the middle. Each of the navigational keys has its own function. The up key activates Wi-Fi, or Auto Zoom. The left button controls Macro Shooting, the right button accesses flash functions, while the down button changes the different Display modes the camera offers.
A function button in the middle of this navigational pad gives you access to a quick menu for making rapid changes to certain settings, depending on the shooting mode you're in. If you're in the Hybrid Auto mode, the only options you'll find here will be timer and different video quality settings. However, if you're shooting in the standard automatic mode, you'll find a myriad of different options available here.
From within the quick menu you can change from fully automatic to Program mode, which then opens up the possibility to change other settings such as "My Colors", white balance, ISO (sensitivity) and metering. This is good for those that want to take a little more control over shooting parameters, but note that it's not possible to set aperture or shutter speed in this way. If you select "Long Shutter" mode from within the function menu, you can set shutter speeds from 1 second up to 15 seconds, which is useful for photographing long exposures in dark conditions - but note that you'll need to use a tripod to keep the camera steady during such exposures - a tripod thread is found on the bottom of the camera.
The final two buttons on the back of the Canon IXUS 275 HS are a one-touch button for connecting the camera to your phone (once the initial setup has taken place) and the main menu button. Within the main menu, you'll find more in-depth options than from within the function menu, as well as other camera settings, such as setting the date and time.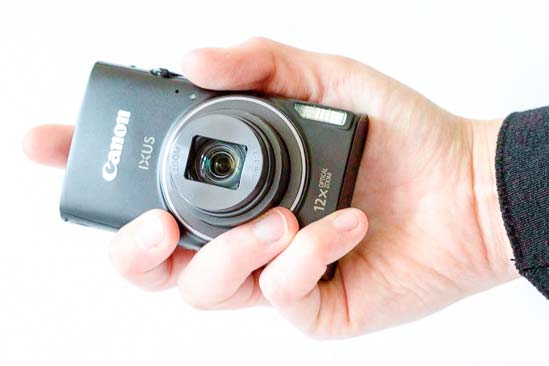 The Canon IXUS 275 HS In-hand
You can't change autofocus point using the IXUS 275 HS. Your options are Face Detection, Tracking and Center point. It's recommended that for most situations you use the Center point and use the focus and recompose method if something you're photographing is not in the centre of the frame.
When you're in the Hybrid Auto mode, you can't choose macro focusing, but most of the time, the camera will recognise when it is photographing a close-up subject. If it doesn't, you can switch to macro focusing in the standard automatic setting and then select macro focusing by pressing the left directional key.
In good light, autofocusing speeds are pretty rapid, dropping a little when the light is lower - in lower light conditions you might find that the 175 hunts a little before snapping into focus. Occasionally when photographing something close up, it's possible that you'll be presented with a false confirmation of focus, which is something to keep an eye on.
Otherwise, general operational speeds of the Canon IXUS 275 HS are pretty good, and you can cycle through menus and images in playback with ease. The menus themselves are reasonably well thought out and designed, and it's not generally too difficult to find the setting you need to change quite quickly.