Canon PowerShot N2 Review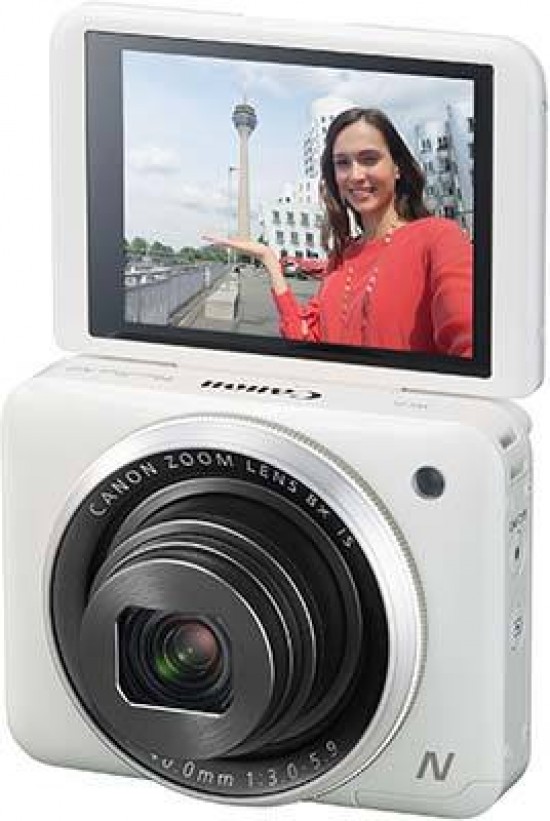 Introduction
Back in 2013 we were rather underwhelmed with the original PowerShot N, but Canon is back with a second generation that boasts improved specs and more features. The PowerSHot N2 retains the same distinctive square style and 8x optically stabilised zoom lens as its predecessor, but now its tilting, touch-sensitive screen flips up 180° to face forwards, thereby making it a breeze to snap a selfie. There are changes inside too, with a 16.1-megapixel back-illuminated sensor replacing the original N's 12.1MP device, and the N2 gets Canon's newer DIGIC 6 processor that ups continuous shooting speed marginally to 2.7fps. There's Full HD video for when stills just aren't fast enough, and the N2 gets Canon's Hybrid Auto mode that combines video clips with stills to create a pseudo time-lapse effect. Wi-Fi connectivity is also present for easy image sharing and remote camera control, and the N2 adds NFC pairing for extra convenience. The Canon PowerShot N2 is available now priced at £249 / $299.99 in white or black.
Ease of Use
Although the Canon PowerShot N2 now packs some new technology under the skin, that distinctive square style remains. It is slightly larger than the original N though at 80.9 x 62.0 x 32.3mm, and a 201g ready-to-shoot weight is also marginally up on the old model. To put that in perspective, a more conventionally-styled Canon IXUS 275 HS may appear larger than the N2, but its overall volume and weight are around 25% less.
The Canon PowerShot N2's increased bulk is partly due to a new control ring design. As with the original N, two rings around the base of the lens replace a standard, top-mounted shutter release button and surrounding zoom ring. The N2's zoom ring is slightly thicker than its predecessor's and features more pronounced ridges for better grip. In front of this the shutter release ring which has also been sculpted for more control. The fundamental design is still hardly what you'd call intuitive though (to snap a shot, you press down on the top of the shutter ring) and thanks to there being very little resistance at the half-press autofocus point, it's all too easy to push fully down and snap a shot before the camera has focussed.
You can configure the Canon PowerShot N2 to shoot by touching the screen instead, but this can often result in snapping shots unintentionally. In fact, the shutter ring design actually works best when taking a selfie, as your forefinger sits more naturally on top of the lens when the camera is facing you, whilst your remaining fingers and thumb grip the camera body. Get back behind the camera and it's very hard to shoot one-handed, partly because there isn't a great deal to hang on to, but mainly because the shutter ring ideally needs two hands to operate precisely from this position.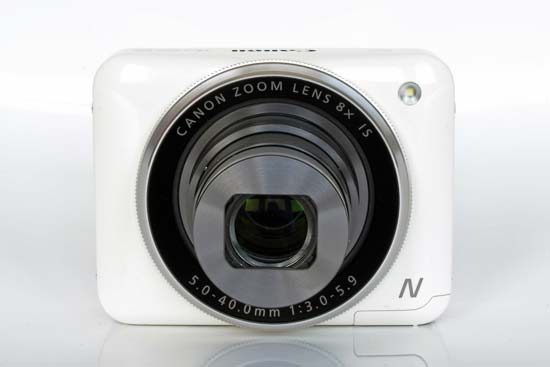 Front of the Canon PowerShot N2
Aside from the tweaked control rings, the Canon PowerShot N2 is a very similar design to the original N. The glossy plastic shell is well made but has no specific gripping points, though if you're used to clinging on to a current-gen, wafer-thin smartphone, you shouldn't have much trouble keeping hold of the N2. Another feature familiar to smartphone users is the N2's use of Micro SD cards to save physical space. This isn't particularly unusual though, as quite a few ultra-compact and toughened cameras also record on this format.
You do get some conventional controls on the sides of the Canon PowerShot N2 to assist the touch-sensitive screen. Next to your left hand is the on/off button and below this is the playback control. On the opposite edge is a button to activate the N2's wireless hotspot, and there's a switch above to switch between standard shooting and Creative Shot mode. This feature is included with many Canon compact cameras and instantly captures one standard shot plus an extra five variations of it, each with a different filter effect and crop applied. It's a useful feature when you want to get creative but don't fancy wasting time hunting through menus to manually apply different filters (check out the image quality section of the review for examples). This feature also explains why the N2 only has five conventional filters.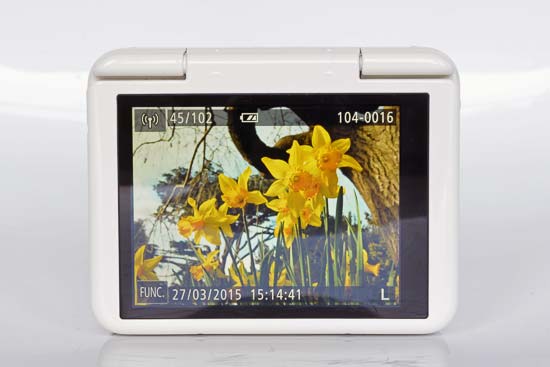 Rear of the Canon PowerShot N2
In addition to these effects, there's also a Hybrid Auto mode that captures a 4-second video clip with each still and compiles everything into a 720p time-lapse movie. Other shooting modes include a standard Auto stills mode, and a Program mode for manually setting options like ISO sensitivity and white balance. There's also a Self Portrait mode that activates the touch-screen shutter feature and provides easy adjustment of brightness, background defocus, the flash and self-timer.
Each mode is selected by tapping the mode icon in the upper left corner of the screen which reveals all the available shooting modes, spread over a two touch-friendly screens. Common shooting settings are accessed by tapping the 'Func.' Icon in the lower left corner and within this screen overlay is a button to activate the main menu. This displays a typical grey and orange Canon menu system like you'd find on a normal Canon compact camera, but which has been made touch-sensitive. On the whole it's an easy system to navigate, once you familiarise yourself with which screen icon reveals each group of options.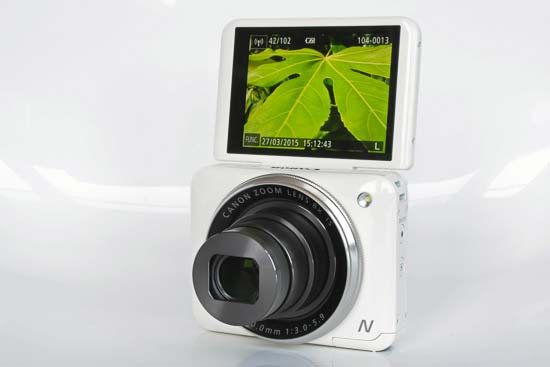 Tilting LCD Screen
The Canon PowerShot N2's 2.8" screen itself has identical specs to that used by the original N. It's 461,000-dot resolution isn't especially high, but it's good enough to display reasonable detail levels and it has very good viewing angles and colour accuracy. The screen is also nice and responsive to your touch, allowing for smooth swiping between images and multi-touch pinch zooming. It's not quite as slick to use as a current smartphone, but it's almost as good.
As with original N, the N2's screen also hinges at the top, but this time it's able to flip up 180 degrees to face completely forward, rather than being restricted to a 90-degree rotation like the original N. This makes the N2 far more selfie-friendly, and though the screen can't be tilted downward to help compose a high-angle shot, you can flip the whole camera upside-down to achieve the same result.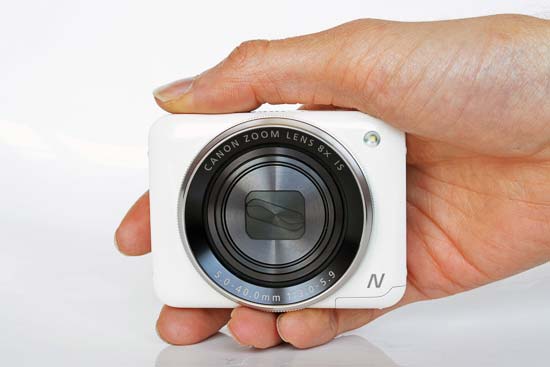 The Canon PowerShot N2 In-hand
One area which hasn't been improved from the original N, however, is its flash. With space at such a premium, the Canon PowerShot N2 has to make do with a tiny LED flash such as you'd find on a smartphone. This is extremely underpowered when compared to a conventional xenon flash on even an entry-level compact camera. Also compromised by the N2's diminutive dimensions is its battery. The 870mAh cell is about the size of an AA battery, but is only good for 200 shots per charge, and we had trouble matching even that figure.
Canon has improved its wireless connectivity for the N2 though by adding NFC pairing. Now you're able to simply tap an NFC-enabled smart device against the camera to create a connection, but pairing the old fashioned way is fairly painless too. Canon has replaced its old CameraWindow app with a revised version called Canon Camera Connect, although the two apps are quite similar on the surface. You're still able to transfer images from camera to smart device, with each full resolution photo transferring in 4-5 seconds. You can also operate the N2 remotely from a smartphone or tablet, and whilst there's a slight lag when operating the zoom controls, the autofocus and shutter commands are instant. The N2 also carries over the N's ability to use your smart device to tag its images with GPS coordinates. This is less convenient than a proper built-in GPS system as you must sync the camera to your smartphone and rely on the accompanying app, but at least this method doesn't eat into the N2's already anaemic battery life.
Despite it's questionable control design and ergonomics, the Canon PowerShot N2 functions rather well. It'll snap a shot in approximately 1.7 seconds from power-on and has an excellent autofocus system. This is both fast and accurate, even in low light, where the LED flash comes good as a bright AF-assist lamp.