Panasonic Lumix DMC-SZ10 Review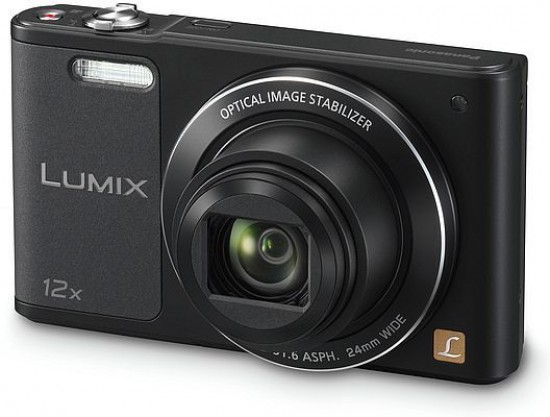 Introduction
The Panasonic Lumix DMC-SZ10 has a 16 million pixel CCD sensor. There's also a lens with a 12x optical zoom - which gives you an equivalent of 24-288mm in 35mm terms. There's also an Intelligent Zoom available, which boosts it to 24x, as well as digital zoom which boosts it to 4x the reach. If you're a fan of shooting selfies, this camera could be for you, as its 460k-dot, 2.7 inch LCD screen tilts forward 180 degrees and includes a purpose designed selfie mode. Additional features of the SZ10 include inbuilt Wi-Fi, 720p video recording, and different shooting modes which includes automatic, scene and digital filters mode. The Panasonic Lumix DMC-SZ10 is available in black, silver or white and retails for around £149 / $199.
Ease of Use
With a sleek and slim body, you'll have no trouble slipping the Panasonic Lumix DMC-SZ10 into your jeans pocket. It's also covered in a pleasant matt finish which makes it feel pretty secure in the hand, despite the lack of a dedicated grip on the front of the camera.
On the top of the camera, you'll find a shutter release button, which is surrounded by the zoom switch which operates the 12x optical zoom. The zoom is reasonably quick, allowing you to reach the telephoto end of the lens with ease. Before it enters the digital zoom (if you have it activated - something which you can do via the Main Menu), the zoom will pause before reaching it, which is handy if you want to keep an eye on only using the optical zoom.
The other buttons you'll find on the top of the Panasonic Lumix DMC-SZ10 are an on/off switch, along with a dedicated video record button. This latter button is recessed into the body of the camera, which helps to prevent accidental video recording.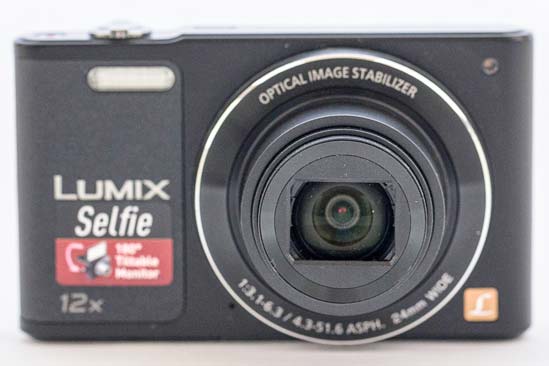 Front of the Panasonic Lumix DMC-SZ10
Moving to the back of the camera, and there's quite a few buttons here. As the screen is not touch sensitive, you'll need to use the buttons to make changes - and it is also perhaps for this reason that the screen is a little on the small side.
In order to change the exposure mode of the Panasonic Lumix DMC-SZ10, there's a dedicated Mode button. From here you can choose between Intelligent Auto, Normal Picture, Creative Control (digital filters), Panorama Shot and Scene Mode.
There's also a dedicated button for accessing the Wi-Fi functionality of the camera. If you press this button, you can set up a new connection to your phone (or tablet or PC). You will have three options to choose from, which allow you to choose between remote shooting, sending images while recording, and sending images that you have already taken. Sending images across allows you to share an image quickly via social networks or email.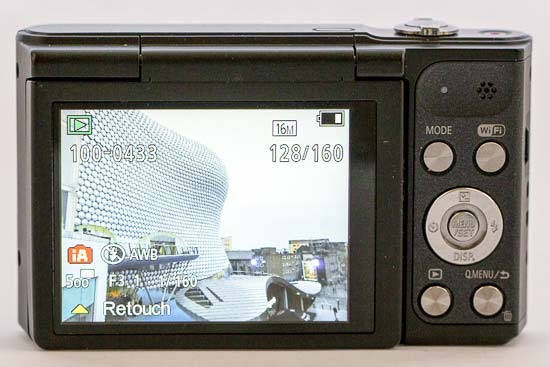 Rear of the Panasonic Lumix DMC-SZ10
When you first set up the Wi-Fi, if you have the free Panasonic app installed on your phone, you can simply scan a QR code which appears on the back of the screen. This will then setup the phone with all the relevant settings you need. Alternatively, you can just use the password which is displayed on screen instead.
After you're connected, you can zoom the lens in and out and fire off the shutter release from the app, making it useful for group shots, or perhaps the odd shot from an awkward angle too. You can also set the autofocus point.
Going back to the buttons on the back of the Panasonic Lumix DMC-SZ10. There's a standard four-way navigational pad, with each of the directional keys allowing you to access a different function. Up accesses exposure compensation, while left controls the timer function, right the flash mode, and down the different display modes which are on offer. In the middle of the navi-pad is a Menu button which accesses the camera's main menu.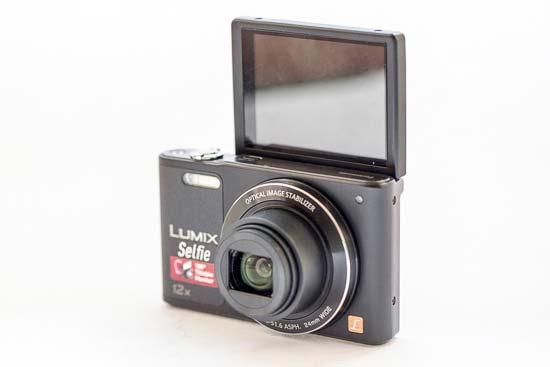 Selfie Mode
The final two buttons on the back of the camera are a playback button, and a quick menu button. Pressing the quick menu button brings up a number of different options which allow you to speedily reach some of the most commonly used settings you might want to change, such as ISO when shooting in Normal Picture Mode. When you're in the Intelligent Auto mode, there are fewer options for you to choose from.
If you flip the Panasonic Lumix DMC-SZ10's rear LCD screen forward to face the front, then by default you will enter into self-portrait mode. This means, when you press the shutter release, there will be a countdown of three seconds before shutter is tripped. It will also take a further three more shots, each with a three second count
As you might expect from an entry-level compact camera, there's not a great deal of changes you can make to settings, but you get the most flexibility when you're shooting in "Normal Picture" mode. When in this mode, you'll be able to change the picture size, sensitivity, white balance and AF mode.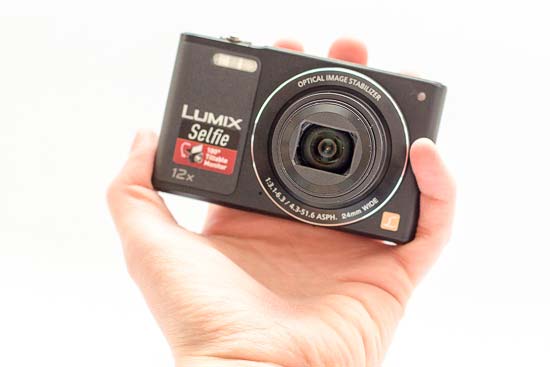 The Panasonic Lumix DMC-SZ10 In-hand
Unfortunately there's no way to set a single autofocus point, other than the central one, so if you want to focus on something specific, you'll need to employ the focus and recompose technique. Alternatively, you can use Face Detection or 9-Area mode.
The main menu is split up into four different categories, allowing you to only look at the specific type of settings you'll need to change, rather than having to scroll through pages of menus. Under the record menu, you'll find a number of different things to change, and it's reasonably sensibly arranged, not taking too long to get to grips with. Other things, such as the date and time can be altered via the Setup menu, while there's also a section for Motion Picture and Wi-Fi settings.
Starting up the Panasonic Lumix DMC-SZ10 is relatively quick, taking roughly 1.5 seconds to go from completely off to ready to shoot. Autofocusing in good light is pretty quick, but that drops noticeably in low light where it can sometimes struggle to acquire focus at all - the SZ10 is really not a camera which is designed to be used in poor light, as you'll see in the Image Quality section of the review.