Canon PowerShot N2 Review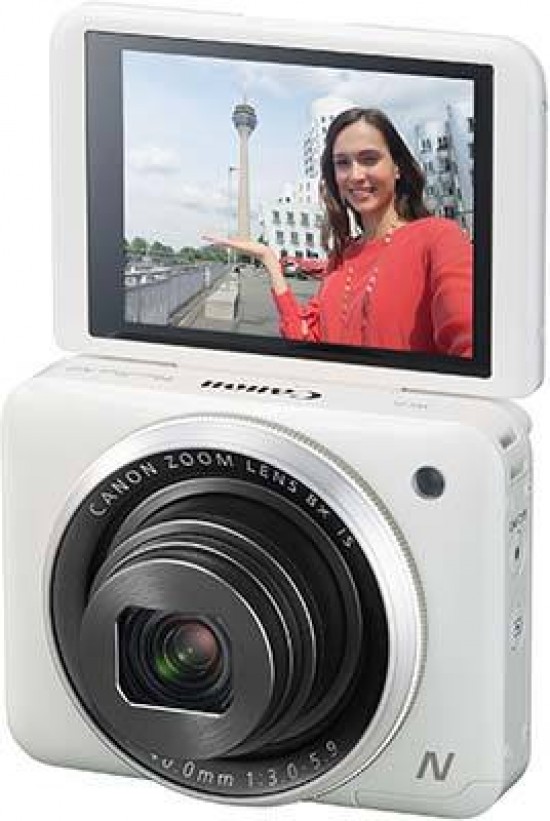 Image Quality
All of the sample images in this review were taken using the 16 megapixel JPEG setting, which gives an average image size of around 5Mb.
The Canon PowerShot N2's 16.1MP back-illuminated 1/2.3" CMOS sensor sounds pretty average on paper, but it actually generates surprisingly good image quality. Detail is very well resolved, even when shooting distant landscapes where many cameras are susceptible to smearing grasses and foliage. Detail is noticeably crisper than in shots captured by the 20.2-megapixel PowerShot SX610 HS which we tested alongside the N2, proving that more pixels don't always mean better.
The other advantage of a lower pixel count is better light sensitivity, and here the N2 also outperforms the SX610 HS, producing impressively little image noise right up to ISO1600. Even at the topmost ISO3200 sensitivity images display well, with relatively low levels of grain and colour speckling. Canon hasn't achieved this by cranking up the N2's noise reduction processing either, so there's still plenty of detail visible in high ISO shots.
Colours are also rendered well, being both vibrant yet accurate, and the camera's exposure metering does a good job too by producing balanced exposures with reasonably good highlight and shadow detail.
Optical performance is more of a mixed bag, though not a let-down. There is some barrel distortion at the 28mm-equivalent wide angle setting, which itself is not that wide by today's compact camera standards. Sharpness is high though, with very little drop-off towards the corners of frame. Chromatic aberration (purple fringing) is also well controlled and you'll have to scrutinise shots at 100% image size to spot it.
Noise
The Canon PowerShot N2 has a sensitivity range of ISO100 to ISO3200 available at full resolution. Unlike many ultra-compact cameras, ISO3200 is completely usable thanks to the N2's impressively low image noise levels.
| | |
| --- | --- |
| ISO 100 (100% Crop) | ISO 200 (100% Crop) |
| | |
|   |   |
| ISO 400 (100% Crop) | ISO 800 (100% Crop) |
| | |
|   |   |
| ISO 1600 (100% Crop) | ISO 3200 (100% Crop) |
| | |
Sharpening
Here are two 100% crops which have been Saved as Web - Quality 50 in Photoshop. The right-hand image has had some sharpening applied in Photoshop. The out-of-the camera images are a little soft at the default setting ideally and benefit from some further sharpening in a program like Adobe Photoshop.
| | |
| --- | --- |
| Original (100% Crop) | Sharpened (100% Crop) |
| | |
Focal Range
The Canon PowerShot N2's 8x optical zoom lens gives you a focal range of 28-224mm (in 35mm-camera terms). Canon's ZoomPlus feature can double this to 16x without considerable detail loss, whilst an additional 2x conventional digital zoom will give a combined maximum 32x reach, albeit at the expense of image quality.
| | |
| --- | --- |
| 28mm | 224mm |
| | |
Chromatic Aberrations
The Canon PowerShot N2 handled chromatic aberrations excellently during the review, with limited purple fringing present around the edges of objects in certain high-contrast situations, as shown in the example below.
| | |
| --- | --- |
| Chromatic Aberrations 1 (100% Crop) | Chromatic Aberrations 2 (100% Crop) |
| | |
Macro
A 1cm minimum focussing distance makes the Canon PowerShot N2 very handy for close-ups.
| | |
| --- | --- |
| Macro | Macro (100% Crop) |
| | |
Flash
There's no discreet way to say this; the Canon PowerShot N2's flash is pathetic. It's an LED flash such as you'd find in a smartphone and has a rated range of up to 1.7 metres, but in reality it's only useful at very close distances and you'll still need to use a high ISO sensitivity to get an accurate exposure.
Shooting a white target from a distance of 1.5 metres at ISO100 reveals some wide angle vignetting, but more obvious is the flash's inability to fully light the scene. Zoom in and the problem is compounded and the shot is far darker than when compared to one illuminated by a conventional xenon flash.
| | |
| --- | --- |
| Flash Off - Wide Angle (28mm) | Auto Flash - Wide Angle (28mm) |
| | |
|   |   |
| Flash Off - Telephoto (224mm) | Auto Flash - Telephoto (224mm) |
| | |
Despite not having a red-eye reduction setting, the N2 doesn't produce any red-eye. This shot is darker than normal thanks to the underpowered flash not being able to cope with a forced ISO100 sensitivity.
| | |
| --- | --- |
| Flash On | Flash On (100% Crop) |
| | |
Night
Activate the Canon PowerShot N2's Low Light mode and it'll drop the recording resolution to 5MP to increase detail, counteract camera shake and minimise image noise. However, standard Auto mode usually produces comparable results, but at full resolution.
| | |
| --- | --- |
| Night | Night (100% Crop) |
| | |
Anti Shake
Canon's lens-shift image stabilisation system does a good job of compensating for camera shake. Shot at full zoom with a maximum telephoto aperture of f/5.9, this image required a slow 1/5-second shutter speed at ISO100, but the photo is still fairly sharp when IS is enabled. Turn it off and there's no chance of avoiding considerable blur at the same settings.
| | |
| --- | --- |
| Anti Shake Off (100% Crop) | Anti Shake On (100% Crop) |
| | |
Creative Filters
Five filter effects are selectable from the Canon PowerShot N2's mode menu. These are: Fish-eye, Miniature, Toy Camera, Soft Focus, and Monochrome. All are previewed live and recorded at full resolution.
| | |
| --- | --- |
| Fish-eye Effect | Miniature Effect |
| | |
|   |   |
| Toy Camera Effect | Soft Focus |
| | |
|   |   |
| Monochrome - B/W |   |
| |   |