Canon PowerShot Zoom Review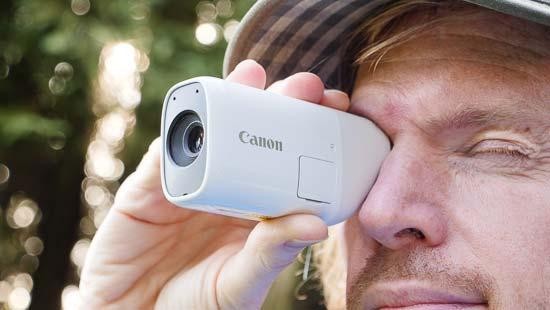 Introduction
When Canon crowdfunded last year for a range of 'concept' cameras that included a tiny monocular-style camera, it met and exceeded the funding target in next to no time. Fast forward to today and we have in our hands the fruit, the dinky Canon PowerShot Zoom.

Clearly then, there's an interest for a niche product like this in the camera market. Yes, variety is the spice of life and, truth be told, compact cameras need to do something different to stand out against ever-improving, ever-evolving smartphones.

This may be a PowerShot by name, but it's perhaps best to understand the Canon PowerShot Zoom as a digital monocular that can take reference pictures, rather than pin your hopes on its performance as a camera.

In short, we've been disappointed by the image quality. However, as a truly pocketable and lightweight stabilised digital monocular that gets you close to the action, the PowerShot Zoom fares much better.

At the push of a button its three-step zoom jumps from the 100mm to 400mm settings and extends up to 800mm digitally. You'll get a smooth, stabilised viewing experience through the 2.36-million-dot EVF. Sounds promising, right?

The Canon PowerShot Zoom is available in white only and currently for pre-order with an estimated shipping in December 2020. It is priced at £299 / $299 on the Canon website.
Ease of Use
Let's set things straight first. The Canon PowerShot Zoom is trying to do things differently in the compact camera market, but really its best attributes are as a digital monocular.
What you have is a palm-sized device weighing a mere 145g that will comfortably slip into your pocket. It features a 100-400mm optical zoom, plus 2x digital zoom that extends the reach to 800mm.
It's a three-stepped zoom starting at the widest 100mm setting. Press the zoom button and you're instantly at 400mm, press it again for the 2x digital zoom and then a third time to return to 100mm. Simple.
The scene is viewed through a 2.36-million-dot EVF that we understand is the same 0.39-inch OLED unit as found in the Canon EOS M50. It's a lovely display with 60fps refresh rate, that presents the scene even better than how your photos and videos come out (but we'll get onto image quality later).
Crucially, what sets the PowerShot Zoom viewing experience apart from much less expensive optical monoculars is that has an always-on 4-axis optical image stabilisation.
When viewing a scene at such high magnifications of 400mm and beyond, slight hand movements are magnified and such extreme shake can make viewing nauseating. Stabilisation transforms the handling, countering those movements, smoothing out the viewing experience.
Certainly, when the photo button is semi depressed to focus, stabilisation is very effective and it's possible to pan with subjects such as birds in flight with relative ease. That photo button is a tad sensitive though and the electronic shutter is silent, so you may find yourself taking shots unawares instead, when you didn't necessarily want to.
Should you opt for video capture, stabilisation is pretty good but not perfect. At 100mm it's fine, but at the 400mm and 800mm settings it's understandably a bit shaky and you'll need a really steady hand.
We know that this is a pocket device, but a thread on the underside to attach a tripod would have been really handy - we certainly could have made use of one during this test for capturing steadier video.
All being said, if your main goal is to view a scene and make some snapshots, then the EVF combined with stabilised lens serve the purpose really well.
In every sense of the word, the PowerShot Zoom is a fair weather device. For instance, the body is plastic and not weather-sealed. The EVF, despite providing a crisp display, is still digital and it does suffer from noise a little too soon once the sun has gone. And of course the image sensor is tiny, so image quality plummets as the light fades. (But again, we'll get onto IQ that later.)
A short tour around the camera. It features five buttons; power, zoom, menu, photo and video. Each button is entirely logical in its function - the latter two are used to start and stop image and video capture, while the zoom button cycles through the three-stepped zoom.
The layout is intuitive enough. Give it time and it's possible to memorise the layout well enough to operate the controls without taking your eye away from the viewfinder.
Overall, we do like the form factor and design of the PowerShot Zoom. It fits comfortably in the hand and the buttons are at your fingertips. We'd tweak the position of the power button, really it's too close to the zoom button which is your most commonly used control.
You'll twig that there is no LCD screen. Therefore, liveview, image playback and menus are all seen through that EVF. Menu navigation is made entirely by those buttons - there's no control wheel. What you're seeing underneath the viewfinder is the diopter adjustment (-3 to +1m), so you'll be able to focus the screen properly whatever the condition of your eyesight.
To cycle through the menu, you'll need to keep pressing the photo (up) and video (down) buttons and select using the zoom button. It's simple enough once you get the hang of it and honestly there is so little in the menu that you'll reach your desired control soon enough.
In fact, after half a day's use, we opted to set the camera up how we like it and have rarely needed to use the menu since. With pretty much everything automated, from exposure control to image size and so on, plus very few features, you don't really need a control wheel.
So what changes can you make? There's a choice between single and continuous shooting. The latter is 10fps and you'll squeeze around 30 shots out of this mode before the camera slows up.
Given this really is a viewing device for action, we kept the camera in continuous shooting mode. Also, that very thought process informed our choice of tracking AF over single point AF (fixed centre).
One other manual selection is exposure compensation. The camera automatically selects ISO and shutter speed while aperture is fixed, so if the exposure is off then exposure compensation is one method to fix the problem.
Honestly, auto exposure acquired by the 384-zone evaluative metering is too bright for our liking, especially in the shade, and often resulted in blown out highlights in photos. We quickly opted to leave exposure compensation to -1EV.
A different technique for exposure is to find a brighter area in the scene around your subject - for instance point to the sky - then semi-depress the shutter to take an exposure measurement and then recompose the scene. It's a real faff.
The recomposition technique is needed too much for our liking because it also fixes another issue; poor autofocus. Quite possibly, autofocus has been our biggest handling frustration, plus there is no manual focus option.
When tracking subjects at a distance in good light, the contrast-detection autofocus is OK enough. It will track a bird in flight pretty well. But as soon the scene is close and cluttered - take a bird on a branch 15ft away, you'll struggle to acquire a sharp focus.
What happens in closer-range scenarios with both fixed-centre-single-point AF and tracking AF is a focus hunt that usually results in a focus drop to the background. You'll often have to scour the surroundings at a similar distance to your subject in the hope of picking up a sharp focus to then recompose the scene. Yes, what a faff.
Another hindrance is the surprisingly limited minimum focus distance. At 100mm it's 1m which is OK, but more restricting is the 4.5m minimum focus distance at 400mm. To put this into context, you wont get anywhere near filling the frame with small birdlife when using the 400mm setting. Sure, the PowerShot Zoom gives you a closer look, but it's not close close.
Those auto exposure and auto focus hindrances do affect the handling of the PowerShot Zoom, but pose an even greater adverse impact on the images and videos you can make.
Photos and videos are recorded onto a micro SD card - there's a blast from the past! Inside the same door is a USB-C slot through which the PowerShot Zoom is charged.
According to Canon, on a full charge you'll get about 70 minutes of EVF time, 60 minutes of video record time or 150-shots. We've been able to squeeze significantly more shots out of the PowerShot Zoom when using the 10fps continuous shooting mode.
The PowerShot Zoom has a Bluetooth and Wi-Fi function in order to pair with the Canon Camera Connect app. At the time of writing, the app was not updated for compatibility with the camera, so we were unable to check it out.
Without a tripod mount, we can't see the camera being used for remote shooting through the app, although for easier image playback it will be handy, plus GPS data can be recorded.
That's a look around the Canon PowerShot Zoom. Now let's explore its photo and video quality.