Fujifilm FinePix S4800 Review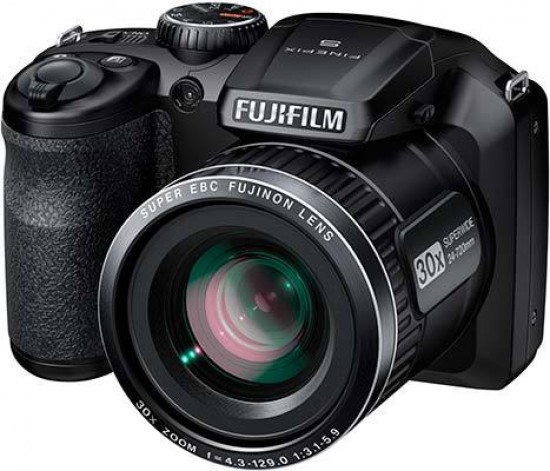 Image Quality
All of the sample images in this review were taken using the 16 megapixel Fine JPEG setting, which gives an average image size of around 8Mb.
Noise
The sensitivity range on the Fujifilm FinePix S4800 is ISO64-6400. The final two settings drop the resolution to 3 megapixels in an effort to stamp out some of the noise affecting the images at that point. If you want to use the Auto ISO range on the S4800, it ends at ISO 1600 to retain the full resolution.
Get enough light in the frame and you can drop the rating to ISO 64 or 100 which are extremely similar. In fact there's only around a third of a stop difference in the aperture range. This means from an image quality point of view, the differences are barely noticeable. What you will get is a slight increase in shutter speed, though. ISO 200 does see a little colour noise start to appear in the darker areas of the pictures but it's very faint and you can't see it at normal viewing distance. Edge sharpness is still great although at full magnification it is possible to see a softening of the image as noise reduction software gets to work.
ISO 400 sees an increase in noise that reduces the amount of detail in the darker areas. Move up to ISO 800 and the noise starts to affect the mid-tones. Well, that's not entirely accurate. Noise reduction is affecting the image by blurring out areas of a certain tone while lighter tones are unaffected. By ISO 1600 noise reduction has completely lost out to the purple colour that now swamps the images. An ugly cast covers the pictures and you really should only use this setting if you have no other choice. If you have the options, open the flash and drop the ISO that way.
ISO 3200 sees spots of blue starting to appear and while the cast has disappeared, the resolution has had to remove 13 million pixels in order to save the image. ISO 6400 sees a similar fate to the full resolution ISO 1600 image with a colour cast falling over the entire frame.
| | |
| --- | --- |
| ISO 64 (100% Crop) | ISO 100 (100% Crop) |
| | |
|   |   |
| ISO 200 (100% Crop) | ISO 400 (100% Crop) |
| | |
|   |   |
| ISO 800 (100% Crop) | ISO 1600 (100% Crop) |
| | |
|   |   |
| ISO 3200 (100% Crop) | ISO 6400 (100% Crop) |
| | |
Focal Range
The 30x optical zoom on the Fujifilm FinePix S4800 ranges from 24mm to a spine tingling 720mm in 35mm terms. There is a bit of distortion at wide-angle but we couldn't detect any at full zoom.
| | |
| --- | --- |
| 25mm | 720mm |
| | |
Sharpening
One thing we like about the pictures from the Fujifilm FinePix S4800 is how sharp the pictures. At low ISO we did get an improved image when sharpening on an editing suite, but for the most part or at higher ISO, the pictures are perfectly good.
| | |
| --- | --- |
| Original (100% Crop) | Sharpened (100% Crop) |
| | |
File Quality
A full size image from the Fujifilm FinePix S4800 can pump out 8.4Mb of information. There's the option of dropping the compression from Fine (detail) to Normal. Knocking the setting down to Normal will still give you an image over 6Mb in size. That's still a fair size but will free up some memory on your card should you need it.
| | |
| --- | --- |
| Fine (8.52Mb) (100% Crop) | Normal (6.18Mb) (100% Crop) |
| | |
Chromatic Aberrations
We did notice chromatic aberrations in images at the edges of the frame and only in very high contrast of blacks on whites. Don't get lens flare confused with it, though because the Fujifilm FinePix S4800 does seem to get a lot of that in the form of blue or purple bleeding over edges when the sun is in the frame. If the purple line is on a contrasting edge that doesn't involve the sun or any bright direct light, then it's chroma.
| | |
| --- | --- |
| Chromatic Aberrations 1 (100% Crop) | Chromatic Aberrations 2 (100% Crop) |
| | |
|   |   |
| Chromatic Aberrations 3 (100% Crop) | Chromatic Aberrations 4 (100% Crop) |
| | |
Macro
There are two macro features on the Fujifilm FinePix S4800. You can choose from regular Macro which has a close focusing of 5cm at wide-angle. Or you can choose SuperMacro which will get down to 2cm. However, the latter setting doesn't allow you to zoom out.
The regular macro mode keeps the lens far away enough to prevent any harsh image problems such as image drop off getting too close to the centre of the frame.
| | |
| --- | --- |
| Macro | Macro (100% Crop) |
| | |
Flash
The Fujifilm FinePix S4800 produces mild vignettes at wide-angle while the flash is switched off. Zooming out to full telephoto setting, eradicates the vignette. Using the pop up flash doesn't do anything to quash the vignette at wide-angle but in fact creates one at full zoom.
| | |
| --- | --- |
| Flash Off - Wide Angle (24mm) | Flash On - Wide Angle (24mm) |
| | |
|   |   |
| Flash Off - Wide Angle (720mm) | Flash On - Wide Angle (720mm) |
| | |
The advantage to having this kind of pop-up flash means that red-eye is virtually non-existent. We never got any of it throughout the test. There is a red-eye reduction option in the flash menu should you need to use it.
| | |
| --- | --- |
| Flash On | Flash On (100% Crop) |
| | |
|   |   |
| Red Eye Reduction | Red Eye Reduction (100% Crop) |
| | |
Night
The Fujifilm FinePix S4800 has a night shot mode in the Scene menu and if you're unsure of how to set the camera manually then it does a good job. There are two settings for use with a tripod and without. We recommend using the Tripod mode and resting the camera somewhere solid if you don't have a tripod handy. The camera will use a lower ISO to reduce noise on this setting which gives a much better image. In our test, the camera shot at ISO 400 with a 3sec exposure. We also shot in shutter priority (S setting on the command dial). The camera will only allow a range of ISO to select from over a specific setting, which is unfortunate. If you want to do this, you have to choose Manual and learn how to use the shutter speed and aperture to get the right exposure. We chose a 2sec exposure. On review, the camera selected an ISO 400 setting in shutter priority which is a shame as the results are alike.
| | |
| --- | --- |
| Night Scene | Night Scene (100% Crop) |
| | |
|   |   |
| Night Shutter-priority | Night Shutter-priority (100% Crop) |
| | |