Fujifilm Instax Square SQ10 Review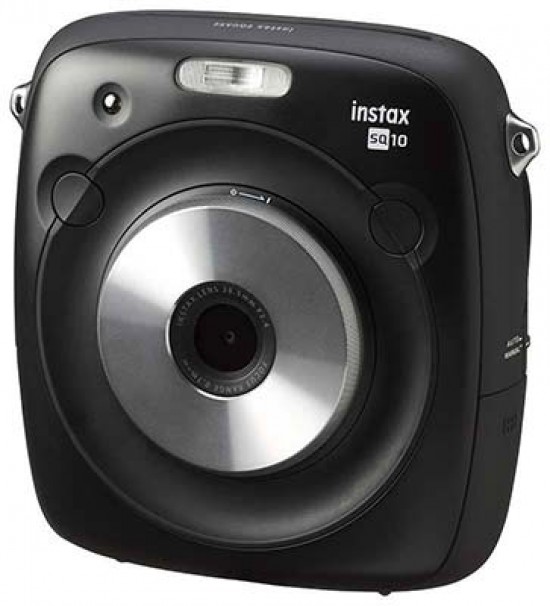 Introduction
The Fujifilm Instax Square SQ10 is a hybrid analogue and digital camera, giving you the ability to shoot digital images and print off the best ones. As the name may indicate, it uses a square format of instant film - which is new to the market, and with its shape, is reminiscent of the Polaroid type film of old. Inside the SQ10 is a 1/4-inch 3.7 megapixel CMOS sensor. It is joined by a fixed lens, which has an equivalent 35mm focal length of 28.5mm, with a maximum aperture of f/2.4. Packs of film are available to buy for around £8.99 / $16.99 at the time of writing - this gives you 10 shots. At the time of writing, the Fujifilm Instax Square SQ10 costs around £230 / $279 (excluding film).
Ease of Use
The Instax Square SQ10 is quite a large camera, which is not surprising considering that it has to house a printing mechanism, along with the pack of film inside it. Don't expect to fit the SQ10 into a tight jeans pocket - you might just about get away with a large jacket or coat pocket though.
It uses a rounded edge square design, which looks quite stylish, if not a little unusual. You may find you get some curious looks when using the SQ10 in public.
Designed to be simple to use, that may or may not be a plus point depending on your point of view. There are very few controls you can take yourself as the shooter. Although the lens has a maximum aperture of f/2.4, you can't select aperture yourself - nor can you choose shutter speed or ISO.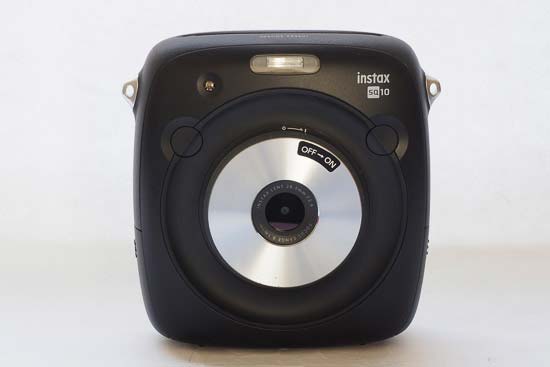 Front of the Fujifilm Instax Square SQ10
To switch on the Fujifilm Instax Square SQ10, you twist the metal front lens element from the off to the on position. It's quite quick to do this, with the camera booted up and ready to go in around two seconds. Also found on the front of the camera are two buttons - one or both you can use as the shutter release. You can also set one of the buttons to control shooting mode - you can set up how the buttons work in the main menu, and you'll also be prompted to choose how they work when you first set-up the camera.
When it comes to shooting modes, you have three options. You can shoot in Standard, Bulb (which means you can create long exposures), or Double Exposure - this allows you to take two photos in a single exposure.
Also on the front of the camera is an autofocus assist light, which will automatically activate should you be shooting in low light. You can switch this off in the main menu, which is handy if you happen to be shooting somewhere discreet. Autofocusing is generally pretty quick, and a green square will display to show you that focus has been achieved. You may find in some low light conditions that the camera struggles to acquire focus - in such cases, the square will be displayed as red. You can't move the AF point from the centre, meaning you may find the need to do some focusing and recomposing from time to time. There's a flash unit on the front of the camera too, which is one of the only things that you get control over when using the camera. You can choose between Auto Flash, Forced Flash, Suppressed Flash, Slow Synchro and Red-Eye & Slow.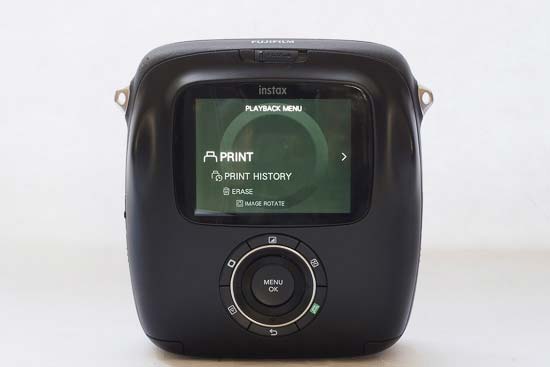 Rear of the Fujifilm Instax Square SQ10
Moving to the back of the Fujifilm Instax Square SQ10, and there's a 3-inch, 460k-dot screen. This isn't touch-sensitive or tilting, but it displays a bright enough view of your image. Since there's no viewfinder on the SQ10, you'll be using this to compose your shot. On the screen as standard, you'll see the mode you're working in (Manual or Auto - more on that later), how many prints you've got left (represented by dots - one per shot left), and, if you get down to fewer than 10, how many spaces you've got left in the internal memory. The internal memory has enough space for 10 shots, but you can also add additional memory via a Micro SD card - the slot for which is found on the side of the camera.
Underneath the screen is where you'll find all the buttons you'll need to operate the settings of the Fujifilm SQ10. These buttons are organised around a centralised circular menu button, and are fairly self explanatory. There's a button for adding a filter - which you can do either before you take an image, or afterwards if you prefer. There's also an exposure compensation button - again you can dial this in before you take the image, or afterwards as a way to edit the shot. A vignette can be added via another button, again pre- or post- the shot.
There's also a playback button, a back button and the all-important print button, which you'll need to use if you're using the camera in Manual mode. The Auto / Manual modes referred to earlier, do not refer to camera settings as you might expect. Instead Auto means that the camera will act like a traditional instant camera, and spit out the developing film as soon as you press the shutter button. In manual mode however, you can shoot purely digitally, only printing exactly what you want - and once you're sure you've got the shot right.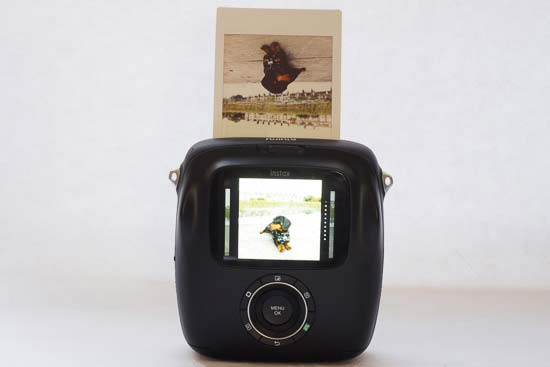 Rear of the Fujifilm Instax Square SQ10
To choose between Auto and Manual modes, there's a switch on the side of the camera. Simply flick between Auto and Manual, when it's Manual mode, you'll see a green strip at the top of the switch. It's worth double checking which mode you're in before you start to shoot, so you don't accidentally waste film.
As for the film itself, as with all other Instax cameras, the SQ10 is incredibly simple to use. The film door is opened via a latch towards the top of the camera. Once you've removed the film pack from its silver foil container, simply line up the yellow mark on the camera with the yellow mark on the film pack, close the door and you're ready to go. The camera will automatically eject the black protector piece of film without you having to do anything - once you've done that, avoid opening the back of the camera or risk exposing and ruining the film.
For selfie lovers, a reasonable assumption given who this camera is primarily targeted at, there's a self-timer mode which can be set to either 2 seconds or 10 seconds. With no way to see what you're framing, it may be a little hit and miss - another good reason to shoot in digital only until you get the framing you want.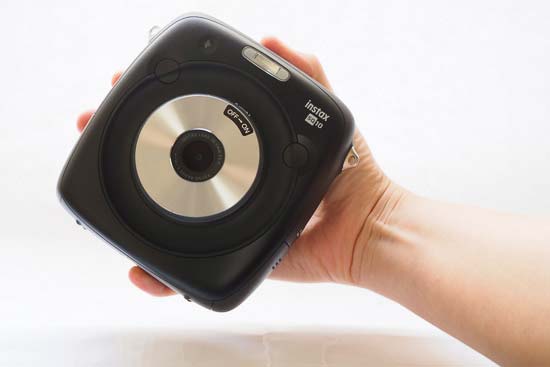 The Fujifilm Instax Square SQ10 In-hand
When you're in playback mode, you can look through the images you've already taken, choosing to print any that you particularly like, or perhaps a copy of something you've already printed.
On the bottom of the camera is a standard tripod thread, while on each side of the camera you'll find a door which conceals either the battery or the memory card and charging port. The battery can be charged via Micro USB, and in practice lasts a very long time - it is rated for printing 160 shots from fully charged, but unless you go on a printing spree, it's likely to take a while to get to that point.
There's no connectivity options with the Instax SQ10, so if you want the digital photos from the camera, you'll have to wait until you get home or to a computer. Additionally, you'll need to copy the photos from the internal memory onto a Micro SD card, before then plugging that into your computer somehow. All in all it's a very long-winded process for something which is so squarely aimed at the Instagram generation - however, as we'll see, image quality of JPEGs is perhaps not worth the effort anyway. It's also worth noting that there doesn't seem to be a way to get a digital copy of images with a filter or vignette applied.