Fujifilm Instax Square SQ6 Review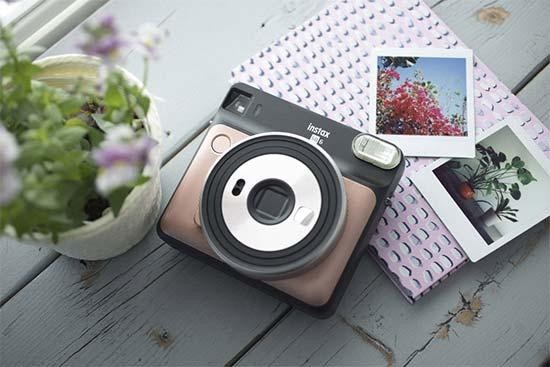 Conclusion
It may not be the first instant camera to use the square Instax camera (the Lomography Lomo'Instant Square also uses it), the Instax Square SQ6 is arguably the easiest to use (and perhaps most stylish, depending on your point of view). It's also very definitely the cheapest to buy (being some £75 cheaper than the Lomo'Instant Square at the time of writing). 
Instax has already proved very popular with consumers - Fujifilm says that 30 million units were sold last year - and we can see this one also being very popular. The square shape film gives you more space to work with than Instax Mini, and while it's still expensive to run, feels a little bit more like value for money. 
Don't expect your images to be perfect every time and you should be satisfied with what the Instax Square SQ6 can do. It's not about getting perfectly exposed, perfectly focused images - it's about being "fun" or "quirky", just beware that it may cost you a lot of outlay to discover exactly how to get the best from the camera when you first start using it. 
Although not too oversized considering the Instax Square SQ6 has to fit the Instax Square film inside it, you're never going to fit something like this in your pocket. You may find it a little bit annoying having to carry around a camera like this all day just to get one or two shots - still, it should fit in a small bag neatly enough (and is certainly smaller than the Lomo'Instant Square). The ergonomics of the camera could be a little better - it seems like Instax has gone with a square shape to reflect the square film, but it doesn't always make for the most pleasurable holding experience. 
If you're a fan of the square film, but you want a little more control over your images, you might instead want to consider the Instax Share SP-3, which uses the same film, but can print digital photos from a number of sources, including your mobile phone - but it's nowhere near as much fun (of course). 
Overall, the Instax Square SQ6 is quite probably the best Instax camera to be launched to date - particularly if you prefer square format over Instax mini. Hopefully we'll see both a drop in film price as time goes on, or some additions made to the range for flexibility - a monochrome film would be nice. 
Ratings (out of 5)
Design
4
Features
4
Ease-of-use
4
Image quality
4
Value for money
3.5