Panasonic Lumix FT7 Review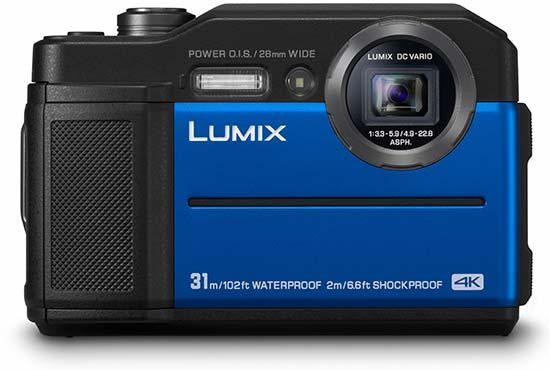 Introduction
Panasonic's latest compact camera, the Lumix DC-FT7 (also know as the DC-TS7), is a new "rugged" camera. That is, it has a number of tough credentials, which make it ideal for shooting in a wide variety of different conditions.

It is waterproof down to 31 metres (making it the class leading product), shockproof from a height of 2 metres, freeze proof down to -10 degrees and crush proof up to 100kg. It also has a 20.4 megapixel Live MOS sensor, plus a 4.6x optical zoom lens, with an equivalent focal length range of 28-128mm.

Panasonic has added an electronic viewfinder to the Lumix DC-FT7, in a difference from its predecessor, the FT5. This 0.2-inch, 1170k-dot device is there for such times when shooting in bright sunlight might prevent you from using the 3.0-inch, 1,040k-dot screen.

Other features of the FT7 include wi-fi connectivity, 4K Video and 4K Photo modes, digital filters, geo-tagging (via your smart device), plus a raft of useful "adventure" type features such as a compass, altimeter and a torchlight function.

We joined Panasonic at the launch of the FT7, using it in a number of ideal conditions for testing the camera. At that time, the camera was a pre-production model. We have now had the opportunity to use a full production version of the Panasonic Lumix DC-FT7 camera, and have updated this review accordingly.

The Panasonic Lumix DC-FT7 / TS7 is available in 3 colour versions: orange, blue and black, priced at £399 / $449.
Ease of Use
The Panasonic Lumix DC-FT7's tough features make it feel robust and solid in use. It's light and pocket-friendly, but reassuringly weighty enough to make it feel like a solid piece of kit - you certainly feel reassured that it could withstand a few knocks and scapes.
We've used the camera in a range of different conditions, including underwater. It's in these kinds of conditions that cameras like the FT7 need to be different from normal cameras - as in they need to have easy to use buttons and settings. The buttons which you need to use to make all the changes to settings are set apart from the body fo the camera, making it easy to find them when you're using them in such tricky situations. There's no touch-sensitive screen here - not really a shock considering the FT7 is designed for underwater use where touch sensitivity isn't really an option. It might arguably have been nice to have touch control when using the camera out of the water, but the buttons do a good job none-the-less.
On the top of the camera is a very large shutter release button. This might be unusual on a standard type camera, but when you need to find the shutter release when your hands are very cold, or you're taking a photo underwater, it makes a lot more sense.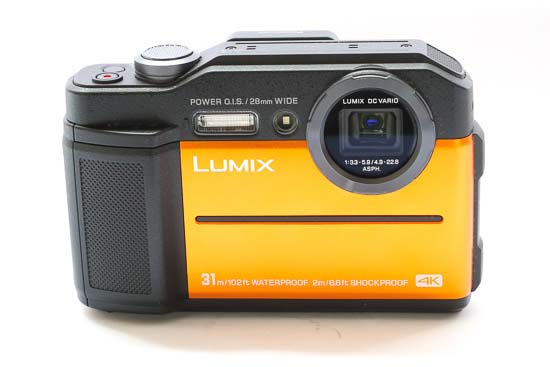 Front of the Panasonic Lumix DC-FT7
The majority of the buttons on the back of the Panasonic Lumix DC-FT7 are grouped to the right hand side, which again makes it easier to operate the camera in slightly tricky conditions - or if you're using it one-handed. The buttons are a little on the stiff side, but this might be something which gets a little looser with prolonged usage - but it's a good indication of how well sealed the camera is.
Buttons here include a mode button for choosing the different exposure modes on offer (there's not a huge plethora of options here - but there are some scene modes, intelligent auto, program mode, manual mode, creative control and so on). There's also a button for directly accessing Panasonic's 4K Photo option, and another for changing the display option, or for playing back your images. The delete button doubles up as a quick menu button, which gives you access to the most commonly used settings you're likely to want to change on a regular basis.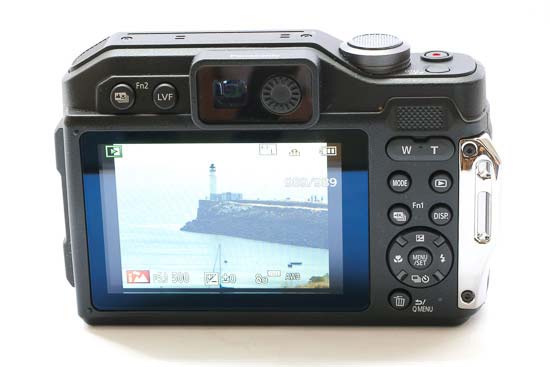 Rear of the Panasonic Lumix DC-FT7
To zoom the lens, you'll need to use the rocker switch on the back of the Panasonic Lumix DC-FT7, which is marked with a W (wide), and a T (tele). The tele button can be a little too easy to press when you're tightly gripping the camera and placing your thumb on the thumb rest. It's not much of an issue when using the camera in ordinary settings - but if you're doing something a little more "out there", such as kayaking or open-water swimming, accidental zooming can occur on occasion.
Another point about using the camera when in typical "tough" conditions is that there's no way to turn on an electronic level. Trying to frame your shot while you're potentially doing something unsteady is tricky, so a feature like this would be very handy - and a shame not to see it when it's found in other Lumix cameras.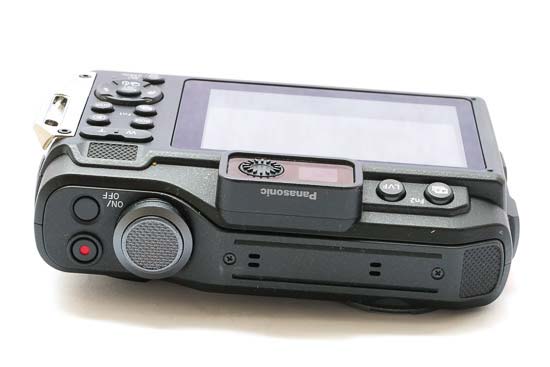 Top of the Panasonic Lumix DC-FT7
Charging the Panasonic Lumix DC-FT7 takes place via the port which is hidden behind a study door. To open the door you need to slide a lock switch first, and then slip open a door latch, which makes sure you don't accidentally open it while in precarious conditions such as underwater or in the middle of a sandstorm and let foreign objects into the camera. Usefully, you can charge the camera via USB - this is great for camping and such like where you might not have a proper plug socket, but instead you can charge it using a battery pack.
A new feature of the FT7 is the addition of an electronic viewfinder. It's handy to have if the screen really is reflecting bright light and it's hard to compose, but it's not a finder you'll likely want to use for all your shots - it's a little on the small side, and you need to press a button to activate it.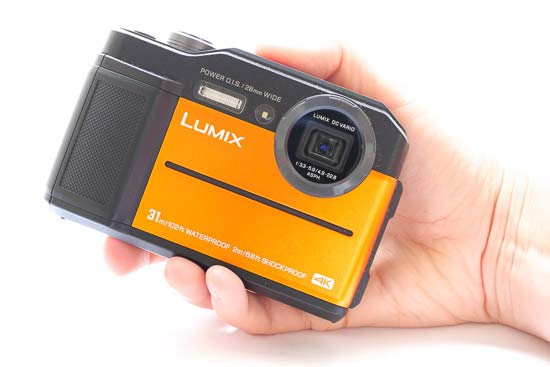 Tthe Panasonic Lumix DC-FT7 In-hand
One annoying feature is that every time you switch on the Panasonic Lumix DC-FT7, it asks you if you want to review the precautions for using the camera underwater. To get rid of this, you can either select no, or press the back button on the back of the camera. It's a couple of seconds wasted every time you switch on the camera and can lead to missed shots. This is especially annoying when you're trying to grab a shot while doing something like extreme sports - I'd hoped that the full production sample would include a way to get rid of this feature, but it doesn't seem to be possible.
During my use with the pre-production FT7 model, I found that on occasion it struggled to focus quickly or accurately. Focusing seems to be better for the full production model, generally locking on to the most appropriate target quickly and easily. There are still moments when the focus isn't perfect though, so it's worth keeping an eye on it - and taking more than one photo just to make sure. It's also worth switching to 1-Area focusing and using the focus and recompose method (it's not possible to move the focus point) to ensure that the exact target you want is in focus.