Introduction
Ease of Use

Front of the Fujifilm X-T4
Fujifilm's ethos with its flagship X-T cameras has long captured the imagination of 'purist ' photographers. One of the first things you will notice about the X-T4 is the solid metal top plate adorned with dials to control ISO, shutter speed and exposure compensation.
Add an X-series lens with aperture ring to the equation and you have direct access to the key exposure controls without needing to eye a screen. Once acclimatised to this 'traditional' form of operation, it's hard to go back (or should we say forward) to the 'modern' way. For us, this handling approach is refreshing.
But the Fuji XT4 is no dinosaur. What was formally a metering mode switch under the shutter speed dial now offers a choice between Still and Movie shooting. This is a camera fully embracing both photography and video.
Those that want quick access to metering modes may be disappointed, but for us the change makes total sense for what is a hybrid camera (plus you have reliable evaluative metering and an exposure compensation dial at your fingertips).

Rear of the Fujifilm X-T4
The Still/ Movie switch swaps between dedicated in-camera menu systems, so you don't have to scroll through excessive video options when all you want to do is photography, and vice versa. And the menu system for both disciplines is really well laid out.
The Fujifilm XT4 boasts a hugely impressive video specification - with DCI 4K and regular 4K up to 60fps at 10-bit, Full HD and slow motion Full HD up to 240fps. You even get up a bit rate of to 400Mbps on some movie modes, meaning you can get the most out of Fujfilm's lovely F-Log colour profile which is included as standard.
Typically, navigating through this many shooting options to the one that you want is painful. Yet, the in-camera video mode menu is broken down logically into three sub groups; resolution, frame rate and bit rate so you can select the combination that you desire.
A nice touch is that the front and rear control wheels can now be used quietly in movie mode to make changes to exposure settings, even during capture. (The top dials are redundant in video mode.) In conjunction with the touchscreen menu, most other key video controls such as white balance and image stabilisation can be adjusted too.

Top of the Fujifilm X-T4
One of the new features is the LCD touchscreen. The Fujifilm XT4 features a fully-articulated screen with a 1.62-million-dot resolution, whereas the X-T3 has a 1.02-million-dot tilt screen. There are pros and cons to articulated and tilt screen types and we won't get into that argument here. (A dual hinge design like in the significantly more expensive Panasonic S1H offers the best of both worlds.)
Screen design aside, we enjoyed folding the X-T4's LCD screen away altogether for photography (which protects the screen and reveals a lovely faux-leather finish) and then using the EVF instead.
The EVF is large enough to get lost in and it boasts a mighty 3.69-million-dot resolution. At times, in low contrast light, there is noticeable distortion when the shutter release is half depressed, but otherwise the EVF is a joy to use.
We've not yet mentioned the new headline feature of in-body-image-stabilisation (IBIS). Combined with optical stabilisation (OIS) its effectiveness is rated up to 6.5EV (depending on which optically stabilised X-Series lens is in use). This performance is a (claimed) improvement of up to 1EV for photographers over the X-T3 that relies on OIS.

Tilting LCD Screen
We're not fully convinced about the claimed 6.5EV of stabilisation. The 16-80mm f/4 WR lens we used for a lot of this test has a claimed 6EV stabilisation, but the reality seemed to be more like 4EV. At this level, the Olympus OM-D E-M1 Mark III is in a league of its own.
Still, the XT4 packs Fujifilm's most effective stabilisation capacity yet. Plus, IBIS is a godsend when non-stabilised lenses are in use. Yet while IBIS benefits both photo and video, we feel that the main beneficiary of the X-T4's sensor-shift stabilisation are run-and-gun filmmakers.
It's clear that handheld videos benefit a lot from IBIS in the X-T4. Smooth motion panning is possible. Compared to non-stabilised footage, vibrations from footsteps are reduced, but still evident.

Things get much better when digital stabilisation is added to the mix. You get smoother motion even while walking, although there is a crop factor applied and the footage somehow doesn't feel as natural. We'd take a gimbal over the X-T4's IBIS alone.

Top of the Fujifilm X-T4
Back to the body. In the Fuji XT4, you have a great-looking camera built to withstand knocks and adverse climates. Really, this is a solid bit of kit. It's bigger than the X-T3, presumably to house the new sensor-shift stabilisation unit. But it also holds a new battery which has much greater capacity than before.
It's a whopping improvement from 390-shots (X-T3 economy mode) to 600-shots in the equivalent mode. And don't forget that the X-T4 can be charged on the go using a power bank via USB.
There is a new vertical grip (RRP £299) built around these new dimensions and this optional accessory can hold up to three batteries. Serious filmmakers would really benefit from the vertical grip, because in addition to increased battery life it includes a headphone jack (more on this in a moment).
Given its size and status as Fujifilm's mirrorless APS-C king, we wouldn't mind a deeper hand grip. Truth be told, there are other cameras out there that are more comfortable to hold over long periods or with big lenses attached.

Front of the Fujifilm X-T4
There is a twin SD card slot (with removable door) and both slots are UHS-II compatible. A nice touch is the option to simultaneously record in F-Log and a dedicated film simulation onto your preferred combination of SD card/ external recorder via HDMI.
With the Fujifilm X-T4 increasingly accommodating to those into video, one perplexing decision is that there is no headphone jack. Of course you get the socket for an external microphone, but if you want to attach headphones you'll need the included USB-C to 3.5mm dongle.
The headphone jack omission is a head scratching moment when you first notice it. In practice, the main downside is that you won't be able to use headphones and charge at the same time because these functions share the same port. It's no deal breaker for the 99%.
Like before, the continuous high shooting mode maxes out at 30fps when using the electronic shutter. However, the top speed for the mechanical shutter is now a whopping 15fps.
What is more, the shutter of the X-T4 is rated to 300,000 shots and its action is notably quieter than in the X-T3 by a claimed 30%. It is noticeably quieter - impressive stuff.

Battery Compartment
There is also an array of shooting modes that includes Interval Timer, Pre Shot, Advanced Filters, HDR, panorama and Bracketing, for which there are multiple options including Film Simulation (with a new film simulation called Eterna Bleach Bypass), White Balance, Focus, ISO and Auto Exposure.
Autofocus for photography is very snappy and actually very reliable even in action sequences. Face and eye detection is applied well across a variety of focusing modes, especially Zone AF where we enjoyed a very high ratio of sharp action shots. AF sensitivity is rated down to -3EV and proved reliable in low contrast light too.
Tracking AF is locked to the 'wide AF' mode and we feel there are more reliable tracking AF options out there. As such, Zone AF in conjunction with the AF joystick proved a better choice.
Autofocus is one area that Fujifilm X-Series cameras have come on in leaps and bounds. It's no market leader, but it's no longer a cause for complaint. Having used a number of lenses with the Fuji XT4, we get the feeling that AF performance is more likely limited by the lens in use than the camera itself.
As for video, by default AF is almost too snappy in that focusing transitions are noticeable. The parameters of AF speed can be adjusted, but even at its slowest setting there is limited improvement to those transitions. Still, if you want a quick and sharp focus acquisition in video, the X-T4 will achieve that.
Let's now take a look at image quality.
Image Quality
All of the sample images in this review were taken using the 26.1 megapixel Raw + Fine JPEG setting, which gives an average image size of around (a whopping) 55Mb and 10Mb respectively.
With an identical sensor to the Fujifilm X-T3, the X-T4 boasts outstanding image quality, which today 18-months on remains class-leading.
The native sensitivity range is ISO 160 to ISO 12,800, which can be expanded to ISO 80 to ISO 51,200. In JPEG images there is no visible sign of noise all the way up to ISO 6400, which is mightily impressive for an APS-C sensor.
The impact of noise at ISO 12,800 is seen through a minor colour desaturation and smudged detail in shadow areas. Of course the extended high settings of ISO 25,600 and ISO 51,200 progressively exhibit more noise but those images are still useable.
We like the application of noise reduction in those JPEG images - it's not too heavy handed so as to overly smudge detail. In RAW files where no noise reduction is applied, noise is more evident but images still look pretty clean up to ISO 12,800.
Yes, we would happily shoot the entire native ISO range in RAW and JPEG and it's not often that we could say that about a camera.

Elsewhere, we love the Fujifilm colour science. The sensor of the XT4 uses a different colour array to other brands and the results are lovely, especially when you factor in the choice of Fujifilm's film simulation for different colour effects. Provia is the standard mode and we are partial to the Eterna Cinema mode.
With an excellent sensor that provides crisp images full of detail come day or night, fast and reliable AF, class-leading continuous high speed shooting, quick handling and improved stabilisation, there is little that the Fuji XT4 cannot handle.
Noise
There are 11 ISO settings available for the Fujifilm X-T4 for RAW and JPEG files. Here are some 100% crops which show the levels of noise for each ISO setting.
| | |
| --- | --- |
| JPEG | RAW |
| ISO 80 (100% Crop) | ISO 80 (100% Crop) |
| | |
| ISO 160 (100% Crop) | ISO 160 (100% Crop) |
| | |
| | |
| ISO 200 (100% Crop) | ISO 200 (100% Crop) |
| | |
| | |
| ISO 400 (100% Crop) | ISO 400 (100% Crop) |
| | |
| | |
| ISO 800 (100% Crop) | ISO 800 (100% Crop) |
| | |
| | |
| ISO 1600 (100% Crop) | ISO 1600 (100% Crop) |
| | |
| | |
| ISO 3200 (100% Crop) | ISO 3200 (100% Crop) |
| | |
| | |
| ISO 6400 (100% Crop) | ISO 6400 (100% Crop) |
| | |
| | |
| ISO 12800 (100% Crop) | ISO 12800 (100% Crop) |
| | |
| | |
| ISO 25600 (100% Crop) | ISO 25600 (100% Crop) |
| | |
| | |
| ISO 51200 (100% Crop) | ISO 51200 (100% Crop) |
| | |
File Quality
The Fujfilm X-T4 shoots in RAW and JPEG with two quality settings; Fine and Normal . Here are 100% crops of those three options with the files size shown in brackets.
| | |
| --- | --- |
| Fine (13.7Mb) (100% Crop) | Normal (8.37Mb) (100% Crop) |
| | |
| | |
| RAW (55.7Mb) (100% Crop) | |
| | |
Night
Set the shutter speed dial to its T position ( Time) and shutter speeds up to 15 minutes are available, plus there is a bulb setting for even longer shutter speeds. Combined with such a good control over noise, the X-T4 is an excellent night shooter.

Dynamic Range
A dynamic range (DR) boost is always on, with a choice between auto, 100%, 200% and 400%. We taken have identical images going through this range of settings and the visible difference of detail in the extreme shadow and highlights areas is actually rather subtle. As such, for the most part we kept DR in the auto setting.
There is also a HDR option with options of Auto, 200%, 400%, 800% and 800%+. Multiple images are recorded and combined into one final image of greater dynamic range. With both IBIS and OIS active and rapid multi-frame capture, it is entirely possibly to use the HDR mode handheld (depending on your shutter speed).
Film Simulations
There is a new film simulation mode on the block; Eterna Bleach Bypass, offering a high contrast desaturated look. Of course, colour profile preferences are subjective and also down to what is in the picture. This new mode would work particularly well for male portraits and gritty urban scenes.
In addition to Eterna Bleach Bypass there are another 11 film simulation modes, two of which (Acros and Black & White) have several sub-options. Below is an example of these 12 film simulation modes. For us, the addition of new film simulation modes are a nice extra but no reason to upgrade a camera.
Provia / Standard

Velvia / Vivid

Astia / Soft

Classic Chrome

Eterna

Pro Neg

Pro Neg Hi

Classic Neg

Bleach Bypass

Acros

Monochrome

Sepia

Advanced Filters
Another setting on the drive mode dial is Advanced Filter. We suspect these filters will remain unused by most X-T4 owners. What you have are 13 different filter effects (six of which are partial colour effects) that are visible on screen when the mode is active. From Toy camera to High-Key and Low-Key, we've included these 13 effects below.
Toy Camera

Pop Color

High-Key

Low-Key

Dynamic Tone

Miniature

Partial Color (Red)

Partial Color (Orange)

Partial Color (Yellow)

Partial Color (Green)

Partial Color (Blue)

Partial Color (Purple)

Soft Focus

Sample Images
This is a selection of sample images from the Fujifilm X-T4 camera, which were all taken using the 26 megapixel Fine JPEG setting. The thumbnails below link to the full-sized versions, which have not been altered in any way.
Sample RAW Images
The Fujifilm X-T4 enables users to capture RAW and JPEG format files. We've provided some Fujifilm RAW (RAF) samples for you to download (thumbnail images shown below are not 100% representative)."
Sample Movies & Video
Product Images















Conclusion
With an RRP premium of £250 over the X-T3, the X-T4 is positioned as Fujiflm's flagship APS-C mirrorless camera. It confuses the X-T line-up a little, but Fujifilm has done enough to position it above the X-T3.
For the extra money, the most notable additions are in-body-image-stabilisation, a greatly improved battery life, a quicker and quieter mechanical shutter, enhanced continuous AF and a number of design tweaks that make a surprisingly notable day-to-day impact, such as the still/movie switch.
To say the changes only favour those into movie shooting is not strictly true, although the XT4 is certainly a more able video shooter. For example, photo or video - who wouldn't want better battery life?
In an image quality sense, the X-T4 is nigh-on identical to the X-T3. You have the same sensor and same resolution for photo and video. This is a good thing as you will still struggle to find an APS-C mirrorless camera that beats the X-T3.
Those new additions in the Fuji XT4 do increase image quality potential in certain scenarios, thinking especially of the responsive face and eye detection AF and improved stabilisation for sharp handheld shots.
On the flip side, we expect that some of the changes will draw detractors - not least of which the screen design.
If you are looking at image quality alone, then there is little reason to choose the more expensive X-T4 over the X-T3. But, in our opinion, the X-T4 is worth the extra cash and not solely if you are more into video - the changes work for both photo and video.
All in all, the Fujifilm X-T4 is a delightful blend of old and new. It packs a wondrous photo and video capability and high-speed performance inside an attractive, premium quality body.
We love the analogue exposure dials that are a refreshing experience oozing character in a primarily functional modern camera world. In fact, Fujfilm's design embodies form and function.
The Fujifilm X-T4 is the new APS-C mirrorless camera to beat.
Ratings (out of 5)
Design
4.5
Features
5
Ease-of-use
4.5
Image quality
5
Value for money
4.5
Main Rivals
Listed below are some of the rivals of the Fujifilm X-T4.
Review Roundup
Reviews of the Fujifilm X-T4 from around the web.
Specifications
News
The X-T4 is the new flagship model in the Fujifilm X Series range of mirrorless digital cameras. The Fujifilm X-T4 offers in-body image stabilisation (IBIS), a new fast, durable and quiet shutter unit, a large-capacity battery, a new Film Simulation mode, ETERNA Bleach Bypass, and the fastest ever autofocus performance in an X Series camera.
The Fujifilm X-T4 will be available in late Spring 2020 in silver or black priced at £1549.99 body only.
Fujifilm UK Press Release
The pinnacle of the X Series: introducing the FUJIFILM X-T4; the ultimate mirrorless camera for professionals.
Explore your creativity as far as it wants to go
FUJIFILM Corporation (President: Kenji Sukeno) is proud to announce the launch of the FUJIFILM X-T4, a flagship model of the X Series range of mirrorless digital cameras.
The X-T4 is the pinnacle of the X Series, delivering the highest performance in both stills and video. A new shutter unit has been developed to be fast, durable and quiet. Thanks to the development of a new algorithm, the X-T4 provides fastest ever autofocus performance in an X Series camera, offering photographers the ability to capture any moment. The X-T4 is also the first model in the X-T Series to feature in-body image stabilisation (IBIS), dramatically boosting the potential of the camera for stills and video shooting. The standalone video mode, which is now activated with a simple switch, and the use of digital image stabilisation in the video mode, provides unparalleled shooting smoothness, allowing users to immerse themselves in video production. A new Film Simulation mode, ETERNA Bleach Bypass, simulates the traditional film processing technique to create a unique world of low saturation and high contrast.
The X-T4 is an amazing imaging tool, offering IBIS, a new shutter unit and a large-capacity battery all housed into a compact and lightweight body, which is the core philosophy of the X Series. There are photographic moments that only the X-T4, the ultimate mirrorless camera, can help you capture and record.
Key features and improvements of X-T4
Powerful new components
The X-T4 is the first model in the X-T Series to feature an IBIS mechanism. It provides 5-axis 6.5 stop image stabilisation when used with 18 out of 29 XF / XC lenses. It offers many new components, including new materials to the base part, a refined layout of the shutter's shock-absorbing structure and newly developed gyro sensors that boast approx. 8 times the detection accuracy of the IBIS unit in the X-H1. This particular mechanism assists night photography and sports photography, and also helps video recording in situations prone to camera shake. The new IBIS unit uses magnetic force rather than springs, which boosts functionality while making it approx. 30% smaller and 20% lighter than X-H1's image stabilisation mechanism.
The X-T4 is equipped with an ultra-fast focal plane shutter. Thanks to newly developed high-torque coreless DC motor, the shutter has the capability to shoot up to world's fastest*1 15fps in burst mode, and has advanced response performance with a shutter release lag of just 0.035 seconds. The shutter unit also boasts double the durability with 300,000 actuations and offers shutter noise approx. 30% quieter compared to the X-T3.
The new NP-W235 battery has a large capacity that is approx. 1.5 times that of an NP-W126S battery. It lasts for approx. 500 frames per charge in the Normal mode, approx. 600 frames per charge in the Economy mode and up to approx. 1,700 frames when two additional batteries are used with the optional battery grip (VG-XT4)*2.
The X-T4 uses the back-illuminated 26.1MP X-TransTM CMOS 4 *3 sensor and a high-speed image processing engine, the X-Processor 4. Combined with FUJIFILM's colour reproduction technology, nurtured over 85 years of R&D for photographic films, the X-T4 delivers a wide variety of options so you can recreate a scene exactly as you remember it.
Unique colour reproduction technology
The X-T4 features "ETERNA Bleach Bypass," a new Film Simulation mode, that uses FUJIFILM's unique technology to provide versatile colour tones. The new mode simulates "bleach bypass," which is a traditional processing technique for silver halide films; creating images with low saturation and high contrast for a special atmosphere.
Highlight and shadow tones from -2 to +4 can now be adjusted by 1/2 stops, instead of 1 stop, allowing for finer tonality, and White Balance now has "White Priority" and "Ambience Priority" options in addition to "AUTO." The "White Priority" mode reproduces a stronger white, while the "Ambience Priority" produces a warmer tone. When "RAW" is selected, users now choose the non-reversible "Compressed" option in addition to the reversible "Lossless Compressed."
Capture everything
The X-T4 offers a world's fastest*1 15fps continuous shooting in post view and an 8fps continuous shooting in live view using the mechanical shutter. The electronic shutter enables blackout-free burst shooting of 30fps.
The eyecup now has a locking mechanism to prevent tearing or dislodgement, and the 1.62 mil dots vari-angle monitor allows for more creative and versatile shooting styles.
The LCD/EVF can be boosted in three different ways, Low Light Priority - allowing users to see the subject clearly in low light, Resolution Priority - displaying even the fine details of your subject and Frame Rate Priority which minimises blur in the viewfinder when shooting a moving subject.
The Boost / Normal modes are now joined by the Economy mode, which saves the power to increase the battery life.
High Performance
A new algorithm and phase detection AF's processing capability has led to autofocus performance as fast as 0.02 seconds. This ensures that users can capture and track a subject moving at high speed, especially when combined with the continuous shooting performance of 15fps in post view and 8fps in live view.
Tracking AF performance has also undergone serious enhancement. The tracking success rate has been doubled compared to the X-T3. The Face / Eye AF performance has also been dramatically improved. This enhanced tracking ability has made focusing and taking portraits even easier than ever before.
Professional video functions
The X-T4 is capable of recording Full HD high-speed video at 240P, producing up to 10x slow-motion effect. IBIS is effective when combined with the electronic image stabilization function (DIS) for use in the video mode, and brings even more image stabilisation, which is essential for users shooting video whilst walking.
The "IS (Image Stabilisation) Boost" mode mitigates gentle camera shakes, enabling stabilised fixed-point video recording without a tripod.
The stills and video modes now have separate menus and the video-only Quick Menu (Q Menu) button has enhanced the camera's simplicity while recording video. A "Movie optimised control" function has been introduced; users can adjust exposure with the command dial as well as the touchscreen panel. With this function, user can switch the STILL / MOVIE mode dial on the top panel to swiftly shift into video recording with stored video settings.
Video in the same format can be recorded on to two SD cards at the same time as backup. And the F-Log View Assist function has been added to correct low-saturation / low-contrast video while recording F-Log. Video is converted equivalent to BT.709 for display to make it easier to attain correct exposure in video recording.
The "Fix movie crop magnification" function fixes the video crop rate to prevent changes in the angle of view when switching to a different video mode. An "MIC jack setting" on the camera can be switched input level between MIC level and LINE level. The camera supports external microphones as well as LINE level input from external audio equipment.
Optional accessories
1) Vertical battery grip VG-XT4 (for the X-T4 only)
The vertical battery grip is dust- and moisture-resistant and operates at temperatures as low as minus 10 degrees Celsius. It fits two batteries and, when combined with a third battery in the camera body, delivers up to approx. 1,450 frames in the Normal mode and 1,700 frames in the Economy mode. When one battery runs out, the camera switches seamlessly to the next battery while continuing to shoot, even in the burst mode or during video recording. The grip features a shutter release button, focus lever, AEL button, AFON button, command dials, Q button and Fn button to provide the same level of handling and comfort in vertical shooting as you get in horizontal operation.
2) Battery NP-W235
This large capacity battery is 1.5 times that of an NP-W126S battery, lasts for 500 frames per charge in the Normal mode, 600 frames in the Economy mode and up to 1,700 frames continuously if it is combined with the optional battery grip (VG-XT4) which holds 2 more batteries.
3) Dual battery charger BC-W235
This charger can charge two NP-W235 batteries at the same time.
4) Cover kit CVR-XT4
This is a cover kit specifically designed for the X-T4. It contains:
1 x Sync terminal cover
1 x Hot shoe cover
1 x Vertical battery grip terminal cover (black)
1 x Vertical battery grip terminal cover (silver)
1 x Memory card slot cover
5) Shoe-mount flash EF-X8
This flash small hot shoe flash is now available as an optional accessory.
*1 As of February 26, 2020. Among mirrorless digital cameras equipped with APS-C sensor or greater, according to FUJIFILM data.
*2 All the numbers of frames per charge are based on the JPEG format and using only the LCD monitor.
*3 X-Trans™ is a trademark or registered trademark of FUJIFILM Corporation.
Pricing and availability
The X-T4 will be available in Black and Silver, in the following options:
Fujifilm X-T4 Body Only - Black - £ 1,549.00
Fujifilm X-T4 Body Only - Silver - £ 1,549.00
Fujifilm X-T4 Kit with 18-55mm lens (Black) - £ 1,899.00
Fujifilm X-T4 Kit with 18-55mm lens (Silver) - £ 1,899.00
Fujifilm X-T4 Kit with XF 16-80mm lens (Black) - £ 1,949.00
Fujifilm X-T4 Kit with XF 16-80mm lens (Silver) - £ 1,949.00
The X-T4 will be available late Spring 2020.
Image Gallery
Click on a thumbnail to see the full version.
First Impressions
We've spent a little time shooting with the brand new Fujifilm X-T4 mirrorless camera at the official Fujifilm UK press event in central London. Ahead of our full review, check out our detailed first impressions of using the Fujifilm X-T4 mirrorless camera now...
Launched a mere 18 months after the X-T3, the new X-T4 offers 3 new components and 3 main improvements when compared to its popular predecessor.
In-body Image Stabilisation (IBIS)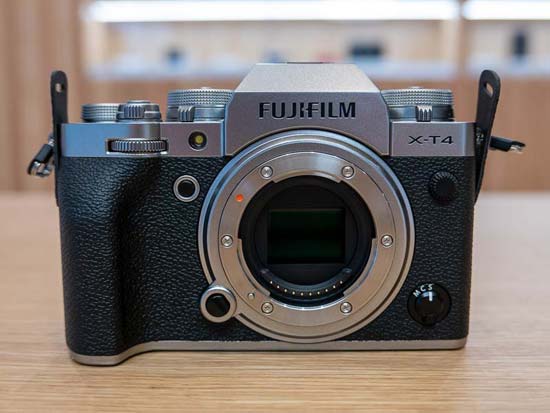 The biggest change is the incorporation of in-body image stabilisation (IBIS) for the first time in an X-T series body.
The first Fujifilm camera that had this feature was the now discontinued X-H1, which was launched back in 2017 to not-so-popular acclaim, mainly because it was much bigger in order to incorporate the IBIS unit.
Fujifilm's engineers have been hard at work in the intervening three years and have managed to drastically shrink the IBIS unit in the new X-T4, making it 30% smaller and 20% lighter than the one in the X-H1.
So while the X-T4 is 2.1mm wide, 5mm deeper and 68g heavier than the previous X-T3, it's nowhere near as large and heavy as the X-H1.
The new IBIS unit uses a smaller number of magnetic springs and magnets to achieve the reduction in size.
It also offers greater compensation than the X-H1, with the 5-axis system providing up to 6.5 shutter steps of compensation when used with 18 different XF lenses, 1.5 stops better than the X-H1.
Shutter Unit, 15fps Bursts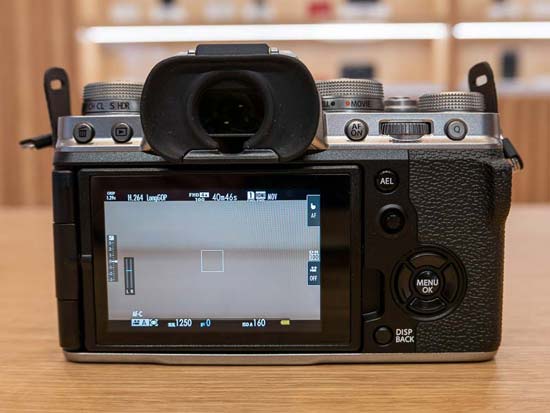 The X-T4 has a brand new shutter unit that allows it to shoot bursts at 15fps with the mechanical shutter, a marked improvement on the 11fps offered by the X-T3 and X-Pro3.
It also doubles the total number of actuations from150,000 to 300,000, and is much quieter in operation than the X-T3, being more akin to the X-H1, but without the over-responsive shutter release that that camera suffered from.
500-shot Battery Life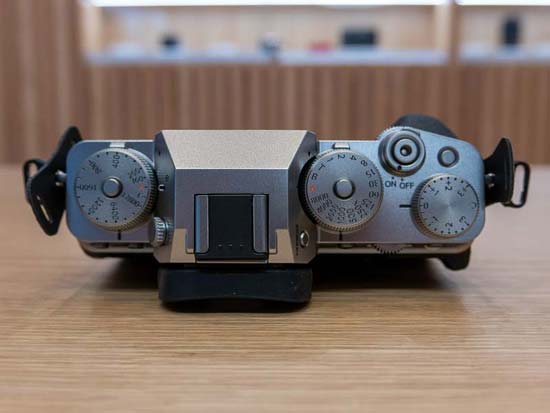 The brand new NPW235 battery increases the battery life from 390 shots on the X-T3 to 500 on the X-T4.
It's a physically larger, 2200mah battery, so you can't use your old X-T3 batteries in this new model.
There's also a new VG-XT4 battery grip which holds a further 2 batteries, which increases the overall battery life to a whopping 1450 shots (no, we don't know where the extra 50 shots went either).
Rather cleverly, you can charge all 3 batteries at once via the camera's USB-C port.
As you've probably guessed, you can't use previous battery grips on the X-T4, or the new grip on older cameras.
Eterna Bleach Bypass Film Simulation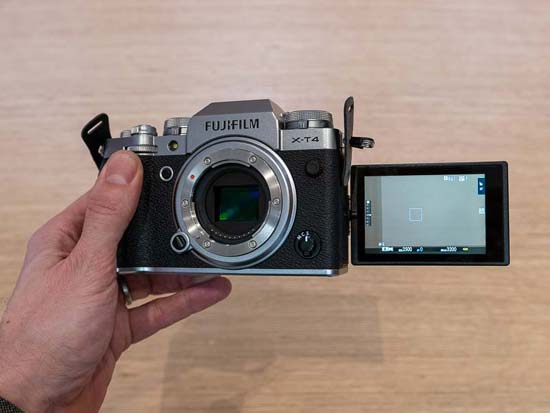 The new Eterna Bleach Bypass film simulation makes its debut on the X-T4.
This is principally aimed at videographers who want a similar look to films like Seven, Saving Private Ryan and Fight Club, providing a hard tonality to the footage.
Fujifilm were tight-lipped about whether or not this new film stock would be rolled out across other X-series cameras, but we'd be surprised if it wasn't made available in a future firmware update.
Best Ever Autofocusing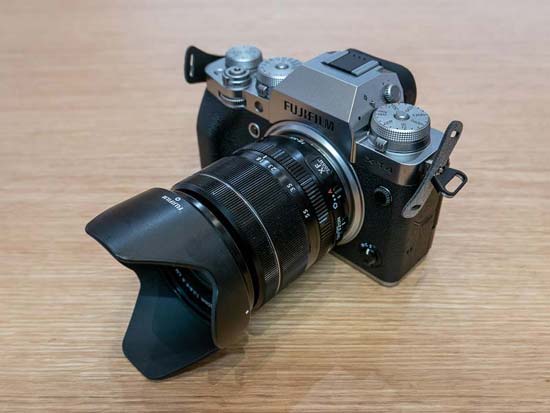 While the AF system itself hasn't been changed, with the same number of points and placement as the X-T3, a new algorithm means that the new X-T4 can now obtain focus in as little as 0.02 second, making it the fastest X-series camera ever.
It also offers improved face and eye detection and more accurate and reliable AF tracking, with Fujifilm UK claiming that the autofocusing system on the X-T4 is now as good as any of its main mirrorless rivals.
Greatly Enhanced Movie Mode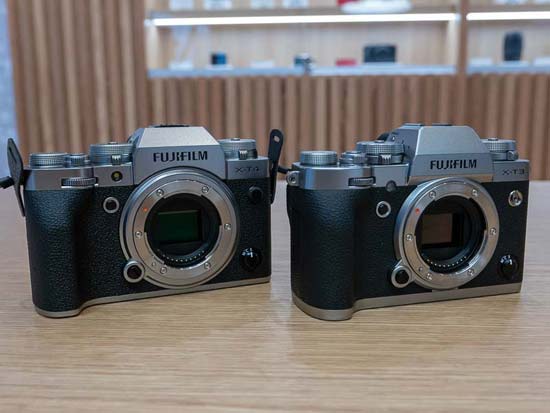 Video recording is the area that has seen the greatest number of improvements, 12 in total, making the X-T4 a much more capable camera in this regard than its predecessor.
Chief amongst these is the brand new 1080p/240p, 10x slow-motion modem and the incorporation of a digital image stabiliser which works in conjunction with the in-camera and lens-based systems.
Other key video improvements include IS Mode Boost, separate still/movie modes accessed by a dial on top of the camera, different Quick menus for each mode, and a headphone socket on the battery grip and a USB-C to headphone adapter provided in the box.
Other Improvements
Other key improvements to the X-T4 include a new 1.62 million pixel vari-angle touchscreen LCD, a lockable eye-cup that's 40% more rigid, and a detachable SD card slot cover.
Check out our hands-on gallery of photos of the Fujifilm X-T4 camera
Fujifilm X-T4 - Image Quality
The Fujifilm X-T4 has exactly the same 26 megapixel APS-C sized BSI image sensor as its predecessor and the X-Pro3, so still image and movie quality should be the same, so much so that Fujifilm UK didn't even mention once them during their launch presentation.
We've already shot an extensive gallery of sample JPEG and Raw images and movies for you with a pre-production version of the X-T4 which you can check out, and we'll be bringing you even more sample images when we get our hands on a final review sample.
Take a look at some sample JPEG and Raw images and movies taken with the Fujifilm X-T4 camera
Fujifilm X-T4 - Early Verdict
It may not be the first X-series camera to offer IBIS, but the new X-T4 is the first one to do so without having to compromise the X-series's key mantra of being compact and portable, something that the X-H1 found out to its cost.
Sure, the X-T4 is a little bit bigger and heavier than the X-T3, but we'd definitely trade that slight loss of portability for the greater shooting flexibility that IBIS provides for both stills and video.
Add in much longer battery life, faster burst shooting with the mechanical shutter, longer shutter lie, better autofocusing and enhanced movie mode, and it's clear that the X-T4 represents another step forwards for the X-series, even if it doesn't look all that different to its predecessor.
What do you think - does the X-T4 offer enough new features and improvements to tempt you to upgrade or switch systems? Leave a comment below!
Hands On
Want to see exactly what the new Fujifilm X-T4 mirrorless camera looks like in the flesh?
Check out our extensive hands-on gallery of photos of the Fujifilm X-T4 mirrorless camera, including a side-by-side comparison with the X-T3.
A gallery of hands-on photos of the Fujifilm X-T4 compact system camera.
Image Gallery
Click on a thumbnail to see the full version.
Preview Images
Ahead of our full review, here are some sample JPEG and RAW images taken with the brand new Fujifilm X-T4 mirrorless camera. All of the images were taken with the XF 18-55mm kit lens at the Fujifilm UK press launch of the X-T4. We've also included the entire expanded ISO range from 80 to 51200.
A gallery of sample images taken with a pre-production version of the Fujifilm X-T4 mirrorless camera.
Fujifilm X-T4 Sample Images
Sample RAW Images
The Fujifilm X-T4 enables users to capture RAW and JPEG format files. We've provided some Fujifilm RAW (RAF) samples for you to download (thumbnail images shown below are not 100% representative).
Sample Movies & Video
Your Comments