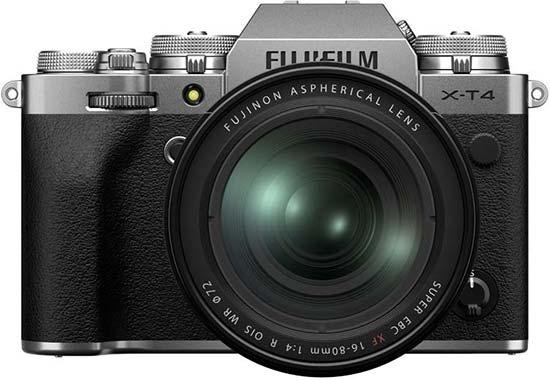 Introduction
By name, the Fujifilm X-T4 succeeds the company's flagship APS-C mirrorless camera, the X-T3. However, Fujifilm suggests the two cameras will sit alongside each other and has set the launch RRP of the X-T4 at around £250 more than the X-T3 from 18-months back.

In our review of the X-T3, we rated it the best mirrorless cameras with an APS-C sensor. Equipped to satisfy the demands of discerning photographers and filmmakers, it features a stellar 26.1-million-pixel sensor, 4K videos up to 60fps and full HD slow motion up to 240fps.

So how does the Fuji XT4 justify its higher price tag? Well, it comes equipped with an all new in-body-image-stabilisation unit. It's Fujifilm's best sensor-shift stabilisation yet, rated up to 6.5EV depending on the lens in use. It's a move that is sure to excite filmmakers especially.

Consequently, the new Fuji X-T4 is a tad bigger and heavier than the X-T3, but it also features a new articulated LCD screen, much improved battery life and refined continuous AF.

Of course, there are good discounts on older cameras. For the time being the X-T4 is a significant step up from the 18-month-old X-T3, which you can get with a high-quality kit lens and have a few pounds left over compared to the RRP of a X-T4 body only.

So is it worth upgraders or those new to the Fuji X-series jumping straight on board with the XT4? Perhaps wait it out a little, or even go for the cheaper X-T3? Read on to find out.

The Fujifilm XT4 is available in Black and Silver colours and costs £1,599 / $1,699 body only. It is also available as a kit for £1,899 / $2,099 with the XF 18-55mm f/2.8-4 R lens, or for £1,999 / $2,199 with the XF 16-80mm f/4 R lens.
Ease of Use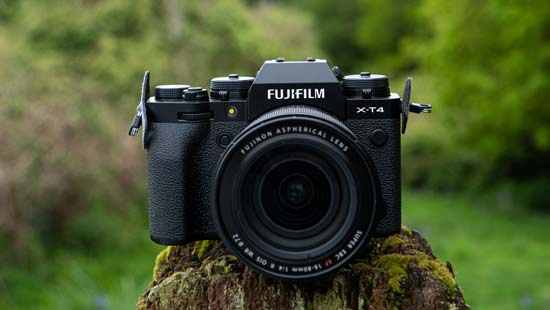 Front of the Fujifilm X-T4
Fujifilm's ethos with its flagship X-T cameras has long captured the imagination of 'purist ' photographers. One of the first things you will notice about the X-T4 is the solid metal top plate adorned with dials to control ISO, shutter speed and exposure compensation.
Add an X-series lens with aperture ring to the equation and you have direct access to the key exposure controls without needing to eye a screen. Once acclimatised to this 'traditional' form of operation, it's hard to go back (or should we say forward) to the 'modern' way. For us, this handling approach is refreshing.
But the Fuji XT4 is no dinosaur. What was formally a metering mode switch under the shutter speed dial now offers a choice between Still and Movie shooting. This is a camera fully embracing both photography and video.
Those that want quick access to metering modes may be disappointed, but for us the change makes total sense for what is a hybrid camera (plus you have reliable evaluative metering and an exposure compensation dial at your fingertips).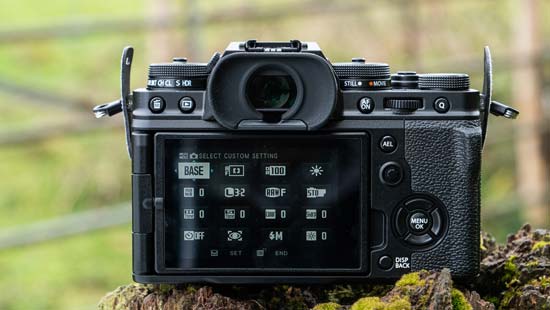 Rear of the Fujifilm X-T4
The Still/ Movie switch swaps between dedicated in-camera menu systems, so you don't have to scroll through excessive video options when all you want to do is photography, and vice versa. And the menu system for both disciplines is really well laid out.
The Fujifilm XT4 boasts a hugely impressive video specification - with DCI 4K and regular 4K up to 60fps at 10-bit, Full HD and slow motion Full HD up to 240fps. You even get up a bit rate of to 400Mbps on some movie modes, meaning you can get the most out of Fujfilm's lovely F-Log colour profile which is included as standard.
Typically, navigating through this many shooting options to the one that you want is painful. Yet, the in-camera video mode menu is broken down logically into three sub groups; resolution, frame rate and bit rate so you can select the combination that you desire.
A nice touch is that the front and rear control wheels can now be used quietly in movie mode to make changes to exposure settings, even during capture. (The top dials are redundant in video mode.) In conjunction with the touchscreen menu, most other key video controls such as white balance and image stabilisation can be adjusted too.
Top of the Fujifilm X-T4
One of the new features is the LCD touchscreen. The Fujifilm XT4 features a fully-articulated screen with a 1.62-million-dot resolution, whereas the X-T3 has a 1.02-million-dot tilt screen. There are pros and cons to articulated and tilt screen types and we won't get into that argument here. (A dual hinge design like in the significantly more expensive Panasonic S1H offers the best of both worlds.)
Screen design aside, we enjoyed folding the X-T4's LCD screen away altogether for photography (which protects the screen and reveals a lovely faux-leather finish) and then using the EVF instead.
The EVF is large enough to get lost in and it boasts a mighty 3.69-million-dot resolution. At times, in low contrast light, there is noticeable distortion when the shutter release is half depressed, but otherwise the EVF is a joy to use.
We've not yet mentioned the new headline feature of in-body-image-stabilisation (IBIS). Combined with optical stabilisation (OIS) its effectiveness is rated up to 6.5EV (depending on which optically stabilised X-Series lens is in use). This performance is a (claimed) improvement of up to 1EV for photographers over the X-T3 that relies on OIS.
Tilting LCD Screen
We're not fully convinced about the claimed 6.5EV of stabilisation. The 16-80mm f/4 WR lens we used for a lot of this test has a claimed 6EV stabilisation, but the reality seemed to be more like 4EV. At this level, the Olympus OM-D E-M1 Mark III is in a league of its own.
Still, the XT4 packs Fujifilm's most effective stabilisation capacity yet. Plus, IBIS is a godsend when non-stabilised lenses are in use. Yet while IBIS benefits both photo and video, we feel that the main beneficiary of the X-T4's sensor-shift stabilisation are run-and-gun filmmakers.
It's clear that handheld videos benefit a lot from IBIS in the X-T4. Smooth motion panning is possible. Compared to non-stabilised footage, vibrations from footsteps are reduced, but still evident.

Things get much better when digital stabilisation is added to the mix. You get smoother motion even while walking, although there is a crop factor applied and the footage somehow doesn't feel as natural. We'd take a gimbal over the X-T4's IBIS alone.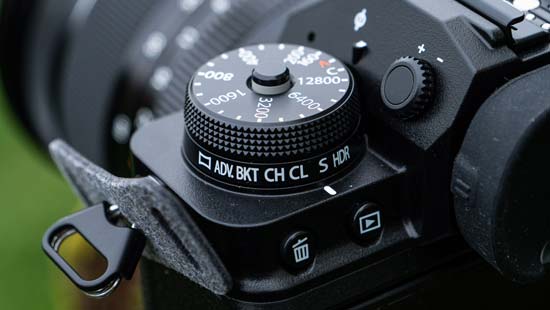 Top of the Fujifilm X-T4
Back to the body. In the Fuji XT4, you have a great-looking camera built to withstand knocks and adverse climates. Really, this is a solid bit of kit. It's bigger than the X-T3, presumably to house the new sensor-shift stabilisation unit. But it also holds a new battery which has much greater capacity than before.
It's a whopping improvement from 390-shots (X-T3 economy mode) to 600-shots in the equivalent mode. And don't forget that the X-T4 can be charged on the go using a power bank via USB.
There is a new vertical grip (RRP £299) built around these new dimensions and this optional accessory can hold up to three batteries. Serious filmmakers would really benefit from the vertical grip, because in addition to increased battery life it includes a headphone jack (more on this in a moment).
Given its size and status as Fujifilm's mirrorless APS-C king, we wouldn't mind a deeper hand grip. Truth be told, there are other cameras out there that are more comfortable to hold over long periods or with big lenses attached.
Front of the Fujifilm X-T4
There is a twin SD card slot (with removable door) and both slots are UHS-II compatible. A nice touch is the option to simultaneously record in F-Log and a dedicated film simulation onto your preferred combination of SD card/ external recorder via HDMI.
With the Fujifilm X-T4 increasingly accommodating to those into video, one perplexing decision is that there is no headphone jack. Of course you get the socket for an external microphone, but if you want to attach headphones you'll need the included USB-C to 3.5mm dongle.
The headphone jack omission is a head scratching moment when you first notice it. In practice, the main downside is that you won't be able to use headphones and charge at the same time because these functions share the same port. It's no deal breaker for the 99%.
Like before, the continuous high shooting mode maxes out at 30fps when using the electronic shutter. However, the top speed for the mechanical shutter is now a whopping 15fps.
What is more, the shutter of the X-T4 is rated to 300,000 shots and its action is notably quieter than in the X-T3 by a claimed 30%. It is noticeably quieter - impressive stuff.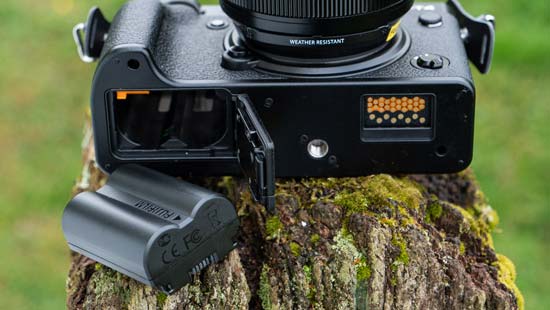 Battery Compartment
There is also an array of shooting modes that includes Interval Timer, Pre Shot, Advanced Filters, HDR, panorama and Bracketing, for which there are multiple options including Film Simulation (with a new film simulation called Eterna Bleach Bypass), White Balance, Focus, ISO and Auto Exposure.
Autofocus for photography is very snappy and actually very reliable even in action sequences. Face and eye detection is applied well across a variety of focusing modes, especially Zone AF where we enjoyed a very high ratio of sharp action shots. AF sensitivity is rated down to -3EV and proved reliable in low contrast light too.
Tracking AF is locked to the 'wide AF' mode and we feel there are more reliable tracking AF options out there. As such, Zone AF in conjunction with the AF joystick proved a better choice.
Autofocus is one area that Fujifilm X-Series cameras have come on in leaps and bounds. It's no market leader, but it's no longer a cause for complaint. Having used a number of lenses with the Fuji XT4, we get the feeling that AF performance is more likely limited by the lens in use than the camera itself.
As for video, by default AF is almost too snappy in that focusing transitions are noticeable. The parameters of AF speed can be adjusted, but even at its slowest setting there is limited improvement to those transitions. Still, if you want a quick and sharp focus acquisition in video, the X-T4 will achieve that.
Let's now take a look at image quality.