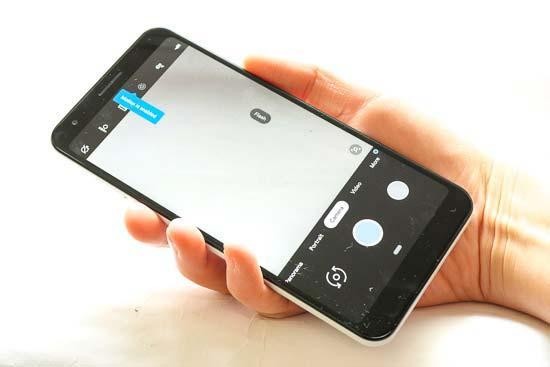 Introduction
Google has made a great impression with photographers for its existing range of Pixel phones, often being cited as some of the best available for those looking for a fantastic on-board camera.

The latest flagship model, the Pixel 3, was launched in 2018, but in 2019, Google revealed a cheaper version, named the Pixel 3a. As with the standard Pixel, it comes in two sizes - with a larger version being named the Pixel 3a XL (which is the one we have been using for the purposes of this review).

Perhaps the best news for photographers is that while a range of cost-cutting measures have been implemented to bring the price down, the very same 12.2 megapixel camera has been brought across from the Pixel 3 into the Google Pixel 3a. That means you get features such as the fantastic Night Sight mode, and an impressive "Portrait" mode for creating shallow depth of field effects.

The Google Pixel 3a (like other Pixel phones) is relatively unusual in the current smartphone market in that it features just one lens - there's no telephoto, and no ultra wide-angle.

At the time of writing, the Google Pixel 3a can be bought for around £399, making it a great value "mid-range" option, while the larger Google Pixel 3a XL will set you back £469. The price of a standard Pixel 3 is £589, or £719 for the Pixel 3 XL, so it represents a good price saving.
Ease of Use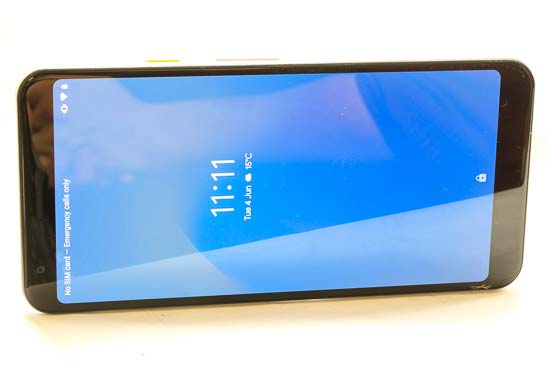 Front of the Google Pixel 3a
In terms of the build quality, this is where you'll find the biggest differences between the Pixel 3 and the Pixel 3a. Construction is not as high quality, with the Pixel 3a having a lighter plastic feel to it - if you're using the phone in a case, this is something you may not notice too much anyway though. The biggest downside here is that the Pixel 3a loses the water resistance of the Pixel 3 - no more taking selfies in the bath.
The Google Pixel 3auses a 5.6-inch OLED display, while the larger Pixel 3a XL has a 6.0-inch display. The standard Pixel 3 has a similar sized display (5.5-inch) but it is housed in a smaller phone for a sleeker overall appearance. Whichever one you go for, the Pixel phones are generally noted for their simple and almost utilitarian appearance, which may or may not appeal to you depending on your own personal preferences.
Notches can be a divisive subject. If you hate notches, you're in luck here because unlike the standard Pixel 3 XL, the Pixel 3a XL does not have one. You might argue that it means that you don't get maximum use of the screen space, but for those who find notches unattractive this won't be a problem. Full HD+ resolution is included though, as well as the "Always On" display which shows the time and notifications even when the phone is locked, which is great for a mid-range phone.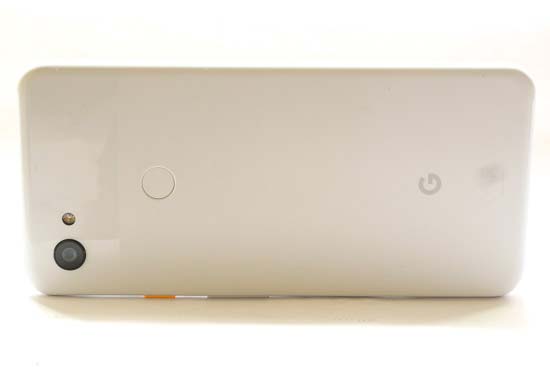 Rear of the Google Pixel 3a
From the home screen, the Google Pixel 3a's native app can be found in the bottom left hand corner. Unlike many other Android phones, the Google Pixel uses a much simpler native app, which is perhaps more closely similar to the iOS native camera app for iPhones.
As the camera has been brought over from the Pixel 3, the very same app is found in the 3a. Although it is simple, that's not necessarily a criticism for most people who want to use their phone as a point and shoot type device. There are some options for making changes to various settings, and there are a couple of different shooting modes for those that want to experiment.
By default, the app launches in the standard "Camera" mode. You can tap around the screen to select a focus point. When you do this, you'll also be able to change the brightness by using a slider which appears on the screen. At the top of the screen (or to the left if holding the phone in landscape orientation) you'll find some options which you can use.
There's a timer icon, giving you ability to switch the timer to 3 or 10 seconds (and off again). "Motion", which records a short video clip with each photo can be switched on or off, and you can also adjust white balance with a range of different presets including sunny, tungsten and cloudy.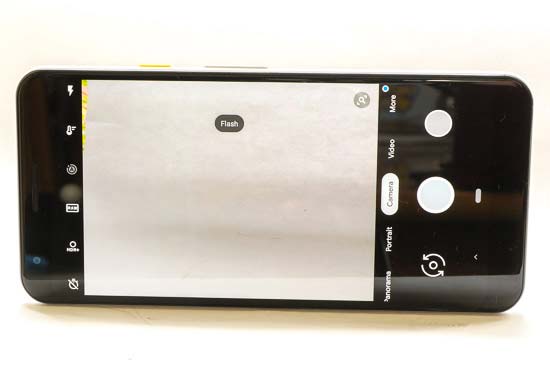 The Google Pixel 3a 's Camera Mode
Finally, there's a flash on, off and auto option to choose from. An icon which allows you to switch HDR+ on or off will appear in this section if you choose to activate manual control over it from the main settings menu, too.
Similarly, a RAW icon can also be activated from the settings menu, giving you the option to shoot in both RAW and JPEG if you so desire. It's great to be able to quickly tap it on or off, for example if you're trying to save space.
At the bottom of the screen, you'll see the different shooting modes you can swipe between. To the left of "Camera" mode, you'll find Portrait which is used for creating shallow depth of field effects. Despite its name, you can use it for other subjects, and not just people. Another swipe left will bring you into Panorama mode, which is pretty self explanatory.
To the right of the camera mode, you'll see the Video option. Up to 4K video recording is available, at 30fps. If you switch to either Full HD or 720p video recording, you'll be able to shoot in either 30 or 60fps. When in video recording, you'll see options at the top of the screen to change the frame rate (not in 4K), and to change the white balance.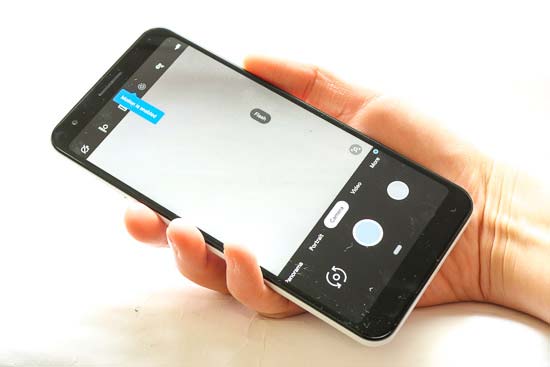 The Google Pixel 3a In-hand
Another right swipe brings you to the "More" tab, which contains a few extra shooting modes. Most interesting is the Night Sight mode, which we've already seen in the Pixel 3/XL. This works by shooting a series of short exposures then merging them together for the effect of a long exposure and is designed for those situations where light is extremely low.
It's also in this tab that you'll find the Settings menu. From here you've got the option to change a number of different options, including changing photo resolution, adding HDR+ manual and RAW/JPEG control to the top bar of the main screen, and switching video stabilisation on or off. One thing you won't find with the Pixel 3a phone - just like the standard Pixel 3 - is any kind of manual mode. Settings such as shutter speed and ISO cannot be controlled via the native app, but there are third-party apps which you can download to give you this control if you need it.
As there is just one lens with the Google Pixel 3a, you'll have to rely on digital zoom if you need to get closer to the subject (and can't physically move). To do that you simply pinch in and out on the phone screen to go from wide to zoom (and back again).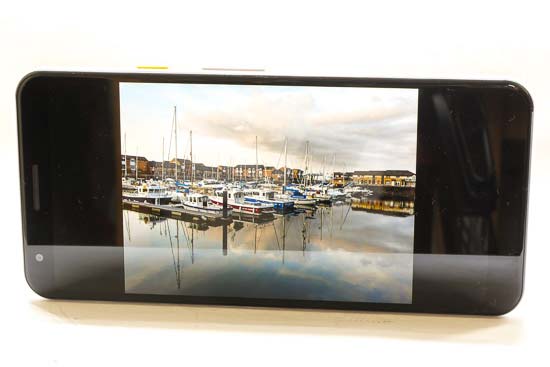 The Google Pixel 3a's Gallery
You can switch to the front-facing camera with a tap of an icon at the bottom of the main camera screen. When shooting with this, a range of options appear at the top bar, including face retouching (with natural, soft and off options), a timer, HDR+, raw format shooting, white balance and motion control.
One area where cost savings have been made is to the processor found in the Pixel 3a, which uses a mid-range Snapdragon 670 processor, combined with 4GB of RAM. That's likely to be more than enough for most kinds of user, but if you're someone who likes to use power-intensive apps, such as gaming, then it's worth thinking about.
The Google Pixel 3a only comes in one capacity size - 64GB - with no option to expand storage, then you might want to think carefully about shooting lots of raw files, or 4K movies, if you want to keep them on the phone.