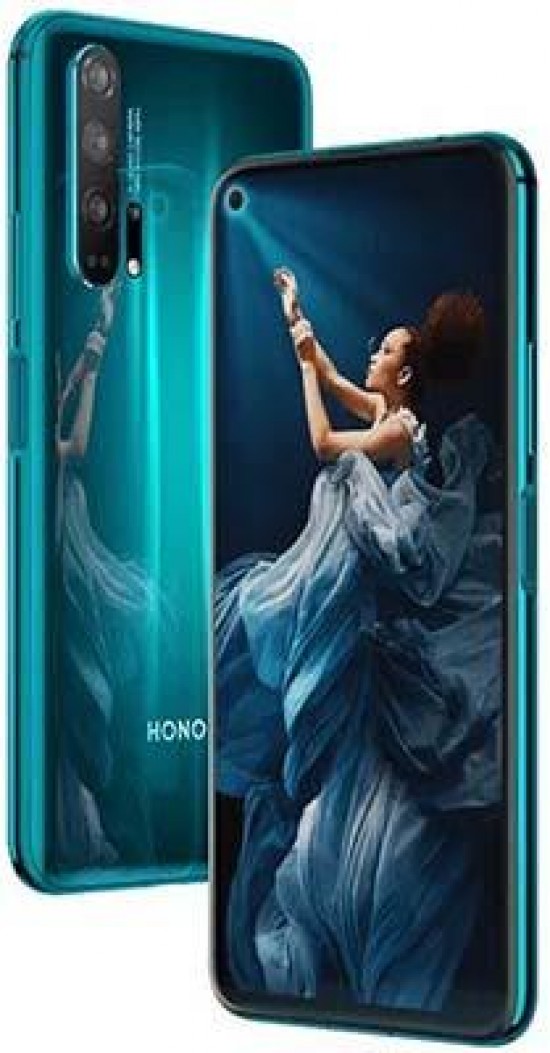 Introduction
Honor is the sub-brand of the Chinese manufacturer Huawei. It tends to offer lower-cost handsets which are particularly popular with younger audiences. Often Honor phones will take technology used in older Huawei handsets, so you get a very similar experience as if you were using a Huawei.

The Honor 20 Pro is the latest flagship from Honor, which was announced back in May. It features a quad-camera setup, which gives you a 48 megapixel "main" camera with an f/1.4 lens. This is joined by a 16 megapixel super wide angle camera with an f/2.2 lens, an 8 megapixel 3x telephoto camera with an f/2.4 lens and a 2 megapixel f/2.4 megapixel camera. The main camera and the telephoto camera include 4-axis optical image stabilisation to keep your shots as sharp as possible.

As with Huawei phones, the Honor 20 Pro packs a huge range of impressive photo modes, designed to help you get the best shots possible. There's the popular "Night" mode for low-light shooting, as well as a new "Handheld Moon" shot, which promises to help you to get close-up shots of the moon without any additional equipment.

Other interesting specifications of the Honor 20 Pro include a 4000 man battery, which also includes the ability to "super charge" for quick power boosts, a 32 megapixel front-facing camera, AI Ultra Clarity mode and 4K video recording.

At the time of writing, the Honor 20 Pro's retail price is around £550, which puts it firmly in the mid-range, price wise. By comparison, Huawei's flagship phone, the P30 Pro, will set you back almost twice as much, with a retail price of £899.
Ease of Use
Despite having a "mid-range" price tag, we've come to expect that Honor phones will look very smart and stylish - there's a good reason why they are appealing to young people, and it's not just the affordable price. We've been working with the "Phantom Black" colourway, which is actually more like a shiny purple colour - it's attractive and looks good when the light catches it.
The phone also has nicely rounded edges and feels like it\s a good weight - in other words, it doesn't feel cheap. Just like we've seen before in the Honor View 20, Honor has made the most of the screen's real estate, giving you almost all of it to play with - there's just a small "holepunch" notch in the top left hand corner of the screen where the selfie camera is housed. The hole punch is arguably not the most "elegant" of notch solutions, but it's hard to argue with how good it is at giving you the most available screen possible.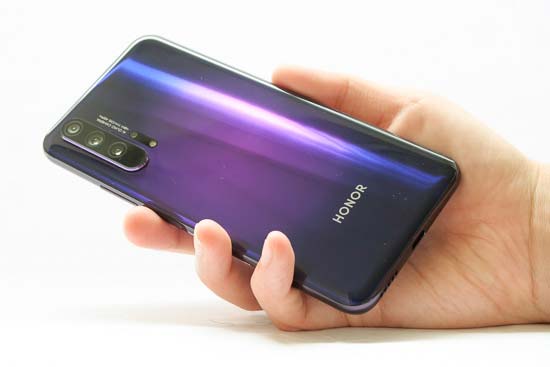 Rear of the Honor 20 Pro
From the lock screen, you can access the Honor 20 Pro's native camera app by swiping up from the bottom right hand corner without unlocking the phone. You'll be able to take as many photos / videos as you like, but you won't be able to view any photos you took in previous shooting sessions until you unlock the phone fully.
As is often the case for Android phones - and in particular Huawei / Honor phones - the native camera app for the Honor 20 Pro is extremely well equipped, with lots of different shooting modes to suit all kinds of different scenarios and types of user. By default, the app opens in the standard, fully automatic "Photo" mode. In this simple mode, you simply point and shoot to take your pictures, but you can also tap around the screen to choose a specific focus point. You can also adjust brightness by tapping a sun icon which appears when you tap on the screen.
Along the top of the screen in this mode, you'll see a few options. You can switch the flash on or off, as well as quickly being able to turn on (or off) the artificial intelligence option. With AI left on, the camera will automatically recognise a number of different subjects and apply what it thinks is the most appropriate settings.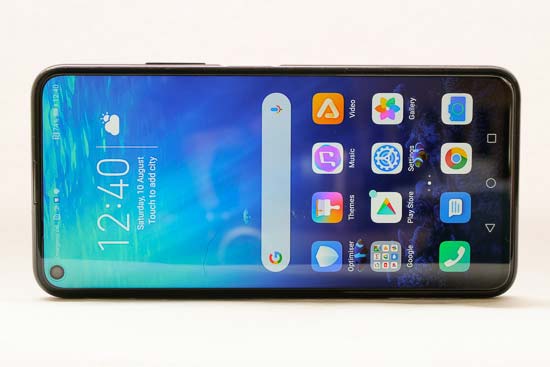 Front of the Honor 20 Pro
If the camera recognises something, it will be indicated at the bottom of the screen, with a word and an icon, such as "dog", "flower" and so on. You might wish to turn it off if the settings are going a little extreme in situations such as landscape where blue skies and green grass might be a little oversaturated. Having it available directly on the screen here is great to be able to quickly compare between the two rather than delving into a main menu.
In order to use the different lenses that the Honor 20 Pro offers, you have a couple of options. You'll see a "1x" in a circle when you launch the camera app - tap this and you'll scroll through 3x optical, 5x "hybrid" zoom, and round again to "wide" for the ultra wide angle camera. Alternatively, you can pinch in and out on the screen to move between the different lenses. Note that you can't actually select the "macro lens", instead you'll find it as a set mode of its own elsewhere in the camera app.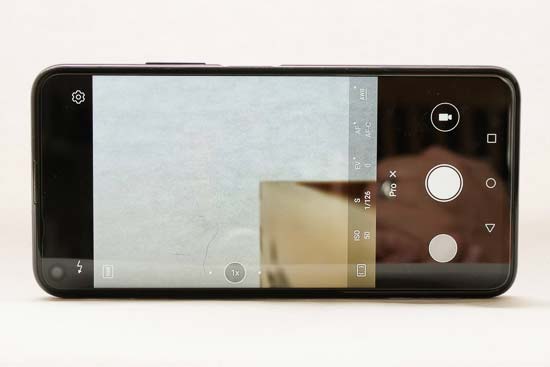 The Honor 20 Pro's Camera App
The main menu is accessed via a cog icon in the top right hand corner of the camera app. Here you'll find an array of different options, dependent on the shooting mode you're in. In "Photo" mode, one interesting option to take note of is changing resolution. Although the Honor 20 Pro has a 48 megapixel sensor, by default images are output at a much more sensible 12 megapixel.
If you want to take advantage of the full resolution though, you can switch to 48 megapixel here, as well as the 48 megapixel "Ultra Clarity" mode. The latter takes a series of images and merges them together for the best detail possible - you'll need to use it for subjects such as landscapes which don't move though. You'll notice if you set the resolution as 48 megapixels, you'll no longer have access to the other lenses (wide-angle and telephoto) - you'll have to go back to 12 if you want to use those.
Now to talk about the various additional shooting modes that the Honor 20 Pro includes. From the main camera screen, you'll see various options along the bottom of the screen. To the left of the Photo mode, there's Portrait, Night and Aperture. Portrait mode is for capturing people shots, and will only work if it detects a human face, blurring the background for a shallow depth of field effect. You can choose different background blur effects too, such as circles, hearts, swirls and so on.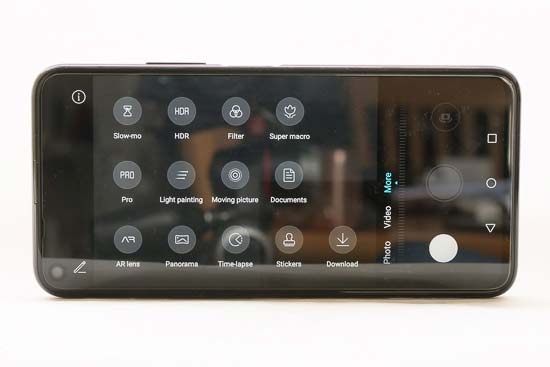 The Honor 20 Pro's Shooting Modes
Night mode is something we've seen elsewhere used to great effect. It essentially works by capturing a number of images and blending them together to create the impression of a slower shutter speed and therefore making the most of available light.
Aperture mode works in a similar way to portrait mode, but can be used with any type of subject. You get additional controls too, such as being able to choose a specific aperture. When you capture an image in this mode, you can also adjust the aperture effect after the fact in playback, as well as choosing a different focus point too - this can be very handy if you don't quite choose the correct one when shooting it.
To the right of Photo mode, you'll see Video. To choose different resolutions - up to 4K is available - you'll need to head into the menu and select the one you want. Finally, if you tap "More", you'll be presented with a host of additional shooting modes. There's lots to choose from including Slow-Mo, Panorama, Time-lapse, Filter and Documents, but two which are particularly interesting are Super Macro and Pro.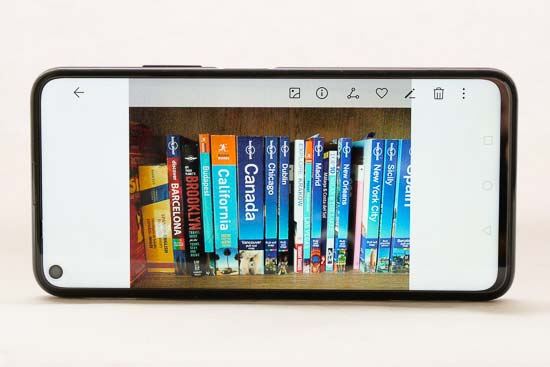 The Honor 20 Pro's Gallery
With Super Macro, you can utilise the macro lens and get as close as 4cm to your subject. Pro mode is useful for anybody who is a bit more experienced and wants to take full control. With this mode, you can change certain parameters including ISO, shutter speed, white balance and so on. You can also opt to switch on raw format shooting (find it under the resolution options) for additional control when tweaking your shots in post-production.
In order to take a photo, you can either press the on screen "virtual" shutter release button, or you can use the volume up or down keys if you prefer a physical button. Just next to the virtual shutter release you can press an icon to activate the front-facing camera.