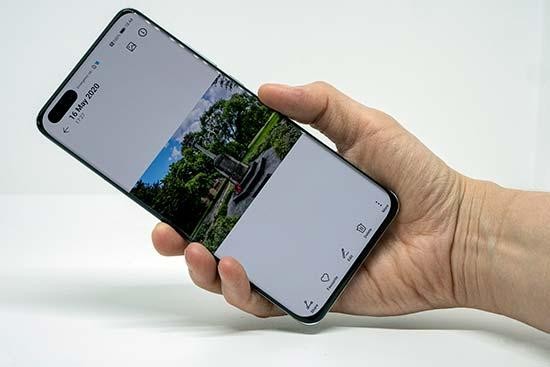 Introduction
The P40 Pro is Huawei's latest flagship smartphone. The "P" range is always specifically targeted at photographers, with the latest model building on the successes of its predecessors such as the P20 Pro and the P30 Pro.

As we've seen for a few years now, Huawei's partnership with Leica continues, with the historic camera brand being responsible for the camera and lens construction inside the P40 Pro.

Being aimed squarely at photographers, we can of course expect the Huawei P40 Pro to have some impressive photographic specs. Such is the case, with a triple lens set up which includes a 50 megapixel "main" camera, a 40 megapixel super wide angle camera and a 5x optical zoom camera. Technically there's also a fourth "TOF" (Time of Flight) camera, which comes into play to create shallow depth of field effects.

Other specifications relating to the P40 Pro's camera include 4K video recording, an LED flash, and a 32 megapixel front-facing "selfie" camera. General features include a 6.58-inch OLED screen, splash, dust and water resistance, and 256GB of inbuilt memory. You can expand the memory with a Nano Memory SD card.

It can't fail to have escaped many people's attentions, the problems that Huawei has been having of late. As a result of an ongoing feud with the US administration, new Huawei phones are not permitted to access the Google Play app store.

As a result, while the Huawei P40 Pro runs Android, many of your favourite apps are simply not accessible - this includes big names such as Instagram and WhatsApp. Huawei has its own App Gallery which gives you access to lots of other apps - and we can only assume that more on the way - but the lack of full integration with Android is likely to be a key sticking point for many.

At the time of writing, the Huawei P40 Pro price is £899.99, making it a cheaper option compared with some other flagship models on the market - most notably the Samsung S20 Ultra and the iPhone 11 Pro.
Ease of Use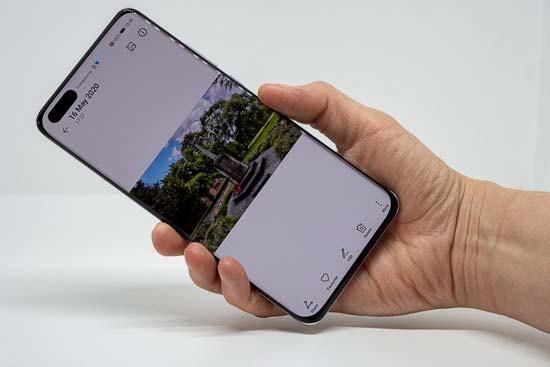 Front of the Huawei P40 Pro
With its 6.58-inch screen, the Huawei P40 Pro is on the large side for premium smartphones, but still fits comfortably in the hand - and it's not as ridiculously big as the Samsung S20 Ultra. We've been using the "Silver Frost" colour way, which has a very attractive translucent effect on the body.
The display takes up almost all of the screen, with just a small cut out in the top left hand corner for the selfie camera. As such there's no "notch" in the traditional sense - but there is always a small amount of display given over when viewing anything in full screen.
Launching the native camera app requires a simple swipe up from the bottom right hand corner of the lock screen. Anyone who has used a Huawei phone before will already know that the native camera app is very well-featured, giving you lots of shooting modes to experiment with.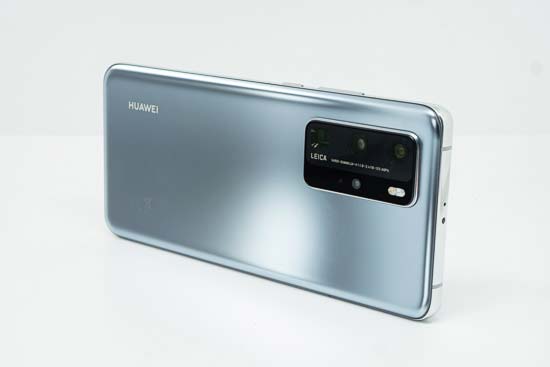 Rear of the Huawei P40 Pro
By default, the app launches in "Photo" mode, but you can swipe right or left to choose different shooting modes. To the left you'll find "Portrait", "Night",and "Aperture", and to the right you'll find "Video", "Pro" and "More". We'll go through most of these in more depth as the review continues.
The Huawei P40 Pro's default mode is probably what you'll use for the majority of your shots. On the screen you'll see the zoom options, which range from Wide (ultra wide camera), to 50x. In between you have 1x (standard camera) and 5x (telephoto camera).
Levels of zoom in between these are created by a combination of optical and digital zoom using artificial intelligence. You can pinch in and out to zoom at different focal lengths, or run your finger up and down the slider.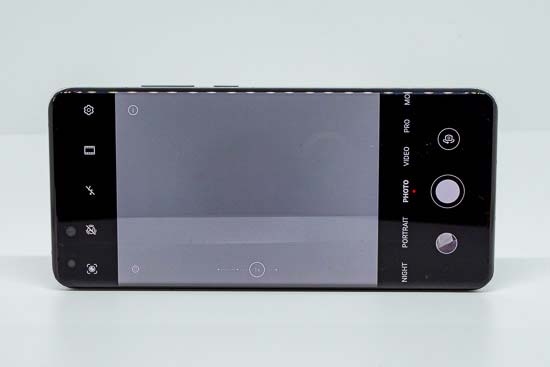 Photo Mode
At the top of the screen there are a few options to take note of. The first icon is to switch on the AI Lens - this is something which allows you to take a photo of an object and have the phone find similar items for sale online.
The second icon is to switch off or on artificial intelligence. If you have it switched on, the Huawei P40 Pro will alter its settings to best match the scene in front of it - the display will show what it thinks it has detected (for example, dogs, flowers) so you can be sure the right settings are likely to be applied.
The next icon is a flash icon, which you can switch to off, on, automatic or "always on". Next is an icon for choosing between various film simulation modes or digital filters, and finally, there's a settings icon where you can make more in-depth changes, such as to aspect ratio, switching on audio control and selecting a video resolution.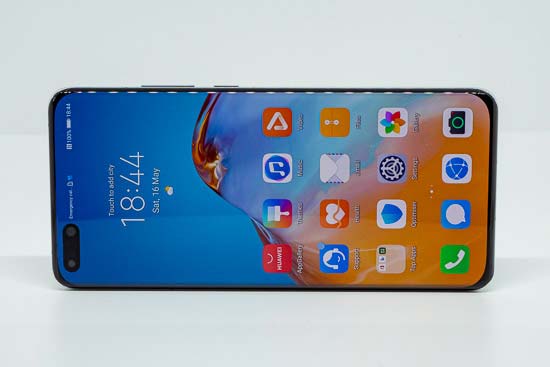 Front of the Huawei P40 Pro
You can tap around the Huawei P40 Pro's screen to select the focus point you want to use, and when you're ready to take a shot you can either use the virtual shutter release button, or the physical volume up and down keys on the side of the phone.
Portrait mode is something you can use with human subjects to create a shallow depth of field effect. As we've seen with previous Huawei phones, a fun feature is the ability to choose different "bokehs", such as circles, hearts and discs. It's a shame you can't use this functionality with other subjects, such as pets, though.
If you want to create shallow depth of field effects with non-human subjects, that's where the Huawei P40 Pro's Aperture mode comes into play. With that, you can photograph whatever you like, while also setting the aperture effect to whatever you like (between f/0.95 and f/16), but you can't choose a different bokeh. An advantage of this mode however is that you can make adjustments after the fact by tweaking the aperture settings in playback.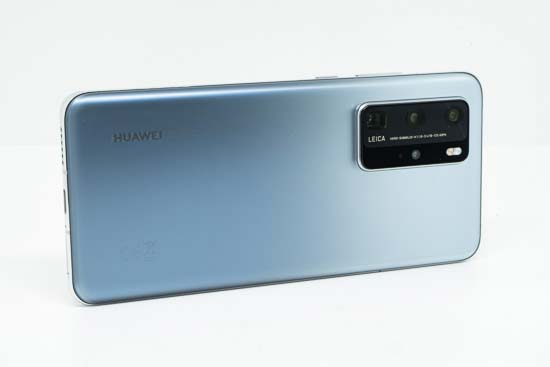 Rear of the Huawei P40 Pro
Night mode is something we've seen on a few different iterations of Huawei phones now, and as the name suggests, it's something you use after dark. It essentially works by merging together a series of short exposures to create the effect of a long exposure. You can use it in completely automatic mode, or you can adjust the ISO and the shutter speed. It merges all the images together automatically and very quickly, and best of all, the images can be taken handheld and without the need of a tripod.
Video mode is pretty self-explanatory, with up to 4K resolution available. Pro mode is interesting and something that enthusiasts will likely be very interested in. With this mode you can make changes to the metering mode, ISO, shutter speed, exposure compensation, AF mode and white balance.
You can also record images in raw format (DNG), which means you have greater control over editing shots in post production. Some other useful functions of Pro mode include the option to switch on an AF assist light, add some film simulation modes, switch on a flash and shoot in 50 megapixel mode.
Head into the "More" section, and you'll find some additional shooting modes which are quite interesting, including Monochrome, Panorama and High-Res, which is another way of shooting at 50 megapixel resolution.