Oppo Reno 10x Zoom Review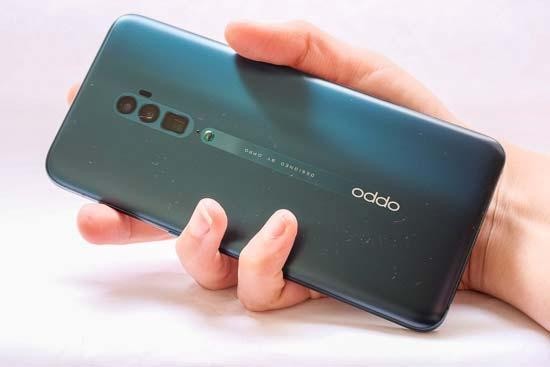 Introduction
Previously little-known in Europe, Oppo has recently taken to ramping up its efforts to gain worldwide recognition. It's the biggest smartphone manufacturer in China, but on this side of the world it lags far behind more recognisable brands such as Google, Huawei, Apple and Samsung.

You might have seen the company's efforts to change that with high-profile sponsorship of major sporting events such as Wimbledon, the FIFA Women's World Cup and the Cricket World Cup.

This phone arguably marks the first time that Oppo is attempting to go mainstream in the non-Chinese market, setting its sights firmly on the other big-zoom mobile currently available, the Huawei P30 Pro.

However, with a retail price starting at around £545 at the time of writing, this is a phone which sits more comfortably in the mid-range than the premium end of the scale of P30 Pro, potentially giving users the opportunity to access a high-performing zoom at a bargain price.

Despite what you might think for a name which features "10x" within it, the Reno 10x Zoom actually sports a 6x (130mm equivalent, f/3.0) optical zoom lens - you get a 10x "hybrid" zoom though, which mixes together optical and digital zoom. The 6x zoom lens sits in front of a 13 megapixel sensor.

It is joined by a standard main 48 megapixel 1/2-inch sensor camera, with a 26mm (equivalent) f/1.7 lens, plus a super wide-angle (16mm equivalent), f/2.2 lens sitting in front of an 8 megapixel sensor. The main camera and the telephoto camera feature optical image stabilisation (OIS), but the super wide-angle (plus the selfie camera), do not.

Other interesting specifications include a 4065mAh battery, an inbuilt memory of either 128GB or 256GB, 4K video recording and USB-C charging.
Ease of Use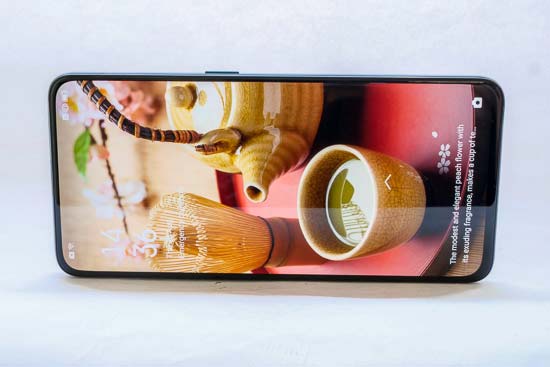 Front of the Oppo Reno 10x Zoom
With its 6.6-inch screen, the Oppo Reno 10x Zoom is one of the larger phones on the market - but it's very similar in size to the Huawei P30 Pro. One major thing that sets it apart is the interesting way that the problem of the "selfie" camera has been tackled.
Although most smartphones house a front-facing camera in a "notch", by doing that you inevitably lose some screen space. To get around that, Oppo has included a pop-up camera unit in the shape of a shark fin - a similar idea to what we've also seen in the OnePlus 7 Pro (Oppo is the parent company of OnePlus).
You will see the unit pop out any time you activate the selfie camera, or if you want to use the flash as the flash unit is also housed within it. It feels relatively secure and sturdy, and it automatically retracts back into the body once you exit the selfie camera. One downside here is that it seems to collect dust - I can't help but wonder if over a long-term period of use, that could prove problematic.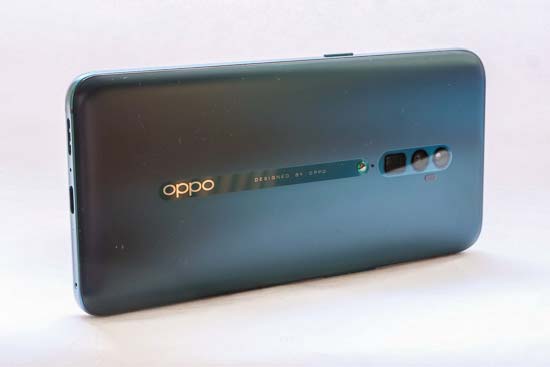 Rear of the Oppo Reno 10x Zoom
Just as we find with many other Android smartphones, you can activate the Oppo Reno 10x Zoom's camera by swiping up from the bottom left-hand corner of the lock screen. Also similar to other Android phones is a well-featured native camera app, which gives you a range of shooting options and settings to experiment with.
By default, the app launches in the standard "Photo" mode. This is a basic point-and-shoot mode which gives you minimal control over settings, but there's still some options found at the top of the screen. A flash icon allows you to switch that off, on, set it to automatically judge when it should be fired, or use the flash as a fill light.
Next is an HDR icon - tap this to switch it off, on, or again set it to Auto - I generally left this on Auto, but it's great to be able to quickly switch it off if you find that it is producing unrealistic images. The next icon allows you to quickly jump to wide-angle camera, while another icon switches on or off "dazzle colour" - this slightly saturates images, but the difference seems to be quite minimal.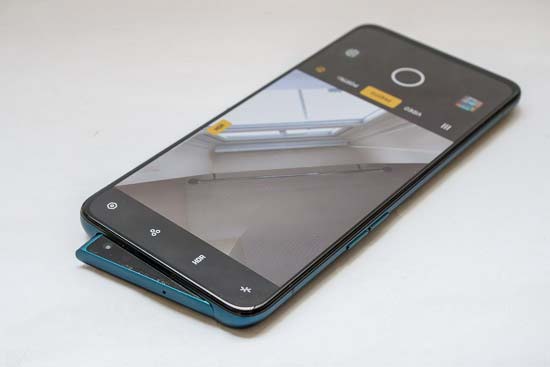 The Oppo Reno 10x Zoom's Pop-up Camera
Next, there's an icon which gives you the choice of a range of different digital filters, which are worth experimenting with if you like to change the look of your images - you'll find monochrome options here for example.
Finally, you can access the main menu by tapping the final icon in the line-up. Tap this and you'll find a set of different options including adjusting photo ratio, switching on a self-timer, assigning how the physical volume button works and so on. It's also in here you can switch AI scene recognition on or off - you'll notice that this highlights certain scenes, such as sunsets and landscapes.
Back to the shooting window, you'll also see "1x" in a circle. Tap this and you can scroll through the various zoom options available. The 1x is the main camera, then next is 2x - this is a hybrid zoom option, as there is no 2x telephoto lens available.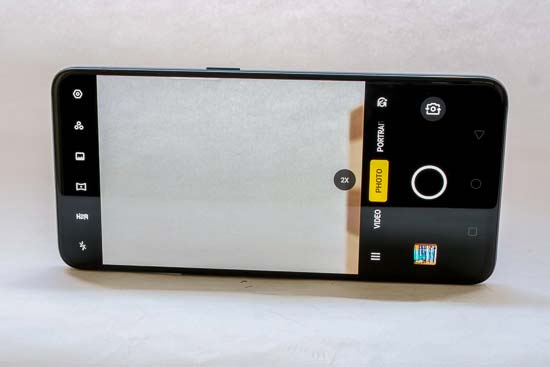 The Oppo Reno 10x Zoom's Camera App
Next is 6x - activating the zoom lens, while finally is the 10x from the Reno's name - again this is a hybrid zoom option, utilising a combination of optical and digital technology. If you tap it again after 10x, you'll be taken to the super wide-angle camera.
Alternatively, you can pinch to zoom in and out on the screen, which will give you options in between all of the fixed zoom settings - and it will also allow you to go past the 10x zoom up to a purely digital 60x.
Other shooting options can be selected by swiping right or left on the screen - to the right you'll find Portrait mode. This recreates a shallow depth of field effect, and you can use it on non-human subjects, too.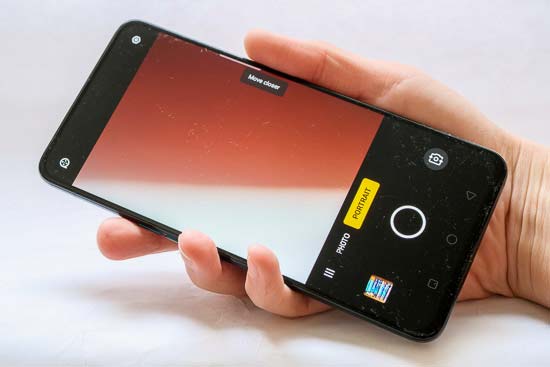 The Oppo Reno 10x Zoom In-hand
To the left is the Video mode - up to 4K 60fps is available. Tap an icon at the top of the screen to choose different resolutions, while you can delve into the main menu to set the frame rate. Only the main camera and the 2x hybrid zoom is available while shooting video - you can't use the super wide angle camera, or the 6x zoom lens, which is a little disappointing.
If you tap an icon which looks like three lines stacked on top of each other, a set of additional shooting modes will be revealed. There's Night mode, which is something we've seen on plenty of other recent smartphones - it combines together a set of short exposures to give the effect of a long exposure in dark conditions.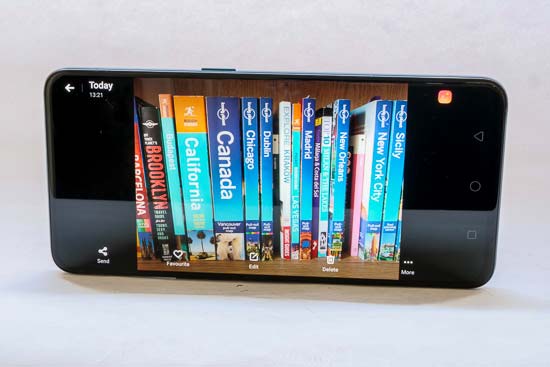 Front of the Oppo Reno 10x Zoom
There's Pano, which creates ultra-wide-angle panorama shots. Expert mode is useful for those with a little more experience as it allows you to change a range of settings, including shutter speed, ISO, white balance, AF mode and exposure compensation. Disappointingly, there's no option to shoot in raw format, though.
The last two shooting modes are Time-Lapse and Slo-Mo, which are extra video modes. Slo-Mo can be shot in either Full HD (1080p) or 720p.
To take a photo, you can either use the on-screen virtual shutter release button, or you can assign the physical volume keys to work as shutter releases.