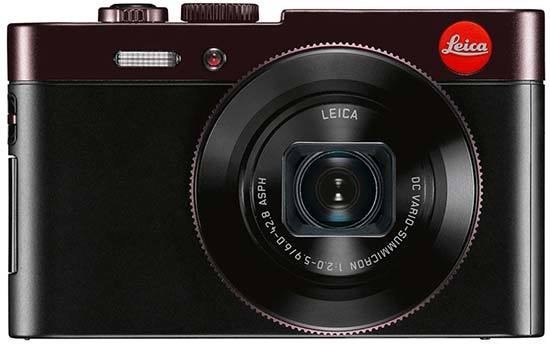 Introduction
Picture the scene. You've made it in life. You've got the Rolex on your wrist, the Montblanc in your pocket and the Bentley parked in the villa's garage. But you'll need something to capture this elite lifestyle, and it better look the part too.

This is where Leica has made a name for itself in the camera world. See, Leica cameras aren't just cameras; they're finely-crafted works of art that last generations and cost as much as an average car. So what's with the Leica C then? Its body is plastic for heaven's sake, and the price tag is almost affordable. Whatever next?

Well, ever since Leica joined forces with Panasonic to supply the glassy bits for its cameras, the deal has worked both ways and Leica has been allowed to dress up several of Panasonic's cameras in a more sophisticated style. So although the C certainly looks like a new, smart and sexy snapper; it's actually just a Panasonic LF1 under a veil of exclusivity.

But that's no bad thing, as the LF1 is a terrific camera and means the Leica C inherits some impressive tech. Its 12.1 megapixel MOS sensor may not be the most pixel-packed in the business, but it's physically larger than the average sensor size in the most compact cameras and therefore promises better image quality and has a high maximum sensitivity of ISO12800.

Should the 920k-dot, 3-inch LCD ever prove difficult to see, there's also an electronic viewfinder to help compose shots. This is also Leica's first camera to incorporate Wi-Fi connectivity for remote camera control and image sharing, plus you get NFC pairing to instantly link the camera with your NFC-enabled smart device. Up front is a 7.1x, optically stabilised lens with a 35mm-equivalent focal range of 28-200mm. Add in plenty of creative image effects as well as manual control, a nifty multifunction control ring around the lens and RAW image capture and the Leica C certainly has the substance to match its style.

You'll still have to part with around £550 / $699 / €699 to join the Leica club though, but Leica does sweeten the deal by throwing in a free copy of Adobe Lightroom 5 image editing software.
Ease of Use
The Panasonic LF1 on which the Leica C is based is a well thought out camera and thankfully this DNA is still clear to see on the C. Both cameras share pretty much the same dimensions and identical button layouts. Leica has changed the button shape from round to square, and the overall shape is more slab-sided and crisper in style than Panasonic's design. The C's 103 x 63 x 28mm body is still predominantly plastic though, hence it just can't match the premium feel of a camera wrapped in metal. That said, we accidently dropped the C onto an unforgiving concrete path (lens side up, fortunately) and apart from a few minor scuffs, it kept right on shooting, so it's far from fragile. This incident may have been prevented had Leica not done away with Panasonics rubber rear thumb grip and instead replaced it with some subtle – and slippery – Indentations.
Beneath your thumb sits the usual range of buttons to record, play and delete images and video, and these surround a conventional 4-way dial to adjust the flash, exposure compensation, macro and continuous shooting options. The dial can also be rotated for quick menu scrolling, but that's nothing particularly special.
What's more interesting is the C gets an electronic viewfinder to supplement its conventional LCD display. The inclusion of an EVF isn't all that surprising as you'll find one on the Panasonic LF1, but it's still a rare treat for a compact camera and gives you a similar shooting experience to a DSLR. Unfortunately this particular EVF is on the small side with a low resolution and there's no automatic eye detection either, so you'll have to press the 'LVF' button to switch between the screen and viewfinder. Despite all this though, the EVF is still a welcome addition for times when sun glare overpowers the LCD monitor.
| | |
| --- | --- |
| | |
| Front | Rear |
This doesn't happen often though, as the 3.0" 920k-dot screen is both pixel-packed and bright enough to be useful under all but extreme sunlight. It's also got decent viewing angles which help produce accurate colour and contrast reproduction. Once possible gripe is that it lacks touch sensitivity, but since the original Panasonic part never had this feature, the C inherits the same limitation.
The final point of interest on the rear panel is a button labelled Wi-Fi, as this is Leica's first camera to feature Wi-Fi with NFC pairing. In essence this offers the same tricks as most other cameras with wireless connectivity. You can transfer images taken to your smart device, use the link to automatically send across photos as you snap them, or control the camera remotely from your smartphone or tablet. But it's the smoothness and immediacy of Leica's implementation that sets the C apart from many rival Wi-Fi systems which can often be sluggish. Then there's NFC pairing. This eliminates the usual hassle of trying to connect to the camera's Wi-Fi signal via your phone's settings and entering annoying passwords. Instead all you need to do is tap camera against phone and voilà, the two are connected. The only snag is you'll need an NFC-enabled smart device to get in on the action, and that's something Apple has yet to implement in its devices.
Moving to the top of the camera and we find a proper mode dial with plenty of settings. There's a smart auto mode that'll automatically detect the conditions your shooting in and set the camera up for optimal results, as well as a Program auto mode if you fancy setting this like ISO sensitivity and white balance yourself. The C also has aperture and shutter priority modes so you can capture long exposures or control depth of field, plus there's a full manual setting. Once you've set up an ideal settings combination for a certain shooting scenario, you can save it to one of two custom shooting modes for quick recall. There's also a Creative Control preset containing 15 digital colour and contrast filters to spice up your shots, each of which can be sample on the image quality page of this review. Leica's Panorama Shot gets its own position on the mode dial and allows you to capture a panorama simply by holding down the shutter release and panning the camera. We'll dissect the results in the image quality section, but as far as ease of use goes, Leica's implementation actually lets you stop panning at will, rather than forcing you to shoot a minimum 120 or 180-degree pan as is the case with many cameras. This is great when you want to capture a scenic view without also having to include half the car park you're standing in.
| | |
| --- | --- |
| | |
| Top | Side |
Alongside the mode dial is a familiar zoom ring, though this example does offer two speed settings allowing for swift zooming and fine focal length tweaks. Next to this is a large and easily accessible power button, though its flush-fitting position does leave it vulnerable to being unintentionally pressed.
But the most interesting control on the Leica C is its front lens ring. This can be rotated to give quick and easy adjustment to key settings, though these do change depending on which mode is active. In automatic mode you can rotate the ring to zoom straight to preset focal length increments, or if you switch to aperture or shutter priority modes, the ring will control the aperture or shutter speed. It'll take on the role of switching ISO sensitivity when in program auto mode and in manual mode you can use it to adjust the aperture, and set the shutter speed using the rear control wheel. If all that sounds rather confusing, then you can always set the lens ring to your choice of function and make that the default across various shooting modes. However what's not possible is to stop the rear control wheel from mimicking whatever function you assign to the lens ring (apart from there split personalities in manual mode), which rather negates the benefit of having two separate controls.
At least setting up any personalised controls is a breeze using Leica's monochrome menu system with red highlights. It's not particularly pretty, but it's easy to read and quick to navigate. Likewise the on-screen shooting display is very clear and you can add virtual horizon levels or even compositional grids.
| | |
| --- | --- |
| | |
| Front | Battery Compartment |
Press the Q Menu button in the lower right of the rear panel and this displays a quick-reference bar for adjusting common settings like the focussing mode and ISO sensitivity. Fiddle with either of the control wheels and additional virtual dials pop up to give you a graphical indication of aperture, shutter speed, sensitivity and focal length scales. It's all very intuitive once you've got the control wheels set up in a way that works for you.
Once you're ready to shoot, the C starts up in just over a second and in good light its autofocus system locks on to your subject almost instantly. It's also reliably accurate, so you'll rarely snap a shot that's out of focus. Slightly disappointingly it's not the fastest system in lower light, though after 1-2 seconds the camera does find its mark. With decent light the camera will also snap away at a respectable 10fps continuous shooting rate, and when that's not fast enough there's always Full HD video capture with stereo sound.
Finally the camera's battery is worth a mention. Despite this not being an ultra-compact camera, its Li-ion rechargeable power pack is a tiny 950mAh cell that's only good for around 250 shots. That's not pathetically bad and isn't the worst in class, but we'd expect more from a camera marketed at enthusiastic photographers.