Introduction
Ease of Use

Front of the Leica SL2
When we reviewed Leica's Q2 earlier this year, we wondered if it was perhaps the most over qualified and over specified street photography camera ever.
Now arrives the Leica SL2, another solid, black-bodied camera, but differing this time in being equipped with Leica's L-mount, thus enabling around 150 lenses to be utilised if investing in specific adapters.
Interestingly, Leica claims that the refined and more intuitive user interface on the mirrorless full frame SL2, when compared with its direct predecessor, should enable any users familiar with the Q2 to immediately get to grips with it.
Though the SL2 is directly based on the original SL camera from back in 2015, the SL2 and the Q2 do have some equally obvious similarities – not least a 47 megapixel resolution from a full frame sensor that, when coupled with some high quality Leica 'glass' – we had a 24-90mm lens in use, suitable for delivering some lovely de-focused background effects – produces images that are almost too sharp.
It's worth noting that unless you (or your subjects) are blessed with perfect skin, the Leica SL2 can be quite unflattering, in picking up and magnifying every minor blemish or wrinkle.

Rear of the Leica SL2
The level of detail, then, is astounding – and, viewed large on-screen, almost overwhelming. You're not just reviewing the pictures from the Leica SL2 – the detail draws you in, so that you almost 'inhabit' them.
It has to be said that, while Leica may have tried to update this camera while keeping the weight down, it's not the most portable option ever. In fact, used in tandem with the aforementioned zoom, the SL2 feels like it weighs a ton – it's been fashioned from two solid pieces of aluminium with a central magnesium alloy portion sandwiched in its midst – so we were thankful for the padded strap that also came with our sample.
While the rock-solid build quality may reassure someone prepared to spend more buying a body-only Leica SL2 than a vintage Moog Model D synthesizer, it's probably not the ideal travel camera for lugging around for an entire day on a city break – even if you were to return with some cracking photos as a result.
However, if you're someone who is going to be embarking on a more considered approach to shooting and who isn't rushing around like a wild thing, then the SL2 may be a better fit.
Landscape photographers, who will be able to take some of the weight off (officially 835g without battery – considerably more with lens and battery) by placing it on a tripod, or portrait photographers, shooting for fixed time sessions, may therefore get the most out of it.

Top of the Leica SL2
That's if, to play devil's advocate for a moment, at this price they're not otherwise tempted by a mirrorless medium format camera like the Hasselblad X1D II 50C released earlier this year (a suggested £4,500 in the UK, whereas the Leica SL2 is a wallet destroying £5,300).
Given the heft of this camera, it's perhaps not surprising that Leica has been pushing the fact that, this time around, we get a slightly/subtly remodeled and, the suggestion is, more comfortable handgrip thanks to it being coated in 'elastomer' material.
While it isn't moulded to our fingers like the grip on a DSLR might be, thereby making it easier to balance out the weight if we've a big lens on the front, on the SL2 it's certainly big enough to wrap our full four fingers around, while the thumb automatically brushes up against the control dial – or as Leica refers to it, 'click wheel' – peeking out at the back. It's not as comfortable as operating a DSLR with a comparable lens might be, however.
Nevertheless, its manufacturer is suggesting improved ergonomics on the SL2, and, as part of this, we get a simplified three button layout to the left of the LCD on backplate – preferable to the thin unmarked strips that stood for controls on the even more minimalist original SL.
At least here, then, we're not always prodding around in the dark trying to find the functionality we crave, though a dedicated delete button and a 'back' button to jump back to prior settings on occasion may have improved the overall user-friendliness. All this being said, the SL2 does provide the accessibility of a touch screen – so, when in doubt, a tap of the LCD is another operational option.

The Leica SL2 In-hand
While the Q2 was dust and water resistant, we're told the SL2 is similarly robust, to the extent that it can apparently withstand water spray from every direction. So while it's OK to use in the drizzle, we probably wouldn't risk dunking it in the pond.
Though we main query the heft, the robustness of build is so reassuringly solid that, providing the internal electronics hold up, the SL2 could surely last years of use – which we'd certainly want it to at this price.
The fact that the SL2 features a large postage stamp sized top plate status display window – just like on a pro level DSLR – is a real plus in operation. It's really helpful in not being distracted by having to otherwise refer back to the larger screen at the rear of the camera, and thus take your eye off your subject for even longer.
The rest of the Leica SL2's top plate is fairly conventional – with a familiarly raised viewfinder-housing mid section also finding space for a vacant hot shoe, as well as integral stereo microphones positioned just in front.
We addtionally get a bottle top style control wheel and a springy shutter release button located on the forward slope of its handgrip, where it automatically falls under the forefinger.

Front of the Leica SL2
Located just behind the mode wheel are two unmarked function buttons – presumably giving them markings would have interrupted the minimalist appearance of the top plate. The left one here was set to call up on-screen information, such as a live histogram and sound bar indicators, on our review sample, while the right button was set to call up ISO options.
Here we get the choice of fully auto ISO (pretty accurate too), and then a very capable light sensitivity range stretching from ISO50 up to ISO50000.
The only writing here is the camera model name etched into the rim of the hotshoe – while of course we get the familiar red logo at the front, plus an additional can't-miss-it bold 'Leica' etched in capitals above the lens mount.
The back of the camera, while featuring three marked buttons for 'Play', 'Menu' and 'Fn' (function) is otherwise clean looking. Rather than placing it on the top plate, as with most cameras, here the main on/off button is located out of harm's way at the top left of the backplate, where, presumably, there is less chance of it being accidentally activated by a stray finger or thumb. While your right hand encircles the handgrip on this camera, your left naturally moves forward to support the lens.
The Leica SL2's large and clear 3.2-inch back-lit LCD screen sits slightly off centre to the left, with a bezel design that causes it to stand slightly proud of the camera's surface and suggest, to the untrained eye, that it might tilt or be adjustable in some way.

Front of the Leica SL2
But no, the LCD here is resolutely fixed and conventional in that sense. While this monitor can be used for composing and of course reviewing images, we more naturally found ourselves using the electronic viewfinder ranged directly above it.
Usefully, Leica has also provided a thumb wheel top right of the camera back, with a slightly roughened surface to the front and the right side rear of the camera preventing slippage – although the sheer heft of the camera also helps prevent any wobble in the hand (incidentally there is five axis body integral image stabilisation built in here, equivalent to 5.5 stops).
There are a further two unmarked function buttons on the camera back. One is a function button for switching our viewing between 2.1 million dot resolution LCD and whopping 5.76 million dot EVF, while the other is more of a toggle lever or mini joystick, which can be used for navigating and selecting on-screen menu settings, or jumping from one captured image to the next.
A quicker way to do this, however, is simply to swipe through shots with a finger, like we'd do on a mobile phone or smart device. Indeed, Leica has said this time around it has attempted to make the SL2's screen as responsive as that of an iPhone.
Switch the camera on and you'll find the Leica SL2 is as responsive as any DSLR, with either the rear screen or the eye level viewfinder quikcly bursting into life, dependent on how you've got the camera set up. We were shooting JPEG in tandem with Leica's Raw equivalent DNG files.

Bottom of the Leica SL2
Half squeeze the shutter release button and the AF point immediately illuminates in green to signify the nearest subject is in focus. Obviously there is the opportunity to change this mode and shoot manually with this camera, but to be honest we found the Leica's AF so reliable – even when confronted with fairly busy scenes and subject matter – that there's barely the need.
The right of the camera, if viewing it from the back is where we find a compartment housing not one but two SD card slots, which is again another way of the SL2 showing its professional mettle.
With the camera shooting such whopping file sizes for both stills and video – a 30 second video clip at 4K at 60fps, or in cropped 5K mode, is around 640MB for example – you'll want to not only load a high capacity card, but also one with a fast read/write speed so it can keep up. We were using aClass 10 300MB/s SanDisk Extreme Pro card, just out of interest, which avoided any camera freezes or operational error messages.
In operation, we also liked the fact that the electronic viewfinder, here with diopter adjustment markings, juts out sufficiently proud of the body with a rubber cushioned eye relief to avoid our nose scrunching up against the rear LCD screen. With the camera held to our right eye it just misses it, though doesn't quite clear the left hand edge of the camera.
Operationally, the Leica SL2's onscreen menus are clearly laid out across either 5 or six screens depending on whether you have the camera in video (5 screens) or stills (6) shooting modes. With an initial press of the menu button we are provided with a full screen's worth of essential settings at a glance, with a visible tab sitting behind, displaying either Photo or Video. A simple on-screen finger taps alternates between them.

The Leica SL2's Battery
Video recording starts with a full press of the shutter release button, with AF able to be adjusted mid recording if required with a gentle half press of the shutter release; obviously if you press too hard then the video stops recording. Video footage, partly thanks to a decent lens as well as sensor, looks stunning.
HDMI output and a USB port are well hidden under moulded rubber flaps at the left hand side on the SL2 camera itself. There are further ports for plugging in an external microphone and also a port for a headset to monitor sound with, although the internal microphones should be sufficient for most non-professional usage.
Battery life via the chunky lithium ion rechargeable pack secreted away at the camera base is good for 370 shots, according to CIPA standard, which, while much less than a professional DSLR you could otherwise buy for this outlay, is fairly average for a mirrorless camera. Re-charging time from spent to fully charged is quoted as 140 minutes.
So that's how this once again robust, tank-like and precision-engineered Leica SL2 handles – what about the images it delivers? Do they justify the attendant premium price tag? Read on to find out...
Image Quality
All of the sample images in this review were taken using the 47 megapixel JPEG setting, which gives an average image size of around 10Mb.
As we mentioned in our intro, the shots we managed to get out of the Leica SL2's sensor, when combined with our 24-90mm f/2.8 to f/4 zoom, we felt were simply stunning in terms of detail and richness.
The price and the build here had our expectations (and imaginations) raised, but we were able to achieve images with this camera, even handheld in low light with the aid of the self timer to avoid contributing camera shake, the likes of which we have rarely witnessed before.
Shooting autumnal scenes on standard settings provided plenty of opportunity to test for natural colours and sharpness, and here too the SL2 didn't disappoint. Detail is razor-sharp and it really is like you are viewing the world in high definition, closer than ever to what the human eye can deliver for us.
We also shot at night with the SL2 and were almost able to drag more detail out of the darkness than even our eyes could deliver. Even at top whack ISO 50000 equivalent setting on this camera, we got results that, while admittedly soft around the edges and grainy, displayed fine grain, rather than big painterly blobs destroying the outline of objects, while colour fidelity was also faithfully retained.
If you're looking for a camera and lens line up that puts quality above all else, then, provided you're prepared to put hand in pocket, then you can't go far wrong with the Leica SL2.
Noise
There are 11 ISO settings available on the Leica SL2. Here are some 100% crops which show the noise levels for each ISO setting.
| | |
| --- | --- |
| JPEG | RAW |
| ISO 50 (100% Crop) | ISO 50 (100% Crop) |
| | |
| | |
| ISO 100 (100% Crop) | ISO 100 (100% Crop) |
| | |
| | |
| ISO 200 (100% Crop) | ISO 200 (100% Crop) |
| | |
| ISO 400 (100% Crop) | ISO 400 (100% Crop) |
| | |
| ISO 800 (100% Crop) | ISO 800 (100% Crop) |
| | |
| ISO 1600 (100% Crop) | ISO 1600 (100% Crop) |
| | |
| ISO 3200 (100% Crop) | ISO 3200 (100% Crop) |
| | |
| | |
| ISO 6400 (100% Crop) | ISO 6400 (100% Crop) |
| | |
| | |
| ISO 12500 (100% Crop) | ISO 12500 (100% Crop) |
| | |
| | |
| ISO 25000 (100% Crop) | ISO 25000 (100% Crop) |
| | |
| | |
| ISO 50000 (100% Crop) | ISO 50000 (100% Crop) |
| | |
Long Exposures
The Leica SL2's maximum shutter speed is 60 seconds in the Manual mode and there's a Bulb mode for up to 30 minute exposures, which is great news if you're seriously interested in night photography. The shot below was taken using a shutter speed of 30 seconds at ISO 50.
Night

Sample Images
This is a selection of sample images from the Leica SL2 camera, which were all taken using the 47 megapixel Superfine JPEG setting. The thumbnails below link to the full-sized versions, which have not been altered in any way.
Sample RAW Images
The Leica SL2 enables users to capture RAW and JPEG format files. We've provided some Leica RAW (DNG) samples for you to download (thumbnail images shown below are not 100% representative).
Sample Movies & Video
Product Images











Conclusion
The adage that 'you get what you pay for' is an old one, but the Leica SL2 had even old cynics like ourselves pleasantly surprised during the week we were able to have a play with it.
It doesn't matter how well built or featured a camera is if the images it produces are found wanting, but here the output actually exceeded our expectations. Which is a rare thing indeed. Images are simply stunning from the combination of a large full frame sensor and Leica manufactured optics.
All this being said, while the SL2 is very capable, it's still a big old weighty beast of a 'compact', the metal build of which makes it feel like something of a doorstop – especially with the added heft of the premium Leica glass supplied with our review sample.
Yes £5,300 for the body before you even start adding lenses makes this something of a rich man's – or at least a professional's – plaything, but if you are lucky enough to have that sort of cash to invest in your hobby, then we suggest the Leica SL2 won't find you disappointed. It'll certainly keep you happy for another five years until, all being well, an SL3 is inevitably debuted.
Ratings (out of 5)
Design
4
Features
4
Ease-of-use
4
Image quality
5
Value for money
3.5
Main Rivals
Listed below are some of the rivals of the Leica SL2.
Review Roundup
Reviews of the Leica SL2 from around the web.
Specifications
News
The Leica SL2 is a brand new full-frame mirrorless camera for professional stills photographers and videographers.
It offers a 47 megapixel full-frame sensor, Maestro III processor, 20fps burst shooting, 4K/60p video recording, in-body image stabilisation, improved ergonomics, a more comfortable grip, simplified three-button control layout, Object Detection AF, electronic viewfinder with a resolution of 5.76 megapixels, 3.2-inch LCD screen with 2.1 megapixels, and a 187 megapixel multishot mode.
The Leica SL2 will be available from 21st November 2019 priced at £5,300 / $5,995 body only.
Leica UK Press Release
A New Icon: Leica Camera Announces the Leica SL2
6 November 2019 – Building on the visionary Leica SL-System first launched in 2015, Leica Camera proudly introduces the Leica SL2: a masterpiece merging innovation with pure performance and Leica's iconic design.
The Leica SL2 is a joy to use with improved ergonomics, a more comfortable grip and a simplified three-button control layout. While cutting-edge features such as in-body image stabilisation unlocks new found potential from legendary Leica M-Lenses, it enhances the growing selection of SL-Lenses which are some of the finest optics Leica has ever produced. The Leica SL2 is the natural evolution of the innovative Leica SL, serving as a ground-breaking embrace of the future of digital photography and videography while paying homage to its history and lineage.
Crafted with conscience
The SL2 is the only mirrorless camera designed and crafted in Germany, with an unmatched all-metal solid construction and elegant yet robust leather wrap to deliver years of photographic pleasure.
Streamlined design with new status menus
The Leica SL2 offers an innovative user interface whose efficient design allows photographers to focus their attention on the creative process. The design alignment with the existing M and Q systems makes it even easier for existing Leica photographers. The main parameters can be viewed on the rear display and adjusted quickly and easily with a simple finger tap. A click wheel, a joystick and three strategically placed configurable buttons ensure a straightforward operation. Thanks to two dedicated status menus for stills and video recording, the parameters for either shooting mode can be adjusted entirely separately from each other. Overall, the design of the SL2 reflects the iconic Leica identity and traditional design elements that the brand has become known and loved for over the years.
Improved ergonomics
Despite significant technical improvements and the presence of in-body stabilisation, the Leica SL2 has kept the same size as its predecessor. Improved body design paired with increased durability make the SL2 the perfect companion for all forms of shooting. IP54 certification ensures an elevated weather sealing for more rugged situations, while a new option to turn off noise reduction during long exposures allows for more hands-free shooting.
CMOS sensor with 47 megapixels for superior image quality
The unprecedented resolution of the SL2's CMOS image sensor in full-frame format results in an unparalleled level of detail rendition and image quality. Enormous dynamic range, a colour depth of 14 bits per RGB channel and a sensitivity of up to ISO 50,000 enable outstanding image quality in all lighting conditions.
New Leica Object Detection Autofocus
The new Leica Object Detection AF ensures a fast and reliable AF. In addition to an array of modes and features, including face recognition, the SL2's high-performance AF system also automatically detects whether a subject is stationary or in motion and subsequently switches between motion and focus priority.
Optical image stabilisation through sensor-shift technology
The SL2 features a suspended sensor which adjusts its position in order to quickly and efficiently compensate for camera shake. Additionally, in multishot mode, the camera can record up to eight consecutive frames, whereby the sensor is shifted in half-pixel increments in between every exposure. This key feature results in images with an incredible quadrupled resolution of around 187 megapixels.
Leica EyeRes® viewfinder with even higher resolution
The camera's electronic viewfinder now boasts a resolution of 5.76 megapixels, allowing for a large, entirely natural-looking viewfinder image. Simultaneously, the experience is further enhanced when using the touchscreen, which has increased in size to a 3.2-inch diagonal, and now offers a significantly higher resolution of 2.1 megapixels.
Maestro III processor for ultra-fast operation
The new Maestro III processor delivers significantly faster autofocus and allows for a virtually lag-free shutter release in any shooting situation, which is further complemented by the new Smart AF mode. This autonomously switches between focus priority and shutter release priority. Full-resolution recordings of consecutive images are possible at 10 frames per second with the focal plane shutter, and 20 frames per second with the electronic shutter. Thanks to two UHS-II-compatible SD card slots, raw files can be saved simultaneously in DNG and JPEG format.
Perfect tool for cinematographers
In addition to its great appeal for photographers, the Leica SL2 speaks the language of cinematographers, as the camera can record up to 60 frames per second in Cine 4K mode and up to 180 frames per second in Full-HD mode. Activating Cine mode transforms the SL2 into a manually controlled cine camera as ISO becomes ASA, the shutter speed is marked in degrees on the rotary disk shutter, and the f-stops indicating the aperture ratio are replaced by T-stops, which measure the actual amount of light transmitted through the lens. Connecting audio equipment to the Leica SL2 no longer requires the use of adapters with built- in headphones and mic jack, complemented by a fully-fledged HDMI connector for external monitors.
Limitless connections
The L bayonet lens mount is not only compatible with the growing portfolio of SL-System lenses, but also with our APS-C lenses and with the legendary lenses of Leica's M, S and R-Systems via adapter, providing more than 170 Leica lens options. The L-Mount Alliance expands this scope of possibilities even further, by giving SL2 photographers access to L-mount-compatible lenses from Sigma and Panasonic.
Leica FOTOS App
The Leica SL2 is supported by Leica FOTOS, the versatile app available for Android and iOS Smartphones. Leica FOTOS enables photographers to access the Live View function of the camera and remotely change exposure-relevant settings such as aperture, ISO value, shutter speed and exposure compensation from a smartphone. It also allows wireless control of the shutter release, which offers an entirely new range of creative opportunities. Pictures can either be shared on social networks or saved for mobile post-processing on the smartphone, both in JPEG and DNG RAW data format. If users wish to save the finished pictures after processing on their smartphone, they can take advantage of the option for saving them to a separate Leica Gallery – this keeps painstakingly composed and processed pictures from the Leica FOTOS app separate from simple snapshots. Expect many new features and a whole new mobile workflow experience on the iPad when Leica FOTOS will be available in version 2.0 from November 21, 2019.
The Leica SL2 will be available at the Leica Store London from 21st November 2019, RRP £5,300 (excl. lenses).
Specifications
Camera type
Mirrorless full-frame system camera
Type no.
2998
Order No.
10 854 EU/JP/US (black), 10 856 ROW (black)
Buffer memory
4 GB: DNG™: 78 recordings / JPG: > 100 recordings
Storage medium
UHS-II (recommended), UHS-I, SD/SDHC/SDXC memory card
Material
Full-metal housing made of aluminum and magnesium, leatherette, cover, splash-water protected in compliance with IEC standard 60529 (protection type IP54).
Lens mount
Leica L bayonet with contact strip for communication between lens and camera
Operating conditions
-10 to +40°C
Interfaces
ISO accessory shoe with additional control contacts, HDMI jack 2.0b Type A, USB 3.1 Gen1 Type C, Audio-Out 3.5 mm/Audio-In 3.5 mm, communication interface in the base cover for multifunction hand grip
Tripod thread
A 1⁄4 DIN 4503 (1⁄4") with stainless steel in the base
Dimensions (WxHxD)
146 x 107 x 42 mm
Weight
approx. 835 g (without battery)
SENSOR
Sensor size
CMOS sensor, pixel pitch: 4.3 μm / Fullframe (47.3 MP): 8368 x 5584 pixels / APS-C (20.2 MP): 5504 x 3664 pixels
Image Stabilization
5 axis Body Image Stabilization. Camera stabilizes up to 5.5 stops.
Filter
RGB color filter, UV/IR filter, no low-pass filter
Processor
Leica Maestro series (Maestro III)
File formats
Photo: DNG™ (raw data), DNG + JPG, JPG (DCF, Exif 2.31) Video: MP4: H.264/MPEG-4 AVC (Audio Format: 2ch 48 kHz/16 bit, AAC), MOV: H.264/MPEG-4 AVC (Audio Format: 2ch 48 kHz/16 bit, AC-3)
Picture resolution
DNG™: 8368 x 5584 pixels (46.7 MP) JPG: 8368 x 5584 pixels (46.7 MP), 6000 x 4000 pixels (24 MP), 4272 x 2848 pixels (12 MP)
Colour depth
DNG™: 14 bit, JPG: 8 bit
Colour space
Picture: sRGB, ECI-RGB v2.0, Adobe RGB Video: Rec. 709/Rec. 2020 (HLG)/L-Log
File size
DNG™: 84.4 MB JPG: depending on resolution and image content Video: max. length: 29 min, max. file size: 96 GB
Recording Mode Video
Video mode: P - A - S – M / Cine mode: M
Video resolution/frame rate
MOV 5K: 29.97 fps, 25 fps, 23.98 fps / MOV C4K: 59.94 fps, 50 fps, 29.97 fps, 25 fps, 24 fps / MOV 4K: 59.94 fps, 50 fps, 29.97 fps, 25 fps, 23.98 fps / MOV FHD: 180 fps, 150 fps, 120 fps, 100 fps, 59.94 fps, 50 fps, 29.97 fps, 25 fps, 23.98 fps / MP4 4 K: 59.94 fps, 50 fps, 29.97 fps, 25 fps, 23.98 fps / MP4 FHD: 180 fps, 150 fps, 120 fps, 100 fps, 59.94 fps, 50 fps, 29.97 fps, 25 fps, 23.98 fps
Bit Rate
8/10 bit for recordings on SD card, 10 bit via HDMI output
Video Gamma
Rec. 709, L-Log Rec. 2020, HLG Rec. 2020
Viewfinder (EVF)
Resolution: 5,760,000 dots, 120 fps, magnification: 0.78x, aspect ratio: 4:3, frame coverage: 100%, exit pupil position: 21 mm, setting range +2/-4 diopters, with eye sensor for automatic switchover between viewfinder and LCD panel, time delay 0.005s
LCD panel
3.2" (backlight LED) with anti-fingerprint and anti-scratch coating, 2,100,000 pixels (dots), format 3:2, touch control available
Top display
1.28" highly reflective trans-reflective monochrome LCD, 128 x 128 pixels, viewing angle 120°; anti-fingerprint coating
SHUTTER
Shutter type
Electronically controlled focal plane shutter/electronic shutter
Shutter speeds
Mech. shutter: 30 min to 1⁄8000 s / Electr. shutter function: 1 s to 1⁄40000 s / Flash Synch: up to 1/250 s
Shutter button
Two-stage (1st stage: Activation of the camera electronics including autofocus and exposure metering, 2nd stage: Taking the picture)
Self-timer
Delay time: 2 s or 12 s
Picture Series
Single Continuous Low Speed (3 fps), Continuous Medium Speed (6 fps), Continuous High Speed (10 fps without AFc/AE/WB), Continuous Super Speed (20 fps with electr. shutter function without AFc/AE/WB), Interval Shooting, Exposure Bracketing, Multishot
Multishot
Generates 2 DNGs: 1x 47 MP, 1x 187 MP (8 pictures are combined into one high-res image)
FOCUSING
Working range
30cm to ∞, With macro setting: from 17 cm
Focus Mode
Automatic (Autofocus in modes iAF/AFs/AFc/Touch AF) or manual. With manual setting: Auto Magnification and Focus Peaking optionally available as focus aids
Autofocus system
Based on contrast metering and depth mapping
Autofocus modes
Smart AF (autonomously selects AFs and AFc), AFs (picture taken only after successful focusing), AFc (picture can be taken at any time), AF setting can be saved
Autofocus Metering methods
Spot (can be shifted), Field (can be shifted), Multi-Field, Zone, Face detection, object Tracking, optional Touch AF
Autofocus Metering Fields
225
EXPOSURE
Exposure metering
TTL ('Through The Lens' exposure metering)
Exposure Metering Methods
Spot, Center-Weighted, Multi-Field
Exposure modes
Automatic program (P), Aperture priority (A): manual aperture setting, Shutter priority mode (S): manual shutter speed setting Manual (M): manual setting for shutter speed and aperture
Exposure Compensation
±3 EV in 1⁄3 EV increments or 1/2 EV increments
Automatic bracketing
3 or 5 exposures, up to ±3 EV, in 1⁄3 EV increments Shift function: up to ±3 EV, additional LPG-HDR
ISO sensitivity range
Auto ISO: ISO 100 to ISO 50000, Manual: ISO 50 to ISO 50000
White balance
Automatic (Auto), Daylight 5200 K, Cloudy 6000 K, Shadow 7000 K, Tungsten 3200 K, HMI 5600 K, Fluorescent Warm 4000 K, Fluorescent Cold 4500 K, Flash 5400 K, Gray Card Live View, Gray Card, Color Temperature 2000 K to 11500 K
FLASH
Flash unit connector
About the accessory shoe
Flash sync time
1⁄250 s, slower shutter speeds available, automatic changeover to TTL linear flash mode with HSS-compatible Leica flash units if sync time is undercut
Flash exposure metering
Using center-weighted TTL pre-flash metering with Leica flash units (SF 26, 40, 40MkII, 58, 60, 64) or with system-compatible flash units, flash remote control SF C1
Flash exposure compensation
SF 40: ±2 EV in 1⁄2 EV increments, SF 60: ±2 EV in 1⁄3 EV increments
EQUIPMENT
Microphone
Stereo internal + microphone input 3.5 mm stereo jack
Speaker
Mono internal + headphones output 3.5 mm stereo jack
Wi-Fi
The Leica FOTOS app is required to use the Wi-Fi function. The Leica app is available from the Apple App Store™ or the Google Play Store™. Compliant with Wi-Fi IEEE802.11b/g/n, 2.4 GHz, channel 1-11 (2412-2462 MHz) and Wi-Fi IEEE802.11ac, 2.4 GHz & 5 GHz, channel 39-48 (5180-5240 MHz), channel 52-64 (5260-5320 MHz), channel 100-140 (5500-5700 MHz) (standard Wi-Fi protocol), encryption method: Wi-Fi-compatible WPA™/WPA2™
Bluetooth
Bluetooth v4.2 (Bluetooth Low Energy (BLE)), 2402 to 2480 MHz
GPS
Via Leica FOTOS app
Menu languages
English, German, French, Italian, Spanish, Russian, Japanese, Simplified Chinese, Traditional Chinese, Korean
POWER SUPPLY
Rechargeable battery (Leica BP-SCL4)
Lithium-ion rechargeable battery, rated voltage: 7.2 V (DC); capacity: 1860 mAh (min.), approx. 370 recordings (based on CIPA standard, without EVF); charging time: approx. 140 min (after deep discharge); manufacturer: Panasonic Energy (Wuxi) Co. Ltd., Made in China
USB Power Supply
USB charger function in standby mode or when switched off, USB power supply when switched on
Charger (Leica BC-SCL4)
Input: AC 100–240 V, 50/60 Hz, 0.25 A, automatic switchover; Output: DC 8.4 V 0.85 A; Manufacturer: Salom Electric (Xiamen) Co., Ltd., Made in China
Image Gallery
Click on a thumbnail to see the full version.
First Impressions
Photography Blog attended the UK launch of the new Leica SL2 mirrorless camera in central London, UK.
Find out what we thought of Leica's brand new full-frame sensor camera by reading our detailed first impressions...
The Leica SL2 updates the original Leica SL camera launched in 2015. So what's changed? According to the manufacturer, the ergonomics have been improved via a more comfortable grip plus a simplified three-button control layout. The construction is identifiably all-metal, with an robust leather wrap.
"This isn't just an SL2, but a completely new camera," Leica UK MD Jason Heward told us at the London product launch, adding that the company wanted to improve the ergonomics whilst still maintaining the qualities that make it a Leica. Feeling solid and tank-like when gripped in the palm – part justifying the asking price – the camera has a three-part body construction, comprising a top plate, a bottom plate and a central body portion.
Top and bottom plates on the SL2 are comprised of solid pieces of machined aluminium – as you may be able to see from our hands-on shots – which has been anodized to provide a smooth surface. The main body is magnesium alloy, helping make it marginally lighter than its predecessor, claims its maker.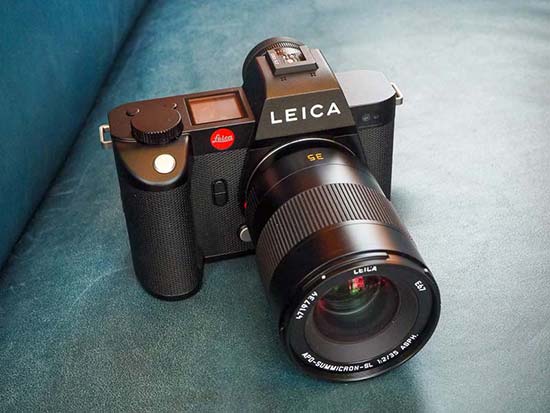 'Elastomer' material is said to have "revolutionised" the SL2's handgrip, according to the brand, while the back of the camera has also seen some changes, with what were formerly thin unmarked buttons surrounding the original SL's screen now clearly labeled and more 'button like'. We were told that this was all part of the intention to ensure than anyone who comes to the SL2 after using Leica's recently released Q2 won't find it too much of a shock.
Much changed in comparison with the original SLR, meanwhile, is the SL2's Graphical User Interface – which again is more intuitive and clearly labeled, key settings accessed via a prod of virtual on-screen buttons, rather than having to scroll through pages of menus line-by-line.
Though we felt we had to press a little harder than we would do on our mobile phone to get a response out of the unit we had a brief play with – which, to give it a positive spin, helps prevent accidental activation of settings should the camera connect with your shirt button, for example – Leica tells us the touch screen on the SL2 has been updated to "be as responsive as an iPhone."
According to Leica Akademie tutor Robin Sinha, also present at the product launch, the manufacturer has made it a policy to offer up a clear delineation between stills and video settings on this camera, with menus for the two formats being distinct and completely separated.
The camera can offer 4K video capture at up to an impressive 60fps speed. For videographers, it further boasts the advantage of headphone and microphone jacks, plus another new addition is the provision of USB-C, allowing for the camera's sizeable battery to be recharged within the camera, if the user desires.
Likewise according to Leica, built in image stabilisation 'unlocks the potential' of using the camera with classic M series lenses as well as, of course, a growing selection of SL lenses. Leica makes the case that the 47-megapixel CMOS sensor-incorporating SL2 is the only mirrorless camera to be designed and crafted in Germany – should that sway any potential purchasers.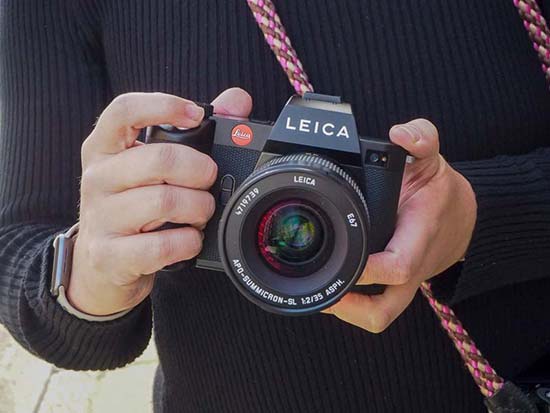 Outwardly the camera's body has had some upgrades in terms of weather proofing, with Leica telling us that its SL2 can "withstand water spray from any direction." The camera has been IP54 rated for robustness and can be used either down to minus 10°C or up to 40°C, which in truth is fairly standard for a premium model.
And all of the above without the SL2's dimensions having got any bigger; indeed we placed the 'old' and new SL cameras side by side and from both the front and the top it is hard to tell between them, despite the very slight tweaks that have been made to the ergonomics of the SL2's handgrip.
Provided at the camera's side are two SD card slots, with the claim being that both slots are now capable of writing at the same speed. In terms of low light performance, the SL2 offers up a native light sensitivity range the equivalent of ISO50-50,000, while we were told it boasts 14 stops of dynamic range too.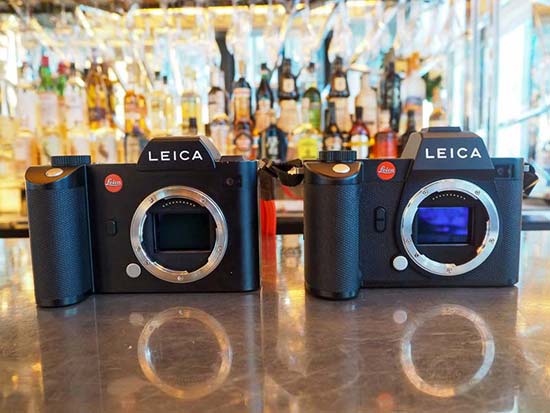 In addition to all of the above, the robust SL2 is the first Leica camera featuring a Maestro III series processor to cope with all the data crunching, with Leica adding that a firmware upgrade will follow next year that also introduces a multi-shot mode. This mode will allow for up to 8 DNG (Leica 'Raw') files to be combined to produce a whopping 187MP image file.
The company believes that the camera's 'sustainability' will be guaranteed by constant firmware upgrades. "Compared with the original SL this is a very different camera indeed," Leica's Robin Sinha concluded, echoing MD Jason Heward's opening comments to us.
Further features that jumped out to us on initial inspection and inquiry include the fact that the SL2 now not only offers face detection but also body detection – so that if the subject turns away from the lens, for example, the SL2's AF will continue tracking said subject.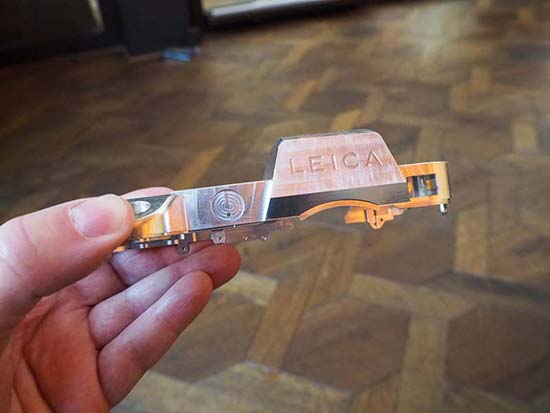 Leica has also placed Object Detection Auto Focus aboard the camera, which allows the user to select between the different types of subject movement they may be photographing.
In terms of lens support, on launch there are five prime lenses and three zoom lenses directly compatible with the SL2 camera – the latter trio comprising a useful 24-90mm, 90-280mm and a 16-35mm lens.
Leica teased that new 21mm, 24mm and 28mm lenses will follow on next year, along with "big upgrades" in terms of its 'gallery in your hand' Leica Fotos app. The latter will newly offer more 'pro' support for the likes of Lightroom and video.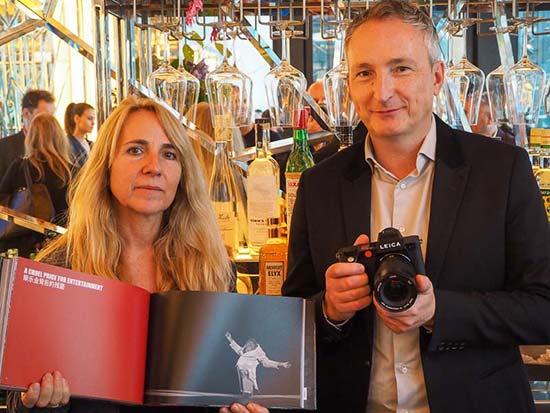 The result is that a subscription is being introduced for professional photographers, who are being asked for a relatively modest contribution of $49.99 per year. Leica did add to us that Adobe hasn't yet made a profile for the SL2, but this should follow on shortly from the software giant.
As gorgeous as it is, with availability from November 21st, potential owners will need deep pockets within which to find the £5,300 asking price for the Leica SL2. The company did however make the point that this is actually cheaper than the price the original camera launched at back in 2015.
Hands On
Want to see exactly what the new Leica SL2 full-frame mirrorless camera looks like in the flesh?
Check out our extensive hands-on gallery of photos of the Leica SL2 mirrorless camera, including a side-by-side comparison with the original, 4-year old Leica SL camera, and the top-plate of the new SL2.
Image Gallery
Click on a thumbnail to see the full version.
Preview Images
Ahead of our full review, here are some full-size sample JPEG and Raw images and videos taken with the new Leica SL2 full-frame mirrorless camera.
A gallery of sample images taken with the Leica SL2 full-frame mirrorless camera.
Leica SL2 Sample Images
Sample RAW Images
The Leica SL2 enables users to capture RAW and JPEG format files. We've provided some Leica RAW (DNG) samples for you to download (thumbnail images shown below are not 100% representative).
Your Comments