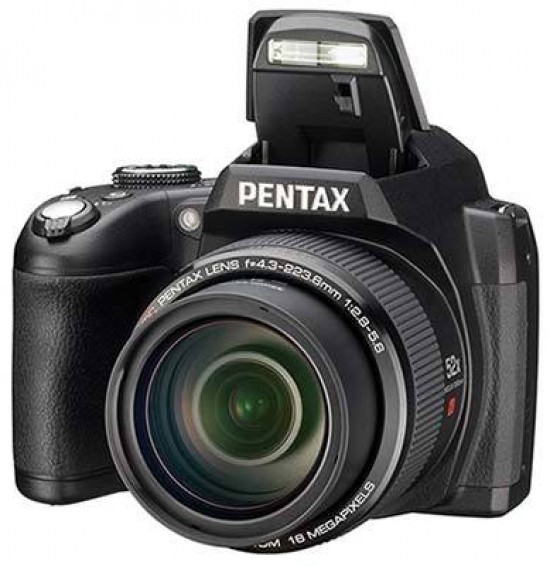 Introduction
The Pentax XG-1 is an ultra-zoom bridge camera with a 52x optical zoom range that translates to a 24-1248mm focal range (in 35mm camera terms). The lens also features sensor-shift Shake Reduction to help iron out any camera movement and it also boasts a wider-than-average f/2.8 maximum wide-angle aperture. Image capture is taken care of by a 16.0MP back-illuminated CMOS sensor with a maximum sensitivity of ISO3200. The XG-1 will also record Full HD 1080p video and features a 4.7 frames-per-second burst shooting mode with a 10-shot buffer. Although you don't get features like Wi-Fi or a touch-sensitive screen, the XG-1 does boast an electronic viewfinder, numerous creative effects filters and multi-shot HDR recording, as well as a basic but useful intervalometer for creating time-lapse sequences. With a price tag of £279/$350, the XG-1 is aimed squarely at the Canon PowerShot SX520 HS (42x zoom, £249.95), Nikon Coolpix P530 (42x zoom, £259.99) and Sony CyberShot HX300 (50x zoom, £279).
Ease of Use
The Pentax XG-1 is a typical bridge camera design, which is to say it looks and handles very much like a small DSLR. Pentax market it as 'ultralight and compact', however at 119 x 89 x 97.5mm and 567g ready-to-shoot, it's actually a fairly typical size and weight for a bridge camera with this much zoom range. Build quality is good with no obvious weak points, whilst the plastic casing is up to the same high standard as Pentax's entry-level DSLRs. Rubber grips on either side of the camera do a great job and making the XG-1 feel secure in the hand, but whilst there is also a rear thumb grip, its small size and lack of sculpting don't give you much to hang on to here, especially when wearing gloves.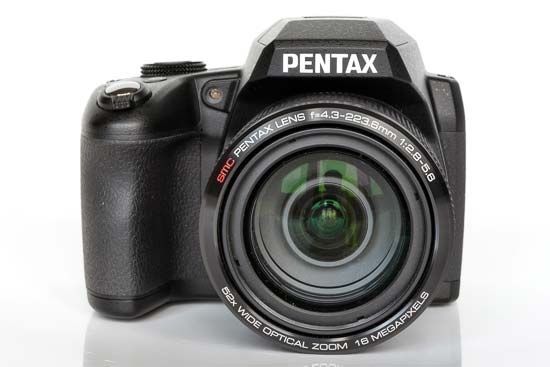 Front of the Pentax XG-1
Getting aquatinted with the XG-1 is a pretty painless process thanks to its predominantly logical control layout. The camera has a straight-forward automatic mode, plus a program auto mode where you can set exposure compensation and ISO sensitivity. It's tricky to work out how to adjust the latter, as there's no ISO button or menu option. Instead, you have to press the exposure compensation button (located between the mode dial and shutter release) which displays a separate menu overlay for adjusting exposure compensation and ISO sensitivity, as well as aperture or shutter speed options when you're in aperture or shutter priority mode.
Once you've nailed the ideal set-up for a particular scenario, you can save everything to the Custom Setting mode for quick recall. There's also a scene mode for applying optimal shooting settings for particular conditions, or if you're shooing a night-time scene, select the dedicated Handheld Night mode on the mode dial. Shooting flattering portrait shots is also a breeze thanks to the XG-1's Face Beautifier mode.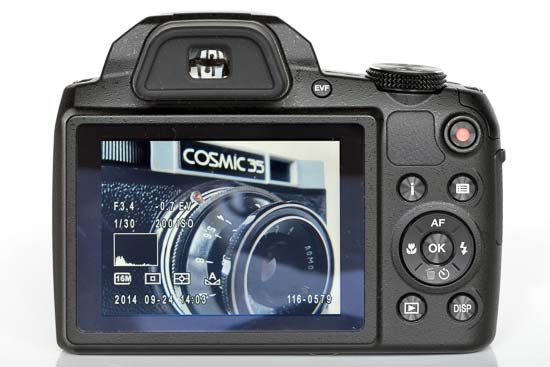 Rear of the Pentax XG-1
There's no automatic panorama capture mode though, but given that many cameras with such a feature only turn out low resolution results anyway, you're usually better off snapping multiple overlapping stills and using computer software to stitch them together.
Just in front of the mode dial is a button for selecting between single shot or continuous shooting. The Pentax XG-1 is capable of recording 10 full-resolution shots at 4.7 frames-per-second. This can be upped as high as 60fps by reducing image size to a measly 640x480 VGA size, or a 30fps when shooting at 4MP resolution. The button also reveals a basic but useful time-lapse feature that enables the XG-1 to automatically shoot at pre-set intervals until you press the shutter release again.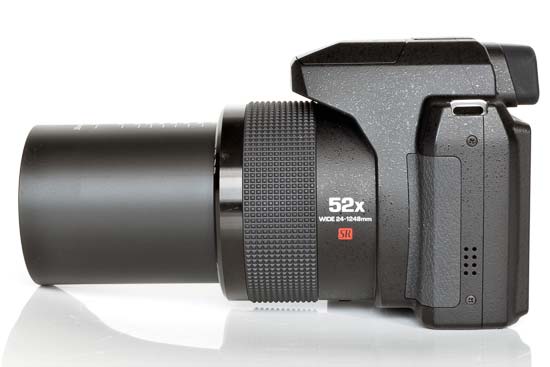 Side of the Pentax XG-1
Sticking to the top of the camera and we find the first annoying aspect of the XG-1. Many bridge cameras have a manually-ejected flash, so if it's shut you can rest assured the flash won't fire when you're not expect it. The XG-1 on the other hand can automatically eject its flash, and it's very eager to do so. You can of course deactivate the flash in the camera's menu, but turn the camera off and on again and it'll revert back to auto mode, popping up when you'd rather it didn't.
A more pleasant surprise can be found just behind the flash in the shape of an electronic viewfinder. It's a welcome feature that you don't always find on mid-range bridge cameras and is useful when very bright conditions outshine the LCD screen. The EVF's 200k-dot resolution isn't particularly crisp though and the resulting pixilation doesn't make the EVF pleasant to use for long periods.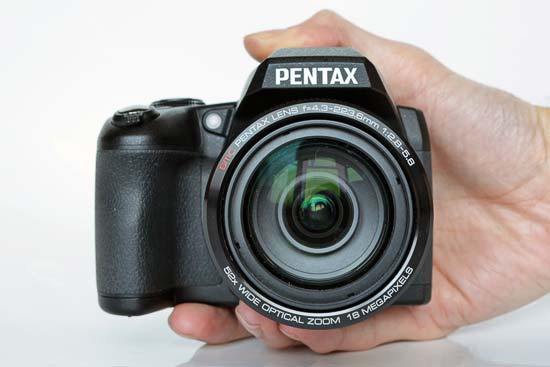 Front of the Pentax XG-1
The LCD screen is also a bit underwhelming. It's 460k-dot resolution is average at best, but it's adequate and not particularly annoying. What's more irritating are the screen's restricted vertical viewing angles which severely compromise colour and contrast accuracy if you tilt the XG-1 up or down. The screen isn't touch sensitive either, and you'll need to press a fairly fiddly button to switch between LCD and EVF as there's no automatic eye detection, however both these omissions are acceptable at the XG-1's price point.
Move to the right of the screen and we find a typical directional dial doubling as controls for macro focussing, AF mode selection, flash modes and the self-timer. Directly above this are two buttons which don't have immediately-obvious functions. The control on the left, labelled 'i', displays the XG-1's extensive selection of effects filters when in the camera is in program auto, semi-automatic or manual modes. To the right of this is the menu button. Press it and an overlay of common camera settings appears. Scroll to the bottom of the list and you can access the XG-1's main menu where more advanced camera settings can be altered. The layout and visual style is a departure from Pentax's traditional menu design, and though the new system is no harder or easier to use, it is more aesthetically pleasing.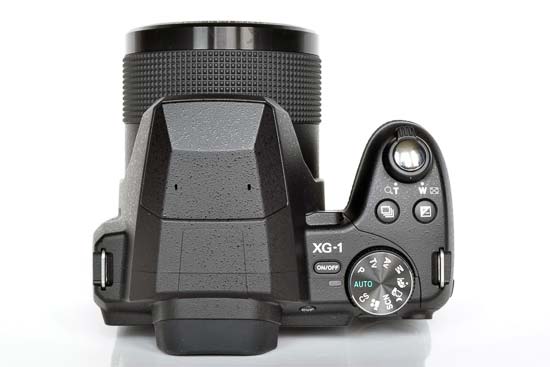 Top of the Pentax XG-1
When it's time to snap a shot, the Pentax XG-1 isn't exactly quick out of the blocks, taking just over three seconds from switching on to firing a shot. Fortunately the rapid autofocus system soon speeds things up, focussing almost instantly in good light and only slowing fractionally when the going gets dim. However, whilst low light rarely confuses the camera, shooting close subjects can cause trouble. The XG-1 does have a 1cm macro focus ability, but this is only applicable when the lens is set to maximum wide angle. Zoom in even slightly and you'll soon have to back away from your subject to get the camera to focus, and when you do, you still won't be able to zoom in as tight as you may like. This is a trait common to any camera, but the XG-1 autofocus system seems fussier than most in this respect, making it tough to shoot close-up shots with a shallow depth of field.
Battery life is also somewhat disappointing at 240 shots from the 1100mAh rechargeable Li-ion cell. Many ultra-compact cameras can get close to this figure, so it's a pity the big XG-1 doesn't pack more power, especially as rival bridge cameras can often achieve at least 300 shots per charge.