Nikon Coolpix B600 Review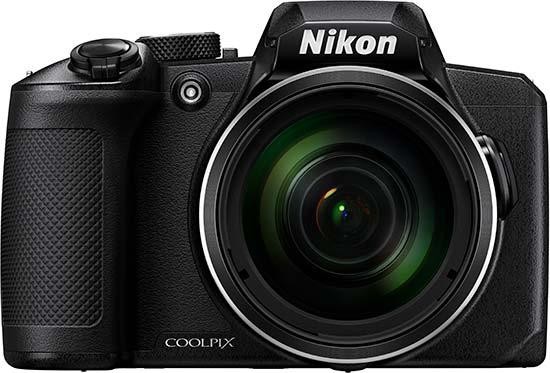 Introduction
The Nikon Coolpix B600 is a super-zoom bridge camera with a 16 megapixel sensor which is paired with a whopping 60x optical zoom lens offering an effective focal range of 24–1440mm. You can extend the range to 2880mm using the Dynamic Fine Zoom.

The B600 offers a range of different shooting modes, but there's no manual control, and it can't shoot in raw format either. As such, the intended target audience is beginners and possibly enthusiasts looking for a simple backup or travel camera.

Like many of Nikon' most recent cameras, the B600 features SnapBridge technology, which allows you to maintain a constant Bluetooth link with your smartphone to send images across as you take them, ready to share on social networking sites and the like.

Other interesting features include a 3.0-inch screen which features 921k-dot resolution, built-in Wi-Fi connectivity, and Full 1080p HD video recording.

The Nikon Coolpix B600 is available now priced at $329 / £329.
Ease of Use
The Nikon Coolpix B600 is a mid-sized bridge camera - not the smallest in size on the market, but also far from being the largest. Measuring 121.6 x 81.5 x 99.2 mm, it's a little larger than the B500 model that it replaces in the Coolpix line-up, laregly because it now has a 60x rather than 40x zoom lens.
It has a large chunky hand grip that protrudes far from the body and makes it feel very secure in your hand. A large proportion of the hand grip is also textured which further adds to the ease of use when holding the camera, be that with one or two hands. The rest of the camera is finished in a smooth, slightly textured plastic coating.
Being reasonably lightweight at 500g, it's certainly possible to hold the B600 one-handed to get the shot, but you'll probably find that using your other hand to hold the camera underneath and keep it steady feels more natural and comfortable.
On top of the Nikon Coolpix B600 you'll find a dedicated dial for switching between the various shooting modes that the camera offers. There are no manual modes available here, but there are quite a few options placed on the dial for you to choose from. This includes fully automatic, scene mode, creative, movie mode and more.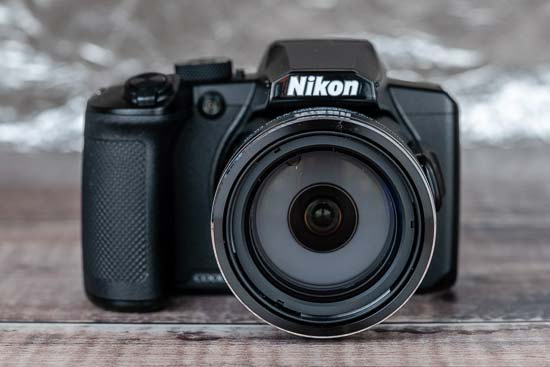 Front of the Nikon Coolpix B600
Also located on the top of the Nikon Coolpix B600 is a zoom rocker switch which encircles the shutter release button. You can push the zoom rocker to move from wide angle to telephoto, but there's also another way to change the zoom length if you prefer. On the side of the lens there's another switch marked with T/W which you can push up and down to zoom in and out.
Next to this extra zoom switch is a button which is very useful for helping to frame shots when using longer focal lengths. If you press it, and keep it held down, the B600's lens will automatically zoom out, allowing you to find any subject that may have moved out of of the frame. When you've found the subject again, release the button and the zoom will move back in to the same focal length that you were previously using. This proves to be very handy when using the longer end of the camera's massive zoom range.
A built-in pop-up flash is also found on the top of the Nikon Coolpix B600. There's no dedicated button to press to raise it, instead you have to manually lift it up, which you'll need to do since it won't pop up automatically. When you're done using it, you simply push the flash back into place. Rudimentary but effective.
Moving to the back of the camera, all of the buttons are placed on the right hand side of the camera, meaning you have easy access with your right thumb, which especially useful if you're shooting one-handed.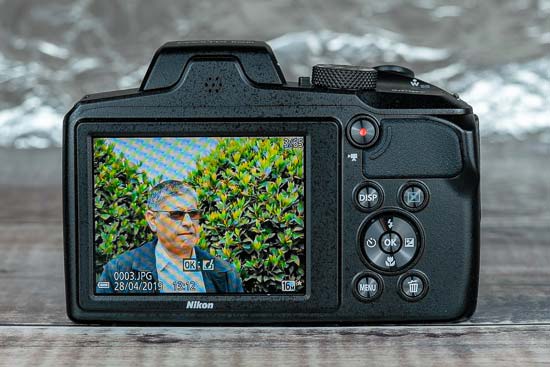 Rear of the Nikon Coolpix B600
The control layout here is pretty traditional. There's a four way navigation pad, with each button having its own particular function - up to control flash mode, down to switch on macro shooting, left to use the timer, and right to adjust exposure compensation. In the centre of the navigation pad is an OK button, which you can use for various menu functions and so on.
Around the navigation pad are four buttons, again each with a specific purpose. There's a playback button, a display button, a menu button and a delete button. Just above the rear thumb rest is also a direct video record button, which is hidden away just enough to mean you shouldn't accidentally press it when you don't want to, but still within easy reach when you need it.
Unlike the previous model, the Coolpix B600 no longer has a tilting screen, which is a real shame. On the B500 the rear screen tilted up and down, pulling slightly away from the body on its bracket, which proved very useful for taking more awkwardly angled shots. On the B600, it's fixed into place, which is much less versatile. As on the B500, the B600's screen is still not touch sensitive.
Despite its name, the fully automatic shooting mode actually gives you the most amount of control over camera settings. While you can't change the aperture or shutter speed, it is possible to change the white balance and ISO sensitivity. You can also leave both of these settings in automatic too, if you prefer.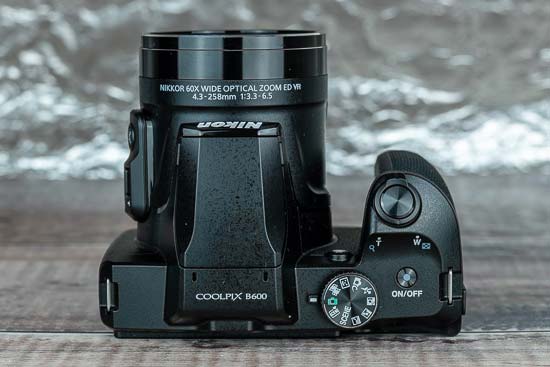 Top of the Nikon Coolpix B600
If you want to, you can change the AF setting to allow you to set your own AF point. Alternatively you can have the Nikon Coolpix B600 decide one for you, track a subject, or always use the central point. Once you have selected "Manual" AF point, in normal shooting mode you can press OK, then use the navigational keys to move around the screen to the point you want to focus on.
Also available in this menu is the ability to change the image mode, continuous shooting, and more. You'll also find some different movie options, such as frame rate and so on. You can change some settings such as date and time from this main menu too, as well as access the connection settings.
The Coolpix B600 continues to us Nikon's Snapbridge technology, which means that you can set-up a low power Bluetooth connection with your smartphone that is constantly maintained. This means that images are sent across as you take them, ready for you to share online if you choose.
The camera also has Wi-Fi, which is quicker for sending larger size photos across to your phone than Bluetooth. If you're using SnapBridge its best to set the images to be transferred at a smaller size than full resolution for better speed. Unlike the B500, though, the new B600 no longer has NFC connectivity.
A few of the other modes on the shooting mode dial are also quite interesting. If you select Creative Mode, you'll be able to choose from a selection of different "sets". Take the picture, and the camera will take one as normal, but also apply four different filters to the shot. You can choose between sets such as "Light", "Memory", "Classic", "Noir" and so on.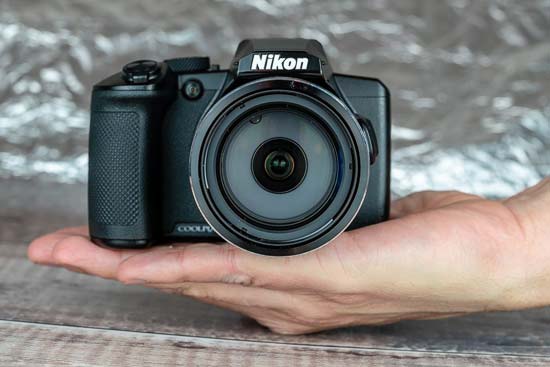 The Nikon Coolpix B600 In-hand
The Short Movie Show option is also quite fun for events and so on. You can use it to create short clips of a couple of seconds, then amalgamate them all into one video - everything is done automatically in-camera, perfect for beginners wanting to get more creative.
The Nikon Coolpix B600 is no longer powered by AA batteries, as on the previous B500 model. Instead it uses an EN-EL12 Rechargeable Li-ion Battery which provides around 280 shot battery life according to the official CIPA rating.
In good light, the B600's focusing speeds are generally pretty quick, and usually accurate. With macro focusing, it can take a couple of attempts to get it right, so you should be careful when attempting to take close-up shots that the camera has correctly focused. That said, the B600 does allow you to get very close indeed, down to just 1cm, which can be useful.
When the light does drop, it takes a little longer for focus to be acquired, but the camera generally gets there in the end. Normal operational speeds are reasonable for everyday usage, but when you're using something like Short Movie Show you may get frustrated with how long it takes the Nikon Coolpix B600 to process each clip.