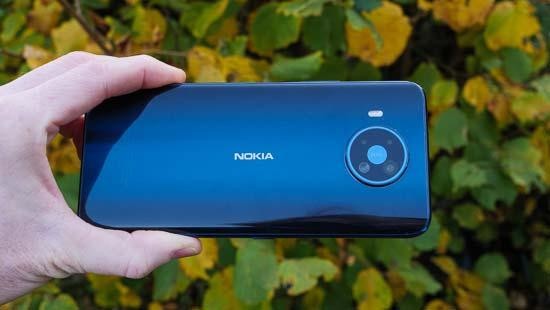 Introduction
If you are looking for a 5G equipped phone that doesn't cost the earth, then the Nokia 8.3 5G steps in to the picture.

Priced at £499, the Nokia 8.3 5G is the company's flagship phone (not including the niche Nokia 9 PureView), yet is one of the most cost effective 5G phones today. It is pitted against the Google Pixel 4a 5G (also £499), plus other mid range phones such as the OnePlus Nord and iPhone SE 2020.

At the time of writing, Nokia is dangling another carrot, throwing in a pair of its Power Earbuds within the price of the phone.

The 8.3 5G version that is available in the UK today features 6GB RAM and 64GB storage, in a sleek looking Polar Night finish only. In the US/ Europe there is a 8GB RAM model with 128GB of storage, priced at $699/ 649 EUR.

Like a Pixel phone, here you get the simplest, cleanest looking Android interface that is also guaranteed with two years of software updates and three years of security updates.

Featuring a 6.81-in display, the 8.3 5G is one of the larger phones among its competitors. Nokia phones usually pack a decent camera on board, too.

Yes, in the 8.3 5G there is a 'quad camera' with wide (primary), ultra-wide and macro lenses, plus a depth sensing lens. There has been further additions to video shooting too, with a new 'Cinema' mode.

Seemingly a solid all-rounder, does the Nokia 8.3 5G do enough to stand out in the increasingly crowded mid-price phone party? Read on to find out.
Ease of Use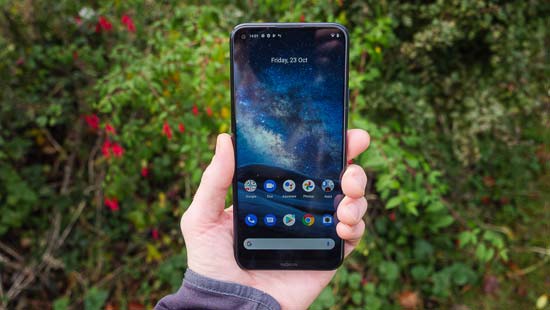 Front of the Nokia 8.3 5G
This is one large phone. The 20:9 aspect ratio FHD+ display measures 6.81in and features a 2400x1080 pixel resolution. That's not the greatest resolution or indeed pixel density - for example there are other phones with smaller displays offering the same resolution.
However, the display is crisp enough and surely its larger size makes watching videos and the like that much more enjoyable. We've used the phone in a variety of settings, including bright sunlight, and in general have found the 'PureDisplay' provides clear viewing.
Nokia has maximised the viewing experience with an edge to edge display, save for a slight bezel at the bottom featuring the Nokia logo, while the front camera punctuates the display in the top left.
Flip the phone around and the rear has a lovely 'Polar Night' finish. The appearance of this multi-tone rich blue colour evolves as its angle is shifted from your viewpoint. Gorgeous.
We'd happily buy a protective clear case in order to keep that lovely finish in view. The rear is made from 3D Corning Gorilla Glass - that's less effective than Corning Gorilla Glass 6 found in more expensive phones, but durable enough.
Again, it's no surprise that the polycarbonate 8.3 5G is not weather-sealed. In general, you'll need to fork out a lot more money to get a metal, waterproof phone.
Like most phones these days, that rear is smooth and somewhat slippery. However, somehow the 227g phone feels easy enough to operate single-handed, even the camera app. It's awkward, but possible.
By default, the phone is setup to have the volume control key work the camera shutter, though as always there is that shutter option on screen too. Whether holding the phone single-handed or firmly with both, the camera shutter action seems comfortable.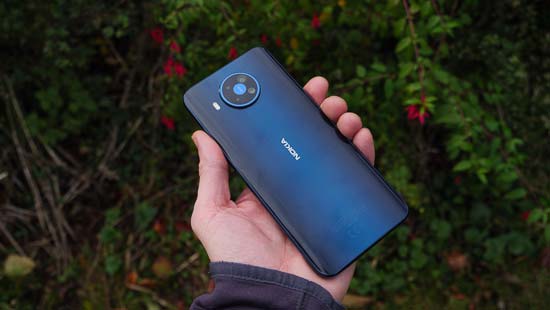 Rear of the Nokia 8.3 5G
There's plenty going on around the profile of the 8.3 5G. You've got the SIM card slot that doubles up to hold a micro SD card. It's compatible with cards up to 512GB - that's plenty of extra storage over the somewhat modest 64GB internal memory.
Underneath the volume control is the power button that features a fingerprint scanner. The button is sunk within the profile which we like, and the index-finger scanner works well to quickly unlock the phone.
On the other side is a Google Assistant button. In general use we found it intrusive - all too often Google Assistant piped up unexpectedly, offering help. Perhaps that button should be sunk within the profile too (or omitted altogether), in order to avoid so many accidental presses.
Like most phones these days, the 8.3 5G is powered via USB-C on its underside. Alongside the power input is a 3.5mm headphone jack, plus stereo speakers and the microphone.
Battery life is solid - the non-removable unit has a 4500mAh capacity. In reality, out-the-box the phone will maintain a charge for a little over a day, even with that gargantuan display.
There's no wireless charging. However, the phone comes with 18W charger and although there is no info readily available about quick charging, you'll get about 35% power from a 30 minute charge.
That's a quick tour around the phone handset. But before we move on to the camera unit, let's take a look at the features and performance.
The on-trend headline feature is in the phone's name - 5G connectivity. Of course, we're early days with the tech and coverage is limited, but offering the compatibility does 'future proof' the 8.3 5G for when the service is more readily available.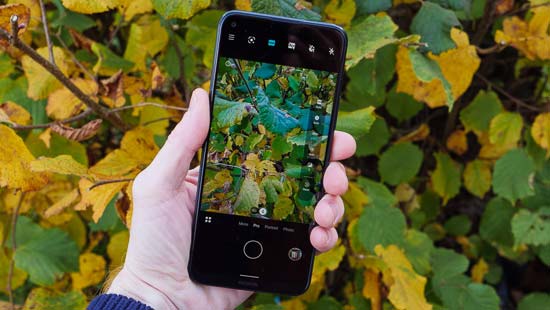 Camera Mode
Asides from that headline feature, the 8.3 5G offers exactly the sort of power we might expect at this price point; a Qualcomm Snapdragon 765G processor and 6GB of RAM.
While not headline grabbing, that power under the hood is sufficient for just about any application that you can imagine with this phone. We didn't really experience any kind of lag, even in the camera app when applying effects such as the Portrait mode. (In fact, you see the blur effect in liveview.)
If there is any lag, it is perhaps in video playback, but nothing untoward. During our time with the 8.3 5G there has been the odd occasion when the camera app has stopped responding. However, closing the app and then reopening it has been an immediate solution every time.
OZO Audio is on board. We've explained what this is in great detail in our review of the Panasonic Lumix G100. However, there is no manual control over the intelligent microphones in the 8.3 5G - it's all automatic, presumably through scene detection.
Elsewhere, six-months of Google One comes with the camera (optional, $1.99p/m thereafter) which includes 100GB of cloud storage among other things. Overall, it's easy to set up the 8.3 5G with this service and it's probably worth doing as an easy backup of all your images.
Now we've covered the general function of the phone, let's get down to what you are really here for - the camera.
On paper, the Nokia 8.3 5G camera is very competitive. The 'quad camera' block is positioned centrally on the rear and contains the standard primary f/1.9 lens, an ultra-wide f/2.2 lens with a 120° field of view, a f/2.4 macro lens and a depth sensor.
In addition to those various lenses, it is possible to pinch the screen to employ digital zoom, up to 10x.
Camera Settings
Resolution for each lens varies. The primary lens is 16MP, the ultra wide is 12MP, the macro lens is 2MP, while the depth sensor is 2MP too.
In the Pro photo mode it is possible to activate a 64MP resolution - this isn't active by default despite the camera being marketed as such. If you ever need extra detail or want to print big, this is the mode to choose.
There is of course the front-facing 'selfie' camera, too, with f/2.0 lens. By default it's a 6MP resolution in 4:3 aspect ratio, although a 24MP option is available too, which presumably works on the same basis as the 64MP mode.
Asides from the macro lens, all lenses feature autofocus, including face detection AF. As for video, you get 4K up to 30fps and Full HD up to 60fps (plus a new 'Action' mode that uses 60fps). There's also a 2K video resolution option.
The easy to navigate camera app offers some additional controls that vary depending on the active shooting mode. For example, the CRI LED flash for photos can also be used as a continuous light for video capture. There is a self timer in most photo modes.
Shooting modes include Night, Panorama, Slow Motion and Time-Lapse, plus in addition to the default photo mode there is Pro, Portrait, Video and a new Cinema mode.
Overall, each mode is easy to navigate and glitch free. Panoramas look good although image processing isn't always on the money, while slow motion videos can be customised post capture by selecting the part of the timeline that you wish to be in slow motion.
The speed of time-lapse and slow motion video appears to be fixed. We prefer the Google Pixel 4a approach of offering five different speed options to cover various scenarios. Stabilisation can be applied to slow motion videos post capture.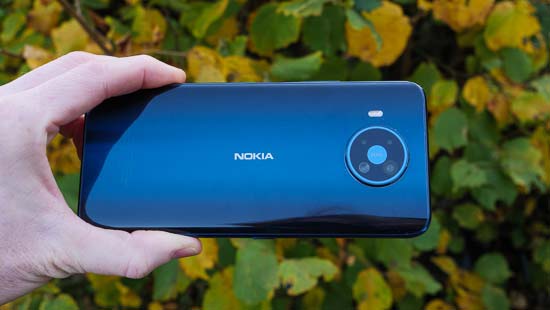 Rear of the Nokia 8.3 5G
It certainly is worth using the Night mode in low contrast light, with the end results being a bit brighter. However, the overall quality of low light pictures is not quite to the same standard as those using the Night Sight mode of the Pixel 4a.
For video, in addition to the standard, ultra-wide and macro lenses, there are 'Action' and 'Dual Sight' settings. Action gives better stabilised footage at the cost of a notable image crop, while Dual Sight splits the screen in two to record with both front and rear cameras simultaneously - we love that feature.
As far as we can tell, the Portrait mode is the same image area as the standard lens - this is not a 2x telephoto lens. The affect of blur is seen live pre capture, which is really handy.
Pro photo mode and the Cinema mode afford a degree of manual control over exposure, including white balance, ISO, exposure compensation and shutter speed. When in the Pro Photo mode it is also possible to shoot in RAW dng format as well as the standard JPEG format.
Dig into the camera app menu and you'll also notice that photos can be saved in HEIF format - it's a more efficient format than JPEG and we are starting to see greater compatibility with this format.
While in this menu you'll also notice that HDR (High Dynamic Range) is set to 'always on'. It can be changed to auto, though there is no option to turn HDR off. However, the effect is not applied to RAW format images. We much prefer the manual control offered by a Google Pixel 4a through its Live HDR+ sliders.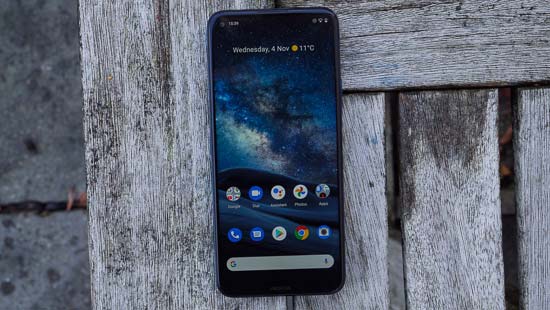 Front of the Nokia 8.3 5G
We've enjoyed the ultra-wide lens throughout this test, finding the much wider perspective useful in tight spaces and for landscape scenes.
The fixed focus macro lens (which is only available in the standard Photo mode) is much less useful. You need to hold the phone about 4cm from your subject which incurs distortion, plus resolution is low at 2MP. Overall, we've found it very difficult to capture any kind of macro image that we are pleased with.
Autofocus is reasonable, but its speed and accuracy is not the best around. Stabilisation is less effective, too. Overall, we have been more conscious to hold the camera as steady as possible when taking a photo, in order to get a sharp image.
The new Cinema mode shoots 4K 24fps videos up to 60Mbps with full manual exposure control, plus it offers the H-Log picture profile designed to maximise the dynamic range of the camera. Lovely stuff.
A really handy H-Log view assist can be activated to check the effect in real time. Those videos can then be graded using the Cinema Editor app. It's a very basic app, with 10 preset grades and a Zeiss flare that is only available for videos not shot in H-Log. If you are expecting a Cinema app similar to the one found in the Sony Xperia 1 II, think again.
Overall, the Nokia 8.3 5G provides a fuss-free camera experience with enough extra to play with should you want to get creative. It's a different experience to a phone like the Google Pixel 4a 5G - sometimes for better, more often for worse, and we'll summarise that in the conclusion.