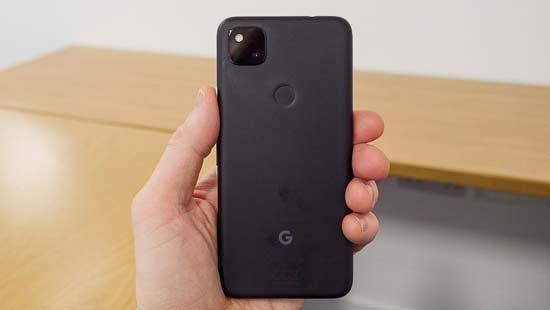 Introduction
The Google Pixel 4a is the company's latest entry-level smartphone with a very reasonable £349 RRP - that's £50 less than the Pixel 3a launch price one year before. Yes, refreshingly Google has been more aggressive in its pricing this time around.

The good news for those with around £400 to spend is that this mid-tier price point is an increasingly competitive segment of the smartphone market, with phones like the iPhone SE 2020 and OnePLus Nord being obvious competition to the Pixel 4a.

Yes, all of these phones are getting better and blurring the lines with the flagship models that are usually twice the price. Cutbacks in this example include the plastic body without water-resistance and its general power under the hood. But if the camera is your main concern, there is less to choose between this and the more expensive Pixel 4 in most scenarios.

Soon after the Pixel 4a Google announced the Pixel 5 (£599) and the Pixel 4a 5G (£499), which as the latter's name suggests will be 5G compatible but also has a few extra tricks up its sleeve. The choice between Pixel 4a/ Pixel 4a 5G and Pixel 5 is becoming complex.

At its image-making heart, the Google Pixel 4a is simple, mainly automated and takes care of the image processing to get you the best images possible with the least amount of fuss. And to that extent, it's a great experience.

Unlike other Pixel phones, the Pixel 4a is only available in one colour, 'Just Black', so if you would like to personalise the exterior a case or skin is necessary. The Google Pixel 4a hit UK stores at the beginning of October 2020.
Ease of Use
Front of the Google Pixel 4a
As always, our main concern regarding a smartphone is its camera, but we'll take you on a quick tour of the Google Pixel 4a phone unit itself first.
First up, the display. It's a 19.5:9 aspect ratio screen measuring 5.8in on the diagonal, with a 2340x1080 pixel resolution and 100,000:1 contrast ratio. Google says the screen has a 24-bit depth for 16-million-colours and is covered with Corning Gorilla Glass 3, so it should withstand some knocks.
It's not the fancier Corning Gorilla Glass 6 like in the Pixel 5, nor is this a water-resistant phone, plus the body is a polycarbonate unibody - that's fancy wording for plastic. If you demand better materials and water resistance from a Pixel phone, you'll need to splash out on that flagship model.
We have used the Google Pixel 4a in the sun and rain. Yet knowing it's not water-resistant does impact your degree of caution - we've been on the tentative side, aiming to protect the Pixel 4a wherever possible. Still, being out in a fine drizzle has been fine.
For sure, there are better screens out there spec-wise, but it's a lovely display none-the-less. Brightness levels adapt to the ambient light, so you'll get a brighter display when out in the sun. Even in those conditions, you get a reasonably clear view.
Overall, we haven't really experienced any issues with viewing the display, even though it doesn't have the same contrast-ratio as more expensive phones.
The size of the Google Pixel 4a strikes a healthy balance. It's large enough to be viewed easily, but not so big as to render a device ungainly to hold or put away in a pocket. The device is actually smaller than its predecessor while boasting a larger screen with less edging.
You're probably not going to be watching too many movies on the Pixel 4a or doing much gaming. However, for image-making, the moderate size enables single-handed operation. You'll just need both hands when switching between portrait and landscape format in order to position your hand properly for the shutter release, which is either on screen or the volume up key.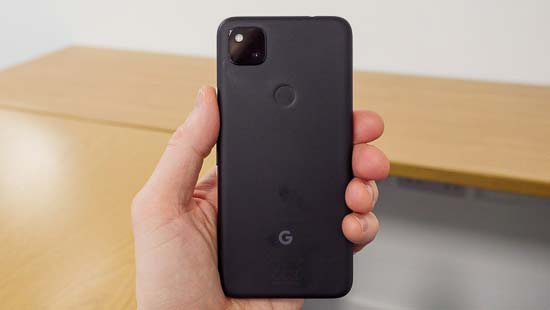 Rear of the Google Pixel 4a
That 'Just Black' exterior has an understated matt finish. It is slippy and we would strongly recommend a protective case, not least of which for a more secure grip. There are already plenty of good cases available for the 4a across a variety of budgets including the lower end - surely a main concern for those buying this smartphone.
A fingerprint scanner features on the Google Pixel 4a's rear - we like how it also has the matt black finish and it's positioned sensibly for an index finger unlock.
Battery life is on the slightly modest side for a £350 phone - there are better alternatives. Still, the Pixel 4a has a solid 3,140mAh capacity battery that is better than the Pixel 3a, plus the iPhone SE 2020 for that matter.
Certainly in the early days, the battery lasts a full day of moderate use. We can see battery life becoming an issue once the phone has aged a couple of years.
Like most decent smartphones today, there's a quick charge option via the supplied 18W charger and USB-C port. From some basic tests we have found it's not the best-in-class. A 30 minute charge time will top-up the battery by about 40%.
Wireless charging is absent. We know for some this is a really handy feature and it can even future-proof the camera in the years to come should the USB-C port or charger cable become damaged. But, alas, there is no wireless charging here.
The estimated time that the battery will run out can be displayed in the notification bar. That's a much more useful metric than the usual percentage remaining (although you can see that info, too).
As for power under the hood, Google has never tried to out-muscle the competition. Here you have the Qualcomm Snapdragon 730G processor and 6GB of RAM, whereas you'll get more like 8GB of RAM and a more powerful processor elsewhere at this price point. However, this is an improvement from the Pixel 3a and the Pixel 4a is anything but slow.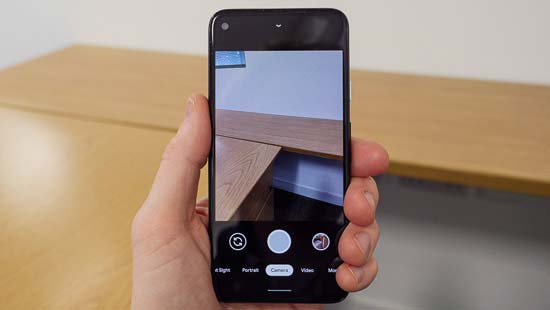 Camera Mode
You're unlikely to encounter any performance issues with the Google Pixel 4a for general use and image-making. The only minor lag we experienced was the image processing immediately after capture. For example, if an effect is being applied such as a blur in Portrait mode, it will take a couple of seconds to see it in playback.
As with any Pixel phone, the Pixel 4a is guaranteed with three years of operating system and security updates. Currently on Android 11, you're guaranteed up to Android 13 which essentially future proofs the camera years beyond those three too.
Storage is built-in only, with no option for inserting an additional memory card. As standard, the Pixel 4a provides a decent 128GB of storage - that's double the previous generation model. However, about 20GB is already used up from the offset.
It's straightforward to link up the Pixel 4a to a Google Photos account and use Google's online storage to back up photos and videos, and to offload full size images from the phone to free up space as and when that is needed.
While there is no memory card slot, there is a headphone jack, so you can use wired headphones. Read around and there's a growing re-appreciation for the headphone jack.
Other controls include the on-off button - its pale blue in colour, standing out from the otherwise entirely matt-black finish. You've also got the volume control key, which as mentioned before doubles up as a camera shutter button.
Special mention has to go to the stereo speakers that omit a healthy volume, being positioned on the phone's underside and top.
When it comes to a smartphone's camera, there's much clambering to the spec-sheet-summit. Even at this Pixel 4a price point you can get a triple-lens/ high resolution rear camera with depth sensor.
Camera Settings
Not with Google. The company stays true to its different approach, with a 'simple' single 12.2MP dual-pixel rear camera with f/1.7 lens, offering a 84° field of view. A side note - design is curious with the single lens being housed in a raised camera block that looks like it could contain three lenses.
That 24mm effective focal length cannot go any wider - it's a single lens. It also lacks a macro photography mode, though you can still get very close to subjects given the small sensor format. While the lens is fixed, it does offer a digital zoom, up to 7x.
The 8MP front-facing 'selfie' camera with fixed focus f/2.0 lens and 84° field of view is built within the screen display. Again the camera spec is modest and videos are restricted to Full HD at 30fps.
Does not being strong on paper mean that the Pixel 4a images pale in comparison? Far from it. The magic happens in Google's intelligent software processing. There's less to navigate in the camera app, less controls to take manual control of. This is a simple camera but with very effective results. You pick the desired shooting mode and the camera takes care of the rest.
As standard, full-size pictures are 4:3 aspect ratio, although you can shoot in 16:9. At full-size, there is a reasonable bookend on the display outside the image area where app controls are displayed.
By default you have a choice between the regular camera, the portrait camera, Night Sight, Video and the 'More option where you find Panorama, Photo Sphere, Slow Motion, Time Lapse and Google's 'Lens' .
Within each option you can tap the down arrow at the top of the display to reveal a basic degree of customisation.
The regular camera offers the most customisation, where you can select the flash on or off, add RAW image capture alongside JPEG, activate 'Motion' (that capture a short video around the photo capture to increase your chances of capturing the best moment), Self Timer and lastly aspect ratio.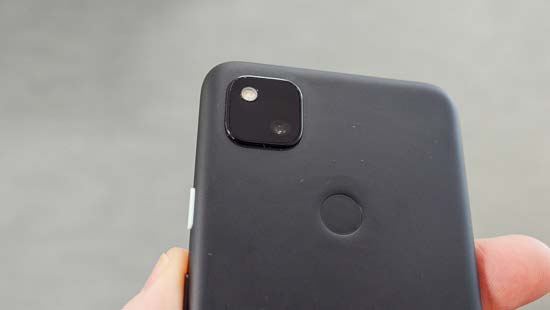 Camera Module
There is also a sub menu with options that are applied to any shooting mode, such as Save Location, Grid display and Framing Hints. Here it is also possible to switch to a Medium resolution for the camera, but the file sizes are already modest so it doesn't really seem worth it.
The portrait mode crops in tighter to your subject than the standard camera setting and produces a background blur effect. There is no depth sensor though, so the results are obtained purely using AI. Given this fact, the final images look pretty darn good, but we'll comment more on that in the image quality section.
Video wise, you get 4K up to 30fps or Full HD up to 60fps. The slow motion is a 1/4x speed in Full HD (120fps) or 1/8x speed in 720p (240fps).
Stabilisation is both optical and electronic. Video stabilisation (electronic) can be turned on/ off in the sub menu. We've found the stabilisation to be very effective indeed - running alongside a biker getting an action video and the end results were totally viewable.
With dual-pixel phase detection autofocus, the rear camera can focus sharply in almost any scenario. Add the fast f/1.7 aperture lens with image stabilisation and pictures in low contrast light are usually sharply focused and blur-free.
With time-lapse there are five speed options, with 120x being the fastest and ideal for scenarios such as cloud movement during the golden hour. Each time-lapse option makes a suggestion for what type of action the speed rate is ideal for.
The panorama app works seemlessly - not once did we encounter error messages while taking reasonable care panning for a single capture.
Night Sight takes prime place in the camera app and is a very effective shooting mode once things get dark. We've taken the same shot at dusk with the standard camera and then with Night Sight and the latter packs more tonal detail, contrast and clarity.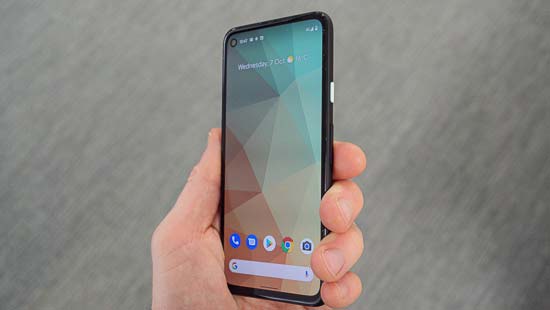 Front of the Google Pixel 4a
For Night Sight the camera needs to be held steady during capture, but you'll usually get sharp pictures even handheld in low contrast light, which is very impressive.
Should you be in a rural area pointing the camera at clear dark skies, Night Sight may prompt the astrophotography mode. If the night scene is too bright then you won't get the prompt - it has to be really dark to activate the prompt.
Unlike the regular Night Sight setting, you will need to fix the camera completely still during astrophotography capture to avoid blur. Typically the capture time is a minimum of one minute, hence the need for camera support such as a tripod.
Overall, the Google Pixel 4a is a breeze to use across a wide range of scenarios. There are enough shooting modes to sink your teeth into and by and large Google's Intelligent Software processing gives you great end results with minimal fuss.
We particularly want to big up the Live HDR+ feature. Available in most photography shooting modes, tap the image area and highlight and shadow sliders appear.
Shift either slider and the effect on the image is seen on screen immediately. Live HDR is particularly useful in scenes of high contrast where the camera might not know what exposure effect you want.
For example, on a white cloudy day you can reign in the highlight brightness to reveal more cloud detail while maintaining shadow brightness. Conversely, you may wish to darken the shadows for a low-key image and help the highlight areas stand out more.
Think of Live HDR as HDR with full manual control. It's a great feature that brings the final manual exposure tweak needed when the camera doesn't read your mind.