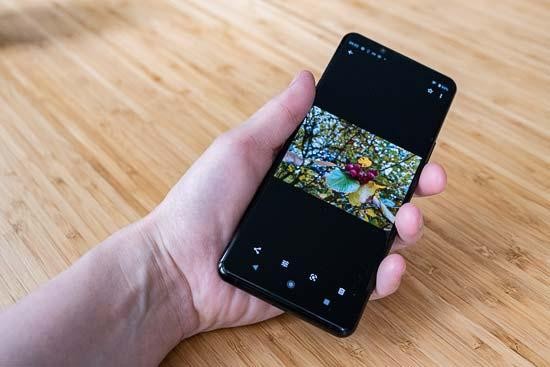 Introduction
Announced in September 2020, the Sony Xperia 5 II takes a lot of the features from the more expensive Xperia 1 II and shrinks into a smaller (and more affordable) smartphone.

The camera unit consists of three different cameras. There's a 12 megapixel, 24mm f/1.7 camera with a 1/1.7" sensor, plus a 12 megapixel 70mm f/2.4 camera with a 1/3.4" sensor and a 12 megapixel ultra wide 16mm f/2.2 camera with a 1/2.55" sensor. Only the wide and ultra wide sensor are "Exmor RS" type sensors.

There's a number of other specifications which are specifically designed to appeal to photographers, including real-time Eye AF for both humans and animals, optical image stabilisation, HDR , 4K video recording and the ability to shoot in raw format via the "Photo Pro" mode in the native camera app.

A front-facing camera gives you 8 megapixels resolution, an f/2.0 aperture and an 84-degree field of view.

The 6.1-inch screen is an FHD+ HDR OLED device, while other interesting specifications include water resistance, a 4000 mAh battery rating, compatibility with microSD cards and 5G functionality.

At around £799 (at the time of writing), the Xperia 5 II is a cheaper option than some of the premium models on the market, but it's still not exactly cheap. It's fair to call it a "mid-range" model.
Ease of Use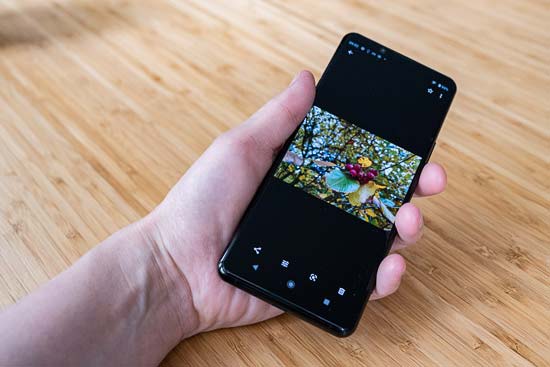 Front of the Sony Xperia 5 II
Although there is something to be said for large screens in terms of showing off your pictures (and video), the small(er) size of the Xperia 5 II makes for a much more pleasant overall experience in terms of using it as a phone and fitting it into your pocket.
Your feelings on that will be down to your individual preferences, so if you prefer very large phones this won't be the one for you.
The design of the Xperia 5 II is also nicely sleek and stylish, with rounded edges and a pleasingly shiny back. As with most modern smartphones, there's very few physical buttons, aside from a few found on the right edges of the phone.
There's a button which you can use to power on the phone, which also features the fingerprint scanner which you can use to unlock the phone.
Rear of the Sony Xperia 5 II
There's also a volume up and down switch, plus two additional keys, one of which can be used as a physical shutter release if you don't want to use the on-screen virtual one.
In order to open the native camera app, you can swipe up from the bottom right hand corner of the lock screen and the camera app will open in its default option - "Photo". It's this mode that most people will probably use for the bulk of their picture taking.
Here you have a good range of options to choose between, including moving between the three different lenses - indicated by either three, two or one trees to represent ultra wide, wide and telephoto lenses.
Running along the top of the screen in this mode, some further options include the ability to switch flash on or off, the ability to create a shallow depth of field effect, the option to choose a different aspect ratio (the default is 4:3, but you can also select 16:9 and 1:1), the option to adjust brightness and hue, and switch to the front-facing camera.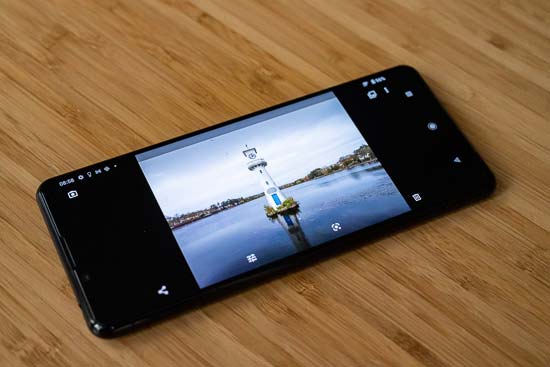 Image Playback
A cog icon represents the main menu, and it's here that you can make some additional Changs such as switching on soft-skin effect, the ability to take a burst with the camera key and so on.
In the bottom left hand corner of the camera app, you'll see the word "mode". If you tap on this, you can choose a different shooting mode, including Slow motion, Creative effect, Panorama, and perhaps most interestingly for any photography enthusiasts, "Photo Pro."
Entering Photo Pro mode opens up a very well-featured mode which gives you a large amount of control over the image parameters you want to take. Indeed, it takes the same form as a "real" Sony camera, so perhaps if you already own a mirrorless or RX model from the brand you will be very familiar / at home with the set up here.
You'll also notice that almost half of the screen is now taken up with camera settings, so the area you have to compose your shot is much more restricted. It's also primed for shooting in horizontal format, with the buttons and text all aligned to the right - if you shoot in portrait format, the symbols and icons won't switch around.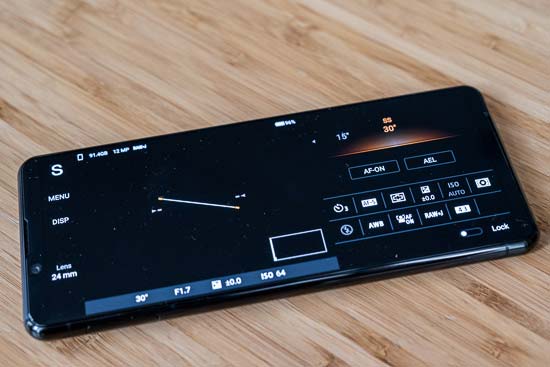 Camera Mode
In Pro mode, you can adjust exposure compensation, AF-On, AEL, Drive mode, ISO, metering, focus area, white balance, flash, Face/Eye AF and ratio. You can also switch on raw format shooting, with the raw files being the universal DNG format (meaning that they should be readable by any computer), for those that want to adjust their shots in post-production.
To make changes to any of these settings, you need to tap on the icon, and select the setting you require. Once you've selected the setting, press an X to go back to the normal shooting screen.
On the left of the screen, there's some extra settings to take note of. In the top left, you can choose a shooting mode - which again, if you've used a "real" camera before, this will be familiar to you.
There's Automatic, but also P (Program), S (Shutter Priority) and M (Manual) modes - there's no A (aperture priority), since you can't adjust aperture with the phone's fixed aperture lenses.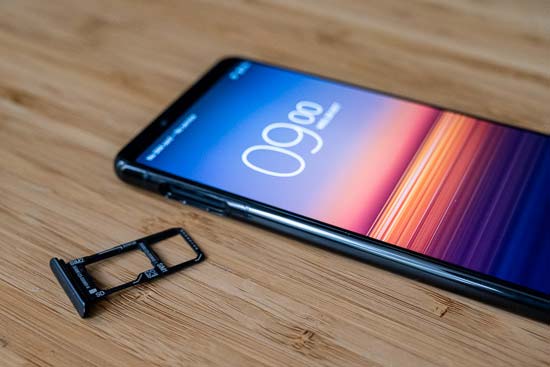 Sim Card Slot
There's also a "M-R" setting, which is memory recall, allowing you save a group of settings that perhaps you use frequently and want to come back to often.
There's also a menu button, where you an access some further settings, split into Shooting, Exposure/Colour, Focus and Setup. It's basically a more extensive version of the on-screen quick menu, with some extra functions such as Dynamic Range Optimiser and so on.
A display icon allows you to switch on a digital spirit level and a histogram, which is very useful for composing your shots, but can be switched off if you think it's taking up too much space on the screen.
Finally, you can choose which lens you want to shoot with, from the 16mm, 24mm and 70mm options by tapping on the word Lens to the side too. You can also choose focal lengths in between the lenses too, which presumably use some digital zoom to create the difference.