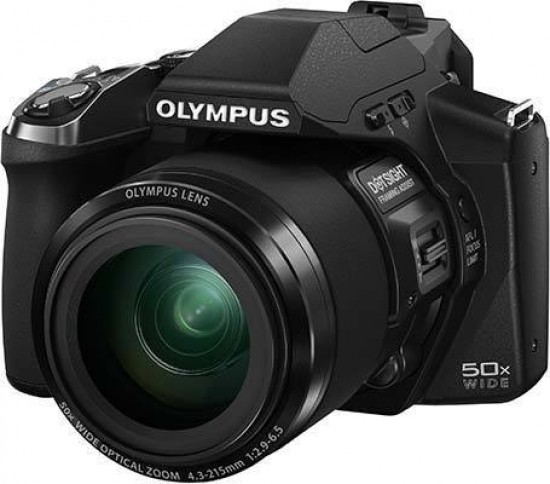 Introduction
The Olympus SP-100EE is the world's first camera with an integrated dot-sight to aid long zoom framing and subject tracking. The sight works in tandem with the SP-100EE's 24-1200mm equivalent 50x optical zoom lens to enable easy high-power zooming and subject capture. Other key features of the SP-100EE include a 16-megapixel BSI CMOS sensor, a 920k-dot electronic viewfinder, a 460k-dot rear screen, in-camera HDR exposure blending, a set of Art Filters and 60p Full HD movies. Currently the Olympus SP-100EE is available for £299/$399 in the UK and the US respectively.
Ease of Use
Like most bridge cameras, the Olympus SP-100EE (also called the Stylus SP-100) looks a lot like an entry-level DSLR, despite having a much smaller sensor. The front of the SP-100EE is dominated by the large-diameter lens and the ergonomically sculpted, rubberised hand-grip, which also houses the battery that powers the camera. The new 50x zoom lens goes from an ultra-wide 24mm equivalent to an almost incredible (if no longer unique) 1200mm at the telephoto end. Considering that with an SLR camera, you would need at least 3-4 lenses to cover the same focal range, the single, fixed-mount lens of the Olympus SP-100EE can be described as remarkably compact, even if it does extend quite a bit when zoomed to full telephoto. Super-zooms have always had a reputation for offering a high "fun factor", and the SP-100EE is no different. The ability to quickly go from wide angle to ultra-telephoto is something that has to be experienced in order to be fully appreciated.
Olympus has included an image stabilisation system to help prevent image blurring resulting from camera-shake, allowing you to get away with shutter speeds that would otherwise be critically slow for the focal length used. If you intend to use this function on a frequent basis, you can assign it to the camera's Function button to avoid having to delve into the menu system every time you want to turn the image stabiliser on or off. When turned on, the IS system can be configured to work continuously (helpful for framing) or only when the shutter release is fully depressed. In practice we found that the IS system makes a noticeable difference to the sharpness of the images, as shown in the examples on the Image Quality page.

As the latest model in the Olympus SP series of ultra-zoom cameras, the Olympus SP-100EE sees the return of a few key features that were missing from some of the recent models in the range, such as the SP-820UZ. These include an eye-level electronic viewfinder, manual and semi-manual exposure modes, a customisable Function button and a dedicated control wheel. The real novelty, however, is its Dot-sight Framing Assist system, which enables the user to keep the subject within the image frame when using the camera's 24-1200mm equivalent lens at or near the telephoto end of its vast zoom range.
| | |
| --- | --- |
| | |
| Front | Rear |
Activated via a sliding switch on the left side of the viewfinder housing (when viewed from behind), the Dot-sight Framing Assist window has a simple red reticle in its centre, which makes it easier and quicker for the user to aim the camera at a faraway subject and keep it within the frame when using the lens at the telephoto end. While this may not sound necessary, anyone who has ever used a really long telephoto lens can attest that finding your subject via the viewfinder or rear screen isn't always trivial to start with – and keeping it in the frame as it moves can be even more challenging. With other ultra-zoom cameras, losing your subject usually entails having to zoom out to find it again, and  zoom back in, which can be frustrating and might lead to missing the shot altogether. The Dot-sight Framing Assist feature is an ingenious solution to this problem, and works exceedingly well. The only thing to keep in mind is that it's an aiming and framing tool – it helps with keeping your subject within the frame but does not guarantee that it will be in focus too.
Speaking of focusing, it begs to be mentioned that the Olympus SP-100EE has a pretty fast AF system for a bridge camera. At the wide-angle end, the SP-100EE usually achieves a focus lock in the blink of an eye; somewhere around 0.2 seconds. At the telephoto end, focusing can take a little longer – about 0.7-0.8 seconds –, which isn't a huge problem with stationary or slow-moving subjects, but can make it difficult to focus on a fast-moving one, such as a bird in flight.
To help with this, Olympus has included an AFL / Focus Limit button. One press of this button will lock the auto-focus at the current distance, while holding it down brings up a menu screen that allows you to engage the camera's focus limiter to avoid excessive focus hunting. Sticking with our bird-in-flight example, you will probably want to limit focusing to faraway subjects (Distant-area AF), whereas with close-up shooting, you would be wise to choose the "Close-area AF" option. Manual focusing is also available  – via a combination of the Function button and the top-mounted control wheel –, should you ever feel a need to use it.
| | |
| --- | --- |
| | |
| Dot-sight Framing Assist | Pop-up Flash |
For precise framing, Olympus has included an electronic viewfinder with a resolution of 920,000 dots. While this isn't quite as great as the large and ultra-high-res EVF in the pricey OM-D E-M1 compact system camera, it's still a huge step up from the Olympus SP-590UZ – not to mention the later SP series models that had no eye-level viewfinders at all. The only fly in the ointment is the lack of an eye proximity sensor, which means you have to press a button every time you want to toggle between the EVF and the rear screen.
Said screen is a 3-inch affair with a resolution of 460,000 dots – far from being extraordinary but perfectly adequate in most situations. Unfortunately, it's a fixed display that won't tilt, swivel or rotate to make low-level or above-the-head shots easier to frame. Like most LCDs, it's a bit hard to see outdoors in bright light but that's exactly what the EVF is there for.
The Olympus SP-100EE has a traditional mode dial on its top plate, to the right of the viewfinder housing, when viewed from behind. In addition to the usual iAuto and Programmed Auto modes, it also features a Manual exposure mode as well as Aperture and Shutter Priority modes, which is great news for advanced users. Additionally, you can also access the camera's Panorama mode, Scene modes and Art filters via this dial.
| | |
| --- | --- |
| | |
| Top | Side |
Next to the mode dial is an unmarked control wheel, which can be used to adjust a number of settings including shutter speed, aperture, exposure compensation, focus, white balance, ISO speed, Picture mode and white balance. In some cases, the control wheel works in combination with the customisable Function button, which can also be programmed to perform a variety of tasks ranging from metering mode selection to one-touch white balance specification.
The Olympus SP-100EE's large and tactile shutter release sits atop the chunky hand-grip, and is encircled by a traditional zoom rocker. This allows users to go from wide-angle to the telephoto end fairly quickly (relative to the huge zoom range, of course). A second zoom control, located on the lens barrel, allows for smoother and somewhat slower zooming, ideal for movies. Video recording is initiated with a dedicated movie record button located on the camera's rear plate. As noted, the optical zoom can be used while filming, which is great news for video enthusiasts.
Sound is recorded via the camera's built-in stereo microphones – there is no external microphone input. The camera has a wind cut filter to improve audio quality when filming outdoors, and the image stabilisation system can also be engaged while recording a movie. In addition to the regular image stabiliser, the SP-100EE has a special hybrid IS mode that compensates for large-amplitude shake, such as the slow kind which occurs if you record a movie while walking. Regular videos can be recorded at Full HD (at 30 or 60 frames per second), 720p or VGA resolution. High-speed movie recording is also possible, at 120 or 240fps, for slow-motion playback.  For HS movies, the recording time is limited to 20 seconds.
| | |
| --- | --- |
| | |
| Memory Card Slot | Battery Compartment |
The camera is powered by a proprietary 1350mAh Lithium-ion battery, which enables users to shoot approximately 300 photos on a single charge, as per CIPA standards. The battery can be charged in-camera, with the help of a dedicated AC adapter. You can also use a UC-90 external charger, but that's an optional extra. Photos and videos are recorded on SD / SDHC / SDXC memory cards – and while the SP-100EE does not feature on-board Wi-Fi, it does at least support Eye-Fi and FlashAir cards for wireless image transfer.
Overall, the Olympus SP-100EE is a decently built bridge camera with a nicely textured hand-grip and rubberised lens barrel, well-specified electronic viewfinder and a good range of manual adjustments. Starting up at well under a second and capable of shooting full-resolution stills at up to 7fps, the SP-100EE is a highly responsive camera whose usefulness is further enhanced by the unique Dot-sight Framing Assist tool that really helps with keeping faraway subjects within the image frame. But how does its image quality stack up? Read on to find out...