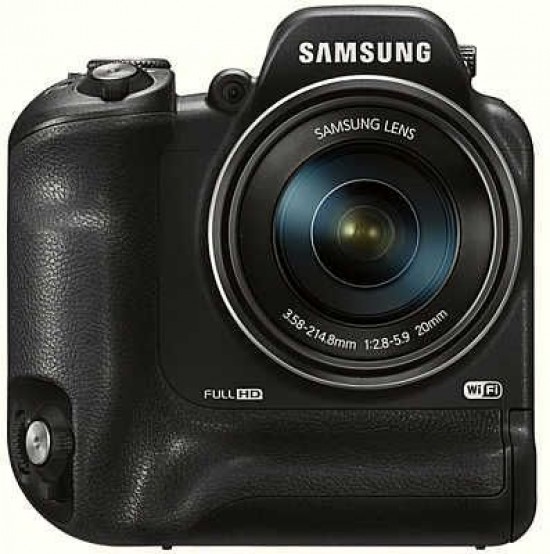 Introduction
So how do you make a new ultra-zoom bridge camera stand out from the crowd? A massive focal length range is a good start, and the WB2200F's 60x optical zoom – equivalent to 20-1200mm in 35mm-camera terms – certainly has this base covered.

But Samsung has given the WB2200F a little extra kudos by making it a dual-grip camera. It's a similar style to that of some top-end DSLRs and gives you a second hand grip and dual controls at the base of the camera for improved ergonomics when shooting portrait-format shots.

Packed into this beefy body is a 16.4-megapixel, back-side illuminated sensor with a sensitivity range of ISO100-6400, as well as Wi-Fi connectivity with NFC pairing. The camera will also record Full HD video with stereo sound and it boasts an electronic viewfinder.

At £400/$450/€449, you certainly get a lot of camera for the cash, but that does make the WB2200F pricier than key rivals like the Canon PowerShot SX50 HS, Fuji FinePix SL1000, Nikon Coolpix P600, Panasonic Lumix DMC-FZ72 and Sony Cyber-shot DSC-H400.
Ease of Use
The big news with the WB2200F is that secondary grip. It's traditionally something you only see on expensive DSLRs and makes shooting portrait-format shots a much more ergonomic experience thanks to the vertically-orientated shutter release and zoom ring. A locking switch can disable the latter should you find yourself making accidental focal length adjustments and there's even a third neck strap mounting point too.
Dual grips in the DSLR world usually has the added bonus of providing extra space for a bigger battery. Although the WB2200F is fuelled by a fairly potent 1410mAh Li-ion cell that's good for a healthy 600 shots per charge, it's physically no larger than a typical bridge camera battery and hence doesn't seem to require all the extra space inside the WB2200F.
The camera itself isn't as vast as you might imagine though. It's considerably smaller than a dual-grip DSLR like a Canon 1Ds or Nikon D4s, and positively compact if you were to attach a hefty zoom lens to one of those cameras. Whilst it's certainly one of the bulkier bridge cameras on the market, it's no heavier than many of its rivals and with all that extra body space, you get nice touches like a side-loading memory card slot that makes card access very convenient.
| | |
| --- | --- |
| | |
| Front | Rear |
Though it's certainly large, the WB2200F is big on build quality too. Rubberised grips continue the ergonomic ethos and the fit and finish of the casing plastic is easily on a par with an entry-level DSLR. Like the latter you also get a control wheel on the top of the body, making it quick and easy to adjust settings like aperture or shutter speed. Behind this is a proper mode dial where you can select between various shooting modes and control some of the camera's extra features.
The Smart Auto mode automatically detects the scene conditions you're focussing on and applies optimal settings to capture the best possible images. If you'd rather a little more control, there's always a programmable auto mode that lets you set things like ISO sensitivity and white balance.
Shutter and aperture priority modes are also present, as is a full manual option, but all three are grouped as sub options under one position on the mode dial. Alternatively, Smart mode contains the various scene presets, whilst the star icon on the dial activates the camera's Smart Filter effects and Photo Editor function. Samsung has chosen to locate the camera settings on the mode dial for easy access, and the advanced Wi-Fi functionality is selectable here too.
| | |
| --- | --- |
| | |
| Front | Side |
Samsung's Smart cameras take Wi-Fi connectivity very seriously, and the WB2200F is no exception. Like many cameras it'll let you send images to a mobile device and you can control the camera wirelessly from a smartphone or tablet. However, that's just the start. Thanks to the wonders of NFC, you can transfer an image from camera to smartphone by simply tapping the two together, whilst Samsung's AutoShare feature enables images to be transferred automatically as you shoot them. But before you get blown away by the sound of such nifty tech, be sure your smartphone or tablet is NFC-enabled, as this is still quite a fledgling feature and Apple devices have yet to incorporate it.
One feature anyone can appreciate is the WB2200F's electronic viewfinder. This 200k-dot display isn't the crispest and its colour reproduction could be more accurate, but on a bright sunny day it's still a better way to judge composition and exposure than an LCD monitor. Unfortunately the camera won't detect your eye's presence and automatically activate the EVF, so it's left to you to manually switch between LCD and EVF using a button above the screen.
| | |
| --- | --- |
| | |
| Pop-up Flash | Top |
The 3.0" monitor is nothing special but does the job. You don't get touch sensitivity and its 460k-dot resolution isn't much to shout about, but images display well with accurate colours and good contrast and the screen is bright enough for most situations.
To the right of the LCD you'll find typical buttons for playback and video recording, as well as directional navigation buttons doubling as controls for the self-timer/continuous shooting, macro, flash and screen display options. In shooting mode the delete button also activates the useful Smart Panel menu which contains all essential shooting options for quick and easy adjustment. This, along with the rest of the menu interface, looks the part with a modern design and colourful icons that make the WB2200F more pleasing to navigate than many of its rivals.
However, the WB2200F is less enjoyable to use when you want to turn the camera on and capture a quick snap. Although the power button wakes the screen and extends the lens almost instantly, the other controls will not respond for approximately two seconds, making it all too easy to miss a fleeting shot. Both zoom rings also temporarily go on strike, so you can't even zoom in on your subject whilst the shutter release gets its act together. Hopefully this sluggish start-up can be given a boost with a future firmware fix.
| | |
| --- | --- |
| | |
| Memory Card Slot | Battery Compartment |
Thankfully once the camera has passed those first couple of seconds, it's fairly spritely. The fast and accurate autofocus system makes light work of locking on to subjects consistently in most lighting and though things inevitably slow slightly in low light, it's not enough to be annoying. Zoom in past roughly 30x and the camera occasionally struggles to focus, but usually finds its mark after a second or two of focus hunting.
That hefty 60x lens is a pleasure to use thanks to two-speed zoom controls that make it easy to make fine tweaks to your composition as well as fast focal length adjustments. If you need to zoom in even faster, then the iFn button on the side of the lens can be programmed to speed things up still further. Alternatively, you can press the button, flick the zoom ring and the One-Touch Zoom feature will automatically extend the lens to maximum zoom.
The lens' vast focal length range and its 1200mm-equivlaent telephoto length is mighty impressive and will fill your frame with subjects which go almost unnoticed by the naked eye, but the 20mm-equivalent maximum wide-angle capability is equally impressive. An extra millimetre of wide angle coverage is far more noticeable than the same increase in telephoto reach and gives the WB2200F the ability to capture bigger group shots and more expansive landscapes than virtually any other bridge camera.