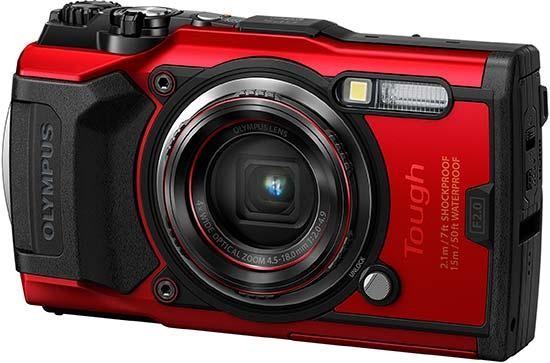 Introduction
If there's one area of the compact camera market that has remained resilient against the threat of smartphones, it's the rugged or "tough" sector. These cameras can go with you to places that your smartphone would surely perish in, giving you scope to shoot all your adventures - or just day trips to the beach.

Olympus has long been reigning as king in this area, with its very impressive TG-5 being one of the best tough cameras in recent years. The TG-6 is its successor, and while it's not a huge overhaul, it brings with it some incremental changes that are likely to help it retain its crown.

Just like its predecessor, the TG-6 includes a 12 megapixel 1/2.3-inch sensor, along with the same 25-100mm (equivalent) f/2.0-f/4.9 lens (that's a 4x optical zoom). The camera has a range of shooting modes, and for advanced users, there's even the ability to capture images in raw format.

New shooting modes include some additional high-speed recording modes for video, plus a new underwater mode and more versatile macro options.

There's also in improved rear LCD screen - it now boasts an improved resolution of 1040k-dots across its 3-inches.

In terms of tough credentials, the TG-6 is waterproof down to 15 metres, dustproof, shockproof up to a height of 2.1metres, crushproof up to 100kg and freeze proof to -10 degrees celcius.

At the time of writing, the Olympus TG-6 price is around £450, so it's a fairly hefty investment for a compact camera. It's also fairly expensive compared with other tough models on the market, such as the Fujifilm XP140 (but does offer some more advanced features than the XP140).
Ease of Use
It's safe to say that the Olympus TG-6 has somewhat of a utilitarian feel to it - as is often the case with tough or rugged type cameras. That's not a criticism, with the simple design no doubt helping to keep it as strong as possible. Not a whole lot has changed from the TG-5 to the new model, with it being hard to tell the difference too obviously when placing them side by side.
The TG-6 has a reasonably chunky small grip protruding from the body of the camera which helps you keep a good hold of it - especially if you're using it underwater or with gloves.
Almost all of the buttons are found on the right hand side of the Olympus TG-6, which makes it easy to change settings when using the camera one-handed. You'll also find that most of the buttons are slightly raised from the surface, which again makes it easier to quickly put your fingers on them when you're using it in typical tough conditions. The only slight criticism here is that the buttons are a little on the small side, so if you're using thick gloves it might present some problems.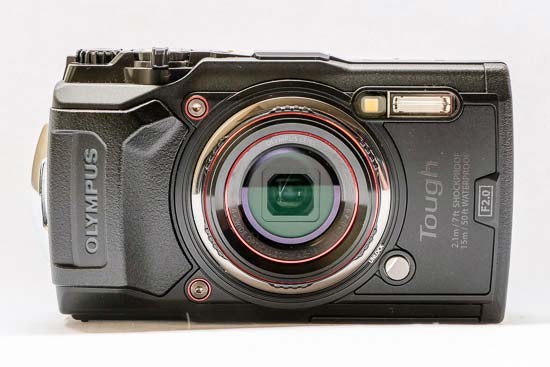 Front of the Olympus TG-6
On the top of the camera, there's an on/off button, as well as the shutter release which is surrounded by the zoom rocker switch. You can move between the wide angle and the 5x optical zoom lens - the zoom doesn't move super quickly, but goes quite smoothly from wide to tele. Just next to the shutter release is a small scrolling dial that controls different settings depending on the shooting mode that you're in - for example it might control aperture.
It's worth pointing out the GPS switch at the top of the Olympus TG-6. This can either be set to "off" or "log". In the latter setting, the camera will be continuously monitoring its position - even when switched off. If you need to conserve battery, you might want to consider turning this off.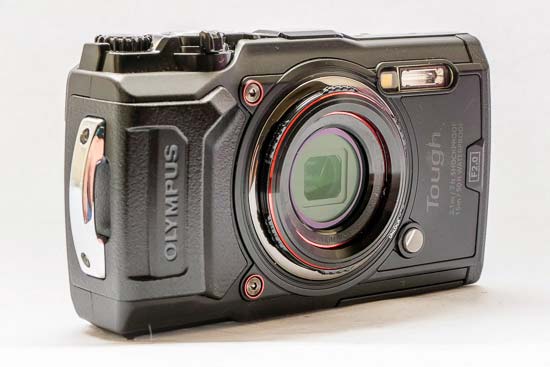 Front of the Olympus TG-6
Flipping to the back of the camera, and there's a decent array of buttons and dials to get to grips with. There's a dedicated video record button which is slightly recessed just next to the thumb grip and should therefore be relatively difficult to accidentally press if you don't want to.
Underneath this is a scrolling mode dial which you can use to chose between the different shooting modes available with the TG-6. You'll see there's a fully automatic mode, as well as scene, program, aperture priority, microscope mode, movie mode and space for two groups of custom settings if you find you're consistently needing quick access to a certain set up.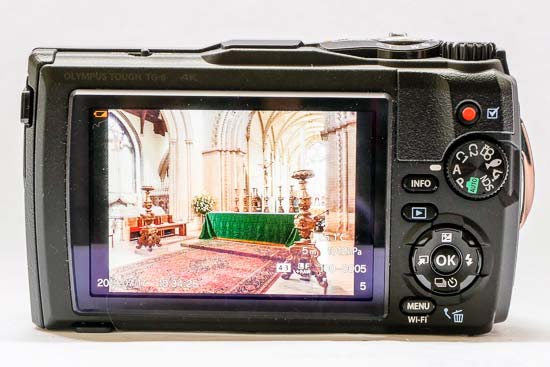 Rear of the Olympus TG-6
Although the Olympus TG-6 gives you what appears to be some advanced modes, it's worth noting that these are limited. Aperture priority for example actually only gives you three apertures to choose from - f/2.0, f/2.8 and f/8.0. There's also no shutter priority mode or manual mode, so you won't be able to set the shutter speed yourself.
The info button changes the display when in shooting mode, or you can press it to find the shooting information in playback - the playback button is just underneath the info button.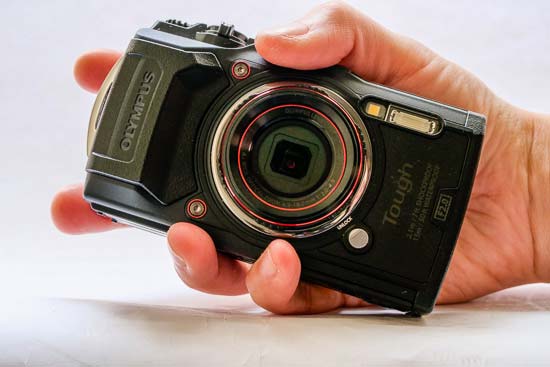 The Olympus TG-6 In-hand
Next up is a four way navigational pad, with an OK button in the middle. Hitting the OK button brings up a kind of quick menu where you can make changes to a variety of settings - such as white balance, ISO, AF mode, aspect ratio, switching on raw format and video frame rates and resolutions - what's shown here will change depending on the shooting mode you're working in. Either way, it saves you having to delve fully into the extended main menu, which is accessed via its own button just underneath the d-pad.
The rest of the navigation pad has direct access to different controls, again which is sometimes dependent on the shooting mode you're in. The up button controls exposure compensation, while the left button can be used to bring up the aperture control when in aperture priority (then you use the up and down buttons to move between the given apertures). The right button gives you the different flash modes to choose from, while the down button accesses drive mode, or the timer options.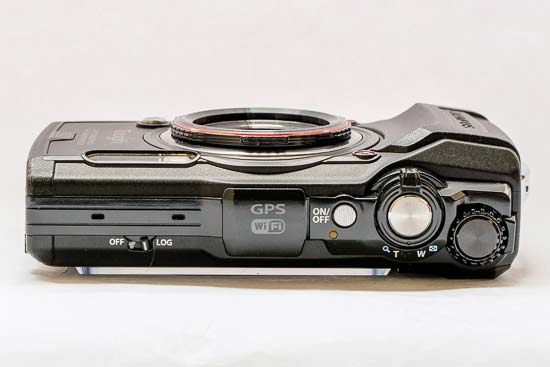 Top of the Olympus TG-6
If you've ever used an Olympus camera before you might be familiar with the Olympus TG-6's main menu system, which is divided into a number of different pages. It's not always immediately obvious where to find certain settings, but if you persevere with learning it, you get to know its odd quirks. You'll find that some settings can only be accessed via the quick menu - such as being able to switch on raw format.
As this is a waterproof camera, it needs to be extremely well-sealed. To that end, in order to get to the memory card and battery slot, you'll first need to unlock the door, then use another locking mechanism to open it. It feels very secure and almost impossible to accidentally open - so long as you remember to reposition the locks when you're done. The same kind of mechanism can be found hiding the charging and HDMI ports. You can charge the TG-6 via USB, which is great news for those taking it on their travels and so on - you'll be prompted on the screen to choose charging when you attach a USB cable.