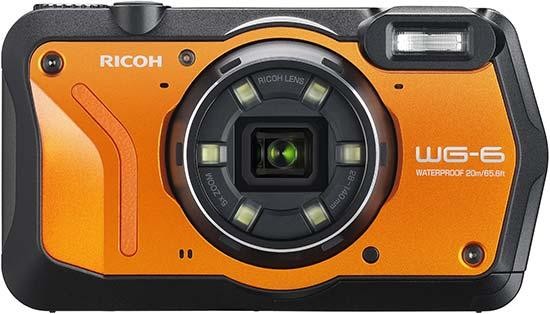 Introduction
The Ricoh WG-6 is a brand new waterproof, shockproof, freeze proof and crushproof tough compact camera that's been updated with a number of signifcant improvements.

The even tougher WG-6 is now waterproof to a depth of 20 metres, shockproof against falls from a height of 2.1 metres, dustproof and freeze-proof to temperatures as low as -10°C.

It also features a new 20 megapixel back-illuminated 1/2.3 inch CMOS sensor, 5x optical zoom lens, 3.0-inch LCD monitor, 4K movie recording, a GPS module, and six LED Macro Lights positioned around the lens barrel for macro shooting.

Available in black and orange, the Ricoh WG6 retails for £379.99 / $399.95.
Ease of Use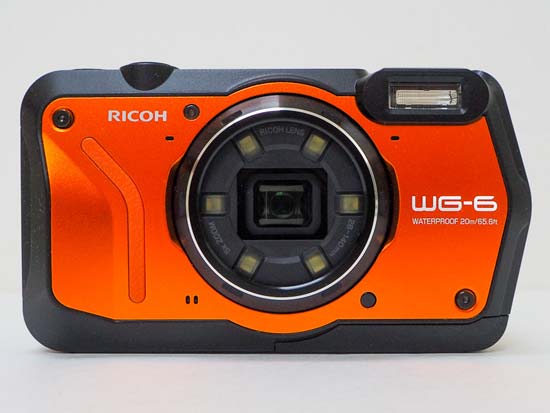 Front of the Ricoh WG-6
If there's one thing you can rely on the Ricoh brand for, it's a new toughened action camera compact every year. This year it's the turn of the 20-megapixel resolution, 5x optical zoom, WG-6, originally announced alongside the Ricoh GR III premium model and which arrives in the wake of the older WG-60.
While previous models have, it's fair to say, featured some pretty wacky designs to appeal to teenagers, sports enthusiasts and action junkies, wanting to capture their exploits without fear of trashing their image-capture device in the process, the latest WG-6 reigns it in somewhat. There's less of the go-faster stripes on its fascia this time around, and it's also slightly less angular and brutalist in appearance than its many predecessors. Ricoh claims this 'improved' and 'renewed' design isn't just a cosmetic detail however, but allows for improved usability and operability with it, particularly when using gloves.
That said, the back-lit 1/2.3-inch CMOS sensor-incorporating WG6 still manages to give off that reassuringly industrial feel that indicates such an option is a cut above a point and shoot compact, or your smartphone, when it comes to its destruction-proof qualities. Once again there's an internally stacked zoom that at no point protrudes from the camera body, plus screws on the faceplate – here coloured a metallic orange in the case of our review sample. A more sober-looking black/grey alternative is also available if the WG-60 appeals. Suggested retail price for the UK market is £379.99, which feels fairly standard for a camera of this ilk.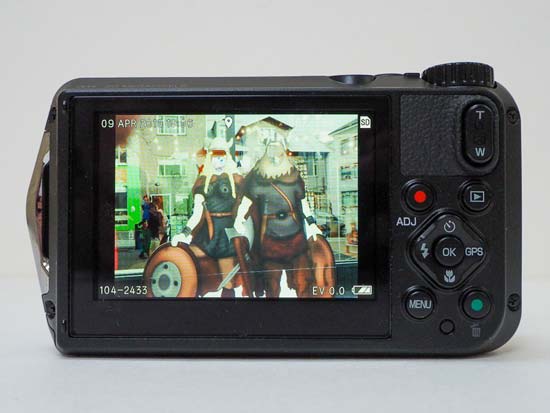 Rear of the Ricoh WG-6
As ever, with a toughened camera you want something that does the job without it being prohibitively weightier or bulkier when compared with a non-toughened alternative – admittedly these days there aren't many unfortified point-and-shoots; the smartphone and tablet having killed off such basic offerings. While feeling reassuringly solid in the hand, then, the WG-6 resists resembling a lead weight. It's heavy duty, as its manufacturer describes it, without actually feeling heavy. This is a camera that you could slip into your jacket pocket, ski outfit, summer shorts or man bag without nary a second thought. Dimensions are 118.2x65.5x33.1mm with a weight of 246g when the provided lithium ion rechargeable battery and optional removable SD media card are inserted.
Obviously with such a camera, pixel count and, ultimately, image quality is less a key concern than being able to achieve an image you wouldn't otherwise be able to. The Ricoh WG-6 arrives this year with the fanfare of it being the most durable waterproof camera in the history of its manufacturer's series, being able to withstand a dunking to a claimed depth of 20 metres, continuously for up to two hours. The rest of the core spec includes the fact that it is shockproof against falls from a height of up to 2.1 metres, resistant to temperatures as low as minus 10 degrees, plus able to withstand crushing pressure of up to 100 Kgf. Whether that's worth your paying the £379 manufacturer's asking price, we'll explore.
Like its predecessors we also get the occasional benefit of a ring light arrangement of LED's around the 28mm to 140mm equivalent wide angle lens at the front, plus, as well as built-in GPS facilities, there is the ability to shoot 4K video on the WG-6 also at up to a respectable 30fps with its specialist Movie SR+ anti shake mode claiming to ape the effects of using a gimbal. Otherwise you can fall back on the ability to bump up the light sensitivity settings when required to attempt to achieve blur free results; here the Ricoh's ISO maxes out at ISO6400.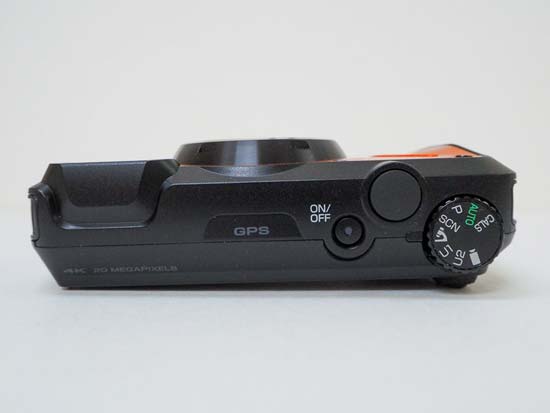 Top of the Ricoh WG-6
With no separate standalone charger provider, the provided battery is charged within the camera via a supplied USB lead and mains plug adapter, an indicator lamp on the top plate blinking to signify the battery is actually being replenished. Battery life is claimed to be good for up to 340 shots, which while not revolutionary by any means, for this class of camera is still pretty good.
Once you are up-and-running, in the expected absence of an optical viewfinder, stills and videos are composed and reviewed via the aid of a 3-inch LCD screen with respectably clear 1,040,000 dots resolution, and which swallows up the majority of the real estate on the camera's backplate. With an actual Outdoor View Setting provided, brightness levels can be adjusted to hopefully allow for greater clarity of viewing. A further useful aid is an electronic spirit level, supplied so that users can check they have their horizons straight and level before loosing off a shot. Unusually for a camera that accepts the standard SD media, there's 27MB of built in memory also provided. Though, as it allows users to shoot a mere three highest quality JPEG images straight out of the box, you might wonder why Ricoh bothered.
Despite its almost destruction-proof qualities, there are a couple of extra accessories that buyers of the Ricoh WG6 can pick up if they have the cash - for example a protective jacket (should further protection be needed!) made out of silicon and/or a separate camera case, the latter of which is a holder-type affair with a belt loop on the back.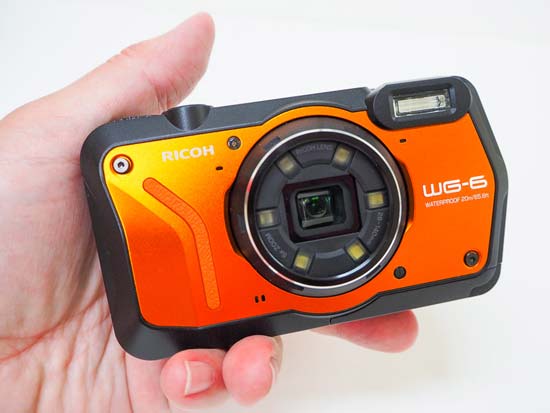 Front of the Ricoh WG-6
From the front of the camera then, the WG-6 looks typically 'sporty', especially our version with the bright orange faceplate. You're unlikely to lose this one if you drop it in the pool, or on the ski slopes – where it will stick out like a sore thumb. And there is the real possibility of it flying from our grip, because there's not much provided in the way of an actual handgrip – we just get a marginally raised ridge to the front that's almost invisible front-on, plus a roughened leather effect patch at the back next to a rocker switch for operating the zoom that automatically falls under the thumb and provides a place to rest it.
Sticking at the front for a second, the camera's most dominant feature is those six square LEDs ranged around the lens in ring flash like array (a carry-over from previous generations of this model), the latter boasting an internally stacked zoom mechanism, as expected, that means at no point does it actually protrude from the body and possibly into harm's way. Additionally flanking the lens is a pair of stereo microphones, a speaker, and an AF assist/ self-timer lap, which, unusually, is below the lens, rather than above it. Placing the lens centrally means that it is less likely for stray fingertips to get in the way and partially obscure the resulting image, though it is still possible to get caught up in your subject and have that occasionally happen anyway.
As one would expect, like its similarly pocket sized toughened rivals from Olympus, Nikon and Panasonic, with the Ricoh WG-6, if you don't want to faff around with the limited settings, operation is point and shoot all the way.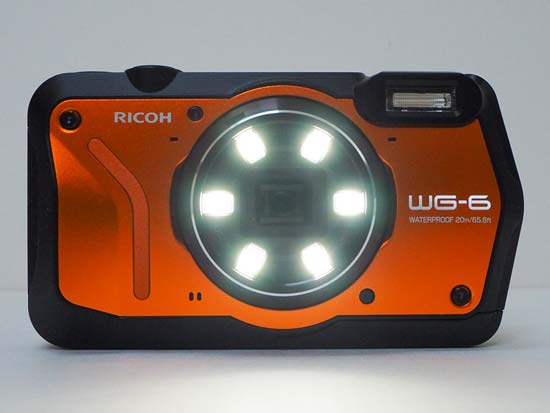 The Ricoh WG-6's LED Lights
The camera powers up from cold in a couple of seconds, the rear LCD blinking into life. A half squeeze of the shutter release button and we can witness the camera's AF visibly adjust before a central point illuminates in green to signal focus has been achieved. Squeeze the shutter release to take the shot and it's committed to memory in the blink of an eye, the image very briefly appearing on screen before the LCD refreshes to show the subject before the lens. All pretty much what we'd expect from the performance of any point and shoot.
On the top plate of the Ricoh WG6 is a straightforward layout that comprises a raised dime sized shooting model wheel, with a ridged circumference that falls readily under the thumbnail for improved purchase, along with forward positioned shutter release button and recessed on/off button that illuminates with a green operational light when the camera is active.
With each side of the camera offering lugs for attaching a wrist strap (provided), and one side providing a larger loop for attaching a thicker carabiner-style strap (not provided), there is an extra means of preventing the camera flying from your grasp when on the ski slopes, in the pool, or attempting photography or video in conditions in which one wouldn't otherwise consider.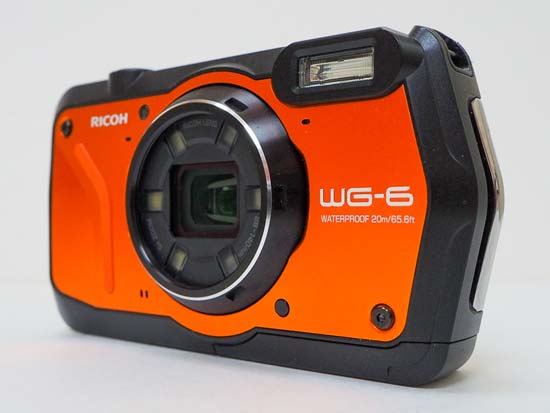 Side of the Ricoh WG-6
The back of the camera, which houses a familiar 3-inch LCD, continues the straightforward approach, our attention zero-ing in on a four way control pad with a self explanatory OK button at its centre, around which are ranged means of activating or adjusting the flash, self timer, macro mode or switching-on the GPS facility. We also get a red record button for video, a playback button and a rocker switch for activating the zoom, which adjusts through its modest range from maximum wideangle to telephoto setting within all of two seconds. A green button provides a means of calling up on-screen data, such as the electronic spirit level, when in capture mode. When in playback mode, however, the same button doubles up as a handy means of deleting images. The last button on the back is again self explanatory, in being marked 'menu'. Said screens are once again an easily navigated if slightly old fashioned affair, divided into folders for stills shooting, video, custom settings and set up. What you see is pretty much what you get here.
The base of the camera features an off-centre screw thread for a tripod and a catch-operated slide and open compartment housing the Indonesian manufactured camera's battery and media card, as previously detailed.
So, moving along, how do the Ricoh WG-6's photos match up to the specification and performance? Are we getting images here that transcend the camera's point and shoot origins, or do they very much indicate this is a device for taking shots where digital devices otherwise fear to tread first, with image quality coming second?