Panasonic Lumix DMC-GM5 Review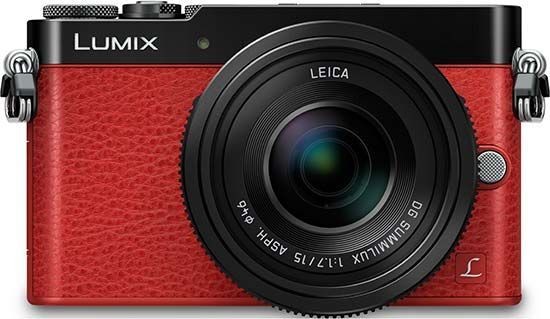 Introduction
The new Panasonic Lumix DMC-GM5 is the smallest compact system camera in the World with a Live View Finder. The DMC-GM5 features a Four Thirds-sized 16 megapixel Live MOS image sensor, 920K-dot touchscreen LCD screen, 1,166-dot equivalent LVF with 0.92x magnification and 100% field of view, built-in Wi-Fi connectivity, a flash hotshoe and supplied external flash, silent electronic shutter with a maximum shutter speed of 1/16000s, Full 60p/50p HD video recording, high-speed Light Speed AF system, focus peaking, RAW support, an ISO range of 125-25600, 5fps burst shooting with tracking AF, and 22 Creative Controls. The Panasonic Lumix GM5 comes bundled with the Lumix G VARIO 12-32mm (24-64mm equivalent) f/3.5-5.6 Asph. MEG O.I.S. pancake zoom lens, priced at £699 / $799.
Ease of Use
Do you hanker for a portable yet high-ish performance compact system camera that lives up to the billing by being truly compact? The classic in appearance Lumix DMC-GM5 presently joins the older GM1 – the manufacturer's smallest CSC on launch – in the line up, rather than immediately replacing it. While not quite as diminutive as its predecessor, handily it is not a great deal larger than a standard fixed lens point and shoot, which in itself is an impressive feat. This means that, potentially, this is an ideal device for slipping into a pocket and retrieving for surreptitious street photography: sometimes size really does matter, as attempts by rivals including Samsung's NX Mini and Sony's A5100, both cheaper than the GM5, have also made plain.
With the photo enthusiast in its sights, the Panasonic Lumix DMC-GM5's resolution remains a respectable rather than opulent 16 megapixels, derived from a Micro Four Thirds 'Live MOS' sensor. This is the same core specification as the GM1 offered us, while we're told this is the exact same sensor as that found in the Panasonic GX7, current range topper amongst the more obviously 'compact' styled Lumix G series models (as opposed to the more obviously DSLR-styled GH4). Official measurements are 59.5x36.1x98.5mm – so roughly the size of a pack of playing cards.
This time, like the equally new LX100, the GM5's design is loosely based on the more identifiably retro design of the decade old LC1, while being smaller and more portable than an actual GX7. It's only slightly bigger than the GM1 because there has been a viewfinder and hotshoe added this time around, which, while meaning that we lose space for potentially a built-in flash, sees the potential market for this camera arguably expand into enthusiast territory.
Talking of which, what sort of support does the enthusiast get with the Lumix G range? Well, with 22 compatible Panasonic lenses on the market there are a couple of on-launch lens kit options that come with this camera: the GM5L kit is an all-black GM5 body bundled with a Leica 15mm lens. The alternative option features a 12-32mm lens and the camera body in black or what its maker unofficially terms 'Ferrari' red. As far as the UK is concerned, and unlike the GM1 on release, there is no Dixons Travel store exclusive this time – so you should be able to track down these variants in most places. Body colours may be neither here nor there to the hardcore photo enthusiast, but then arguably this camera is being sold on its stylistic attributes (almost) as much as performance.
Front of the Panasonic Lumix DMC-GM5
Thankfully a bundled FL70 mini flash is included in the box with both kit options, rather than being an added expense on purchasing the kit. Though on a practical note in providing this as an accessory rather than an integral feature you have to remember to carry the one provided around with you. Suggested retail price for the GM5 with Leica lens is £1,049, with the same camera in red or black with the 12-32mm zoom set at £769 on launch, though at the time of writing you can currently find the latter option for around £699, with £949 being asked for the Leica lens kit.
A major difference between the Panasonic Lumix DMC-GM5 and the GM1 however is the inclusion of an electronic viewfinder (EVF) – allegedly completely new here, which boasts a whopping 1665K-dot resolution, complete with fingernail-operated side switch for dioptric adjustment. Said feature obviously immediately gives the GM5 greater appeal to traditionalists who like to compose with the camera held at eye level rather than peering down at a screen. The view through it is reasonably clear too, though we found the eye sensor a little sensitive, in that a movement of a finger when handling the camera is enough to set it off. Admittedly this is a minor irritation, relieved by a manual press of the LVF/Fn2 button alongside which ensures you can have the EVF always on, the LCD always on, or naturally the sensor active so the camera automatically switches between the two.
According to Panasonic this is the world's smallest CSC with a live viewfinder on launch, here offering 100% field of view and 0.92x magnification. Like the competing Olympus E-PL7 (which doesn't have the built-in viewfinder) we also get a touch screen LCD at the back of the GM5, which is a claimed 50% brighter than previously, without necessitating a higher power consumption into the bargain. The screen is pleasantly responsive too, and to be honest we found ourselves utilising it much more than the viewfinder as a result. What with the manufacturer's electronic background, it's no surprise to discover that NFC, Wi-Fi and QR technologies are additionally supported by the camera for the distribution of images. As we download our images to a desktop Mac via the tried 'n' tested card reader tradition, it's not such a big issue for us, but it's a set of features that each manufacturer has to at least be seen to be offering nonetheless.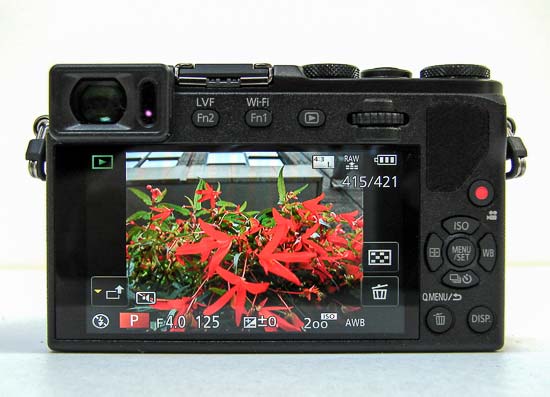 Rear of the Panasonic Lumix DMC-GM5
There are further details about the Panasonic Lumix DMC-GM5 well worth noting, including the fact that it features a 240fps AF drive that can deliver a blink-and-you'll-miss-it 0.06 second auto focus response. Burst frame rate has also marginally improved over the 5fps performance of the GM1; it's now 5.8fps on the GM5. We also get face and eye detection along with eye sensor AF – whereby the camera starts focusing as soon as your eyeball comes level with the EVF. A further adjustment on this model is that Creative Control digital filter effects have been combined with ASM modes, so more 'skillful' users now have access in those modes – while there is also the ability to use filter effects when shooting panoramas. Progressive video capture is now offered as opposed to interlaced (1920x1080 pixels, 60P), plus ISO sensitivity now starts out at a lower ISO100 rather than ISO125.
We had the GM5 kit in black with the 12-32mm lens in to look at, providing the equivalent of a wide angle 24-64mm in 35mm terms – meaning that we had to get reasonably close to our subject/s at all times. Though a maximum aperture here of f/3.5, running up to f/5.6 at the telephoto end is nothing special in terms of brightness, it's nevertheless standard spec for the basic kit zoom, and we were still able to achieve attractive bokeh-like effects when shooting close ups at the widest angle. It's worth noting also that since the lens is retractable in order to ensure maximum compactness, it first has to be turned by hand to maximum wide angle setting before shooting can begin, as is also the case with Olympus' own standard kit issue pancake zoom. This inevitably adds a couple of seconds onto the time it takes from grabbing the camera out of a bag and pocket and the user being able to take the first shot – so you start to more keenly pre-empt when you might need it for that photo opportunity.
One thing that the smaller form factor of the Panasonic Lumix DMC-GM5 has necessitated is the lack of a handgrip. Yes, there is a very subtle, pseudo leather effect finish to the lower three quarters of the face plate, well hidden on the black model, but clearer on the red; yet we found this didn't really aid our grasp. Ditto the very small thumb rest and subtly curved edge to prevent slippage that's provided top right of the back plate. It's there, but it doesn't really achieve a lot. If you want a nice, meaty handgrip, buy a big, meaty camera. What is more prominent and with a roughened tactile surface is the release button for the lens – the most noticeable feature on the faceplate apart from the Micro Four Thirds lens mount itself, with a teeny porthole for the self timer/AF illumination lamp being the other. Being small and compact the GM5 doesn't shout its presence, and that may be an advantage to those wanting more natural candid shots.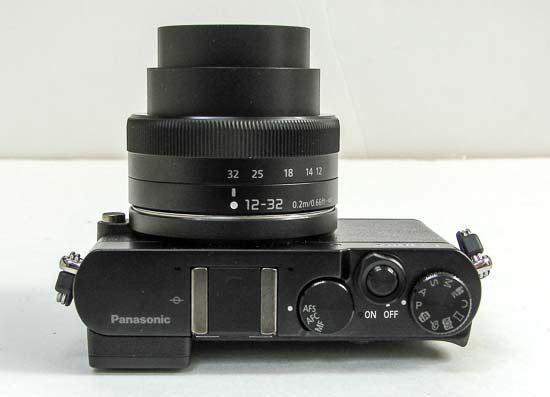 Top of the Panasonic Lumix DMC-GM5
The top plate of the GM5 gets slightly more interesting. Here we have a covered hotshoe for the accessory flash provided in the box, plus not one but operational two dials, thereby giving a subtle design nod to rangefinder-type cameras. It's a welcome touch that focus modes get their own dial on the top plate to ape the switch found at the front of DSLRs: here we get the standard choices of single shot or continuous AF, along with a manual option, though the 12-32mm lens option doesn't actually feature a manual focus ring.
Adjacent to this dial is a raised shutter release button surrounded by an on/off switch, with a forward facing lip to provide some purchase for the pad of the forefinger. Flick this to 'on' and almost instantly – provided you've already unfurled the kit lens – we're up and running with an almost DSLR-like response time. A half squeeze of the shutter release and the image relayed on screen or viewfinder momentarily softens before coming back into sharp relief. Press down fully to take the shot and the contrast AF system does its work; in less than two seconds a full resolution, least compression JPEG image is committed to removable SD memory card (there is no internal capacity). Couple this with the simultaneous capture of a raw file and there's barely an additional slow down.
We also find a familiar bottle top style shooting mode dial atop the top plate, situated at the far right and thereby making for easy operation with a combination of forefinger and thumb. There are no fewer than 10 shooting options provided here. Naturally we get the creative quartet of program, shutter priority, aperture priority and manual shooting modes. Added to these on the same wheel is the other reliable regular of intelligent Auto for purely point and shoot operation with consistent results that require little if any tweaks straight out of the camera. In terms of on-board digital filters, the GM5 offers an impressive palette too. We get the Panasonic regulars of the saturation boosting 'Expressive' option along with Sepia – but there are degrees of image ageing provided by further 'Retro', 'Old Days' Monochrome, Dynamic Monochrome (more contrast-y), and Rough Monochrome – the latter for if you're attempting grainy signature black and whites like the photographer Anton Corbjin – plus even 'silky' monochrome. High key and low-key effects are additionally possible, while we also get HDR type options in Impressive Art plus separate High Dynamic mode. Cross processing, toy and miniature effects along with star and – our personal favorite – sunshine filter like effects help round out the package. There is enough here certainly to play with to at least make something creative and salvageable out of potentially dull shooting conditions on an overcast day.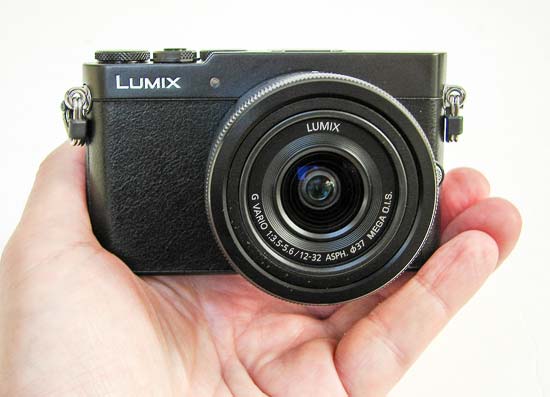 The Panasonic Lumix DMC-GM5 in-hand
Another twist of the dial to access the scene modes and here we have 23 possibilities to choose from – with monochrome making an appearance yet again alongside the usual night shooting, landscape and adult, child and pet portrait modes. A twist to the next setting, moving clockwise around the dial, and we arrive on panorama mode – which is here handily self stitching, meaning it's a case of literally point and shoot again. We do however get one custom setting and a manual video operation mode adjacent to one another, for those who prefer to dial in personal preference settings rather than just blaze away. Incidentally Panasonic's proprietary Photo Style settings can be accessed in video mode as in regular stills modes. With the 'Standard' setting the default option as far as the look goes, Vivid, Natural and Monochrome are further options here, as well as specific Scenery, Portrait and a Custom option. Contrast, sharpness, noise reduction, and saturation can further be adjusted for each of these individual settings – users provided with a on screen slider for the purpose. Again, there is the ability to be as hands-on or hands-off as you desire.
The back of the GM5 is unsurprisingly dominated by the camera's LCD screen, with small viewfinder ranged to the left of the backplate for use with the right eye, thereby handily avoiding the nose butting up against and smearing the 3-inch, 921K dot LCD, as most often happens on a DSLR or CSC. The screen is, once again with Panasonic, a touch screen. As we have grumbled in the past, some of the monitor icons presented are a tad small – but at least we have hard keys both above and to the right hand side of the screen to offer up the possibility of a 'best of both worlds' type operation. A shame perhaps for some – particularly the selfie shooters out there – that the screen is fixed/non-angle adjustable, unlike say the Sony A5100 or Samsung NX Mini – but arguably this is a more serious proposition than either of those.
A case in point, above the main screen we have two possible user-attributable function buttons to act by way of a short cut, though Function 1 is preset as a means to control the switching between LCD and EVF, as already detailed. The second adjacent button is the means by which as a default the camera's Wi-Fi connections are established: here a QR code is presented on the backscreen to be scanned by your smartphone, should you wish to set it up as a remote or a viewfinder for the camera. There is also the ability to establish a direct connection with a TV set or external monitor, or send images to another device whilst recording, or transfer pre-captured shots, should one wish. Next up on the GM5's backplate, and still above the screen, are playback button and a DSLR/CSC-like command wheel for scrolling through menu options or alternatively enlarging portions of the image in review mode (whereby it acts as a zoom lever).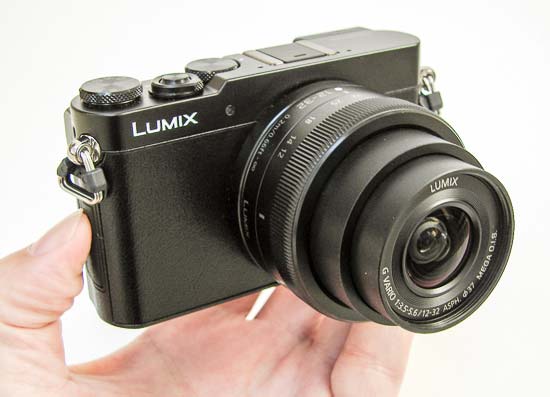 Side of the Panasonic Lumix DMC-GM5
To the right of the screen, controls are again familiar, yet physically tiny. We get a set of cross keys with the familiar menu/set button in their midst, flanked by means of adjusting ISO, white balance, capture speeds and AF modes (face/eye detection, AF tracking, 23-area and 1-area). Self-timer options vary between 10 and two seconds meanwhile. Above the cross keys and to the right where it sits near the camera's edge is a red record button for video. Give this a press and recording begins near instantly, with focus automatically adjusting if you swap subjects mid filming, no matter whether you had the top plate dial set to single shot or continuous AF. There is stereo sound for video also, courtesy of two pin prick-like microphones set just in front of the top plate hotshoe. Luckily twisting the zoom barrel when recording doesn't appear to be picked up unduly on the audio.
The bottom two controls on the GM5's backplate are for Panasonic's usual 'Quick Menu' feature – again it's another operational short cut – which doubles up as a delete button in playback mode. Adjacent to this we have a self explanatory display button for activating or deactivating the screen display, as well as calling up a very useful level gauge – another modern DSLR-like feature for this consumer compact. The Quick Menu meanwhile gives us direct access to the Photo Style settings mentioned earlier, as well as video quality and frame rate settings and AF modes. It's also here that we can directly access metering – with multi zone, centre weighted or spot metering offered – adjust exposure compensation (+/- 3EV) – and scroll through ISO sensitivity. As you will probably have guessed, this makes for a camera that is intuitive enough in use that anyone who is trading up from a snapshot camera, or stepping down from a DSLR, will be able to pick up and start using straight away without reference to a manual.
With a speaker to one side of the Panasonic Lumix DMC-GM5 and a flap protecting HDMI output at the other, the base of this Panasonic is given over to a screw thread for tripod attachment range at the mid point of the base of the lens mount, plus the standard shared compartment for both lithium ion rechargeable battery and SD card slot. Battery life for the GM5 used in conjunction with our 12-32mm lens is 210 shots per charge if biasing use of the rear plate LCD or a marginally improved 220 images if utilizing the live view finder/EVF – both a according to CIPA standards. That's not exactly much improved over the non-interchangeable lens point and shoot camera that at first glance this Panasonic resembles. But will its resultant images transcend its modestly minimalist looks and small form factor to suggest a bigger camera and illustrate a better than expected performance? Read on to find out...