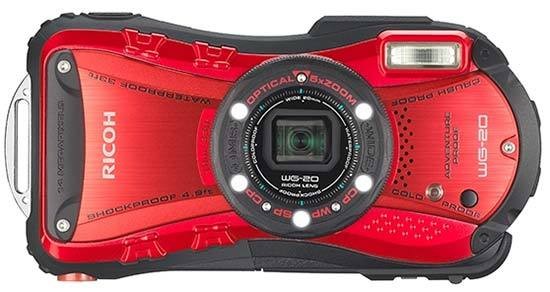 Introduction
Since Ricoh acquired Pentax from Hoya, they're releasing cameras under the Ricoh name that bear an uncanny resemblance to Pentax compact cameras. One such unit is the WG-20; a 14 megapixel tough camera with 10m waterproofing, 1.5m shockproofing and can withstand crushing pressure of up to 100kg. Coupling that with the 5x optical zoom, 1cm super macro and attachable filter bezel, could this be the uncompromising outdoor camera that Ricoh say it is? We find out in this full test. The Ricoh WG-20 costs around £150 and is available in red, black and silver.
Ease of Use
Since Ricoh took over the digital imaging side of Pentax products, the digital compact cameras bearing the Pentax brand name appear to have ended and now are made under Ricoh. The WG-4 variations and now the WG-20 are the first models to appear. What previously would have been part of the Pentax Optio WG series, the Ricoh WG-20 is a fully protected camera which features waterproofing to 10m depth, can be dropped from a height of 1.5m, resists temperatures as low as -10ºC and a new resistance is crushproofing to 100kg. This latter claim is difficult to compare as we can't think of another camera that specifies how crushproof it is.
It could be that all cameras have this type of resistance, we just don't know it. Still, it's good to know. Tough cameras always have waterproofing as it's arguably the most used of them all. The 10m waterproofing of the WG-20 works out at just under 33ft. It's not the best available but if you want to go deeper in the water, you have to go deeper in your pocket first. This rings true with the other protection levels as well such as the 1.5m drop tolerance which isn'tr as robust as other cameras on the market. Still, 1.5m is around waist height so will cover most accidents and children getting their hands on it.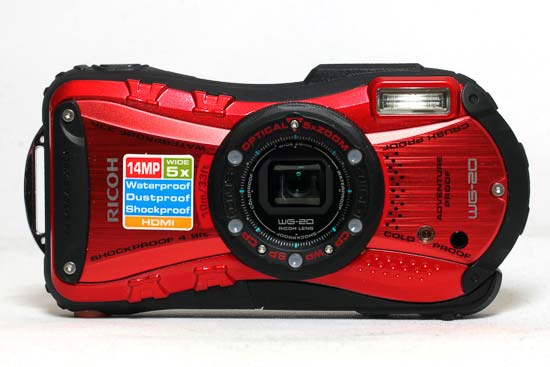 Front of the Ricoh WG-20
To further protect the camera and its insides, any doors on the WG-20 come with a locking switch that needs to be moved before the door will open. Both doors (covering the battery/memory card slot and USB port) have rubber rings around the edges to keep moisture and dust out of the fragile inner workings of the camera.
The design hasn't changed much from the previous WG models that were Pentax branded. The WG-20 is a lesser specification than the WG-4 which we reviewed in June 2014. The WG-20 has a slightly lower 14 megapixel sensor and while offering HD video, it doesn't offer FullHD.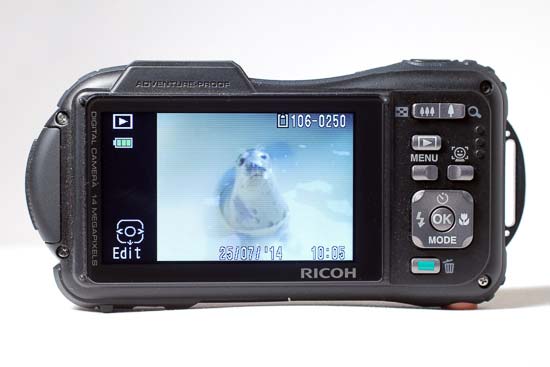 Rear of the Ricoh WG-20
The WG-20 does have image stabilisers, but they're the digital Pixel Track SR (Shake Reduction) which aren't as precise as mechanical varieties such as the Sensor Shift type on the more expensive WG-4.
That's not to say that the WG-20 isn't as good at taking pictures. These drops in spec are essentially to offer a more cost effective camera to users who want the extreme resistance without the price tag.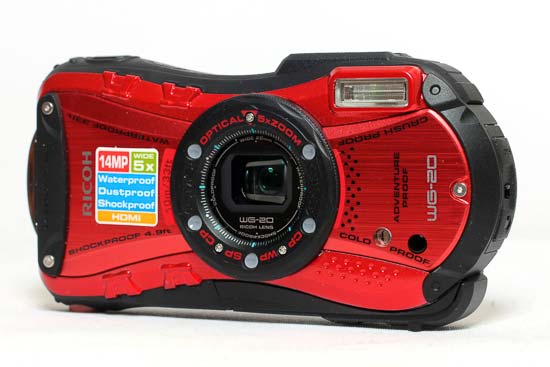 Side of the Ricoh WG-20
Thanks to the recent amalgamation, anyone used to using Pentax digital compact cameras will feel right at home with the Ricoh. Instead of doing away with Pentax completely, they've really only changed the name on the front and kept everything else the same. From the layout of buttons to the menu systems, Ricoh haven't changed a thing.
The menu system of the WG-20 only has two tabs for Shooting options and Settings. There are several pages to each tab, but it's interesting to see that there's no Playback menu available when reviewing your pictures. You can press the Mode button and bring up a screen that displays various things you can do while in Playback such as create a slide-show, add some interesting additions to each picture or edit some film footage.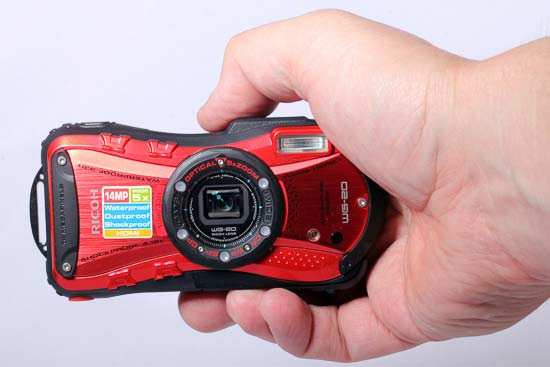 The Ricoh WG-20 In-hand
Pressing the same button in shooting mode will bring up different modes to take pictures in from fully automatic to close up, underwater modes and other modes typically found on cameras of the past, such as sports, low light and pet modes.
Start up time from the powered off position to focusing and taking a photo is around 2.3sec which is a little slow by today's standards of around 1.8sec. There are two continuous modes. Well, one is a continuous mode and will take steady images at around 0.6 fps (frames per second). The other is a burst mode and will take a rapid succession of images. In fact it rattles off 19 pictures in a ten second period equating to an average of 1.9fps. That's a lot nicer to think about, but it comes at a price. Namely the resolution dropping to a modest 5 megapixel. Put yourself in a situation; you're watching a motor race and you take a rapid succession of images as a car whirrs past, you then have to wait a further 15 seconds before the camera has finished processing the photographs onto the memory card so you can shoot again. 15 seconds is nothing right? In fast paced sports, it's a life time and a lot of other things can happen while the camera is essentially inoperable.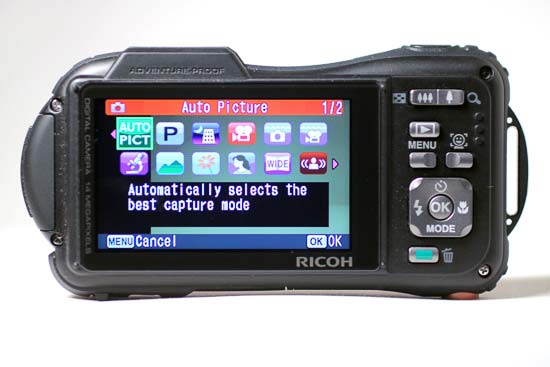 Shooting Modes
On many digital compact cameras, playback can be operated via the Playback button whether the camera is on or off. However, on the WG-20 this can't be done when the camera is powered down. We're in two minds as to whether it's a big deal or not. You see, the only real reason why you'd want to have the rest of the camera off is to stop the lens sticking out, but then the lens doesn't come out of the WG-20 so as to ensure it's waterproofing. So given that nothing physically moves, then most of the operations would use the same amount of power. Is it a problem that you have to power the camera on first? Not really, it just goes against habits that have been around for over a decade and old habits die hard. 
Upon opening the box, you'll find a selection of paperwork including a Quick Start guide, warranty information and cleaning guide for removing dust and salt water which – in time – can erode the rubber seals. Underneath the inner lid, the camera comes with a rechargeable lithium ion battery, USB lead, wrist strap and charger with separate lead. Those of you thinking of taking the camera out on your travels might consider this a game changer as it means the charging unit will take up precious space. There's a small black plastic ring in the box which looks like a filter adapter, but is in fact a macro stand. The idea is that you enable the macro ring LED lights in the Main menu and attach the adapter. You can then rest the camera on whatever surface and it keeps the lens 1cm away from it's subject while the LEDs light up the closed area which would otherwise be black.  The CD which is also enclosed comes with Arcsoft MediaImpression 3.6.1 LE for Windows and version 2.2 LE for Mac. Presumably LE stands for Lite Edition, so will be a clipped version of a more powerful program that is available to buy.