Fujifilm FinePix XP70 Review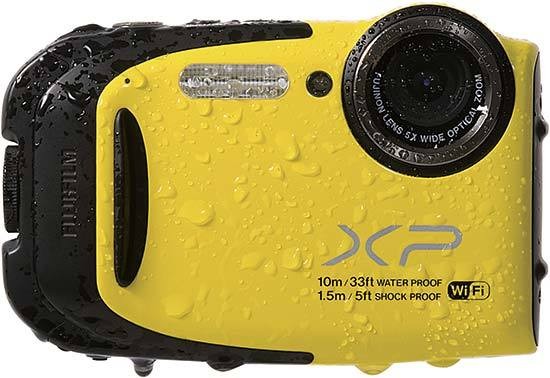 Introduction
Toughened-up, waterproof cameras are great for capturing life in the fast lane, but their extra ruggedness rarely comes cheap. At £169.99 / $229.99 the Fujifilm FinePix XP70 is hardly pocket change, but it's as much as half the price of some high-end waterproof compacts. And it's not as if Fuji has cut many features in line with the price. The XP70 is waterproof to 10 metres, shockproof from 1.5-metre heights, freezeproof to -10°C and dustproof as well. Wi-Fi connectivity for wireless image sharing is present too, as is Full HD video recording, 10fps burst shooting and HDR capture. With 16.4 megapixels on tap and 5x optical zoom with image stabilisation, the Fujifilm FinePix XP70 has the specs to rival its pricier rivals, but can it deliver comparable performance?
Ease of Use
There's no mistaking the Fujifilm FinePix XP70 for anything other than an action-orientated camera. With colour choices consisting of bright blue, yellow or orange; the camera will look right at home on the beach, but rather out of its element in more formal environments.
But if you can get past the Fisher-Price looks, the XP70 is actually a pleasant camera to use. A pronounced rubber-coated ridge on the front and a good-sized thumb grip makes the camera feel secure when shooting. Just be careful your left hand doesn't accidently stray into the lens' field of view, as this is surprisingly easy given its positioning in the upper corner of the camera.
You needn't worry about subjecting the XP70 to plenty of rough and tumble though, as it easily shrugged off the numerous drops and gratuitous abuse we subjected it to. Just don't expect the glossy plastic casing to hide scratches well, and unlike some fancier tough cameras, the XP70 doesn't have a crush-resistance rating.
Although only rated to withstand a relatively modest 10-metre submersion in water, the Fujifilm FinePix XP70 is still equipped with a double-locked door protecting the battery and card slots which is very difficult to accidentally open when underwater.
| | |
| --- | --- |
| | |
| Front | Rear |
Controls are kept to a minimum, but they're well-spaced and usable whilst wearing gloves. There's the usual directional dial on the rear panel that doubles as controls for the flash, self-timer, macro mode and exposure compensation, and beneath this is a dedicated Wi-Fi activation control. Two simple buttons adjust the zoom, and though they're somewhat spongey, they do the job, leaving the top panel free for a generously-sized shutter release, power button and video record control.
But at this price point something has to give in order to bring the camera in on budget, and unfortunately the XP70's screen is an obvious example of cost-cutting. Its 2.7" size is down on the 3.0" standard you'll find on most tough cameras, but with a 460k-dot resolution, image previews are still fairly crisp. Restricted viewing angles are more annoying though, resulting in a lack of colour and contrast accuracy compared to the higher quality displays. You'll also need to ditch the automatic brightness adjustment for the screen to really shine on a summer's day, but with the brightness cranked manually the XP70's monitor is able to cope well under direct sunlight.
Getting the Fujifilm FinePix XP70 ready to shoot is as easy as pressing the mode button located in the centre of the rear directional dial and accessing the Shooting Mode menu. It's a pity the shooting modes can't be accessed via a direct dial, but there are plenty of nifty options to choose from. The default Scene Recognition mode automatically applies a scene pre-set that fits the subject you're focussing on, or you can switch to the standard Auto mode to shoot without the additional image processing applied when using Scene Recognition.
The XP70's exposure metering generally captures accurately exposed images, but if you do need to apply some exposure compensation, the Program AE mode will let you do so, as well as adjust settings like ISO sensitivity and white balance. It's usually best to leave the latter in automatic mode however, as this rarely produces any nasty surprises or colour casts.
| | |
| --- | --- |
| | |
| Top | Front |
But the fun really begins with the multi-exposure HDR mode that'll capture greater dynamic range from high-contrast scenes, as well as the Motion Panorama 360 automatic panorama capture and attractive Advanced Filter effects. These include Toy Camera, Miniature, Dynamic tone and Fish-Eye looks that add plenty of creative appeal. Check out the Image Quality section of this review for examples.
Fuji is keen to flaunt the Fujifilm FinePix XP70's Action Camera mode which is designed to record HD video with a wide-angle field of view similar to recordings shot on GoPro action camcorders. Trouble is, the XP70's maximum 28mm-equivalent wide angle focal length is just too narrow for this, hence Fuji has the answer in the shape of the ACL-XP70 wide angle converter lens. This attaches to the camera's tripod socket and gives it the look of a bug-eyed monster. It'll also give you wide angle video though, but at an additional £40/$70 cost, making the Action Camera mode less appealing.
A feature you won't have to pay extra to get the most out of is the useful Wi-Fi connectivity that'll let you transfer images wirelessly to a mobile device. It's surprisingly speedy too, taking approximately five seconds to transfer a full resolution image. There's no NFC pairing so you'll need to jump through the traditional hoops of manually connecting to the XP70's Wi-Fi hotspot, and unlike some rival systems, Fuji's implementation won't let you remotely control the XP70 from your smartphone or tablet.
| | |
| --- | --- |
| | |
| Front | Battery Compartment |
When the time comes to snap a shot, the XP70 is ready for action in approximately 1.5 seconds and wastes no time in autofocussing. In good light it's almost instantaneous, although in less optimal conditions expect to wait a couple of seconds for the camera to lock on to your subject. This is fractionally slower than pricier kit like the Olympus TG-3 or Ricoh WG-4 will manage, but the XP70's focussing speed and reliability is not far behind.
It's not keen on getting up close and personal though, as the 9cm minimum focussing distance is disappointing compared to the 1cm macro modes sported by many top-end tough cameras. Even at 9cm the Scene Recognition mode doesn't always apply macro settings and can require a manual override.
Finally the Fujifilm FinePix XP70's battery life – or lack thereof – is worth a mention. Fuji rate this at a relatively paltry 210 shots, which looks rather anaemic compared to the 300-shot lifespan of Fuji's flagship XP200. After a day of testing, our XP70 was running very low on juice, which is hardly ideal for an action-orientated camera that's likely to spend plenty of time far from the power grid.