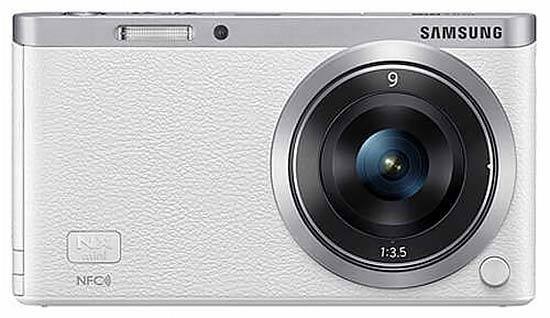 Introduction
Compact system cameras pack DSLR image quality and lens flexibility into more pocketable packaging, but what if a regular CSC setup is still too bulky? Enter the NX mini. This lives up to its name by being the slimmest and lightest CSC to date and it's also available with a pair of new, ultra-compact lenses. Choose from a pocket-friendly 9mm, f/3.5 prime optic or a 9-27mm, f/3.5-5.6 zoom lens incorporating OIS image stabilisation. Images are captured by a 1-inch, 20.5 megapixel back-side illuminated CMOS sensor and the camera will also record RAW files, Full HD 1080p video and shoot at up to 6fps at full resolution. To ensure the NX mini gets maximum attention, it boasts a flip-up 3.0-inch touch-sensitive monitor so you'll no longer have to guess your selfie compositions. Finally there's advanced Wi-Fi connectivity with NFC pairing, plus a free copy of Adobe Lightroom 5 to add even more value to the competitive £400/$449.99/€399 for camera and 9mm lens.
Ease of Use
Proving that less can still be more, the Samsung NX mini's 22.5mm thickness means it should slip into most pockets or handbags without issue. Other CSC bodies come close to matching Samsung's sleekness, but where their compactness is often lost when you mount a dirty great lens on the front, the NX mini's 9mm pancake lens adds only a 12.5mm protrusion and weighs just 31g. Of course if you want more focal length flexibility you'll need the 9-27mm zoom optic, which at 29.5mm-long makes the camera a little less pocketable, but still impressively small.
Although the camera itself weighs just 158g, it doesn't feel fragile. The body may be predominantly plastic, but it's surprisingly solid and the textured leather-look adds to the quality feel. The brushed metal top panel and buttons also add style without much weight, and if the plain white finish of our review sample doesn't fit your image, mint green, pink, brown and black versions are also available. The only downside of such sleek lines is a lack of a front finger grip and the slippery rear thumb rest.
Anybody upgrading from a regular compact camera should get the hang of the NX mini's controls pretty quickly. The rear panel has a typical selection of video record, playback, delete and mode buttons, as well as a directional dial. Up top is the shutter release and power button, and directly beside this is a dedicated control for accessing the camera's Wi-Fi connectivity. However as this is the same size as the power button and located just a centimetre away from it, it's easy to mistake for the power button.
| | |
| --- | --- |
| | |
| Front | Rear |
Although the rear panel controls are well-spaced and easy to use, it's a pity there isn't the convenience of a proper mode dial. Fortunately this is less problematic than it could be thanks to the Samsung NX mini's touch-screen controls. These are pleasantly responsive and are usually quicker and more intuitive use than the physical buttons. Just tap the Fn (Function) button on screen to instantly access a pallet of essential shooting options. Tapping the screen to set your focus point is also just as easy and makes the transition from smartphone photography much slicker.
Samsung's experience in the smartphone sector also shines in the NX mini's menu system. Where many of the more established camera brands make do with interfaces reminiscent of Windows 98, the NX mini is bang up to date with clear and attractive menus and large, colourful icons. It's more style than substance, but hey, that's a large part of this camera's appeal.
Another major feature that should win it attention from the fashion-conscious is the screen's flipping ability. Flick it up 180 degrees and hey presto, an instant view of your own grinning noggin. The design isn't as flexible as some as it won't fold downward to help you compose high-level shots, but then it does have a different party piece. When you're ready to snap that selfie, just wink at the screen and the camera's nifty face detection system automatically fires the shutter two seconds later.
| | |
| --- | --- |
| | |
| Side | Top |
Fancy frills aside, the display itself is more mundane. Its 460k-dot resolution is adequate but not particularly crisp and although viewing angles are very good, you'll need to crank the screen brightness to the max when under sunlight, and even then it's far from the brightest of monitors.
In such situations you're left to rely on the Samsung NX mini's automatic matrix metering to ensure shots are accurately exposed, and whilst usually reliable, we found several occasions where up to a stop of positive exposure compensation was necessary to enhance some dull shots. Autofocussing is more dependable though, quickly and accurately locking on to a subject in good light and only slowing fractionally in darker conditions.
But dim light can catch the NX mini out in other ways. The trade-off for having such a slim and light 9mm lens is that it doesn't incorporate any form of image stabilisation, hence it's harder to shoot sharp shots in low light than you may expect. Using higher ISO settings helps matters, though this naturally comes at the expense of image quality. Fortunately the 9-27mm zoom lens does get Samsung's Optical Image Stabilisation.
| | |
| --- | --- |
| | |
| Front | Battery Compartment |
One area where Samsung shows the competition a thing or two is wireless connectivity. Plenty of cameras sport conventional Wi-Fi to share your images to a smart device, but the NX mini's Photo Beam feature lets you transfer photos by simply tapping the camera against your smartphone. Fancy sending photos automatically as you capture them? Autoshare will do exactly that, plus you can control the camera remotely and even using it as a baby monitor that'll transmit a live video feed with alerts to your phone. Features like PhotoBeam do require an NFC-equipped smart device though, so be sure to check your phone or tablet's spec to see if it's got the tech.
Something which anyone will be able to appreciate is the NX mini's battery life. You'd be forgiven for thinking a camera this svelte would have a similarly small power plant, but Samsung has managed to pack in a whopping 2330mAh-capacity rechargeable cell, giving roughly twice the juice of your average camera battery. That translates to a very impressive 650 shots-per-charge, and though this figure is based on using the 9mm fixed focal length lens, the 9-27mm zoom optic should only demand marginally more power. But whichever lens you use, you can rest easy knowing the NX mini will keep on shooting long after most of its rivals require a recharge.
Finally, it's worth mentioning that the NX mini isn't compatible out-of-the-box with normal NX Mount lenses. It uses a new, smaller NX M Mount system which will only accept the 9mm and 9-27mm NX mini lenses. Samsung has released an adaptor to allow regular NX lenses to mount to the NX mini, though it's fairly pricey and also currently illusive in the UK.