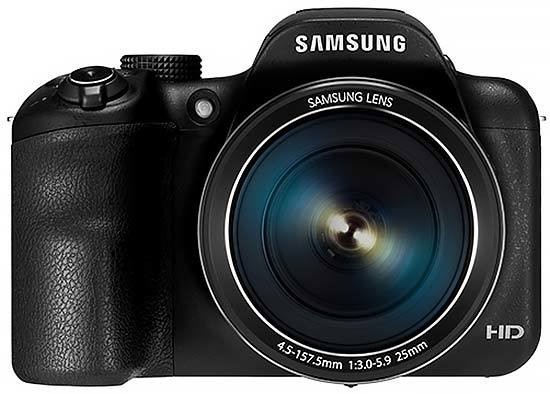 Introduction
If you're after a camera with the ergonomic feel of a traditional DSLR, but also the ease of use of a point-and-shoot compact, the Samsung WB1100F could well fit the bill. It sports a 16.2MP CCD sensor with a sensitivity range of ISO80-3200 and a 35x optical zoom lens with a focal range equivalent to 25-875mm (in 35mm-camera terms). The camera is designed to appeal to novice and creative photographers alike, thanks to a combination of a scene-detecting Smart Auto mode and a variety of special effect settings. Capture light trails and panoramas, or make your mark with six Smart Filters including miniature and fish-eye effects. Despite a relatively modest price tag of £249.99 / $249.99, you still get HD 720p video recording, plus extensive wireless image sharing options with the convenience of NFC pairing.
Ease of Use
The WB1100F's DSLR-like form makes it a refreshingly comfortable camera to operate if you're used to fiddling with tiny compacts. Buttons are kept to a minimum and hence those you do get are large and well-spaced around the sizable body. Build quality is impressive for the money too, and although black plastic is the order of the day, it's a similar feel to that of an entry-level DSLR. At 464g ready to shoot, the camera is also a comfortable weight in the hand, yet light enough not to causing your shoulder grief when you're on the go.
Some may see the WB1100F as a bridge camera, as it certainly looks like one. However, where a bridge camera is designed to bridge the gap between a point-and-shoot compact and a DSLR; the WB1100F's bridge camera credentials are only skin deep. You don't get aperture or shutter priority modes, let alone full manual control, and there aren't any control wheels to help adjust shooting settings in Program auto mode either.
A proper mode dial is present though, containing the Program auto mode that'll let you control ISO sensitivity and white balance, plus the default Smart Auto mode which automatically detects scene conditions and applies optimal shooting settings. Move to the 'S' symbol to reveal Smart mode presets designed to help capture tricky shooting scenarios. Options include a Beauty Face mode which enables touch-up options when shooting portraits, a Light Trace setting that'll hold the shutter open to capture light trails from night-time traffic, and the Action Freeze feature for getting sharp shots of fast-moving subjects.
| | |
| --- | --- |
| | |
| Front | Rear |
An automated panorama mode is also available and this gets its own position on the mode dial for easy access. It's also easy to use: just press and hold the shutter release, pan the camera left or right and release the shutter when you're done.
You can also apply Movie Filter effects to video recording by selecting the star icon on the mode dial. Many of these mimic the Smart Filter still image effects, like the Miniature, Fish-eye and Retro looks. There are also an extra four colour styles to choose from, however not all these effects can be applied to HD-quality recordings.
The remaining three settings on the mode dial include the movie mode option, as well as a position dedicated to camera settings. And last but definitely not least, we find the Wi-Fi mode. Samsung has crammed the WB1100F with its latest wireless image sharing technology, including features like Photo Beam which allows you to transfer an image from the camera to your smart device by simply tapping the two together. It's a neat trick made possible by NFC, so you'll need an NFC-enabled smartphone or tablet to get in on the action. The camera also incorporates Samsung's AutoShare feature that'll wirelessly share images as soon as you snap them, as well as Remote Viewfinder technology to let you control the WB1100F wirelessly from your smartphone. Just download Samsung's Smart Camera app to your smartphone or tablet to start using these features. If you find yourself using a particular wireless trick frequently, then the Direct Link button alongside the mode dial can be configured to access it instantly.
| | |
| --- | --- |
| | |
| Front | Top |
Apart from this control, it's pretty much business as usual atop the WB1100F, with the zoom ring, shutter release and power button where you'd expect to find them. The lens barrel is home to a more unusual button though, entitled 'Speed Control'. Sounds exciting, but it simply changes the zooming speed. Press it whilst adjusting the zoom ring when shooting stills and the camera will zoom faster, or do the same in video mode to slow things down instead.
It's certainly a useful gadget when you need to zoom in fast on a fleeting subject, especially given the WB1100F's extensive focal range. Sure, this is no match for the cutting-edge ultrazoom bridge cameras offering upwards of a 60x range, but it's enough telephoto reach to get distant subjects filling your frame from a typical vantage point. Likewise, the 25mm maximum wide-angle setting should be enough for keeping large groups in the picture and shooting architecture at close range. Samsung's optical image stabilisation system also works its magic, helping to iron out camera shake for sharp shots in low light and at longer focal lengths.
The 3.0", 460k-dot screen is less impressive though. At this price point you can't really expect it to sport touch-sensitivity, and it doesn't. The outright resolution is nothing special either, but it's acceptable for the money. However, viewing angles are sub-par, making it tricky to accurately judge contrast and colour during a shoot.
| | |
| --- | --- |
| | |
| Side | Battery Compartment |
The monitor quality is at least high enough to show off Samsung's attractive menu system and on-screen display. Where many camera manufacturers still use dated and uninspiring interfaces, the WB1100F benefits from clear, modern menus and attractive icons which help make controlling the camera a pleasant and intuitive experience. It's a system that'd benefit from touchscreen controls, but nonetheless works well with the camera's standard directional buttons.
However, it's a pity the WB1100F isn't as enjoyable to shoot. Press the power button and the screen and lens spring into life almost instantly, but the camera refuses to snap a shot for 2-3 seconds. This doesn't sound like much, but it's an annoying delay that's easily long enough to miss a fast-moving subject, especially as the zoom controls are also frozen during this period so you can't even compose your shot whilst you wait.
This frustrating flaw also affects the WB1100F's bigger brother, the WB2200F, and can hopefully be fixed with a future firmware update. But where that camera picks up speed with nippy autofocussing, the WB1100F has to make do with a slower system that's quick enough in good light, but makes a meal of locking on to subjects in dimmer conditions. Focus accuracy also leaves something to be desired, with some of our test shots appearing slightly out of focus despite the camera having apparently focussed correctly in the field.