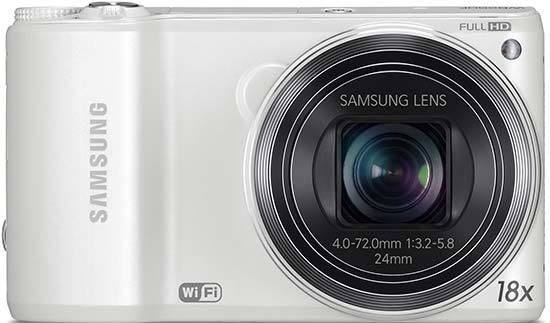 Image Quality
All pictures were taken at full resolution on the Superfine compression setting unless otherwise stated. There are three settings of compression: Superfine, Fine and Normal. Superfine gives a response of around 4.8Mb. Fine produces 3.15Mb images while the Normal setting drops that down to around 2Mb. The actual dimensions of the image remain the same, but JPEGs are "lossy" files, so will dump data that it deems unnecessary. In order to preserve space, you can drop the quality.
Noise
Pictures from the Samsung WB250F aren't the highest quality at ISO 100 – the lowest setting available. While there's no colour noise evident, we can detect slight amounts of salt & pepper noise. The image doesn't look as sharp as what it could. Thankfully, it doesn't get any worse at ISO 200, but we do see a slight decrease in image quality at ISO 400, which is disappointing. Colour noise is starting to seep in at this stage, which we expected anyway.
At ISO 1600, primary colours start to dissipate as the noise reduction software removes the colour noise. Edge definition is hit quite hard. The whole image is speckled with noise and large blobs of colour invade the area. But let's look at this comparably. ISO 3200 is a mess, but it's not the worst we've seen at that setting. Samsung seem to have taken an approach to muting the whole image over attempting to keep it bright and vivid while still trying to control noise. ISO 3200 isn't going to work on a tiny sensor any time soon, but as far as current performances go, this is one of the better ones.
| | |
| --- | --- |
| ISO 100 (100% Crop) | ISO 200 (100% Crop) |
| | |
|   |   |
| ISO 400 (100% Crop) | ISO 800 (100% Crop) |
| | |
|   |   |
| ISO 1600 (100% Crop) | ISO 3200 (100% Crop) |
| | |
Focal Range
The 18x optical zoom on the Samsung WB250F starts at a wide-angle 24mm and zooms out to an impressive 432mm in 35mm equivalent. The 35mm equivalent is the easiest and most convenient measure to use. However, the actual focal range of the camera because of the smaller sensor is 4mm – 72mm. To get the 35mm equivalent, you simply scale up the sensor to 35mm size. By this calculation, we can deduce that the Samsung sensor is 6x smaller than a 35mm sensor.
| | |
| --- | --- |
| 24mm | 432mm |
| | |
Sharpening
Because of the amount of noise visible on most pictures, it's simply exacerbated when sharpening is added. If you manage to get a picture without noise (bright sunlight, if at all) then it will benefit to a degree.
| | |
| --- | --- |
| Original (100% Crop) | Sharpened (100% Crop) |
| | |
Chromatic Aberrations
We had no problem detecting chromatic aberrations on hard edges. Even from the centre of the frame, if the contrasting lines were hard enough, it showed up.
| | |
| --- | --- |
| Chromatic Aberrations 1 (100% Crop) | Chromatic Aberrations 2 (100% Crop) |
| | |
|   |   |
| Chromatic Aberrations 3 (100% Crop) | Chromatic Aberrations 4 (100% Crop) |
| | |
Macro
Samsung cameras are a bit funny with their focusing. The macro mode can get as close as 5cm, although we seemed to get in a bit closer than that. If you remain in macro mode and choose to shoot a landscape, the camera has trouble focusing. Nothing wrong with that, except the camera should be able to focus to infinity. Macro at full zoom is 180cm and flowers or portraits at this setting look great because of the compression throwing the background out of focus.
| | |
| --- | --- |
| Macro | Macro (100% Crop) |
| | |
Flash
There's a bit of vignetting found at the wide-angle setting of the Samsung WB250F. It remains when the flash is turned on and – in fact – becomes more noticeable. The reason behind this is that the flash stabilises and boosts the available light, making any drop off become darker. Any vignetting is eradicated once the camera is at full zoom and that can be said for when the flash is both on and off.
| | |
| --- | --- |
| Flash Off - Wide Angle (24mm) | Auto - Wide Angle (24mm) |
| | |
|   |   |
| Flash Off - Telephoto (432mm) | Auto - Telephoto (432mm) |
| | |
We found that the WB250F doesn't suffer from red-eye problems. Even when the red-eye option is switched off, we didn't get any in the picture.
| | |
| --- | --- |
| Auto | Auto (100% Crop) |
| | |
|   |   |
| Red-eye fix | Red-eye fix (100% Crop) |
| | |
Night
The WB250F has manual modes on it, so we tested the night scene with three settings: Program mode, Shutter priority and the Night scene. All three settings used the same aperture and the two programmable modes (program and shutter priority) selected the same 1/3sec shutter speed. To enable the photographer to take a steady shot, the Night scene mode will choose a faster shutter speed and it does this by ramping up the ISO. In this case, it chose ISO 1280 and the results speak for themselves. The manual modes both have a little stuffiness about them as noise creeps in (most likely due to the extended shutter speed) but the Night scene mode is a different kettle of fish.
No noise shows on the picture because the noise reduction software has been so aggressive, it's smoothed out any details in the picture. As photographers, it's difficult to like it, but we can't help but think that a regular user will just be happy at the cleanliness of it.
| | |
| --- | --- |
| Night Scene | Night Scene (100% Crop) |
| | |
|   |   |
| Night Program | Night Program (100% Crop) |
| | |
|   |   |
| Night Shutter Priority | Night Shutter Priority (100% Crop) |
| | |