Sony Cyber-shot DSC-WX300 Review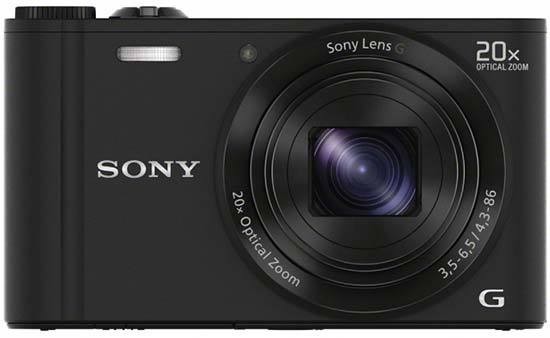 Introduction
The Sony Cyber-shot DSC-WX300 is billed as the World's smallest 20x optical zoom digital compact camera. Add to that a cutting-edge design, Exmor R CMOS sensor with 18.2 megapixel resolution, 10fps burst shooting, 500 shot battery life, built-in Wi-fi connectivity and Full HD video, the WX300 shapes up to be something else. In this review, we'll be finding out if it lives up to expectations. The Sony Cyber-shot DSC-WX300 costs around £259 / $329 and is available in white, red and black.
Ease of Use
Sony are a company that has ambition. They're extremely determined to get to the top spot in every field they work in. But it wasn't until they took over operations of digital imaging from Konica Minolta that they really started to fly in the digital camera markets. They'd been producing decent cameras before then, but when workers from Konica Minolta moved over to Sony, the electronics company started migrating the technology too. What resulted was a strong line-up of DSLRs, beautifully crafted prosumer compacts and digital compacts stuffed with tech and high end glass.
Take a look at the new Sony Cyber-shot DSC-WX300. It's a classically styled compact with sharp edges, scrolling ends and a huge flush screen on the back. Stuck on the front is a 20x optical zoom which is created from Sony G glass. The origins of this lens comes from Minolta. The Minolta G lenses had a reputation for excellent optics. The top plate features two microphones for stereo sound, a small power button that doesn't stick up out of the body so that it doesn't get mixed up with the shutter release that's located next to it. On the shoulder is a small dial for selecting programs and modes.
From the command dial on the top of the camera, to the jog wheel on the back and the command buttons that accompany it, the Sony Cyber-shot DSC-WX300 has a raw simplicity in its design that's reminiscent of more niche cameras, such as Leica or Ricoh. It's like a message to say "we're not interested in how it looks, we're interested in how it performs".
| | |
| --- | --- |
| | |
| Front | Rear |
It seems that they may have taken that statement seriously when you consider some of the technology they've stuffed into it. We've already mentioned the quality of the lens on the front of the camera. While you're taking the picture, it's burning onto the sensor which is an 18 megapixel Exmor R CMOS sensor. After that, it's through the BIONZ processor and onto the memory card. So the key points of image transfer from the first lens element use the best tech that Sony have available to them. That bodes well for the performance test.
The more we look into the features of the Sony Cyber-shot DSC-WX300, it seems to be more of a picture taking machine than a toy. To use a comparison, it's like comparing a Peugeot to a BMW. The Peugeot will come fitted with lots of features to thrill you, such as automatic wipers and automatic lights  whereas a similarly priced BMW won't have these but will be much better built. It's designed to be driven. The WX300 is therefore comparably bereft of features. It does sport some interesting features such as wi-fi.
Wi-fi options are all over the place. The Sony Cyber-shot DSC-WX300 has three menus available and there's a wi-fi option in each one. You can set up the camera to accept wi-fi signals by going into the Main menu and selecting the tab indicated by the globe icon. In the quick menu, you can use wi-fi to link to your smart phone which can then take pictures instead of touching the camera. It's good news for Instagrammers as it will obviate camera shake and those horrid arm length pictures.
| | |
| --- | --- |
| | |
| Front | Top |
Start up time from cold is great at just over two seconds. That's around half a second faster than the average digital compact camera. Great news for those impromptu golden photo moments. The advantage of using a dedicated processor is that it can handle more information and in the Sony Cyber-shot DSC-WX300 one thing it does is increase frame rate.
The WX300 doesn't have a continuous shooting mode, it has a burst mode. Select the multiple frame option after pressing left on the wheel and watch as it rattles off ten shots. Sony say is works at 10fps (frames per second) but we took those ten in just over a second. We even gave the camera free reign over being as fast as it wanted to be by using Program mode with auto ISO etc. Focusing seems fast enough although it's only marginally faster than other cameras when used in the real world.
The menu works in a two-tier stage. Pressing the button initially brings up a type of Quick menu that brings fast access to well used modes, such as resolution, ISO and white-balance. There's also an in-camera guide towards the bottom for if you get stuck on anything. The Main menu is located below the in-camera help and has an icon of a tool box.
| | |
| --- | --- |
| | |
| Memory Card Slot | Battery Compartment |
The Main menu is a lot more comprehensive than the Shoot menu that you have to go through to get here. It's split into five tabs for Shooting, Camera (Main), Network, Memory Card and Clock settings. You can either use the tabs to the left of the screen to flick through each section or simply scrolling down will enter each section as you get to it. It's easy enough to navigate around once you're in there with the only confusing area being the wi-fi settings page (Network) if you're unfamiliar with it all. The orangey yellow highlighter on the black background compliments nicely and doesn't offend the white font either.
Playback can be accessed regardless of whether the Sony Cyber-shot DSC-WX300 is on or off. Simply press the arrow button and the images you've taken will come onto the screen, with the most recent first. You can change the display details on show by pressing the up button (just like when shooting). The menu button will bring up a different quick menu, similar in appearance to the Shooting menu with the exception that it has options associated with playing back the pictures. For example, more wi-fi options are available to you here. You can send images to a smart phone and even view them on the phone before selecting which ones to transmit. You can also send to a tv or computer. Theoretically, you should be able to do this to any computer in the World, but there's nothing to say whether or not it's possible. Data is data, but it's a lot of data with a high resolution image. You can also edit pictures, but given that editing is usually done to excess, it would be best to save it for the computer.
In the box, you'll find an AC adapter for charging the lithium ion battery that's also included. A USB cable will attach the camera to a computer to download any pictures, and it's also the secondary cable to the AC adapter that plugs into the camera when charging. There's a full manual and a wrist strap to keep the camera safe when not shooting.