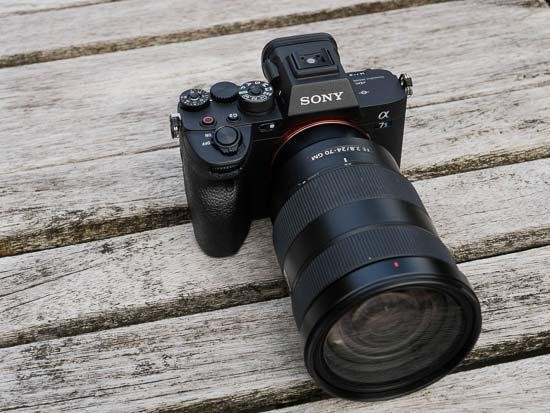 Introduction
Anticipation could hardly have been greater, but the wait was worth it. The new video-centric Sony A7S III represents a comprehensive upgrade from its five-year-old predecessor.

Sony's full-frame mirrorless camera is aimed squarely at filmmakers, but it is also a highly capable low-light and action shooter for photography provided the limited 12.1 megapixel resolution doesn't put you off.

There's been an overhaul in almost every area of the Alpha A7SIII camera.

Standout improvements include a seemingly unlimited 10-bit 4K video up to 120fps, the new vari-angle touchscreen and bright EVF, higher capacity battery with on-the-go USB-C charging, dual card slot accepting both SD and Sony's new CF Express Type A cards, a new menu layout, tactile touchpad and full-size HDMI output.

The list goes on and we haven't even got onto the performance, namely Sony's renowned autofocus.

Beyond the spec sheet, we are happy to report that our hopes have been met in reality - the A7S III is technically complete, lacking in no areas.

It may not satisfy the resolution junkies for video or photography, but crucially the reality of the Alpha 7S III is that does the job it promises to do for both disciplines, with no apparent side effects.

And despite a higher launch price of £3,800 / $3,500, the Sony A7S III offers reasonable value considering what it is capable of. This is a camera that can be trusted. And once you have set it up for your shooting needs, it's possibly our favourite Alpha 7 camera to use so far.
Ease of Use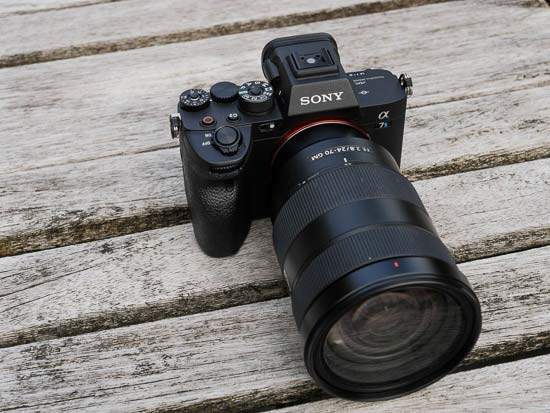 Front of the Sony A7S III
For such a feature-rich camera, the Sony A7S III remains impressively compact. Its magnesium alloy body only weighs 699g with battery and memory card installed.
We had the weighty Sony FE 24-70mm f/2.8 GM lens attached to the camera for this test, yet thanks to a generous handgrip the Alpha 7S III feels very comfortable to hold.
The body has improved sealing so it can be counted upon in adverse conditions. It also features a new 'heat dissipation' design.
No fans, no overheating, unlimited video recording times in any resolution - we've seen that's no given in other well publicised cases.
Controls are set out logically. On the top there's a shooting mode dial, twin exposure dials plus an exposure compensation dial, although there is no top LCD. Exposure compensation can also be changed via the menu provided the dial is set to 0.
We really like the tactile touchpad on the rear, used mainly for navigating the autofocus area, plus the large AF-ON button is conveniently placed just above, right by where your thumb naturally rests.
There are plenty of custom buttons too which become increasingly useful as you grow to know the Alpha 7S III and what it is capable of. Any shortcuts for controls on a camera like this are welcome. Overall, we can't think of any specific layout changes that we'd like to see.
Sony has implemented a 3-inch, 1.44-million-dot vari-angle touchscreen for the first time in an A7 camera.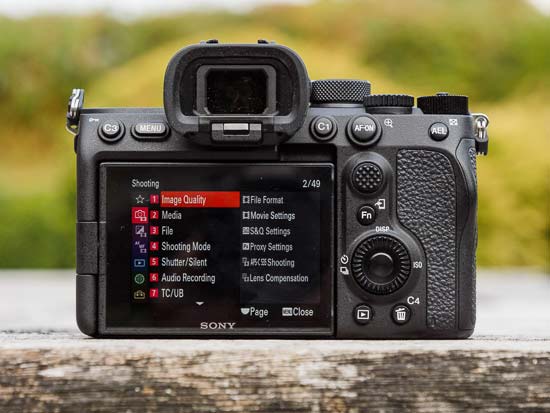 Rear of the Sony A7S III
Curiously, the Sony logo features meaning it is upside down when the screen is flipped out to the side of the camera (remember the first-gen Apple laptops?) but those aesthetics are fixed with the screen in selfie mode.
Despite being a video-centric camera the A7S III's display is a 4:3 aspect ratio, meaning it is not maximised for 16:9 and it does feel small.
However, it is bright in almost any lighting condition and subject tracking AF is very reliable so you may not need to look too closely to check for sharp focusing.
Active filmmakers will still want an external monitor, not least of which to increase the display size.
Another plus is that 16-bit RAW data output can be made via an external recorder, up to 60fps.
It is now possible to connect the monitor directly to the A7S III via the full-size HDMI port and Sony includes a basic protective bracket designed to fit around those cables when attached.
Thankfully, the touchscreen offers full touch function, including focusing and navigating the user interface.
A simple touch can activate the highly effective tracking AF, while the all-new menu system can be explored by responsive touch and swipe controls.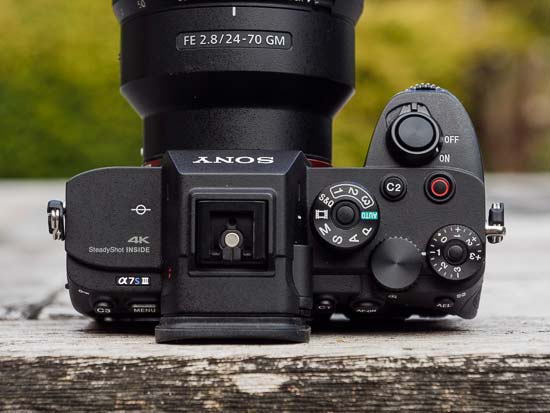 Top of the Sony A7S III
The A7S III has truly benefited from the new menu layout. The depth is still there (51 pages) because of the many features, adjustments and controls.
However, the menu has up to three layers now, with logically named and colour coded sections on the left and parameters to the right within each section, thus making it easier to find what you're looking for.
The menu is one less thing for Sony detractors to highlight.
Our favourite menu layout for a hybrid camera remains the Fujfilm X-T4 which automatically switches between dedicated photo and video menu layouts depending on the shooting mode selected. That feels truly hybrid.
If you are regularly switching between video and photography use, the Sony A7S III stalls a tad, despite a video menu subset.
What then becomes doubly appreciated are the custom function buttons and the three custom settings on the shooting mode dial (plus Memory settings that you can revert to in menu).
You'll want to take the time to create and save your favourite exposure selections for video and photography to enable quick access to those settings.
In addition to the touchscreen is a built-in EVF with a positively huge 0.9x magnification and 9.44-million-dot resolution.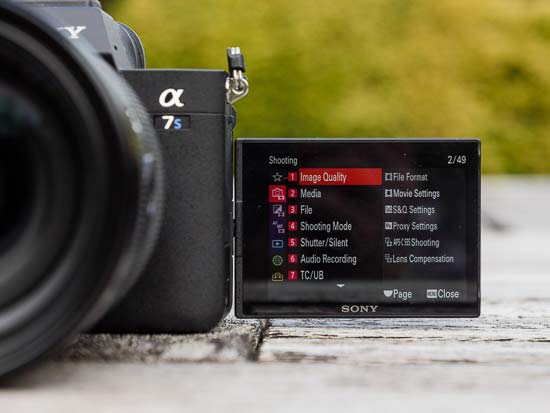 Tilting LCD Screen
With 120fps refresh rate and bright and clear display that fills your vision, it's a really lovely viewfinder. Photographers are not left behind.
On the left side of the A7S III are four port doors. We really appreciate how you only need to open the door for your needed port, thus keeping all other ports protected.
Crucially, these doors all fix into an open position rather than flapping around - that's a frustration with many other cameras.
Ports include headphone and mic jacks, mini HDMI and USB-C (through which you can charge the camera), plus a full-size HDMI as already mentioned. Those connecting to an external monitor will be thanking their lucky stars for this direct connection.
Data can be recorded via the dual card slots onto Sony's new CFexpress Type A card. Smaller than a SD card, this new type of card boasts 800MB read and 700MB write speeds - that's more than double the speed of the fast UHS-II SD card.
CFexpress Type A cards don't come cheap, with an RRP in the region of £200 for the 80GB card and £400 for the £160GB card, plus the card reader is approximately £130. Some good news is that UHS II SD cards are also accepted in the same card slots.
There's the usual customisation for simultaneous dual card recording, plus it is possible to record full-size video files on one card and proxy files onto the other - handy because you'll most likely be working on proxy files in post.
The A7S III is powered by the NP-FZ100 battery that provides up to claimed 600-shots or 95 minutes video recording time. We've found battery performance to be wayward of those estimates, but it's a solid performance anyway. Battery power can be topped up on-the-go via the USB-C port, too.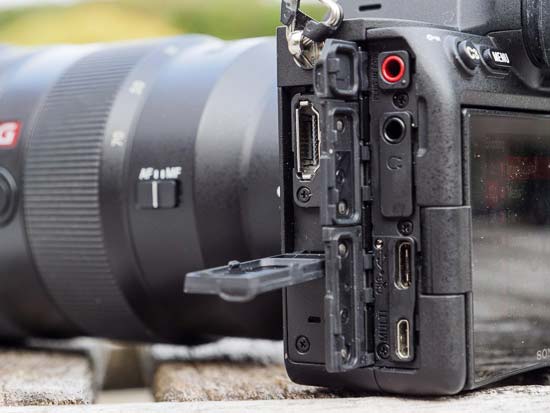 External Ports
'Steadyshot' sensor-shift 5-axis stabilisation is either on or off for photography, while for video there is a choice between standard, active or off. Sony claims up to 5.5 stops of stabilisation for photos, depending on the lens.
With the 24-70mm lens used in this test set to 50mm, we could get consistently sharp shots at 1/6sec, which is more like 3 stops, and couldn't rely on stabilisation beyond this amount. Other lenses and scenarios may differ.
Active image stabilisation for video is pretty good. You'll get relatively smooth run-and-gun footage although vibrations from footsteps are still there a little, especially at the slower frame rates.
We didn't really see the warping in the corners of stabilised wide angle shots when walking with the camera, so that's good.
Overall, stabilisation can be relied on for videos for smooth movement, but for the more extreme movements with the A7S III, we'd still opt for a gimbal.
4K video recording is comprehensive and to a capacity that we haven't really seen before in this type of camera, up to 120fps at 10bit 4:2:2 and 280Mbps from a full-pixel readout without binning.
There's also 4K I (all-intra) recording up to 60fps and with a bitrate of 600Mbps. Full HD videos are also up to 120fps, but with an additional slow/ quick motion setting that goes up to 240fps.
Whether it's for video or photography, the Sony A7S III is a dependable and lightning fast camera.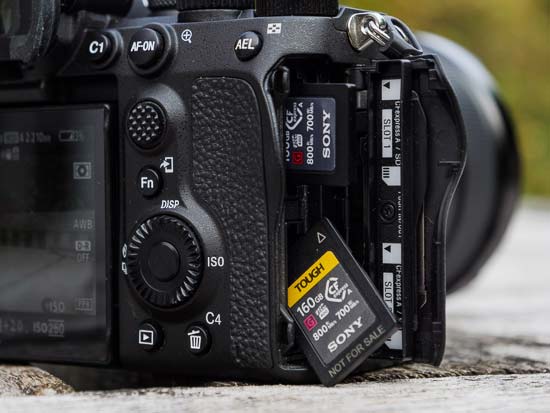 Memory Card Slots
Special mention has to go to the latest Bionz XR processor (that Sony claims provides up to 8x the processing power of the Bionz X processor) and the 759-point hybrid phase/ contrast detection autofocus system that covers 93% of the frame.
For photography, you essentially have unlimited continuous high shooting up to 10fps in mechanical or electric shutter, with continuous tracking AF.
Whether in RAW or JPEG, the camera will keep shooting until the card fills up or battery runs out. There is no delay in processing those 10fps images either, the A7S III is ready to shoot again immediately after stopping the prior sequence.
Over numerous 10fps sequences with continuous AF, we tracked the movement of a person whose distance from the camera wavered and focusing was sharp in all of the shots.
In other tests where the subject jumped in and out of the frame quickly, autofocus performed flawlessly.
Eye detection AF sticks like glue even when the subject's face turns away from the camera and back again.
So, that's a truly fast processor, plus responsive and reliable continuous AF.
Put these factors together and the Alpha 7S III is a legitimate option for sports and action photography. (Again if the 12.1MP resolution is sufficient.)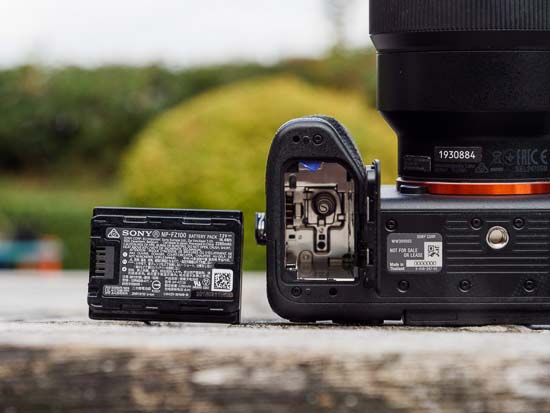 Battery Compartment
In the earlier Alpha years, Sony launched some cameras that boasted impressive numbers yet for real use the experience disappointed.
Not so here. The Sony A7S III is an incredibly dependable camera for action. Top marks.
Every aspect of continuous AF delivers with unerring speed and reliability for photography and video; subject tracking, face and eye detection for humans and for animals (photo only) is incredibly good.
The speed of AF transitions can be now be manually adjusted, with 7 levels of speed.
We have especially appreciated this new feature for slower and smoother (and therefore more natural) AF transitions because Sony systems are capable of being too quick as to feel unnatural in video. The same goes for AF subject shift sensitivity, with five levels of speed.
Recorded images and videos can be uploaded wirelessly or wired with FTP transfer, with Sony's capture One Pro app offering both remote control and image transfer. It's all there.
It's true, like with most capable pro-standard devices it takes time to work your way around, realise the potential and set up the camera in the most efficient way for your use. But once you have taken the time to do so, the Alpha 7S III is relentless.
Overall, the Sony A7S III feels like a complete camera - it does the job that its numbers promise, with seemingly no restrictions.