Sony Cyber-shot DSC-WX350 Review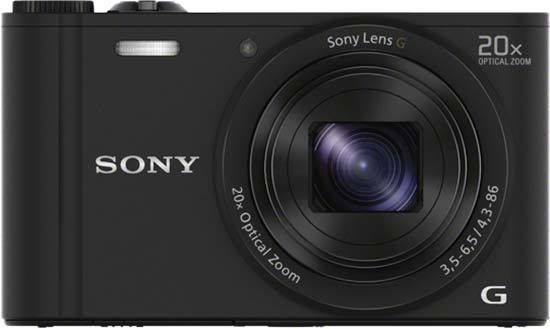 Introduction
Travelzoom cameras (compact cameras with upwards of an 18x zoom range) are hot property in the camera world, and the Sony Cyber-shot DSC-WX350's USP is that it's the world's smallest and lightest camera to pack a 20x zoom lens. This gets Sony's Optical SteadyShot image stabilisation system to compensate for camera shake in low light or when zooming in to the max. Sony has also equipped the DSC-WX350 with a back-illuminated 18.2MP Exmor R sensor, promising plenty of detail in low light and a maximum standard sensitivity of ISO3200 (expandable to ISO12800). Helping the sensor perform at its best is a new BIONZ X image processor that'll also allow you to shoot Full HD video with stereo sound, along with a continuous shooting rate of 10fps for a 10-shot burst. Add in Wi-Fi connectivity, thirteen creative effects filters and a clever Superior Auto shooting mode and you've got a lot of camera for around £239 / €289 / $299.
Ease of Use
In a world where the compact camera is under threat of extinction by the smartphone, its one saving grace is optical zoom. Few phones would have their sleek lines interrupted by a podgy camera lens, however adding a bulky lens to a compact camera won't exactly make it pocket-friendly either. The Sony Cyber-shot DSC-WX350's claim of being the smallest camera to sport a 20x zoom range is a nice coup for the marketing men, but in reality the size reduction is barely noticeable over the current crop of travelzoom compacts, so this alone shouldn't sway you into parting with your cash.
Even so, the DSC-WX350's easily pocketable proportions and light weight of 164g ready-to-shoot do make it an unobtrusive companion. This lightness means the camera doesn't feel particularly solid or tactile, but it's also far from flimsy. However, the weight saving has taken its toll on ergonomics, as you don't get any finger or thumb grips to help hold the camera securely when shooting one-handed. The embossed Sony logo helps a little, but it's more of a token gesture.
Although ergonomic extras may be lacking, Sony has equipped the DSC-WX350 with a proper mode dial. Sure, this alone is unlikely to get your juices flowing, but it's a feature that's fast vanishing from this type of camera, yet there's still no substitute for the convenience of a dedicated dial. It lets you rotate between six shooting modes. Intelligent Auto is the default and automatically detects scenes to apply optimal shooting settings, or you can go the whole hog and slide into Superior Auto mode, whereby the DSC-WX350 also captures multi-exposure images to enhance dynamic range in high–contrast situations.
| | |
| --- | --- |
| | |
| Front | Rear |
If you'd prefer to ditch all this artificial intelligence in favour of some good old manual control, there's also a Program Auto mode that enables you to change settings like white balance and ISO sensitivity, however there's no scope to adjust aperture or shutter speed yourself. A dedicated video mode provides video-specific scene selection to help you get better results, and an additional scene mode is available for stills shooting. Lastly, should you be faced with a stunning panorama, flick to the iSweep Panorama mode, pan the camera right, left, up or down and it'll automatically stitch together a panorama covering three pre-selectable widths, including a 360-degree option. It's certainly a useful feature, if only you could stop panning at will.
Alongside the mode dial it's business as usual, with the power button, shutter release and zoom ring. The latter has two speed setting, so twist a little to make subtle focal length tweaks, or give it the full yank to zoom at speed. Moving to the back panel and you find a 3.0" monitor with a 460k-dot resolution. Size-wise that's fairly typical, but nowadays many similar cameras boast a higher resolution. Sony's choice of screen technology also trails some of the competition with its limited vertical viewing angles, making it tricky to accurately judge contrast. The monitor's colour reproduction is hardly the last word in accuracy either.
The Sony Cyber-shot DSC-WX350's compact dimensions and large screen means any remaining space for buttons on the rear panel is at a premium. Consequently there aren't many, and those that do make the cut are on the fiddly side. Dedicated video record, playback and menu buttons are present, as well as a delete control which also doubles as a useful quick tips guide menu that'll help you out when judging composition and lighting. These controls flank a small – but thankfully raised – 4-way control dial. This gives you rapid access to set the flash and burst shooting capability, as well as several of the effects filters. The dial can also be rotated, making it easier to scroll through menus at speed.
| | |
| --- | --- |
| | |
| Top | Side |
This menu system is shared by many Cyber-shot cameras and whilst it's not the slickest design in the class, it's still easy on the eye. Five main tabs contain options for shooting, display, Wi-Fi, playback and general settings. However within these tabs there's little order or logic to how the sub options are arranged, so it takes some time to recall where your most-used settings are located.
The most interesting option in the menu display is likely to be that Wi-Fi tab. If you've got a smartphone or tablet, it'll let you transfer images from the camera so you can share them, or even shoot the camera remotely using your mobile device. All you need to do is download Sony's PlayMemories Mobile app and connect to the camera's Wi-Fi access point. Once connected it's a pretty slick system with minimal lag, however things do take a few seconds after connection to reach full transfer speed.
The Sony Cyber-shot DSC-WX350 itself is also somewhat sluggish to power up, requiring the best part of two seconds, mainly due to the time taken for the lens to extend. Still, it's only a fraction of a second slower than most compacts, and the DSC-WX350 makes up for lost time by focussing fast, not only in good light but also when the going gets dim. Throughout our testing the autofocus system was also completely dependable and never focussed on an unexpected area, which isn't always the case in this camera sector. Both the exposure metering and white balance system also do an admirable job, never falling foul of tricky mixed lighting conditions and providing correctly exposed images, even without any multi-exposure trickery.
| | |
| --- | --- |
| | |
| Front | Battery Compartment |
Dependability is rarely fun though, but the DSC-WX350 has that base covered too thanks to thirteen effects filters, many of which also contain several sub options. There's a decent range of effects to choose from, including high-contrast monochrome styles, watercolour painting and soft focus filters. The majority of these can be activated via a quick-access menu displayed by pushing the bottom of the rear control dial, and this also gives you control over the brightness, colour and vividness of your images. However a few of the filters can only be found by trawling through the main menu. Check out the Image Quality page of this review for visual samples of all the effects on offer.
Full HD 1920x1080p video capture is also present along with stereo sound recording and wind noise reduction. You can also use the full 20x optical zoom during recording. If you'd prefer to shoot stills at speed, then the DSC-WX350 will do so at a nippy 10fps, albeit only for a 10-shot burst, so you'll need to time your shoot fairly accurately.
Lastly, all this tech wouldn't much good with some decent juice to power it, and to that end the Sony Cyber-shot DSC-WX350's X type Stamina battery delivers a very impressive 470-shot lifespan on a single charge. It's tricky to replicate the same testing to prove this, but after a day shooting the camera alongside its smaller DSC-WX220 sibling, the latter was ready for a recharge when the DSC-WX350's battery display had only dropped one bar.