Sony Cyber-shot DSC-WX60 Review
July 3, 2013
|
Matt Grayson
|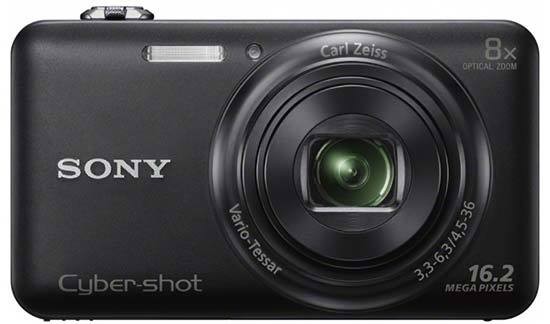 Sony Cyber-shot DSC-WX60 Image Quality
We took all photographs with the Sony Cyber-shot DSC-WX60 at full resolution. While the camera has several options for reducing the amount of pixels it uses to change the aspect ratio, there's no options to adjust the compression rate. However, file sizes are relatively small. The largest we got was around the 4.5Mb mark.
Noise
The Sony Cyber-shot DSC-WX60 has a sensitivity range starting at ISO 100 and scrolling through to ISO 12800. At low ISO, performance is great – although that's what we'd expect. There's no worry of noise showing through and edge definition looks great. As we move through the stages, a little breakdown in image quality begins to occur at ISO 400, but this can only be seen at full magnification, so it's nothing to worry about. This slowly turns into salt & pepper noise. The biggest drop in quality happens at ISO 1600 with darker areas taking on a muddier appearance. Again, this is only really noticeable at full magnification.
Edge definition starts to fail at ISO 3200 and the noise reduction software tries to desaturate primary colours to reduce the amount of colour noise starting to come into the picture.
ISO 6400 and 12800 use a different technique called "pixel binning". It works by taking six pictures, merging them together, analysing them and discarding the worst pixels from each one. This can reduce the resolution, so a feature called Pixel Super Resolution is used to make them back up. It's unclear exactly how the science behind this works, but it's most likely similar to interpolation which is what Fujifilm used on their SuperCCD sensors. Interpolation works by examining two pixels and adding one in between with a colour based on the results of the neighbouring pixels. It's powerful stuff, but always has room for error. To try and avoid the errors, Sony also use another noise preventative measure called Adaptive Noise Reduction. This feature will reduce different amounts of noise in different parts of the picture instead of one steady swipe.
Despite this innovative approach, ISO 12,800 images are truly awful. There's little or no detail, writing on the lens of our test shot has practically vanished. Noise is thick and blobby with horrid purple and green discolouration. Our only thought as to anything positive towards this setting is that at least it's there.
| | |
| --- | --- |
| ISO 100 (100% Crop) | ISO 200 (100% Crop) |
| | |
|   |   |
| ISO 400 (100% Crop) | ISO 800 (100% Crop) |
| | |
|   |   |
| ISO 1600 (100% Crop) | ISO 3200 (100% Crop) |
| | |
|   |   |
| ISO 6400 (100% Crop) | ISO 12800 (100% Crop) |
| | |
Focal Range
The 8x optical zoom on the Sony Cyber-shot DSC-WX60 works out at 25-200mm in 35mm terms. It's a great zoom range on such a small camera and helps a lot when needing to get closer to subjects that you can't normally get to, such as animals at the zoo on a family day out.
| | |
| --- | --- |
| 25mm | 200mm |
| | |
Sharpening
Adding sharpening only seems to increase the appearance of noise on pictures from the Sony Cyber-shot DSC-WX60.
| | |
| --- | --- |
| Original (100% Crop) | Sharpened (100% Crop) |
| | |
|   |   |
| | |
Chromatic Aberrations
Chromatic aberrations are generally seen as thin blue, green, orange or purple lines on contrasting edges. It manifests because not all colours have managed to focus on the sensor correctly. The Sony Cyber-shot DSC-WX60 handles the phenomenon nicely. We struggled to find much of it on any of the pictures. The best we could find was some faint discolouration on extreme edges of the frame.
| | |
| --- | --- |
| Chromatic Aberrations 1 (100% Crop) | Chromatic Aberrations 2 (100% Crop) |
| | |
Macro
The Sony Cyber-shot DSC-WX60 has a close up focusing of 5cm. It's sufficiently far away enough to not cause much of a problem with barrel distortion but image quality drops of quite dramatically relatively close to the middle.
| | |
| --- | --- |
| Macro | Macro (100% Crop) |
| | |
Flash
Without flash, the Sony Cyber-shot DSC-WX60 gets a little vignetting at wide-angle, but this disappears at full zoom. Using flash simply exacerbates the vignetting at wide-angle and brightens the frame at full zoom. The camera doesn't get red-eye in the traditional sense. It does get a bit of chromatic aberration which gives the appearance of red-eye and the camera seems to alleviate this somewhat.
| | |
| --- | --- |
| Suppressed Flash - Wide Angle (25mm) | Forced Flash - Wide Angle (25mm) |
| | |
|   |   |
| Suppressed Flash - Telephoto (200mm) | Forced Flash - Telephoto (200mm) |
| | |
And here are some portrait shots.
| | |
| --- | --- |
| Forced Flash | Forced Flash (100% Crop) |
| | |
|   |   |
| Red-eye Reduction | Red-eye Reduction (100% Crop) |
| | |
Night
We took three test shots at dawn. The Sony Cyber-shot DSC-WX60 was tested twice in program mode using a fixed ISO and auto ISO, then once in the Night scene mode. Even at ISO 100 and with a back-illuminated sensor, the WX60 suffers from noise so much that noise reduction software has been employed to reduce it in the frame. The auto ISO shot looks worse because it uses a higher sensitivity to increase the shutter speed.
Interestingly, the best results have come from the Night scene shot, which also uses a high ISO rating, but the camera is set up for darker images, so uses the correct amount of sharpening to increase the amount of detail available. The noise reduction smudging is still an issue, but the higher amount of detail offsets it to a degree.
| | |
| --- | --- |
| Night Program Auto ISO | Night Program Auto ISO (100% Crop) |
| | |
|   |   |
| Night Program | Night Program (100% Crop) |
| | |
|   |   |
| Night Scene | Night Scene (100% Crop) |
| | |