Sony Cyber-shot RX100 VII Review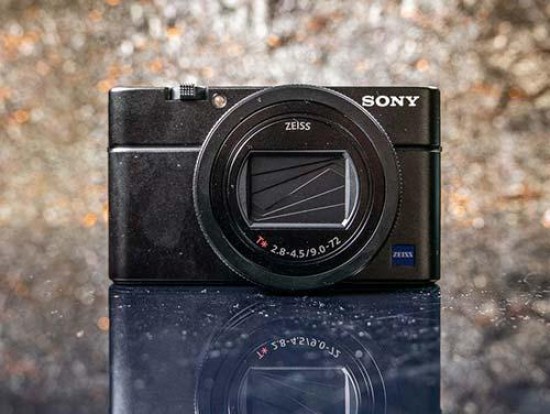 Introduction
The original Sony RX100 made its debut back in 2012, at the height of the digital camera market, and seven years later the 7th iteration,the Sony RX100 VII, has arrived. 2019 is a very different place in terms of camera sales, though, so is there still a place for the compact camera when smartphones are so ubiquitous?

Sony certainly seem to think so, at least at the high end of the market, with the RX100 VII following hot on the heels of 2018's RX100 VI model. The 2019 edition retains the core specs of its predecessor - 20 megapixels, 24-200mm zoom lens, pop-up electronic viewfinder and a touchscreen LCD - but made it much faster.

The Sony RX100 VII has a newly developed 1.0-type stacked CMOS image sensor with a DRAM chip and the latest BIONZ X processor, the latter being the same processor used by the Alpha A9 mirrorless camera.

Consequently the RX100 VII can auto-focus in just 0.02 sec with a hybrid 357-point focal-plane phase-detection AF and 425-point contrast-detection AF system.

It offers 90fps single burst shooting or a still very impressive 20fps with black-out free continuous AF/AE, again just like the Alpha A9.

Real-time tracking and real-time eye AF for both humans and animals has been added, along with 4K movies through full pixel readout without any pixel binning and the welcome addition of a 3.5mm microphone jack for vloggers.

The new Sony Cyber-shot RX100 VII is available now priced at around $1300 / £1200 / €1300, a slight increase on the launch pricee of the RX100 VI.
Ease of Use
Front of the Sony Cyber-shot RX100 VII
The Mark VI version of the venerable RX100 camera series ushered in a rather radical change in approach with the adoption of a much longer 24-200mm lens, making it much more of a travel camera than its Mark V predecessor with its more limited 24-70mm zoom.
The new Sony RX100 VII sticks with the same 8.3x, 24-200mm lens and external design as the RX100 VI - the only change is the very welcome addition of a Mic socket for vloggers. Otherwise you'd be very hard-pressed to tell the two cameras apart when looking at them side-by-side, from any angle.
Instead, Sony have focused their development efforts for the 2019 edition of the RX100 on making it faster, with a new sensor, processor and auto-focus system onboard, making it much better suited to photographing fast-moving subjects such as sports, wildlife and your kids.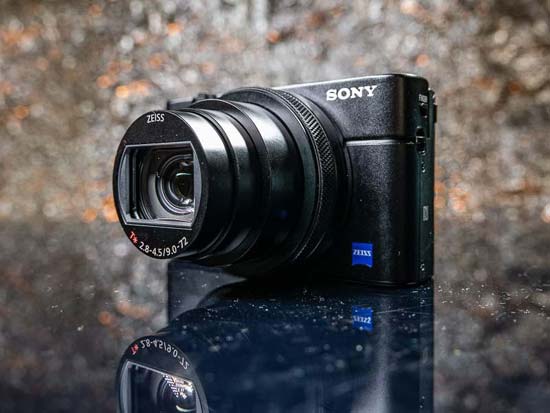 The Sony Cyber-shot RX100 VII's 8.3x Zoom Lens
Lens
Going back to the Sony RX100 VII's lens just for a moment - it's still the same 24-200mm optic as on the Mark VI, which offers much slower maximum apertures of f/2.8 at 24mm (compared with f/1.8 on the Mark V) and f/4.5 at 200mm (compared with f/2.8 on the Mark V).
As a result, the older, cheaper RX100 V is still worth considering if you value faster maximum apertures over the greater zoom range of the VI and VII versions, for example if you do a lot of hand-held shooting in low-light or you love producing shallow bokeh effects in your photographs.
ND Filter
The Sony RX100 VII also again lacks the built-in ND filter of the Mark V, something that we'd hope to have seen addressed in this latest update.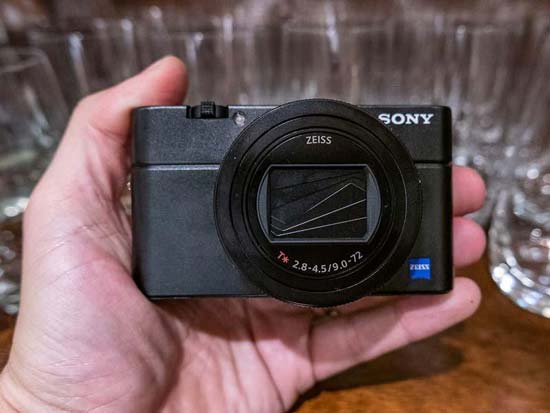 The Sony Cyber-shot RX100 VII In-hand
Image Sensor
As you'd expect, the Sony RX100 VII continues to use a relatively large 13.2 x 8.8mm CMOS sensor as employed by previous models in the series.
New for the 2019 update, though, is the type of sensor that the RX100 is now using. This is a newly developed 1.0-type stacked CMOS image sensor with DRAM storage, with the key word in that sentence being "stacked".
This is the same sensor technology employed in the flagship Alpha A9 mirrorless cameras, which can shoot as 20fps with no blackout during each frame thanks to also using the same stacked sensor technology.
Burst Shooting
Consequently the RX100 VII offers the same very impressive 20fps bursts shooting mode with black-out free continuous AF/AE as the Alpha A9, an incredibly impressive feat for what is after all just a compact camera.
Watching the Sony RX100 VII shoot at 20fps with continuous live view and continuous AF/AE tracking is pretty incredible, and one of the key reasons for buying this camera. It slightly slower than the 24fps offered by the Mark VI, but more usable thanks to the blackout free nature.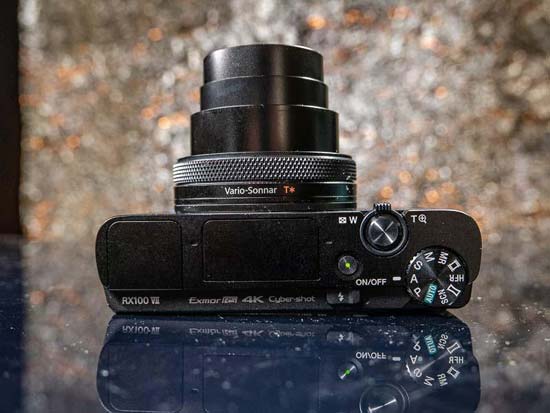 Top of the Sony Cyber-shot RX100
90fps Mode
And if that isn't fast enough for you, there's even a headline grabbing 90fps frame rate available, albeit with a number of significant caveats.
Firstly, there's no pre-buffering option, so your timing has to be spot on to capture the precise moment, especially as the Sony RX100 VII can only record a measly 7 RAW shots at that lightning speed.
Secondly, the camera locks the exposure and the focus point at the first frame, so it's not really suitable for faster-moving subjects.
You can also slow the mode down to 60 or 30fps if you don't need 90fps, again only for 7 shots though.
Auto-focus System
Alongside this increase in shooting speed is the introduction of a new AF system that features technology again adopted from the Alpha mirrorless camera range, namely Sony's latest Real-time Tracking and Real-time Eye AF, and which now boasts an AF time of just 0.02sec, a whole 0.01 sec faster than its predecessor.
They work in just the same incredibly effective way as on the Alpha range, so if you've previously used a recent Alpha camera, you won't be surprised by how well the Sony RX100 VII can lock onto and track a moving subject, be it a human being or an animal.
You will still be surprised though that a compact camera like this one is as capable as much larger, more complex mirrorless one. One slight caveat is that you can't zoom the lens while AF is engaged, limiting the camera's suitability for some subjects.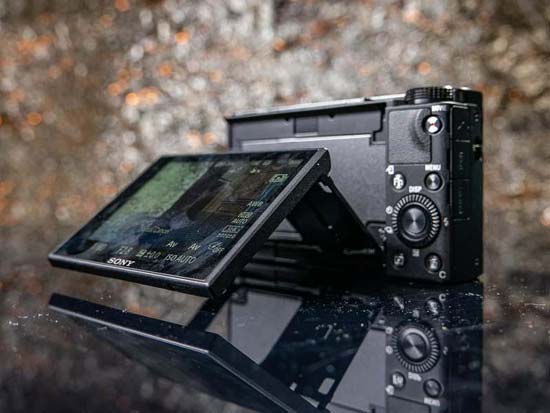 Tilting LCD Screen
LCD Screen
On the back of the Sony RX100 VII is the exact same 3-inch, 921-dot resolution LCD touchscreen as on the MK VI camera, which can be tilted up to 90° downwards to shoot over crowds or up to 180° upwards for easier selfies.
But once again Sony have stopped short of offering a full touchscreen experience. The screen can be used for some elements of operation, including operating the auto-focus whilst looking through the EVF or using the LCD screen, a feature that we've seen on several other high-end mirrorless cameras recently.
You still can't use the menu system in this way, though, press the on-screen icons, or even scroll through images during playback, a la smartphones, although strangely you can double-tap images during playback to zoom in, then scroll around to look at the finer details.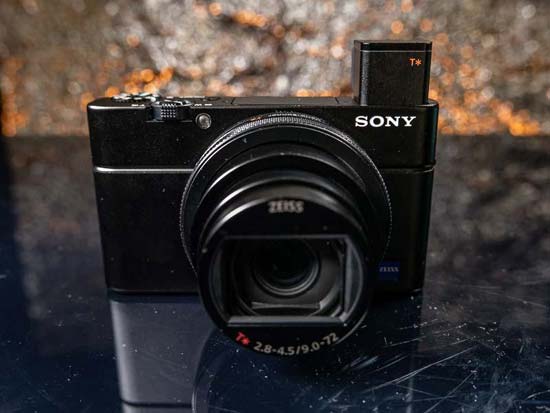 Pop-up Viewfinder
Viewfinder
The Sony RX100 VII also has exactly the same pop-up viewfinder as its predecessor, with the eye-piece both extending and retracting automatically, greatly speeding up the operation of the EVF compared to versions older than the Mark VI.
Grip
There's still no means of gripping the camera on the front, though, with just a small thumb-shaped lozenge on the rear, making the Sony RX100 VII a little difficult to get to grips with, especially since its aluminum body is very smooth.
Sony have recognised this, though, by selling the optional AG-R1 grip accessory, or you can purchase cheaper third-party versions, but we'd really like to see something integrated into the camera design, especially with the longer zoom range on offer where stability is more crucial.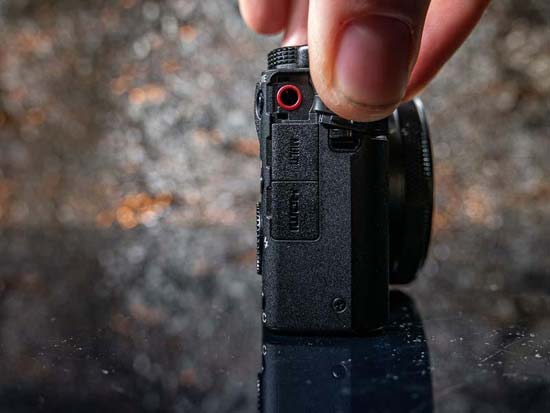 The New Mic Port
Video Recording
The Sony RX100 VII continues to offer 4K Ultra HD video recording at 3840 x 2160 resolution at 30/25/24fps, but now with the added benefits of longer recording time of up to 30 minutes (standard clip time is still 5 minutes), eye-detection AF while filming, the new Active SteadyShot option for for both 4K and Full HD video which combines with the lens stabilisation system, and the addition of the vertical video format for use on smartphones and Instagram.
MIC Input for Vlogging
This version of the RX100 is also the first to feature a 3.5mm analogue input to connect an external microphone, found on the right-hand flank of the camera, something that has long been missing from this series of cameras. There's no accessory port to mounting a mic, though, so you'll ideally need to use a bracket or a lapel mic.
NFC, Wi-fi and Bluetooth
The Sony RX100 VII offers the same NFC, Wi-fi and Bluetooth connectivity offered by the previous Mark IV model.
Somewhat inexplicably Bluetooth can still only be used to geotag your images in conjunction with your smartphone - you can't also transfer images automatically from camera to phone or control the camera with your phone, as on most recent Bluetooth implementations, instead relying on the rather clunky PlayMemories Mobile app for the latter functionality.
So like the LCD touchscreen, Sony haven't really gone far enough in their implementation of what could have been a key feature.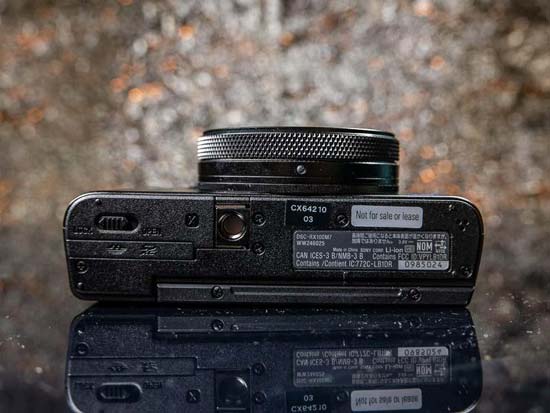 Bottom of the Sony Cyber-shot RX100
Battery Life
Battery life at 260 still shots continues to be poor on this new RX100 camera, thanks to the continued use of the tiny NP-BX1 unit.
You'll need to budget for several of these to get through a serious day's shooting, especially if you intend to make full use of the camera's lightning fast shooting speeds.
Memory Card Slot
The Sony RX100 VII continues to use a UHS-I slot, rather than the faster UHS-II standard, which makes it slow to clear its buffer when taking advantage of the camera's shooting speed.