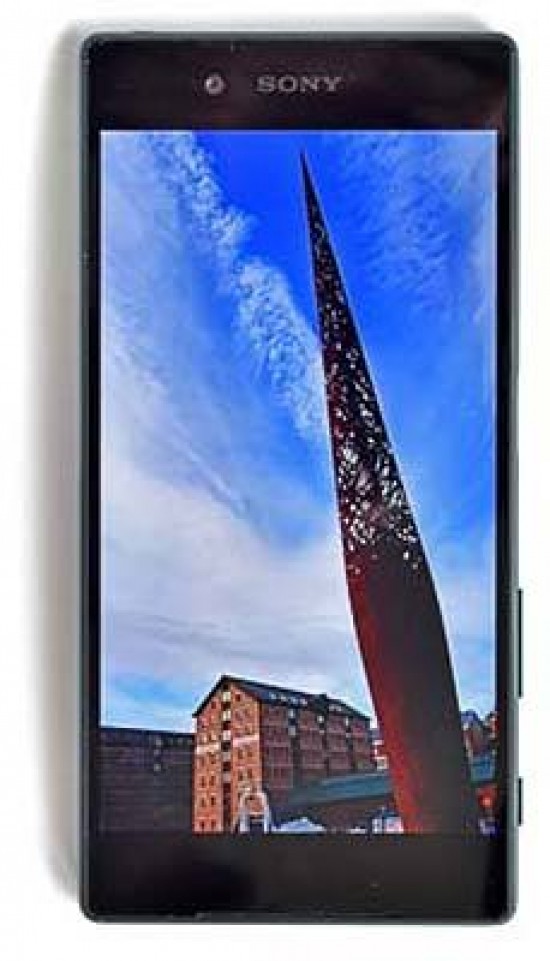 Image Quality
All of the sample images in this review were taken using the 20 megapixel JPEG setting, which gives an average image size of around 7Mb.
With th eSony Xperia Z5 in default Superior Auto mode, images impress from the off with punchy colours, accurate exposure metering and good dynamic range. Zoom in on captured images and there's plenty of detail, and whilst this isn't all that surprising for a 23MP sensor, a high megapixel count is actually no guarantee of crisp detail.
Despite the 1/2.3-inch sensor in the Sony Xperia Z5 being larger than average for a smartphone, this sensor size is still only a match for what's inside a conventional compact camera, many of which run into problems with harsh noise reduction processing smearing fine detail once the pixel count reaches roughly 20MP. Fortunately the Z5 isn't overly prone to this, but shoot a distant landscape and there are the tell-tale signs of smoothed foliage, which gives an unnatural painterly appearance. Even when photographing closer subjects in good light there's evidence of grain; something that's not helped by Sony's slightly overzealous sharpening. All of this would be less of a problem if the Z5 supported raw capture, but sadly it doesn't.
That's not to say any of this is a deal-breaker, as you'll need to be pixel-peeping at 100% image size to really notice the over-processing, but bear in mind that the 16MP Galaxy S6 and LG G4 manage to avoid these shortcomings almost entirely, demonstrating that the Z5's extra megapixels aren't necessarily a good thing.
The Sony Xperia Z5 makes a clearer case for itself in low light. Taking manual control of ISO sensitivity will restrict image capture to 8MP and reduce outright detail levels, but this is more than compensated for by the impressively low noise levels, even at the maximum user-selectable sensitivity of ISO 3200. Colour vibrancy does take a hit at ISO 1600 and above, but the overall performance in low light is still enough to just about edge out the competition from LG and Samsung.
Noise
The Sony Xperia Z5 has seven manually-selectable ISO sensitivity settings ranging between ISO 50 and ISO 3200. Manually selecting ISO sensitivities does require you to select a resolution of 8MP or less, however.
| | |
| --- | --- |
| ISO 50 (100% Crop) | ISO 100 (100% Crop) |
| | |
|   |   |
| ISO 200 (100% Crop) | ISO 400 (100% Crop) |
| | |
|   |   |
| ISO 800 (100% Crop) | ISO 1600 (100% Crop) |
| | |
|   |   |
| ISO 3200 (100% Crop) |   |
| |   |
Focal Length
The Sony Xperia Z5's fixed focal length lens is equivalent to 24mm in 35mm camera terms. 3x digital zoom is available when shooting at the full 23MP resolution, and this can be upped to 5x magnification if the resolution is dropped to 8MP. As these samples show, zooming in at full resolution results in a predictably pixelated mess. 5x zoom at 8MP produces better results, but only just. You'll need to stay under 3x zoom at 8MP to retain decent image quality.
| | |
| --- | --- |
| 24mm - 23MP | Digital Zoom - 23MP |
| | |
|   |   |
| 24mm - 8MP | Digital Zoom - 8MP |
| | |
File Quality
No image file compression options are available and the Sony Xperia Z5 can't capture raw files, but the Z5 does offer several resolution options. These include: 23MP 4:3 (5520 x 4140), 20MP 16:9 (5984 x 3366), 8MP 4:3 (3264 x 2448), 8MP 16:9 (3840 x 2160), 3MP 4:3 (2048 x 1536) and 2MP 16:9 (1920 x 1080).
Sharpening
Here are two 100% crops which have been Saved as Web - Quality 50 in Photoshop. The right-hand image has had some sharpening applied in Photoshop. The out-of-the camera images are sharp enough and don't really benefit from further sharpening in a program like Adobe Photoshop.
| | |
| --- | --- |
| Original (100% Crop) | Sharpened (100% Crop) |
| | |
|   |   |
| | |
Chromatic Aberrations
The Sony Xperia Z5 handled chromatic aberrations well during the review, with a little purple fringing present around the edges of objects in high-contrast situations, as shown in the examples below.
| | |
| --- | --- |
| Chromatic Aberrations 1 (100% Crop) | Chromatic Aberrations 2 (100% Crop) |
| | |
Macro
The Sony Xperia Z5 will only focus accurately for close-up shots down to around 10cm from your subject, which isn't close enough to equal a Galaxy S6, but it's not a bad performance.
| | |
| --- | --- |
| Macro | Macro (100% Crop) |
| | |
Flash
With just a small LED flash, it's no surprise that the Sony Xperia Z5 struggled to overcome the ambient light when shooting this white surface from a distance of 1.5m, although the flash burst does have good spread. With the flash set to standard Fill Flash, it produces a slight hint of red-eye, but you can avoid that by switching to red-eye reduction flash.
| | |
| --- | --- |
| Flash Off | Flash On |
| | |
And here are come portrait shots.
| | |
| --- | --- |
| Flash On | Flash On (100% Crop) |
| | |
|   |   |
| Red-eye Reduction | Red-eye Reduction (100% Crop) |
| | |
Image Stabilisation
The Sony Xperia Z5 utilises Sony's SteadyShot image stabilisation system. The exact technology behind this isn't especially clear, but Sony is not touting it as optical image stabilisation in the conventional sense. SteadyShot at least in part relies on software trickery, but it works well.
| | |
| --- | --- |
| On | Off |
| | |
Creative Effects
The Sony Xperia Z5's camera app includes nineteen filter effects: Normal, Brightness-Contrast, Hue-Saturation, Mirror, Old Film, Motion Effects, Mosaic, Motion Trail, Nostalgic, Miniature, Vivid, Tint, Fisheye, Colour sketch, Comic, Partial colour, Harris Shutter, and Kaleidoscope. This is an unusually extensive and attractive selection of effects to be included with a standard camera app. All effects are previewed live, but it's a pity they're only recorded at 1920 x 1080.
AR Effect
The Sony Xperia Z5 includes several augmented reality effect modes where you the camera app automatically places cartoon graphics into your images. Here's what a dinosaur looks like back from extinction in 2016. Like the other Creative effects, images are recorded at Full HD resolution, and the low quality look is exacerbated by the graphic's low resolution textures.
HDR
Activating the Sony Xperia Z5's HDR feature gives a subtle yet worthwhile boost in dynamic range.
| | |
| --- | --- |
| HDR Off | HDR On |
| | |
Night
The combination of a large f/2.0 aperture and Sony's effective SteadyShot image stabilisation system makes it easy to capture a night shot. These images were both captured at ISO 1600, however the second shot was recorded at 8MP instead of the maximum 23MP. Despite the resolution drop, the second shot actually has more detail, proving that the sensor's full resolution is only beneficial in good light, and often only when shooting close-range subjects.
| | |
| --- | --- |
| Night 8MP | Night 8MP (100% Crop) |
| | |
|   |   |
| Night 8MP | Night 8MP (100% Crop) |
| | |
Selfie Camera
The Sony Xperia Z5's front-facing selfie camera won't record very large images, but you do get a fair amount of detail, vibrant colours and well-balanced exposures.
Sweep Panorama
Sony's Sweep Panorama mode performs much like it does in many of the company's compact cameras, but this isn't a good thing. The extra processing power in smartphones mean they can produce high resolution results with seamless stitching, whereas the Z5 generates panoramas measuring a relatively modest 1080 vertical pixels. This alone wouldn't be too bad, but the image quality is also very soft and ghosting is common. Overall, panoramas captured by the Z5 (or at least via its camera app) look unappealing and are at odds with the rest of the camera's performance.