Canon PowerShot A3500 IS Review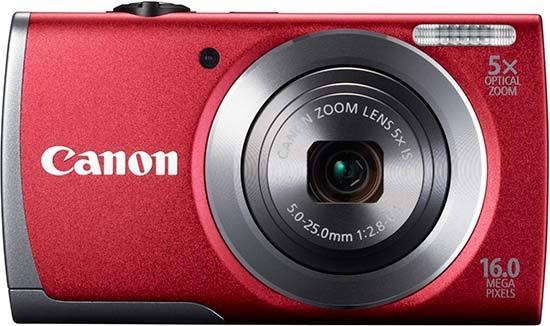 Introduction
The Canon PowerShot A3500 IS is an easy to use, point and shoot digital camera featuring a 16 megapixel sensor, modest 5x optical zoom, built-in wi-fi and powerful DIGIC 4 processor. It's a camera for the happy snapper, but that doesn't mean it should shirk on image quality. In our full review, we'll find out whether it does. Available in black purple and white, the Canon PowerShot A3500 IS costs around £110.
Ease of Use
The Canon PowerShot A3500 IS looks a little bit wider than your average digital compact camera. Arguably, this is to accommodate the wide screen that's found on the back. However, it's only a 3 inch version that's found on any camera. Looking at the back, the camera appears to have been made wider to allow for more space on the back. Not for the screen, though. It's actually for the larger-than-usual buttons that sit next to the screen. They're the typical buttons such as direct Video record, User help, Main menu, Playback, and a command ring that has a cacophony of uses from flash options to wi-fi settings.
On the front, the small lens sits in a large bezel giving it the effect of being larger than it really is. A slim flash sits on on side of the lens with the AF emitter on the other. The top of the Canon PowerShot A3500 IS has a simple approach in that there's only two buttons. The power button is a long, thin button while the shutter release is larger than the power button and sits slightly higher. This is useful for shooting in the dark and the zoom switch is wrapped around it so it's easily located and operated with the index finger.
There are a few features to help you along with your photography. One of those is the wi-fi compatibility. Switch the wi-fi on, select the signal you want to use and you can upload your pictures to your phone, tablet, computer or direct to a wi-fi enabled printer. This is really handy for when you simply don't have to time to start messing around taking the card out, downloading pictures onto a computer, finding the file you want and then transferring or printing it.
| | |
| --- | --- |
| | |
| Front | Rear |
Other interesting features include an Eco mode that saves energy on the camera battery. It works by dimming the screen after two seconds of inactivity. After ten seconds of inactivity, the screen turns off and then the camera turns off after three minutes. Ideal for long days out when on holiday and you forget to switch the camera off. There's also several digital effects for making your pictures more fun to shoot and look at after. Features such as fish-eye effect, Super-vivid and Monochrome. You can also use the Miniature effect which – when shooting a town scene from above – makes the scene look like you're viewing a toy town.
Experimenters will be pleased to know that Live control is available on the Canon PowerShot A3500 IS. It lets you change the brightness and colour saturation on screen before you shoot, so you can see what the results will look like before you get them.
Arguably, where the Canon PowerShot A3500 IS excels is the build quality. It's a metal casing, which is nothing new, but look closer and there are a few more nuggets that set it apart from other cameras at this price point. The tripod bush is made of metal, which is unusual for a camera at this position in the market. The screen on the back is flush with the back which generally is only seen on higher priced models. However there are areas that let the camera down such as the rubbery USB port cover. The battery cover is plastic, but has no metal backing it to give it strength. Saying that, it's not overly flexible, but you can't help but worry that it could break easily.
| | |
| --- | --- |
| | |
| Front | Top |
There are two main menu systems when taking pictures and one in the Playback area. Pressing the Func. Set button will open up the Shooting menu. This is a side bar that has access to a number of options that will help you in day to day photography such as white-balance, ISO, resolution, focusing modes etc. To get more in-depth features such as languages, date & time, card formatting or focusing options, you need to press the Menu button and go into the Main menu. Over the years Canon have refined their menu systems and today they're very easy to use. The options are clear, concise and easy to understand just by looking at them. However, should you need it there's a help button just below the video record on the back that will open up a User Guide.
From a cold start, the Canon PowerShot A3500 IS can power up, focus and take a picture in around 2.3 seconds. That's slightly faster than the average of 2.5 seconds. The continuous shooting mode is an unusual one. Look at the Canon website and they state that it can shoot at 0.8 fps (frames per second)  but we managed four pictures in a ten second period. That's more like 0.4 fps – half what the Canon says. Look in the small print on the specification and it does say that it's dependent on the resolution and compression used. So if you want a marginally fast frame rate instead of a tepid one, you need to lower the resolution. 
| | |
| --- | --- |
| | |
| Memory Card Slot | Battery Compartment |
Looking back at pictures you've already taken can be done by pressing the playback button on the back of the camera. When the Canon PowerShot A3500 IS is powered on, it's an instant transfer, but if the camera is off, you'll have to hold the button down for a second or so. This is just for the camera to make sure you've not nudged it by mistake. Viewing the pictures will be full screen as standard along with no information.
Pressing the Disp button will bring up basic information about the photograph, then press it again and you get a lot more detailed information such as the mode used, shutter speed, aperture, exposure compensation, file size and number, date & time taken and a histogram. In the playback menu, you can make a slide-show, erase pictures, protect them set up a photobook or adjust them with iContrast. If you're unfamiliar with iContrast, it's a dynamic range booster that brings out some detail in darker areas while capping burn out in the highlights. 
In the box, there's a User manual that comes on a CD. Along with that, there's another CD that has Solutions. This disc has to be installed if you want to connect the camera to the computer via wi-fi. There's also a USB lead, wrist strap, lithium ion battery and charger.