Canon PowerShot SX430 IS Review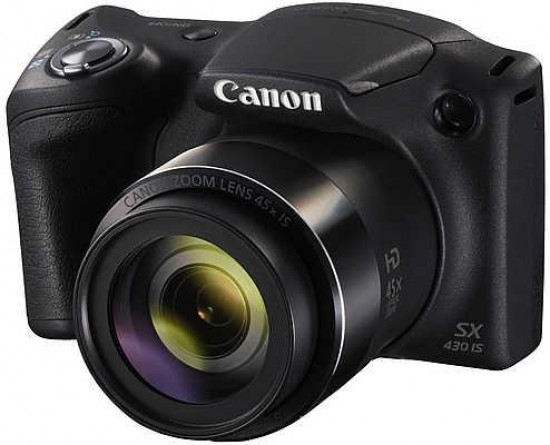 Introduction
The Canon PowerShot SX430 IS is a new budget superzoom camera.

The Canon SX430 IS features a 20.5 megapixel 1/2.3-inch CMOS sensor and a 45x optical zoom lens which is equivalent to 24-1080mm in 35mm terms.

Other key features include Wi-Fi and Dynamic NFC connectivity, 720p movie recording, and intelligent Image Stabilizer for stills and movies.

The Canon PowerShot SX430 HS is priced at £229.99 / €299.99.
Ease of Use
Super zoom or 'bridge' cameras have typically been bulky affairs, whilst the focal range of so-called 'travel' cameras has been slightly ham-strung by the fact of still needing to produce a camera that will slip readily into pocket or day bag. Announced back in February and newly arrived, the Canon PowerShot SX430 IS seeks, in our opinion at least, to offer a 'best of both' solution, strapping a whopping yet still impressively compact 45x optical reach to the front of a camera that resembles a consumer grade SLR (or enthusiast level super zoom), yet one that's been conveniently shrunk in the wash.
It's really difficult to appreciate how diminutive this camera is, just from going by the press shots in advance of its arrival in your hands. We managed to squeeze just two adult sized fingers around its handgrip, leaving our forefinger hovering over the conveniently placed shutter release button at its topper-most edge, itself encircled by the lever for adjusting the zoom. Though it's possible to operate the camera with one (right) hand, you'll want to use your left to help both keep the body (and your horizons) level and steady, when supporting the lightweight zoom.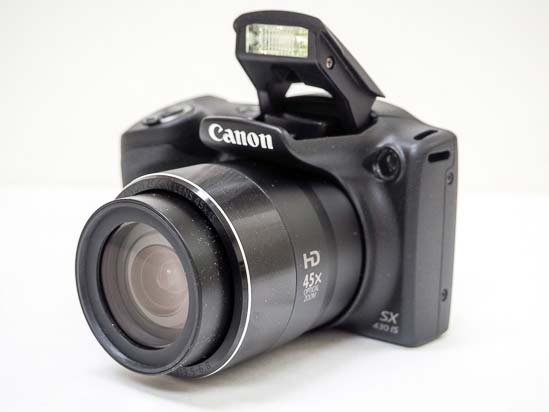 Front of the Canon PowerShot SX430 IS
Whilst the prominent lens barrel, affording a maximum f/3.5 aperture but much more eye catching massive 24-1080mm equivalent reach in 35mm film terms, means the SX430 IS ('image stabilised', naturally) would be an awkward squeeze for any trouser pocket, it will drop comfortably into any jacket or, for those travelling types on a weekend city break, small rucksack or shoulder bag. The simple fact that operation is largely point and shoot ensures this camera can be used by all the family – if the youngest members are, say, 7+. The wide focal range also means that just about any shot can be framed and re-framed with the assistance of the rear LCD screen, with the photographer rarely having to take a step towards, or away from, their subject. We'd wager a summer holiday would definitely make the best use of both this PowerShot's lack of size and broad yet at the same time very simple and accessible capabilities. The lens cap here is of the detachable plastic variety, which can be affixed via thread to the camera's vacant lug for a strap. That's probably the best way to avoid simply losing the cap.
With operation pretty much point-and-shoot all the way and a relatively un-flashy 1/2.3-inch CCD sensor at its heart providing a 20 megapixel effective resolution, (just like the 8x zoom IXUS 185 released alongside it), the SX430 IS is perhaps not a camera for the photo enthusiast, however, who will want something more substantial in every sense of the word. We can see the ideal purchaser of this camera instead being the typical smartphone user or family man or woman seeking to upgrade to a 'proper' camera with a bit of extra punch and flexibility when it comes to the zoom department. Talking of smartphones, the camera offers both Wi-Fi and NFC transfer when it comes to image sharing, without needing to remove the optional yet essential memory card. Thankfully, a regular postage stamp sized SD/SDHC card is the media of choice here, rather than the smaller and more fiddle-some microSD.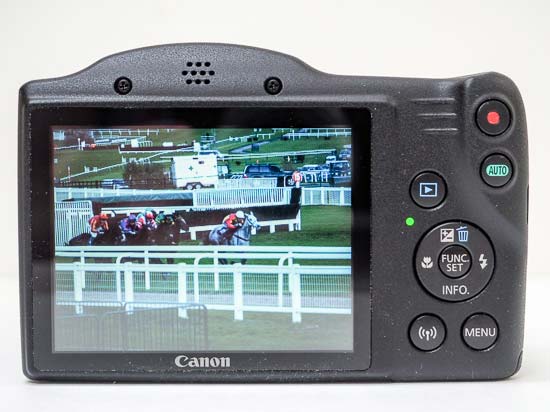 Rear of the Canon PowerShot SX430 IS
For a suggested £229.99 the Canon PowerShot SX430 IS is both affordable and, at the same time, pared back in terms of any manual features. We don't get any eye level viewfinder, with instead a built in speaker occupying that space above the LCD screen on the backplate. Said screen isn't the touch screen we've got used to finding on compacts in 2017 either, whilst video quality is HD rather than Full HD, never mind 4K. The LCD is a little larger than its overall body size might suggest, at 3-inches, though the resolution is a bog standard 230K dots, which means that it's still tricky to determine whether an image is properly sharp without enlarging a portion of it to check.
Though the lens capability is a marvel of modern miniaturization, the SX430 IS a feels like a bit of a throwback to simpler times, in some respects. A case in point is its control layout. This apes an old-school point and shoot digital compact in the respect that its array of controls will be familiar to anyone who has operated such a camera at any time over the past 15 years. A quartet of backplate buttons inset into the body, whereby they can be operated by thumb or fingernail but not readily knocked accidentally, orbit a centrally placed control pad with function/set button at its core.
The lens reach here is so massive that, when attempting photography at the telephoto end of the zoom, the image relayed to the LCD screen tends to 'dance' about, even though you may feel you're holding the camera as steady as possible. It therefore requires a bit of trial and error – and a couple of extra shots – to end up with the framing you intended, if shooting at maximum telephoto. The obvious way around this is to otherwise stick the SX430 IS on a tripod; a small portable Gorillapod tripod that could otherwise be folded up and stashed in a pocket, would be an ideal pairing with this mini DSLR-styled camera.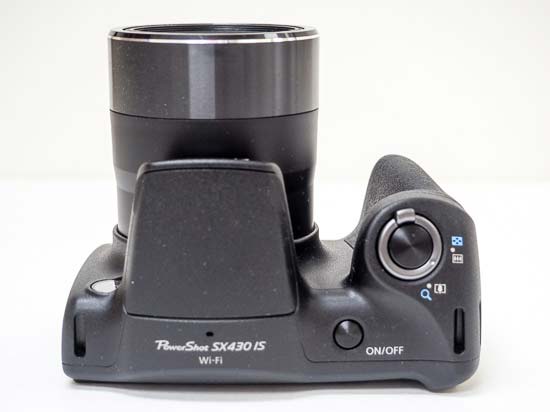 Top of the Canon PowerShot SX430 IS
We mentioned the SX430 IS' handgrip earlier, which, while small, at least makes for a comfortable hold. The shutter release button encircled by the zoom lever sits up at the front top of the handgrip, gently moulded to provide slightly more purchase for two adult fingers, with the main on/off power button set a little back on the camera top plate. At the back of the grip, where we'd commonly find our thumb coming to rest, is a red record button for activating video capture. Again this button is flush with the bodywork/slightly recessed, in order to avoid accidentally firing off a clip when merely handling the camera or lining up a stills' shot. Buttons are responsive to the touch and at no point did we feel the camera was waiting to catch up with our selections. One might assume that with the massive focal range at our disposal the SX430 IS might be great for wildlife or sports photography. While we were able to capture some fairly static wildlife in our frame, a continuous shooting speed of 0.5 shots per second at full resolution is hardly Olympic standard.
If we've one grumble to do with the Canon PowerShot SX430 IS betraying its budget cost, it is that the operation of the lens itself – by which we mean the motor used to extend it outwards and retract it backwards. This is slightly noisy, making a grinding and buzzing sound in operation. But in fairness this won't be picked up on, or prove a distraction for potential subjects, if you're using the camera in busy, bustling tourist environments anyway.
Side of the Canon PowerShot SX430 IS
Otherwise the camera is as responsive as we'd wish for, even if available selections are a little limited – both a reflection of its budget price, and the fact that this is supposed to be simple to operate from the off. No need to refer to any manual here – you can navigate your way around the camera from scratch pretty easily. There are two choices when it comes to image quality: Superfine and Fine and the ISO range is pretty limited – running from a manually selectable ISO100 to ISO1600. There is additionally a dedicated Low Light shooting mode selectable from its left-hand-side of screen function menu, though this does cap resolution at five megapixels, to negate any possible appearance of image noise.
More about image quality in a moment; the other aspect we need to mention first is battery life. Though we didn't notice the camera being unusually power hungry for its class, Canon's website lists a full charge of its lithium ion cell lasting just 195 shots, which reads on paper as fairly unimpressive. However there is the possibility to boost this to a more respectable 260 shots (in fairness closer to what we expected) if placing the camera in 'eco' mode.
As a general use camera, then, for those who want a lot more zoom power than their smartphone could ever afford them the Canon PowerShot SX430 IS shows its versatility. But whilst it may proffer itself as a jack of all trades for those wanting flexibility in a very compact package, given the broad focal range on offer, does it also master said trades too? Read on to find out…