Fujifilm FinePix XP140 Review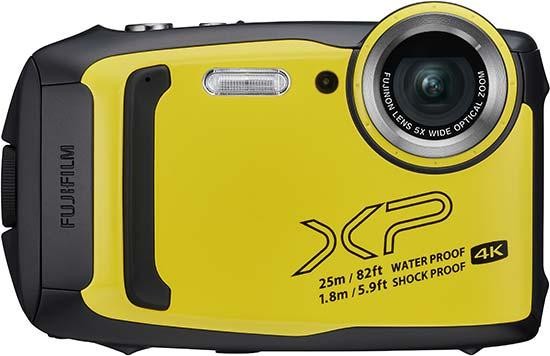 Introduction
The Fujifilm FinePix XP140 is a tough compact camera for all the family, featuring a 16.4 megapixel back-illuminated CMOS sensor, a 5x optical zoom lens (28-140mm equivalent) and movie recording in 4K quality. It's waterproof to 25m, shockproof to 1.8m, freezeproof to -10°C and dustproof.

Other new features for this year's model include a maximum sensitivity of ISO12800 (one stop higher than its predecessor, the XP130), improved Scene Recognition Auto mode, Eye Detection, a new processor, improved durability and a new user interface.

The Fujifilm XP140 is available now in Lime, Yellow, Graphite and and Sky Blue and is priced at £179 / $199.
Ease of Use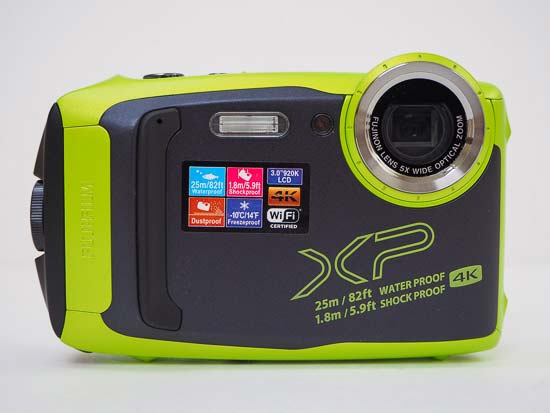 Front of the Fujifilm FinePix XP140
Want to embark on risk-taking photographic adventures that would prompt most digital cameras or smartphones to curl up in the corner and cry digital tears? Announced back in spring of 2019, the pocket-sized Fujifilm XP140 is a toughened point-and-shoot compact that arrives on the Photography Blog test bench hot on the heels of our recently reviewed Ricoh WG-6 model, which offered 20 pixels from its 1/2.3-inch CMOS sensor, as opposed to this Fuji's more modest 16.4 megapixels from its own back-lit chip.
While the Ricoh was a hard-to-miss bright orange, our Fuji XP140 arrives in an equally arresting luminous green and black (officially 'Lime') energy-drink-like combination that it would hard to miss even if dropped to the bottom of a pool or, alternatively, tumbled out of a pocket onto the snow when skiing. Further body options include yellow, graphite and sky blue.
We've mentioned both these recent waterproof, drop-proof and freeze-proof cameras (to which you could also add Olympus' TG Tough series) because, if you're interested in one, there's a fair chance you'll also be considering the other.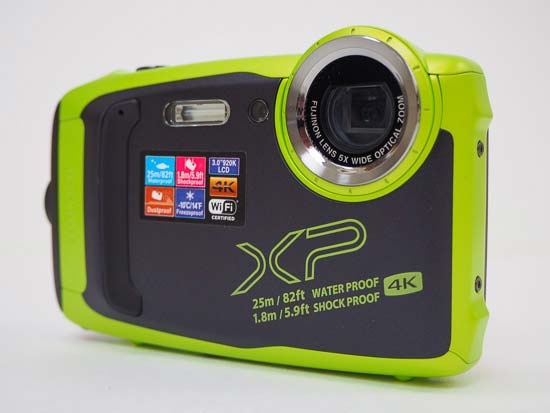 Front of the Fujifilm FinePix XP140
The Bluetooth and Wi-Fi enabled Fuji XP140 option, which provides compatibility with Fuji's Camera Remote app, once again features an internally stacked zoom mechanism that ensures the lens at no point protrudes from the body casing. The lens is positioned top right of the camera faceplate where, potentially, stray fingertips may get into shot if operating the camera with both hands. But if you're aware of this at the outset, you can go a long way to avoiding this happening – plus the camera is light enough, and a firm enough grip can be had, that it can indeed be used one-handed, which avoids the possible stray finger issue.
On the Fujifilm Finepix XP140 we get a 5x optical zoom, controlled, instead of via the usual rocker switch, by alternating between a thumb press of buttons marked 'W' (wide-angle) and 'T' (telephoto). The widest setting is a useful 28mm equivalent, progressing to 140mm, fittingly enough, at the telephoto end.
Weighing just 207g, which means that it can be comfortably squeezed into the pocket of your jeans, this camera is more than manageable, its destruction proof qualities this time around including waterproofing to depths of 25 metres, being shock proofed against drops from 1.8 metres in height and continuing to operate in temperatures as low as minus 10°C. So far, pretty much standard stuff.
As regards what is different this time around, when compared to previous generations of Fuji toughened cameras, the straight answer is not that much, save for the headline that, by being waterproof down to 25 metres, that's 125% better than the previous XP130 model.
Maximum sensitivity now nudges up to the equivalent of ISO12800 – one stop higher than its forebear – while Scene Recognition Auto mode is said to have been 'improved', with an eye detection feature automatically biasing focus towards the eyes of the subject – and the camera's 17-strong Advanced Filters include new Rich & Fine and Monochrome (NIR) modes among the available options.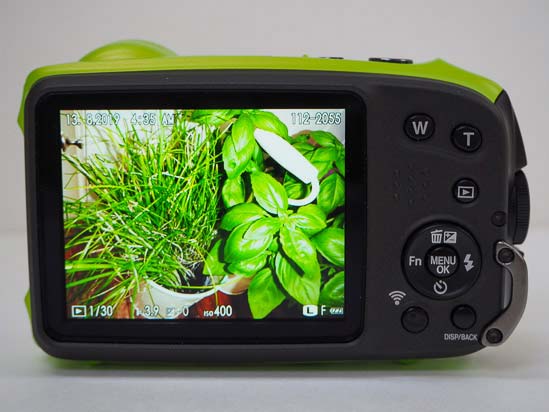 Rear of the Fujifilm FinePix XP140
The menu layout on the Fujifilm XP140 is straightforward if a little old fashioned. The bonus is that if you'd first used a digital camera fifteen years ago and this was only the second one you'd picked up, there'd still be much that's familiar that would have you scrolling through and selecting settings in an instant. Intuitiveness and user friendliness is key to an action camera of any description, of course, as you want to spend less time fussing over settings and more time watching what you're doing.
Although the Fuji XP140 offers up to 4K-video capture, the highest frame rate in this setting is a modest 15fps. Drop down therefore to Full HD resolution if you want the standard 30fps rate for smoother footage, which makes the inclusion of 4K here – which the manufacturer trumpets as being the feature's first inclusion in the series of its toughened cameras – seem more like an exercise in box ticking than anything else. And of course, offers a modest improvement on the previous generation model to justify its existence.
Though the lime green of our review sample is either love-it-or-hate-it (though will no doubt prove popular with younger members of the family), it does mark this product out as a bit of fun as much as anything else, while the value added pricing won't have users expecting the earth of it (while also making it affordable enough to tempt casual smartphone shooters to a dedicated device).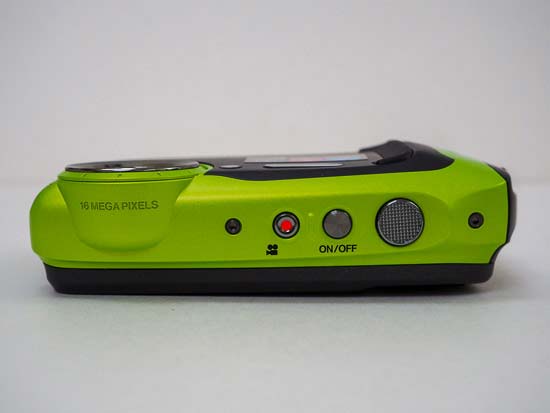 Top of the Fujifilm FinePix XP140
The Fujifilm XP140's sporty-looking faceplate is dominated by a large and obvious lens, adjacent to which is a familiar small porthole window for AF / self timer lamp, and next to that again, a lozenge shaped window housing the built-in flash (settings for which are boiled down to the essentials of auto on, off, forced flash and slow sync – you have to drill further into the menu to find the a red eye reduction on/off option).
As noted earlier, its manufacturer claims the grip – as subtle as it is – on the Fuji XP140 has been 'improved' over its predecessor. A thumbprint-like array of nine raised nodules on the camera back provides somewhere for the thumb to rest, while a slim rubberized wedge on the faceplate provides purchase for a couple of fingertips, leaving the forefinger of the right hand to hover over the large, roughened surface of the shutter release button – said surface helpfully avoiding the likelihood of slippage if operating the camera with wet hands.
The other two buttons on the top plate, framed by small industrial looking screws either side that subtly reinforce the toughened prowess of this model, are a marginally raised on/off button that's marked as such, plus a slightly recessed red record button self-evidently illustrated with a graphic for a movie camera. So a very straightforward and intuitive camera in terms of layout then, and one on which you won't have to hunt around to find the settings to get it to do exactly what you want.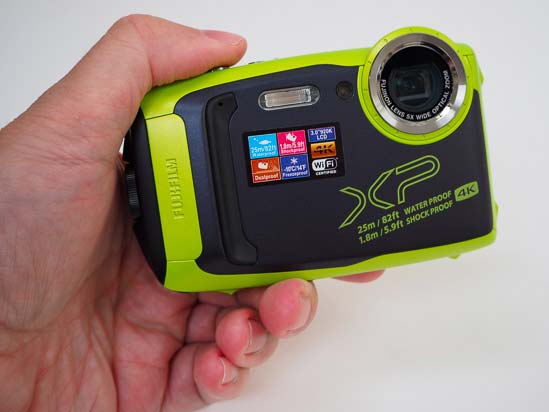 The Fujifilm FinePix XP140 In-hand
Operation is pretty responsive. Squeeze the on/of button and the rear LCD blinks into life in a second or so, which is a respectable showing for this class of camera. A half squeeze of the shutter release and a central AF box illuminates in green with an added beep of affirmation to reassure the user that critical focus has been achieved (subject to the effects of camera shake/hand wobble at the point of actually fully squeezing the trigger, of course).
Do this and a 'Fine' quality setting Large JPEG – the top setting – image is committed to memory in an instant. Unsurprisingly given the price tag here, the alternative (or even addition) of Raw file capture is not an option. Should the user want to shoot continuous bursts, the options here are at 3fps, 5fps or top tier 10fps.
The real estate at the back of the FujifilmFinepix XP140 is meanwhile largely swallowed up by its 3-inch, 920K dot resolution LCD screen, which occupies two thirds of the left hand side in the absence of any optical or electronic viewfinder, the inclusion of which, to be honest, would always feel like unnecessary window dressing anyway on a camera of this size.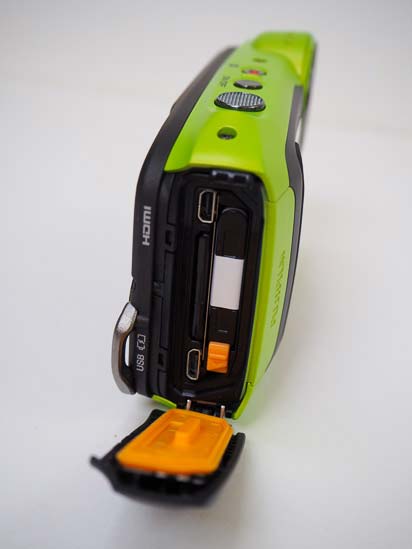 The Fujifilm FinePix XP140's Connections and Battery Compartment
Screen quality is good, but not outstanding, especially in brighter light, which makes detail difficult to ascertain. The other buttons on the backplate are the aforementioned thumb operated controls for the zoom, beneath which sits a familiar smaller and more recessed button for playback mode. The screen here, incidentally, is not a touch screen.
Beneath these again is a similarly 'old school' four-way control pad that features a menu/OK button at its centre and options ranged around it, spread between image delete or exposure compensation adjustment (a modest +/- 2EV), flash settings, self timer options plus 'Fn' function button, that in default mode brings up the Fuji XP140's key shooting modes and digital effects, in the absence of a dedicated shooting mode dial which would here of course compromise the camera's water and dust proof capabilities.
Digital effects modes here include a corner shading 'toy camera' option, the vivid 'pop colour', high key, low key and fish eye effects. Dynamic tone and miniature options – whereby the top and bottom of frame are blurred for effect – are also fun. Monochrome (NIR) – one of the new modes – apes the ethereal black and white look of an image taken with an infrared camera, while there are several 'partial colour' settings that pick out, say, the red or orange in a scene and leave the rest in black and white to subject highlight effect (as long as said subject is orange or red, for example).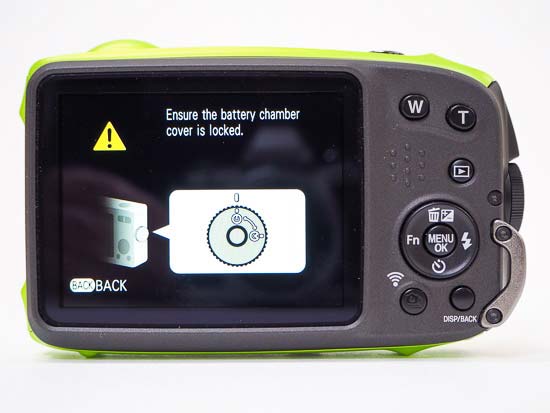 Rear of the Fujifilm FinePix XP140
With a lockable wheel protecting the SD media card compartment shared with a battery compartment at the Fuji XP140's side from any unwanted ingress from dust, dirt or water, an on-screen message prompts the user to check that this is securely closed before use. With no dedicated mains charger provided, the battery is charged within the camera body itself, with a mains plug and detachable USB cable provided for the purpose of juicing up said cell.
In short the Fujifilm Finepix XP140 is a camera with the accent firmly on the fun and the practical, eschewing the bells and whistles of higher priced models for one that simply works and which you won't get bored of too quickly – as long as you don't covet said bells and whistles. But how does it rate when it comes to image quality? Are the shots it produces equally robust in terms of their visuals, or do they fall apart under pressure? Read on to find out...