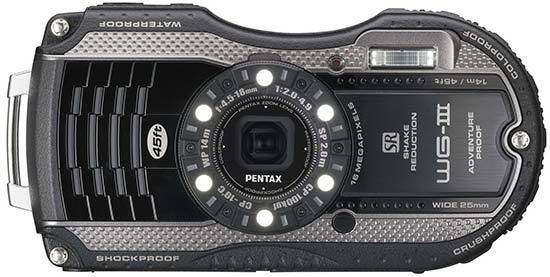 Introduction
The Pentax Optio WG-3 is a waterproof, dustproof and shock-resistant compact camera which can be used at a depth of up to 14 metres and can withstand a drop of 2 metres, cold to -10°C and a weight up to 100kg. The WG-3 features a 16 megapixel back-illuminated CMOS sensor, Full HD movie recording, a 4x optical zoom lens with 25mm wide-angle coverage and a maximum aperture of f/2, image-sensor-shift-type Shake Reduction, a 3 inch 16:9 ratio LCD monitor with 460K dots, and six built-in LED macro lights. The Pentax WG-3 is available in black or orange and costs £279.99 / $299.95.
Ease of Use
The design of the new Pentax Optio WG-3 almost literally screams "Action!". As with it's predecessor, you'll either love the ultra-modern look that resembles a robot's smartphone and appears to have boys under ten years old in its sights, or hate it. This isn't a camera for the shy and retiring, although out all-black test sample is certainly a lot more sober than the orange version.
Though the zoom here is a modest 4x optical, with a focal range equivalent to an ultra wide 25-100mm in 35mm film terms, in most other respects the Pentax Optio WG-3's specification is very good. So we get a 16 megapixel effective resolution provided courtesy of a 1/2.3-inch back-lit CMOS sensor (16.79 total MP), Full HD 1920x1080 pixels video (mono sound), and a widescreen ratio 3-inch LCD at 460k dots resolution with anti reflective coating and 170° viewing angle. Returning to the lens for a moment, although the 4x optic is modest, it does at least boast a fast maximum aperture of f/2.0 at the 25mm setting, which should help out in dim conditions and for throwing the background more effectively out of focus.
If diagonal lines, arrow-head edges and bright sporty colours alone didn't already suggest this camera was a different beast, the industrial faceplate screws plus lockable cover for the joint card, battery and HDMI port compartment indicate that the WG-3 is tougher than your average compact. Pentax boast that the WG-3 can withstand being dunked underwater to depths of 14 metres for up to two hours, temperature as low as minus 10°C, being dropped from 2 metres in height, plus a weight equivalent to 100kg being placed on top of it, a slight improvement on the previous WG-2 model.
| | |
| --- | --- |
| | |
| Front | Rear |
The 4x zoom lens here is of the internally stacked variety, ensuring that at no point in its operation does it protrude from the body and potentially get into harm's way. That said, this did mean that very occasionally we experienced the end of our middle finger making it into shot when gripping the camera, as it doesn't project outwards. Commendably the protective layer in front of the lens appeared impervious to finger smudges and smears, while water appeared to run off the surface of the camera itself so that it didn't need plenty of drying down after a dip.
With all the little stylistic details, such as the sloping and serrated edges, industrial style faceplate screws and ring of bulbs around the lens to be deployed ringlight fashion in the 'digital macro' mode (get as close as 1cm), the camera certainly looks busy front on. Add in an AF assist/indicator lamp bottom right of the lens, slots for the microphone, a small rectangular flash bulb and a new remote control receptor, and all the essentials are here however, with said flash sufficiently far from the edge of the faceplate to avoid fingertips straying in front. Indeed, although slim enough in depth the camera is longer than many competitors, and more rectangular in shape, something that is to an extent hidden by the eccentric design. Dimensions are officially 64.5x125x32.5mm – so roughly the proportions of a large smartphone, and bigger than its predecessor - while the camera weighs 209g, so it won't feel like a dead weight in your jacket pocket or beach shorts.
On the minimalist top of the camera is a recessed on/off button and a lozenge shaped shutter release button. The latter has a subtly roughened surface to make it easier to operate with wet fingers. Press the power button and the Pentax WG-3 GPS blinks into life in just over a second, which is swift for any camera. There's no wait here for a lens to extend from the body to its maximum wide-angle settings because it's already at that setting. Give the shutter release button a gentle squeeze and via the rear plate LCD you can see the image momentarily adjust before a green AF point appears on screen to signal you're ready to take the shot. Squeeze the shutter release button fully and there's no discernible shutter delay, the screen briefly blacking out before freezing to display the captured shot for a couple of seconds before reverting to the live feed.
| | |
| --- | --- |
| | |
| Front | Top |
Three quarters of the backplate is eaten up by the widescreen ratio LCD, which means that still images captured in the default 4:3 image aspect ratio are displayed with black bands left and right of screen - like watching an old analogue broadcast era sitcom on a HD TV. While the LCD picture is visible in bright sunlight it could do with a bit more contrast, thereby helping us to determine finer detail, like whether an image is properly pin sharp or a little soft. The button layout to the right of the screen offers a familiar array of options. Despite their textured feel, should you be wearing gloves of anything but the fingerless variety, the buttons are a little too small for comfortable and precise usage.
From the top of the backplate then we have a rocker switch for zooming in or out, though rather than utilising a toggle type action, its length necessitates that your thumb has to hop from one end to the other, or from wideangle to telephoto setting, to arrive at the focal length required. Hold the right hand edge down and the camera powers through the entirety of its range in three seconds. However do the same when recording video and we only get access to a 7.2x digital zoom, the image visibly degrading as you get closer to your subject, which is a shame.
Beneath the zoom lever are the self-explanatory playback button and one-touch movie record button, and below this again is a four-way control pad. Depress the upper edge of this pad to adjust the self-timer settings, press its right edge to select macro/close up option, the bottom edge to call up the selectable shooting modes in the absence of an actual shooting mode dial or the pad's left hand edge to access the camera's flash settings.
| | |
| --- | --- |
| | |
| Memory Card Slot | Battery Compartment |
Press the 'mode' portion of the pad and the user is presented with an array of shooting options illustrated by colourfully cartoon-ish icons, with Auto Picture mode, which compares any scene with 16 on-board pre-sets and hopefully chooses the most appropriate, the default setting. There are 27 other combined shooting and scene modes to choose from. A final duo of backplate buttons is equally self-explanatory: we get a menu button – with options overlaid on screen – plus a dedicated delete button for dispatching duff shots, which is always useful. A small second remote control receptor completes the rear of the WG-3.
The right hand edge of the camera, if viewing it from the LCD side, a chunky industrial looking lug for attaching the equally chunky carabiner strap for mountaineering types, which is provided in the box in lieu of a dainty wrist strap. The base of the Pentax WG-3 GPS features a plastic screw thread for attaching the camera to a tripod on the cusp of one edge, rather than the usual centre positioning, while towards the opposite edge and taking up roughly half of the entire base is a sliding door protecting the joint rechargeable 240-shot lithium-ion battery (a fair if hardly ground breaking performance), SD card compartment (incidentally compatibility with Eye-Fi cards is also included) and two ports for HDMI and AV/USB output. This compartment has the requisite protective catch and stiffened feel to its opening/closing 'action'- indeed you almost have to force it open and shut.
Generally speaking the build quality of the Pentax WG-3 GPS is high and it certainly gives off the impression of being able to live up to its nigh destruction proof billing – more so than many of its cheaper but also more obviously plastic-y rivals. Now let's take a closer look at its image quality...