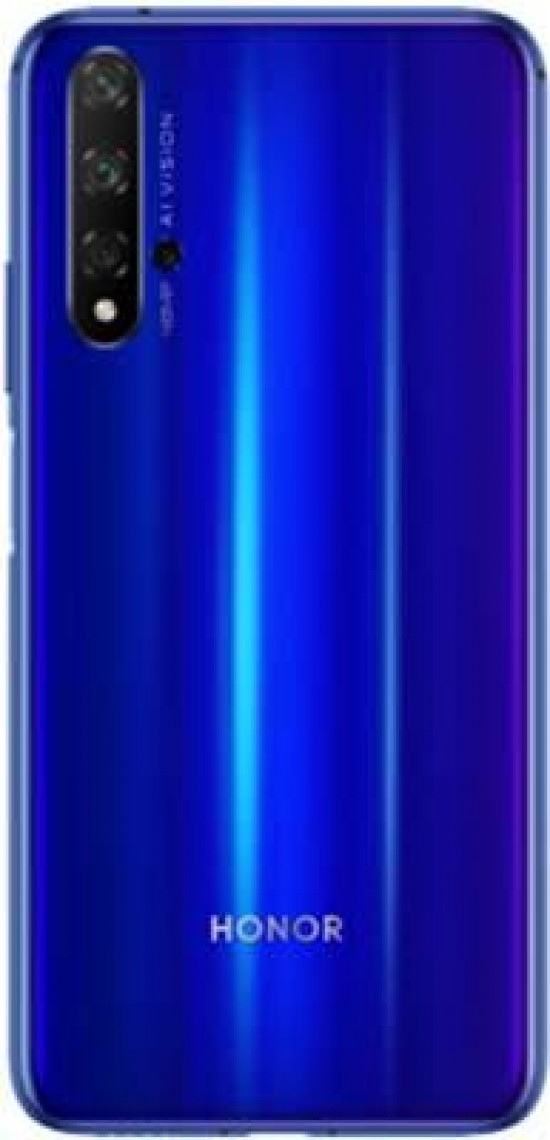 Introduction
Released in June 2019, the Honor 20 sits in the middle of the latest flagship range of phones from the Huawei sub-brand. Sitting below it is the Honor 20 Lite, while above it is the Honor 20 Pro (yet to be released onto the UK market).

The Honor 20 uses many similar specifications to its more advanced sibling in the line-up, but there are some notable differences between the Honor 20 and the Honor 20 Pro's camera. As Honor is a sub-brand of Huawei, it also uses some technology which it inherits from the more prestige brand.

On the back of the phone, the Honor 20 features a triple camera set up - you've got a 48 megapixel camera with an f/1.8 aperture lens, a 16 megapixel f/2.2 wide-angle camera, and a 2 megapixel f/2.4 macro camera. There's also a 2 megapixel f/2.4 depth sensor which comes into play when taking shallow depth of field effect images.

While the Honor 20 Pro also has a 48 megapixel main camera, it pairs the camera with an f/1.4 lens, and also gives you a 3x optical zoom lens as well as the macro camera and wide-angle camera.

On the front of both the Honor 20 and the Honor 20 Pro, there is a 32 megapixel f/2.0 selfie camera.

Other interesting specifications include a 6.26" full HD screen, 6GB of RAM and 128GB of inbuilt storage, and a 3750 mAh battery.
Ease of Use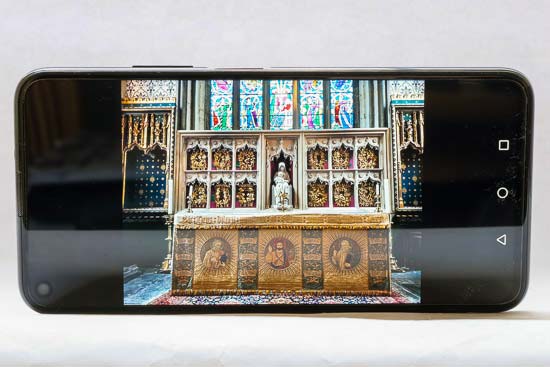 Front of the Honor 20
Despite being a mid-range phone from a mid-range brand, the Honor 20 feels well built and uses a fairly sleek design. It has nicely rounded corners, while the various colours available are stylish.
The screen uses a "hole punch" notch to house the front-facing camera, which essentially means that you get the most from the screen possible, but it's arguably not as elegant as some other solutions on the market, such as the teardrop notch. Still, it means you get to take full advantage of the 6.26-inch screen.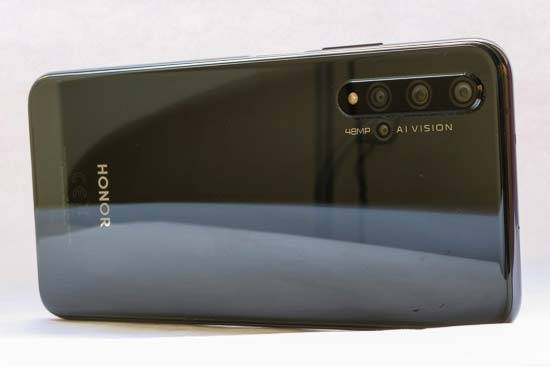 Rear of the Honor 20
In terms of accessing the native camera app, you can do that by swiping up from the bottom right hand corner of the lock screen. If you open it in this way, you'll be able to shoot as much as you like, but you'll be only be able to view the images you've taken in the current shooting session in playback. If you want to see older pictures, you'll need to unlock the phone fully.
If you've ever used an Honor (or Huawei) phone before, you'll likely be familiar with the native camera app and just how flexible it is.
By default, the app opens in the standard "Photo" shooting mode, but there are a host of other shooting modes available, which we'll go through in turn. The standard Photo mode is a good one to use when you just want to use the phone as a point and shoot style device. Along the top of the screen you'll see a number of options, including the option to switch AI (Artificial Intelligence) on or off.
Front of the Honor 20
AI will detect what the phone is photographing and adjust settings accordingly. Most of the time it does this very well and does a good job, but occasionally it might go a little over the top, for example over saturating skies. Being able to quickly tap an icon to switch it off is therefore a bit of a blessing. You can also switch the flash on, off and set it to automatic, or always on, from an icon at the top of the screen too.
Tap a cog-like icon to be taken to the settings menu, and you'll be able to change a wide variety of different settings, including resolution, switching on the timer, being able to take pictures by smiling at the lens and so on. The settings menu changes depending on what mode you're shooting in - for example, in the Pro mode, you'll find that you can switch on Raw format shooting.
There are three lenses, but there are only two optical focal lengths to choose from. You can move between the standard 1x lens, the wide angle, or 2x digital zoom by tapping a circle at the bottom of the screen. You can also digitally zoom further by pinching on the screen, up to 10x.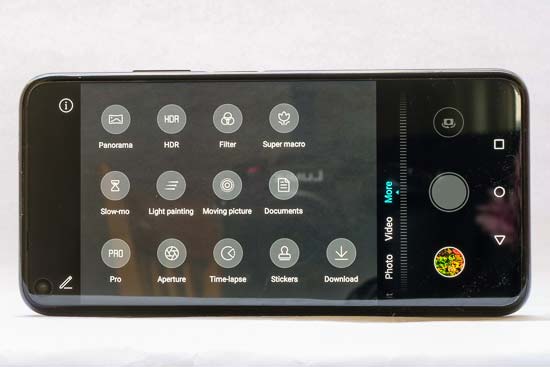 Front of the Honor 20
In order to move between the various shooting modes on offer, you can swipe right or left on the bottom of the main screen (or up and down if you're holding the phone in horizontal orientation). To the left of the main Photo mode, you'll find Portrait, Night and the AR Lens. The Portrait mode can be used to take photographs of people with a shallow depth of field effect.
You also get a range of bokeh options - including hearts and circles. This mode only works on people shots, and can't be used to create shallow depth of field shots with other subjects such as pets or still life subjects (there is another mode you can use for this though).
Night mode is something we've seen before on several Huawei and Honor phones. It's to be used when shooting in dark conditions and essentially blends together a series of short exposures to give the effect of a long exposure. AR Lens is probably not something you'll find that you use a lot - it allows you to turn yourself into a cartoon-like character.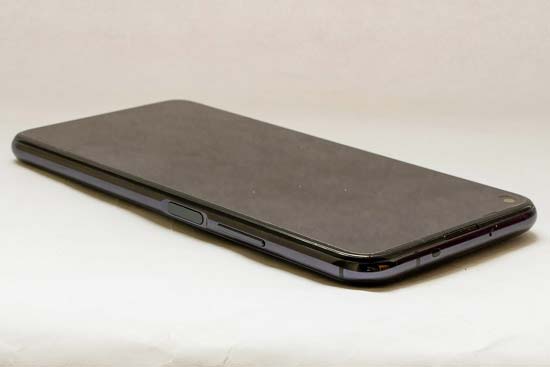 Front of the Honor 20
Back to the main Photo mode, to the right of that you'll find Video mode. There's a range of frame rates available, including up to 4K, which can be accessed via the settings menu. Next, if you tap on More, you'll see a host of other useful modes, including Panorama, HDR, Super Macro, Light Painting, Pro and and Aperture. I won't go into huge detail about all of these (most of them are self-explanatory anyway), but it's great to have such a range of options available to shoot with.
Using Aperture mode is a great way to photograph anything that you want to blur the background of, for example pets. The great thing about this mode is that you can alter the aperture after you've shot it by editing the image in playback. Pro mode is something that anybody with a little bit of enthusiasm might want to head towards.
As well giving you the option to shoot in raw format, you can also change a number of key parameters to adjust how your image will turn out, including shutter speed, white balance, ISO, metering and so on. You can't alter the physical aperture as that is fixed by the lens itself.