Nikon Coolpix L620 Review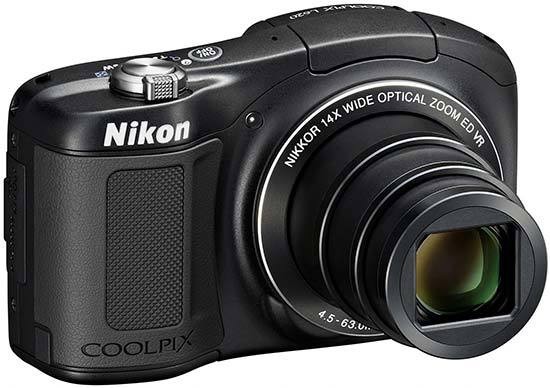 Introduction
The Nikon Coolpix L620 is a curvy, powerful camera with an 18 megapixel back-illuminated sensor, 14x optical zoom, FullHD video along with creative digital effects, combination night shot system and Target-finding AF. It looks good on paper and has a sexy design, but will it stand up to our rigorous testing? The Nikon Coolpix L620 costs costs £199.99 / €249.00 / $249.95 and is available in red and black.
Ease of Use
Back in the days when digital photography was in its infancy, Compactflash cards were used as the main external storage format, Kodak released the DC200. It had an unusual curved top plate, which has been recreated on the Nikon Coolpix L620. Now, we're not saying that the Nikon is copying it at all, but we immediately thought of the 14 year old Kodak as soon as we saw it.
However, bringing the design bang up to date is a large 14x optical zoom taking up most of the real estate on the Nikon Coolpix L620's face. The lens sports two ED elements (Extra-low Dispersion) which reduce the amount of light scatter as it passes through onto the sensor. This increases the sharpness of the resultant picture.  The zoom lens is a 4.5mm – 63mm in real terms, but to make life easier, we generally look at the 35mm equivalent focal distance. On the L620 it's a 25 – 350mm zoom range. Next to the lens is a rubbery grip to hold the camera with when not in use. Alternatively for one handed shooting.
The top plate features the shutter release button, a zoom switch wrapped around it and a small power button is situated just to the left of that. It sits flush with the body so it's not pressed by accident, but has an indented circumference, so it's easily located without having to look. The curved top accommodates the built-in flash which is a mechanical pop-up type. The switch to operate it is located behind the flash unit.
| | |
| --- | --- |
| | |
| Front | Rear |
The back of the Nikon Coolpix L620 is typical of any modern digital camera with a large screen towards the left and all the functioning buttons on the right. Interestingly, they're a little larger than we'd expect to see on a camera of this size, but then this is part of the L series of cameras. The L stands for Lifestyle and denotes a range of cameras that fit into your lifestyle. That means that they're easy to use with the camera taking over the majority of the controls. You don't have to think about anything except taking the picture so the camera doesn't impact on your life, more it becomes a convenient extension of it. At least, that's the impression we get. Simply put, if you're a keen photographer, you won't get along with this line of camera because the features are so basic.
An interesting feature of the L620 include a back-illuminated sensor. For those of you unfamiliar with back-illuminated sensors, they work by placing all the circuitry from around the sensors onto the back. That way, each pixel is more exposed to light making it more sensitive to light. That means lower ISOs and – in turn – smoother images.
Start-up time for the Nikon Coolpix L620 is better than the average for a typical digital compact camera. We managed to get the camera started up, focusing and taking a picture in around 2 seconds; the average being around 2.5 seconds. There are five continuous shooting options available to you. The Continuous Hi mode will take a burst of six pictures in just over half a second. Nikon state that it works out at around ten frames per second (fps) which seems pretty accurate. The Continuous Lo is a bit more plodding, by comparison. However, it managed to download the pictures to the memory card faster meaning that it could take more pictures. We tested it over a ten second period to get an average time and it managed ten pictures there as well.
| | |
| --- | --- |
| | |
| Front | Pop-up Flash |
The difference with the two is that the Continuous Hi isn't ready for taking pictures again within that ten second period. Although, it takes a further ten seconds for the Continuous Lo to download. Of course, this is dependent on the memory card you use. Higher class cards will download faster and vice versa. On top of these standard burst modes, there's a 120fps and 60fps options which create a slow motion recording on playback. As with all Nikon digital compact cameras, there's a BSS mode, which stands for Best Shot Selector. It allows you to take a series of pictures, then the best picture can be chosen from them.
Playback can be operated regardless of whether the Nikon Coolpix L620 is switched on or off. If it's off, the playback button needs to be held down so that the camera doesn't think that you've knocked the button by accident. The screen is a 3 inch 460,000 dot LCD screen with an anti-reflection coating on it, so you should be able to use it in all but direct light. We certainly didn't run into any problems with it.
When you go into the Playback area, the picture you took last will pop up on the screen first. Basic shooting information will be on the screen for a few moments – such as the date the picture was taken, the resolution and battery power available. This will disappear to allow you to drink in the splendour of your photography.
| | |
| --- | --- |
| | |
| Memory Card Slot | Battery Compartment |
Go into the Playback menu and there's only two tabs. One of which is the Set-up menu that we see in the Main menu. The Playback menu allows you to make simple edits to your pictures such as a Quick retouch, Red-eye correction or Skin softening. Useful if you're taking portraits, but not so much for other types of photography. However, if you've taken a landscape or maybe some architectural photography where deep shadows and pesky highlights may be an issue, you can always use the D-Lighting system which brings out detail in darker areas and caps burn out on highlights. Bear in mind, though, that if you've taken a shot that has the dark as pitch black or the lighter areas as burnt out with no detail recorded, the camera won't be able to produce something from nothing. Still, it's pretty clever as it is.
Interestingly, pressing the Playback button when in playback will bring up some filtering options such as Favourites (pictures have to be pre-set), Auto sort and List by date.
In the box, you'll get a Quick Start guide, that looks thick, but it's in multiple languages. There's also a CD in the top compartment of the box with the Quick Start guide. It has ViewNX 2 on it, which is Nikon's editing and tagging software program. To help you with the camera, you only get a pack of AA batteries, a USEB cable and wrist strap.