Nikon Coolpix L620 Review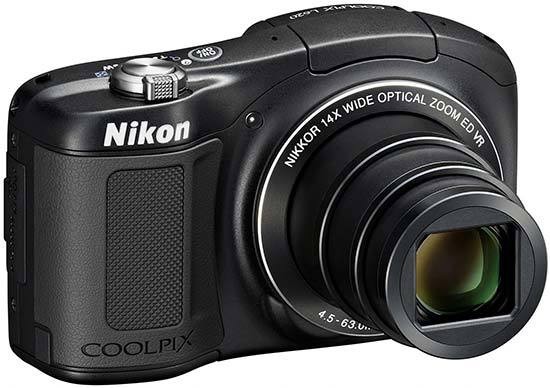 Conclusion
The Lifestyle range of digital compact cameras from Nikon generally tend to be low quality point and shooters, so the new Coolpix L620 is a big surprise. It feels well made and while it lacks the metal tripod bush of a higher quality model, it does have a locking battery door and thicker-than-usual rubber on the port covers. It's designed in a stylish way with the curved top plate and pop up flash. Old school digital users may remember the Kodak we previously mentioned. The grip will allow easier handling and one hand shooting while you have the other hand in your pocket.
The Nikon Coolpix L620 is very easy to take pictures with. The point and shoot simplicity will appeal to all members of the family; young to old and the additional filters will keep younger generations and Instagrammers happy. While we're on the subject of the digital effects, there doesn't seem to be a way of previewing the effect when in playback. It's shown as a thumbnail and then processed when you select it. If you then don't like it, it's a case of delete and start again. A tedious and exhaustive task what with all the selective colour and cross processed options.
As expected with low ISO, image quality is fine. Noise does creep in a little early and many people are disappointed in Nikon for allowing this to happen. We do think considering the brand name and the back-illuminated sensor technology being used that the low ISO would be better.
We do have to point out that the batteries we received in the box died on us before we managed to finish the test. We try to use cameras in a way that we think a person using it normally would. We take pictures, look at them, take video, watch it back, use the menus, etc. Batteries are normally ok, so it may have simply been the ones we got in the box that were not as highly charged. Still, it's worth keeping an additional pack nearby, just in case. It happened to us while taking video and the battery power display said quarter full. We had no flashing red battery warning us. Therefore, it could also be the video system because it is possible to zoom in while filming on the L620, but whenever we tried the zoom, the screen would freeze and we had to remove the batteries to get it to reset.
The asking price of £199 for the Nikon Coolpix L620 is a tricky one to decide whether it's value for money. There's some technology not normally seen on a camera at this price, such as the back-illuminated sensor, but it just doesn't seem to add that much of a benefit.
If you're a multi-generation family going on holiday and need a new camera, the important things are that it's easy to use, takes sharp images, has a great macro facility, a long zoom and can cope with almost everything you throw at it. If this sounds like a camera you could love, then take a look at the Nikon Coolpix L620.
Ratings (out of 5)
Design
4
Features
3.5
Ease-of-use
4
Image quality
3.5
Value for money
3.5